Welcome to
ClevelandSeniors.Com,
the online home for
"Seasoned Citizens"
of Cleveland, Northeast Ohio & Beyond!

---
9-11 Memorial and Boulevard of 500 Flags in Eastlake Ohio
Just east of Cleveland in the suburb of Eastlake Ohio is an inspiring memorial to remember the attacks of 9-11 and to honor military veterans, police, fire and others who have risked their lives for us all.

If you can't visit this Memorial Day weekend, you can go any time.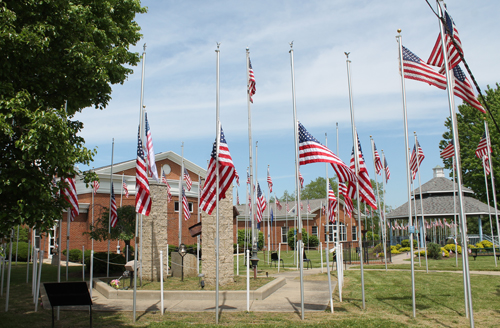 Photos, map and a video tour of the Eastlkae Memorial and Boulevard of Flags
---
Remember Teen Idol Jimmy Clanton?
The ashes of legendary disc jockey and creator of the term Rock and Roll Alan Freed were laid to rest in a ceremony at Lakeview Cemetery in Cleveland. A ceremony was held and a monument was unveiled.

1950's teen idol Jimmy Clanton who starred in a rock and roll movie produced by Alan Freed called Go Johnny Go sang his hit Just a Dream.

Performers today could learn a lor from singers like Jimmy Clanton and the Drifters.




---
ClevelandSeniors.Com Book of the Week
Bare Bones: I'm Not Lonely If You're Reading This Book


A touching, funny, heart-wrenching, and triumphant memoir from one of the biggest names in radio, the host of The Bobby Bones Show, one of the most listened-to drive time morning radio shows in the nation.

Growing up poor in Mountain Pine, Arkansas, with a young, addicted mom, Bobby Estell fell in love with country music. Abandoned by his father at the age of five, Bobby saw the radio as his way out—a dream that came true in college when he went on air at the Henderson State University campus station broadcasting as Bobby Bones, while simultaneously starting The Bobby Bones Show at 105.9 KLAZ. Bobby's passions were pop, country music, and comedy, and he blended the three to become a tastemaker in the country music industry, heard by millions daily. Bobby broke the format of standard country radio, mixing country and pop with entertainment news and information, and has interviewed some of the biggest names in the business, including Luke Bryan, Taylor Swift, Blake Shelton, Tim McGraw, Lady Antebellum, and Jason Aldean.

Yet despite the glamour, fame, and money, Bobby has never forgotten his roots, the mom and grandmother who raised him, the work ethic he embraced which saved him and encouraged him to explore the world, and the good values that shaped him. In this funny, poignant memoir told in Bobby's distinctive patter, he takes fans on a tour of his road to radio. Bobby doesn't shy away from the curves he continues to navigate—including his obsessive-compulsive disorder—on his journey to find the happiness of a healthy family.

Funny and tender, raw and honest, Bare Bones is pure Bobby Bones—surprising, entertaining, inspiring, and authentic.

Bare Bones: I'm Not Lonely If You're Reading This Book
---
Cleveland Museum of Art Centennial
Cleveland Museum of Art (CMA) Director William Griswold spoke at the kick off of the Cleveland Museum of Art's summer of centennial programs event. He was asked to imagine he had a time machine. What might the CMA founders have thought if they could see the Museum today? He also asked what his successor might say in 100 years at the Bicentennial celebration.




---
Smoke gets in your Eyes - The Drifters
The ashes of legendary disc jockey and creator of the term Rock and Roll Alan Freed were laid to rest in a ceremony at Lakeview Cemetery in Cleveland. A ceremony was held and a monument was unveiled.

Rock and Roll Hall of Fame members The Drifters performed. This is the classic Smoke Gets in your eyes.




---
Joe meets 12 new people in Australia
by Joseph Meissner
We love traveling, but not just to see the tourist sites. You could simply sit on your plush living room couch at home and eye Rick Steves travels, if your only goal was see the sights. No, we like to meet real people and dialogue with them. In Australia we met many people and made many new friends. This article is dedicated to twelve of the wonderful people we chanced upon.

Read the rest of Joe's travel experience


---
Cleveland Cooks™ - Lithuanian Tree Cake (Sakotis or Baumkuchen)
The Cleveland Food Adventurers Passport event in February 2016 was at the Lithuanian Club on East 185th Street.

Sakotis means "branched tree" or "tree with many branches" due to its distinctive shape (it is often conical, like a pine tree, and with the drips as branches). It is baked in a time- and labor-intensive process, by painting layers of dough onto a rotating spit in a special open oven or over an open fire.

It can be decorated with chocolate and flower ornaments, but it is often served plain. Šakotis is one of the most important desserts in Lithuanian celebrations, especially at weddings or other special occasions such as Christmas.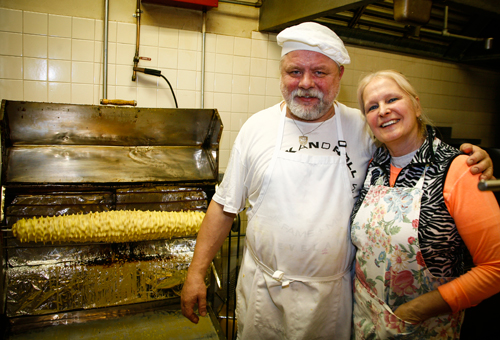 Dainius Zalensas baking a Lithuanian tree cake
More of the Lithuanian Tree Cake


---
ClevelandSenior Humor
I was visiting my daughter last night when I asked if I could borrow a newspaper.

"This is the 21st century" she said. "We don't waste money on newspapers. Here, use my iPad."

I can tell you this... that darned fly never knew what hit him.


---
---
Calendar of Events for Cleveland Seniors & Baby Boomers
---
---

Have you seen the Amazon Deal of the Day? Everyday, a new very special deal will be offered. Look to the left-hand column of this page for the daily special.


---
Sign up for our free eNewsletter sent about once every 2 months with special offers, discounts, contests and more.
---

Whether you are a Boomer who's just turned 50 (and don't think of yourself as a Senior) or part of the "Greatest Generation," you can learn about issues that are important to you and your family right here on ClevelandSeniors.com from Cleveland area experts.


Don't miss our profiles of interesting Cleveland Seniors and Baby Boomers - Maybe it's someone you know! (Or tell us about someone we should know)



Take advantage of discounts and specials selected just for you.



Ask questions and receive answers from our many experts from all walks of life.



Share your thoughts, memories, ideas with other Cleveland Seniors and Baby Boomers.



Keep your mind sharp with some of our games, quizzes and mind expanders.



Most importantly, come back often and
Have Fun!


---
Top of Page