Cleveland Cooks™
Coming Soon - a new website devoted to all things related to Food and Cooking in Cleveland - ClevelandCooks.Com. In the meantime, check out our popular Cleveland Cooks™ Cookbooks.
Steeped Coffee - Cleveland Cooks™ Review
We have come a long way with coffee. I remember Mom and Dad having a big percolator on the stove for making coffee. Then Joe DiMaggio and his Mr. Coffee became the new way to enjoy the drink. Automatic drip coffee makers are still around but with the surge of Starbucks and similar companies, many people started getting their coffee outside the house. For the last several years we have seen the popularity of machines like the Keurig where you put in a pod and make a single cup of coffee.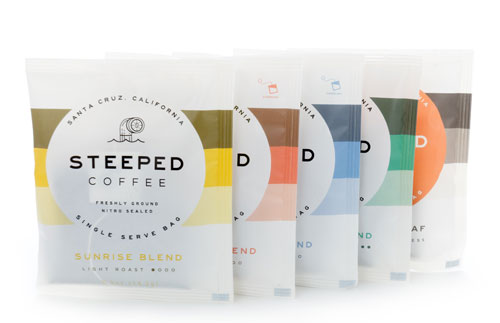 Now a company called Steeped Coffee is taking us back to a simpler time with a simple idea.

Read our Cleveland Cooks review of Steeped Coffee


---
Beetology beet + veggie drink Cleveland Cooks™ Review
Let me start with a disclaimer. I do NOT like beets. I know they are healthy but I never could acquire a taste for them. They are bad enough cold but I tried a hot Borscht soup once on vacation and had to run to the restroom. Given that, I decided to give the Beetology beet + veggie drink a try to get the health benefits of beets. I chilled it in the refrigerator and shook it well as advised. Then the moment of truth. I liked it! A lot!

Read our Cleveland Cooks review of Beetology


---
Healthy Asian Cooking
Rose Wong founded Pearl of the Orient restaurant in 1978. It was the first to offer Northern and Szechuan cuisine in Cleveland Ohio and continues to be a favorite among Chinese food cognoscenti. Rose gave a Healthy Asian Cooking demonstration on November 10, 2016.

Chinese and other Asian cooking is often healthier than the West because of the stir frying and healthy ingredients such as tofu, ginger root, garlic, onions and even thousand year old eggs.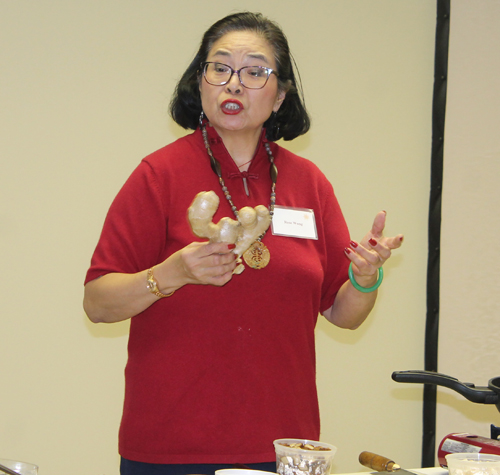 Rose Wong with Ginger Root
Learn about woks, soy sauce, sesame oil, MSG and more from Rose Wong
---
Bone Broth
Erie Bone Broth was launched in 2015 by Kelly, a home cook, who personally discovered the health benefits of bone broth as a wholesome dietary staple in their everyday lives. Kelly personally discovered Bone Broth because she had severe joint pain and found out that bone broth fights inflammation. Dan Hanson of ClevelandCooks.com caught up with Kelly at North Union Farmer's Market at Shaker Square and learned more about bone broth and small business.


---
Cleveland Cooks™ - Lithuanian Food
The potato is the main crop of Lithuania so the entrees naturally use that. The entrees included Cepelinai, the national dish of Lithuanian along with Kugelis (potato pudding), Vedarai (potato sausage) and a more familiar sausage and sauerkraut.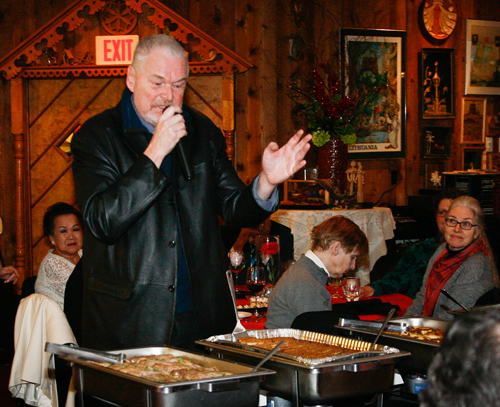 Linas Johansonas explaining the entrees
---
Cleveland Cooks™ - Lithuanian Tree Cake (Sakotis or Baumkuchen)
Sakotis means "branched tree" or "tree with many branches" due to its distinctive shape (it is often conical, like a pine tree, and with the drips as branches). It is baked in a time- and labor-intensive process, by painting layers of dough onto a rotating spit in a special open oven or over an open fire.
It can be decorated with chocolate and flower ornaments, but it is often served plain. Šakotis is one of the most important desserts in Lithuanian celebrations, especially at weddings or other special occasions such as Christmas.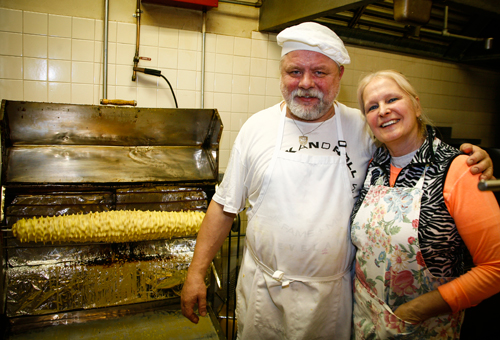 Dainius Zalensas baking a Lithuanian tree cake
---
Cleveland Cooks™ - Celtic Cooking
The Celtic Caterer Chef Eric W. McBride demonstrated Celtic foods at the Ohio Celtic Festival at Classic Park in Eastlake, home to the Lake County Captains.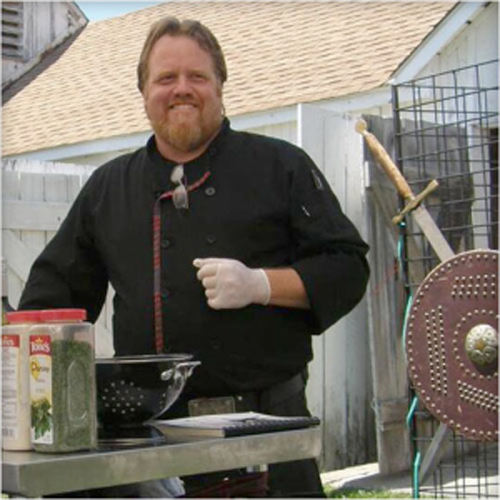 Celtic Caterer Chef Eric W. McBride
---
For Croatians the most important meal is lunch (rucak)
Branka Malinar of Cleveland's Croatian community explained some of the food and eating habits of Croatia and Croatian people. She said for Croatians the most important meal of the day is lunch (rucak). Christmas meal might include Turkey with mlinci (flat, sour dumplings). She spoke at the Dubrovnik Garden as part of the latest Food Adventure of ClevelandPeople.Com.




---
Cleveland Cooks™ - Making Pierogi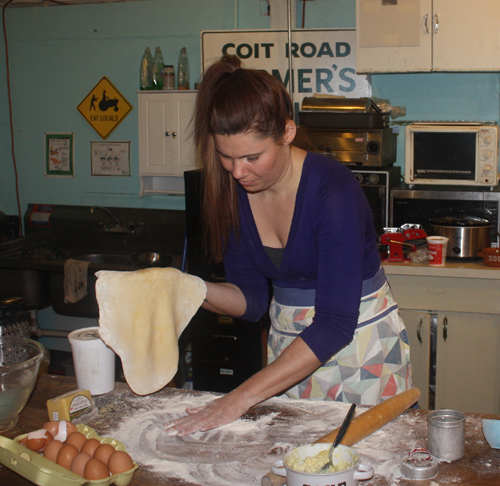 Ashley Shaw making pierogi dough
---
This was the second year that a group of Cleveland Vegans marched in the annual Cleveland St Patrick's Day Parade. They were followed by Cleveland Crops whose mission is to create innovative work opportunities and career choices for adults with developmental disabilities by providing agricultural and food processing training and employment.


---
By popular demand the 4th volume of the Cleveland Cooks™ cookbook series is being worked on now and should be available in Spring of 2015.

Volume 3 of the popular cookbook has over 285 pages of the best recipes from Cleveland area people. The focus of Volume 3 is Ethnic Recipes.

Cleveland is home to over 100 different ethnic groups (visit ClevelandPeople.Com to see more of the many ethnic and cultural groups in the Cleveland area) and each group has specialty recipes that have been handed down through generations.

Cleveland Cooks™ Volume 3 - Ethnic Recipes contains recipes from over 45 different ethnic groups.

Just in time for the Holidays, we are offering the popular Cleveland Cooks™ cookbooks at the special Fabulous Food Show price.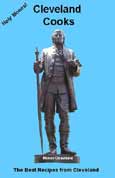 Cleveland Cooks™ Volume 1 is sold out and now a collectors item.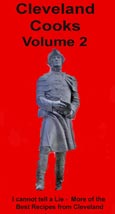 Cleveland Cooks™ Volume 2 is in limited supply but still available.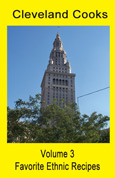 Cleveland Cooks™ Volume 3 is also limited but still available.
Special Holiday offer

For a limited time, you can now order Cleveland Cooks™ Volume 2 or 3 at the special price of only $10 (regularly $15) plus shipping.
Send a check or money order made out to Magnum for $10 plus $2 shipping (total $12) per book to
Cleveland Cooks
2800 Euclid Ave. Suite 325
Cleveland, OH 44115
Or pay securely with a credit card via PayPal.
Cleveland Cooks™ Volume 2
---
Cleveland Cooks Volume 3 - Ethnic Recipes
---


Save on Shipping when you order Volume 2 and 3 together.
Cleveland Cooks Volumes 2 and 3
---
Now get cooking!


---
Top of Page
Back to Recipes