Nick J. Mileti
Cleveland's Illustrious Italian
The Colossal Coliseum
and other "Miracles"
Born in 1931, Nick was the baby of three children. Both of his parents were born in Sicily. "I had it made. I was the only boy and the baby." His family always gave him whatever he wanted or needed and Nick describes his parents and his childhood as "simply the best. What else can I say?"
Nick went to John Adams High School and graduated in 1949. Most of his high school friends went on to Kent State, but not Nick. It was Bowling Green for him.
He wanted a school that was far enough away from home to give him freedom and independence, but close enough that he could come home often. "Remember there was no turnpike back in '49, so Bowling Green was a longer commute than it is now."
While he was at Bowling Green there was a coach there by the name of Bill Fitch. Fitch left BGSU and went to Minnesota where he stayed until years later when student Nick Mileti became NBA team owner Nick Mileti and hired Fitch. "I hired more Bowling Green alum than anyone, anywhere, except the school itself."
Nick got his law degree and practiced law until he found himself in the fast paced world of sports and promotions. He bought the old Cleveland Arena and the American Hockey League Barons in 1968.
He also owned the Cleveland Indians. "I had no choice but to buy them. They were going to be moved to New Orleans. They're a Cleveland team; they needed to stay in Cleveland."
The owner at the time was Vernon Stouffer who had already turned down an offer from George Steinbrenner to buy the team. He and manager Gabe Paul had made a deal to play 30 games in New Orleans but promised "not to move the team."
Mileti wasn't buying that. Thankfully for Cleveland Indians fans Stouffer accepted the offer led by Mileti and a group of investors and the Indians have stayed home every since. In 1978 Steve O'Neill became the principal owner of the team.
Nick also built and ran the Richfield Coliseum. Regionalism was a concept that had not yet come into its own, but Nick was always ahead of his time.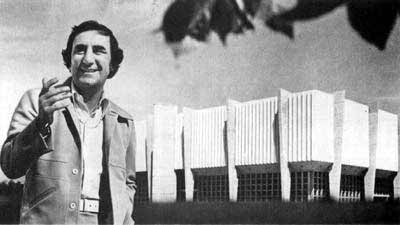 Nick Mileti in front of the Richfield Coliseum



He chose Richfield for the Coliseum because he thought with the Turnpike, I 271 and Rt. 303 the area had the ability to turn into something really big. "I'm surprised it's still such a sleepy spot, it has a lot of potential."

Opening night at the Coliseum had headliner Frank Sinatra as the top billing. A sold out crowd let Mileti know this was going to be something special. Getting Frank Sinatra to play at the Coliseum was no easy task, because it was virtually impossible to get past his manager.

Oddly enough, he made the connections that finally secured Sinatra's performance when he was in Rome. Nick decided that his opening night was going to be a fund raiser for an educational foundation for Italian American children. He was hoping Frank Sinatra could help him raise the money.

After many calls the manager finally agreed that if John Volpi would call Sinatra, he would sing. John Volpi was the first American Ambassador to Italy.

So, while Nick was in Rome he went to the Ambassadors residence and explained his situation. The Ambassador contacted Sinatra and arrangements were made. After some additional complications the show went on and Frank Sinatra had the biggest single performance pay day of his career, $250,000!

Mileti also donated key seats to Bowling Green to sell as a fundraiser that night.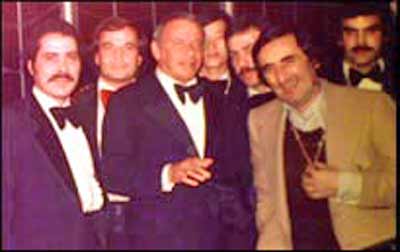 Jim Swingos, Frank Sinatra and Nick Mileti



"To this day, if I'm back in Northeast Ohio someone tells me they remember opening night at the Coliseum and how great it was!" Woody Herman was Sinatra's band and after the show he went on to play at Nick's after-party. Jimmy Swingos prepared and served all of the food.

Nick also remembers when Olga Korbut, the amazing Russian Olympic Gymnast, was booked for a show at the Coliseum. The cold war was raging at the time and everyone was concerned. Would there be a problem? Would anybody show? Would there be an attack?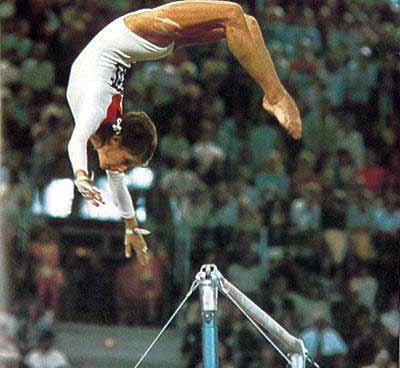 Olga Korbut doing gymnastics at Richfield Coliseum
All of the worries went by the wayside when a sold out audience saw Olga take to the floor. It became the largest indoor gymnasium crowd in history.
"I remember going down on the floor to shake the hand of this fragile looking delicate woman. When we shook hands I realized just how strong she really was."
Nick took the Russian gentleman who was in charge of the operation home with him for a home cooked dinner. They had corned beef and cabbage because it was an unexpected invitation and nothing "special" had been planned. The man was thrilled with the dinner and invited Nick to see him in Washington where they could share some "very special Vodka!"
The very first call Nick received when he opened the Coliseum was from Irving Field of Ringling Brothers Barnum and Bailey Circus.
Nick also remembers the Ali-Wepner fight and what a hit that was. Sylvester Stallone watched the fight on closed circuit television in a hotel room. After watching the fight he proceeded to write the Rocky movie and all of its many sequels.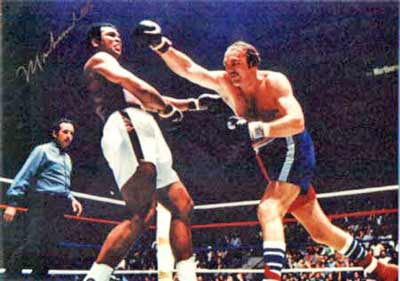 Muhammad Ali and Chuck Wepner at Richfield Coliseum - the inspiration for Rocky Balboa



In 1970 the NBA franchise was planning to expand. Nick had the upper hand in bringing a team to Cleveland because he had the facility and therefore was in control of the dates. They needed to guarantee 41 dates plus playoffs. At the same time Buffalo, Portland and Houston entered the league. Buffalo's team went to San Diego and Houston fell off for financial reasons.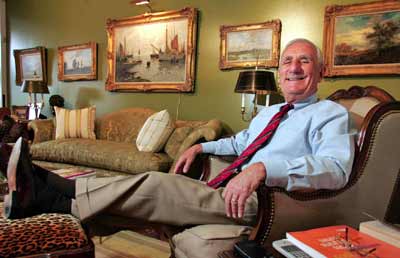 Nick Mileti in a rare moment of rest



"In those days [early 70's] Cleveland was in bankruptcy, the joke of the country. There was Lake Erie and the Mayor with his hair on fire. All the young people were leaving. So I was working against the tide telling people to come to Cleveland instead of leave it. That's what made the Coliseum so special and I'm really proud of it."

He was awarded the franchise and Cleveland had an NBA team. Mileti held a contest to name the team. Over fourteen thousand entries came in. It was narrowed down to five by a vote of the people. Then Nick selected the name, Cavaliers, from those five "It was my team after all, but it was the people's team too. This way we were all part of it."

The Cavaliers colors of wine and gold were Mileti's tribute to John Adams High School - they too had wine and gold. "But we changed the wine to be "Cavaliers Wine" a very special color."

Nick says the key to his success with the Cavaliers was that they always hired quality people. "That's they key. On and off the court they had to be quality people and look who we had."

He goes on to list some of the greatest basketball players of all time; Campy Russell, Nate Thurmond, Austin Carr and so many more. "Our drafts were no accidents. We drafted quality."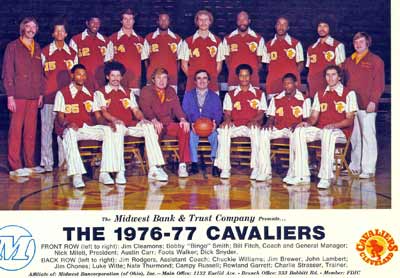 Cleveland Cavaliers team photo 1976-1977
Front Row: Jim Cleamons, Bobby Bingo Smith, Coach and GM Bill Fitch, Owner Nick Mileti, Austin Carr, Foots Walker, Dick Snyder.
2nd Row: Assistant Coach Jim Rodgers, Chuckie Williams, Jim Brewer, John Lambert, Jim Chones, Luke Witte, Nate Thurmond, Campy Russell, Rowland Garrett, Trainer Charlie Strasser



The Miracle at Richfield was a very special time for Mileti and Cleveland. It was the 1975-76 season and the Cavaliers were in the playoffs! They sold out all seven games of the play off series. Their roster included Austin Carr, Bingo Smith, Campy Russell, Nate Thurmond, Jim Chones, and Foots Walker. Joe Tait was the announcer.

Bill Fitch (from BGSU) won the Coach of the Year Award that year as the team finished with a 49 and 33 record. They won the first series (which became known as The Miracle at Richfield) against the Washington Bullets. They went on to Boston, but Jim Chones broke his foot and the Cavs lost the series to Boston 4-2.

Cavaliers fans will never forget "The Miracle." Both players and fans still comment on the huge volume of noise generated during those exciting games. NBA Hall of Famer Nate Thurmond said he plays a tape of the crowd noise to boost his spirits. Cleveland sports fans regularly list this near the top of any top ten Cleveland Sports memories.

Just prior to the start of the 1980/81 season he sold the Cavaliers to Ted Stepien.

Nick didn't play team sports himself, but was a cheerleader at John Adams. "How times have changed. When I went there they didn't allow female cheerleaders!"

Back then, Nick was considered a sports tycoon in Cleveland. He owned the Cleveland Indians, the Cavaliers and had a major interest in the Barons.

In June, 1972 Nick went on to obtain the Crusaders (World Hockey Association) and successfully recruited Boston Bruins great Gerry Cheevers - quite a coup for a new team.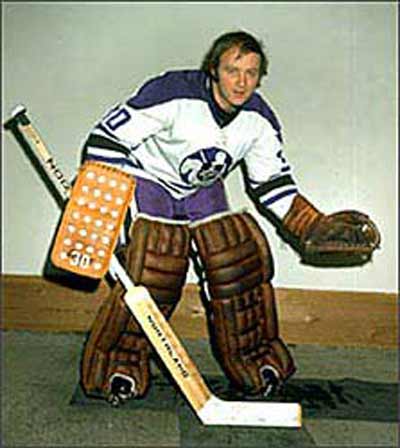 Hockey great and former Boston Bruin Gerry Cheevers



Bill Needham coached the team and led them to a second place finish. The next season they dropped to third.

The team played at the Cleveland Arena, (which Mileti owned) and averaged 6,000 fans a game. They moved to the Coliseum in Richfield in 1974 but things started to go bad at that point. John Hanna replaced Needham and Hanna was replaced by Jack Vivian.

Nick hosted the 1976 All Star game at the Coliseum but other than that the draw for the sport was falling. In 1975 Mileti sold the team to Jay Moore, but regained it in 1976. As a result of the Barons coming back to the Coliseum and a number of other circumstances, Mileti moved the club to St. Paul where they became the Minnesota Fighting Saints.

Nick could also list radio station WWWE, now WTAM 1100, as part of his huge Cleveland portfolio.Nick has one son, Jimmy, from a previous marriage. Jimmy is owner of Lakewood tavern and music venue The Winchester Tavern and Music Hall.

Nick describes The Winchester as a "small Coliseum". It has hosted such greats as Leon Russell, Al Stewart, John Ford Coley, Michael Stanley and Robert Jr. Lockwood. He describes his son simply as "The Light of My Life."

Nick and his wife had tried for years to adopt a child and were working through "The Cradle," an agency that specialized in adoption. He was "on the 99 yard line of adoption" when his wife got pregnant. They considered going ahead with the adoption but the agency told them there were too many people waiting. Young James was born and Nick could not have been happier.

When James was just a child, Nick wanted to take him for a train ride, but the only thing available was Shaker Rapid. So he started the Cuyahoga Valley Scenic Railroad with real steam engines. He found out there were a lot of railroad buffs and people who had never seen a real steam engine and the train became very popular.

He was also considering possibilities of mass transportation to and from the Coliseum. He was on the board of the Cleveland Metroparks Zoo, so the train ride started there and ended at Hale Farm and Village.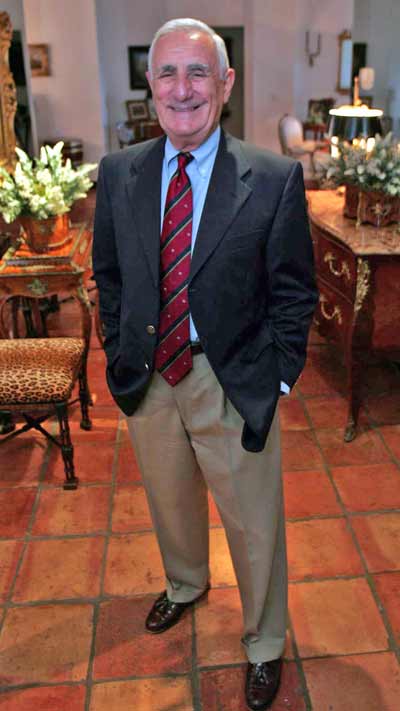 Nick doesn't really follow the NBA anymore. At one time he was so deeply involved in it that when he left he felt he needed to withdraw completely. Now his main focus is on his writing.

Nick was attending a party in Palm Beach where he now lives. ("I can't remember the occasion. There's a party almost every day here.") He was talking to a musician from Lebanon who was talking about names/name changes and nationalities. Nick went on to tell him about all of the famous Italians that nobody knows are Italian.

For example John Cabot, the founder of Newfoundland was really Giovanni Cabato. Not English at all, but very much Italian. French Statesman Jules Mazarin was born in Italy. What amazed Nick most was how many people doubted him and how often he was forced to prove what he was saying.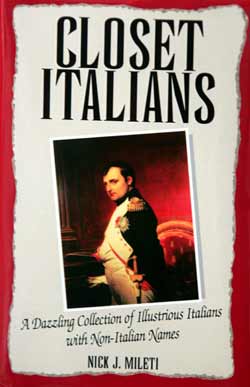 The result was a book of 358 pages and 175 individuals who, although famous, are not known to be Italian - but are.
The book titled "Closet Italians: A Dazzling Collection Of Illustrious Italians With Non-italian Names" and can be obtained through Amazon.Com by clicking here.
Mileti's first book, Beyond Michelangelo: The Deadly Rivalry Between Borromini and Bernini
tells of the deadly rivalries in 17th century Rome.
His third book is in process now. The subject (and working title) is The Unscrupulous and deals with art fraud. He was amazed to discover during his research that according to the head of the Metropolitan Museum of Art in New York, a full 40% of the art they are approached to buy is a fake.
Nick gets his love and appreciation for art from his heritage "I am Italian of course I love beautiful things!"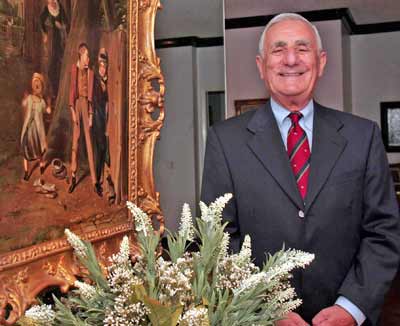 Nick Mileti, a happy man



For the last six plus years Nick has been married to Bernadene; a vibrant woman who "enjoys life as much as I do." They have traveled all over the world, with special attention to Italy and London. Bernadene was an interior designer in Greenwich Connecticut with a buying office in London, so she has many friends there.

Nick does not get back to Cleveland often, citing the winter weather as a big reason. He does come to see his son a few times every year though. "I am very proud of being a Clevelander and will always be one."

He has literally lived on both coasts and in some of the greatest cities in the world - Rome, New York, Las Vegas - but Cleveland and its people are very special to him. "Cleveland is home."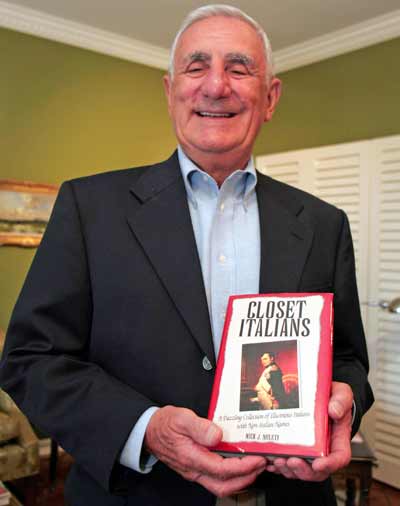 Nick Mileti holding his book, 'Closet Italians'



A lot of the good things we have in Cleveland today can be traced back to Nick Mileti. He recognized the city's greatness and brought it to the attention of the world in many ways.

Peter Lewis was recently quoted as saying, "…we should "honor our screwballs," rather than driving them away like we did Nick Mileti." Maybe Mileti was a screwball, maybe he was a visionary.

There is no getting around the fact that Nick Mileti was a tremendous asset to the City of Cleveland. At a time when the rest of the country was laughing at us, Mileti stood tall and proud of Cleveland and put us on the sports and entertainment map.

It is good that Nick Mileti considers Cleveland home - we gratefully claim him as our own.




Profiled by Debbie Hanson

---
Top of Page
Back to Where are they now?
Back to Profiles of Cleveland Seniors
Back to Italians in Cleveland