Jim Swingos
First-class Place, Food and Man
Jim Swingos was born September 8, 1941 to a Greek immigrant father (Nick) and a mother (also of Greek descent) from Springfield Mass. He has one younger sister. Jim grew up on Cleveland's East Side in the East Blvd./Woodland/Buckeye area.
He attended St. Benedict's grade school and Benedictine High School. He graduated from Benedictine in the Class of 1959 as "The first non-Catholic to attend Benedictine High School."
Jim is Greek Orthodox, similar in many ways to Roman Catholic. His Greek heritage was a big part of his upbringing. His family was (and is) a very close, loving family.
Jim went to Ohio State University where he was a Criminology major. In his senior year he was working as a probation officer for the Franklins County Court when he came to the realization that this line of work was just too depressing for him. So he left school and got involved in the business world.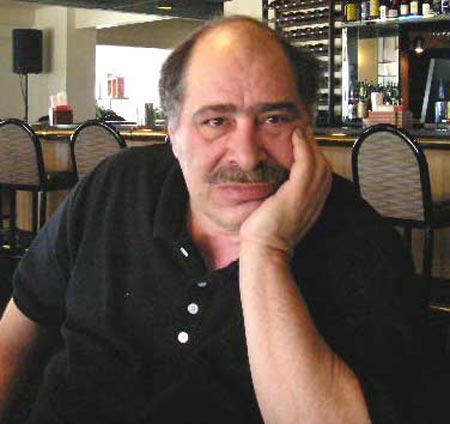 His father was in the bar business and Jim went to work with him. His father was at 84th and Euclid at a time that there were "20 or more bars between 79th and 105th.

In those days the places with the color televisions did all of the business and then the places with air conditioning. There were 5 theaters around 105th and Euclid and 6 or 7 hotels!"

His father was working with Billy Weinberger (of Caesar's Palace fame) and Jim began working with him also. Then he answered an ad in the paper for the Tastee Catering Company. The company provided food to construction sites.

He saw another ad in the paper for The Green Briar Restaurant on Pearl Road, he applied and became assistant manager. Eventually this led him to be responsible for seven restaurants.

His father had opened a new place in 1968 that was voted "dry" only 6 months after he opened it. His mother "the gambler" said let's do something new. His father "Mr. Personality" was always ready for a new adventure.

At the time, Al Rancotti, who also owned Pierre's on Euclid and was part of the Chef Boyardee family, owned The Downtowner at 18th and Euclid. But it wasn't doing well. When it became available Jim took it over paying only the 16 months Rancotti was behind in rent.

The Downtowner became the Keg and Quarter. Jim went on to own Marie Shriver's at the Statler for 15 years and Swingo's at the Coliseum for 3 years all the while still running the Keg & Quarter.

Though not a chef himself Jim knows what people like and knows what keeps them coming back. "I got into food because I have a weak mind, but a strong back and that's what you need in this business." He's done almost everything there is to do in the kitchen, but is not formally trained as a chef.

Jim even writes all of the menus. "When we hire a chef, we hire him to do it our way, not their way. We have a standard and we will keep that. The Caesar salad you had at the Keg and Quarter is the same one you will get here at Swingo's on the Lake and the same one you will get 10 years from now."

Jim was married in 1968 to Betty and they have 3 sons and 4 grandchildren. His son, Nick, is in the sporting event business and owns Hermes. Nick also has three sons.

Jim's son Matt is "my clone." He is executive chef and General Manager of Swingo's on the Lake. Matt has one daughter and "I couldn't believe there was a girl. She is my princess."

Jim's son Danny works with Matt at the Restaurant now, but was previously employed by Morgan Stanley.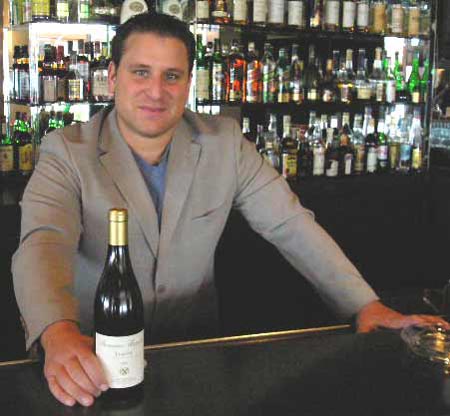 Matt Swingos


Danny was on the 60th floor of the World Trade Center on September 11, 2001 when the terrorist attack took place. Thankfully, Danny survived.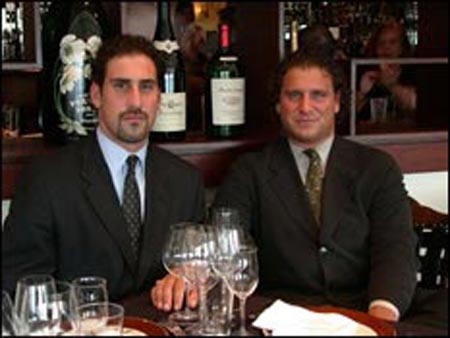 Dan and Matt Swingos


All of Jim's sons played college sports, but Jim calls himself a "frustrated jock", he loves to watch sports but doesn't participate. He loves all of the Cleveland sports teams. "Deep down, we're all homers. Some like me, it's not so deep!"

Referring to his deal with Nick Mileti to open a restaurant at the Coliseum Jim says "All I know is I made a handshake deal with Nick and we were both very successful." They were there for the Miracle years and remembers that even though they were upstairs, the pots would move and rumble from the Cavaliers crowds below.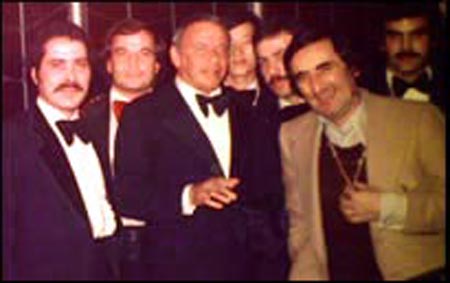 Jim Swingos with Frank Sinatra and Nick Mileti



At the time the Coliseum first opened Jim was quoted as saying "The Coliseum is the worst thing that has happened to the City of Cleveland." "It turns out I was prophetic. Of course Nick wasn't happy I said it, but that didn't keep him from making the deal the next year for the restaurant."

When Jim had his restaurants downtown, the Hanna Theater was huge and he would get all of the cast and stars from the Hanna. Swingo's was not only the closest it was the best. He had all the big names, Henry Fonda, Anthony Quinn, Yul Brenner, who Jim says "became a really good friend of mine".

He remembers the time Elvis Presley came to town. His advance men came in to "check the place out." They liked what they saw and they took over 4 floors. Jerry Weintraub was Elvis' agent at the time. He also handled Frank Sinatra.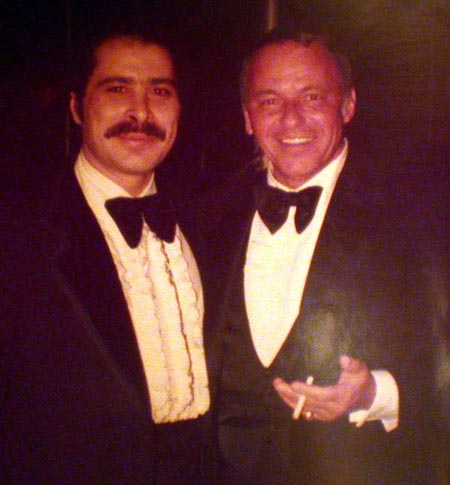 Jim Swingos with Frank Sinatra
Weintraub gave his "stamp of approval" to the facility and "all hell broke loose. We were booked by every big name, little name and everyone in between. It was a curse and a blessing all at the same time."
In the early 70's one of the groups staying there asked them to set up a press conference, which they did. Absolutely no one showed up. But Jim's father, Nick took the time out to talk to the man and make him feel comfortable.
Two weeks later they got a thank you letter, thanking Nick for talking to him and thanking them for setting things up. Little did that they know just a few short years later the man who none of the press was interested in seeing would be President Jimmy Carter!
They served entertainers, athletes, American Umpires Association, The Rolling Stones, The Who and so many more. "That's what brought the problems. You get someone like Led Zeppelin in town for a concert. They stay with us. They get done with the concert and they want to party and make noise. Below them may be a businessman who needs his sleep for a big meeting the next day. We lost the businessmen in the commotion."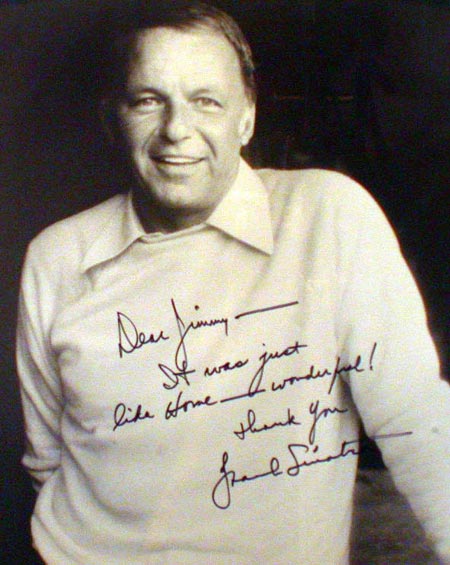 Frank Sinatra, the Chairman of the Board, loved Swingos!



In the 1980's, Swingo says the era ended. "The groups that were popular then are now doing reunion tours - they're oldies groups."

Although the restaurants were still doing a booming business "you can't support a hotel with restaurant business only and Cleveland has never been a hotel Mecca."

Jim places the blame directly on the local leaders. For years he believes, there was no reason to come to Cleveland. "Then in the 90's Cleveland was the place to be. We had Jacobs Field, The Gund, The Science Center and the Flats were as hot as a firecracker. Even on the Tonight Show I'd hear them talking about Cleveland as a great place to party."

But he believes the city did nothing for the Flats. "There should have been police visible in front of every establishment so people knew it was safe. Instead the city allowed drugs and gangs and the east bank was notorious for under age drinking. The City of Cleveland had no control of the situation. So what do they do? They pick on Shooters the one establishment that was making money on a clean operation. They were ready to pull out, thankfully they didn't."

He remembers the "old days" of Geneva-on-the-Lake and its reputation for bikers and drinking. Now, according to Swingos, it is a family spot, nice, clean and a lot of fun. "Cleveland had a jewel in the Flats - better than Geneva - and now look at it."

Swingos thinks the city is afraid of people making money. But that's not a concern for him. "I don't care what somebody makes as long as they leave something behind. The Gunds rebuilt downtown San Francisco. What about Jacobs? What about Cleveland?"

He is very happy with the new East 4th Street restaurants and Clubs like Lola and House of Blues. Although he thinks it's a great idea and supports it 100% he says it will kill what's left of the Warehouse District.

Jim would love to see casino gambling and a new convention center, but is not expecting either one in his lifetime, if ever. He remembers back to when Dennis Kucinich was mayor. The federal government was offering money to build an overhead rail system. Kucinich turned it down because he didn't think it would work.

"So what if it didn't work" says Swingo "It wouldn't have cost the city, lots of people would go to work and if it didn't work, it didn't work - but if it did all the better. Once again we were afraid to make the wrong move, so we made no move at all."

He feels we missed a big opportunity when the Browns left Cleveland. "This City revolted, people weren't going to tolerate that. That was the time to build the new stadium and convention center because people would have voted to support it. We blew it. We got a stadium but nothing else."

He has a lot of faith in the citizens of Cleveland, if not its leaders. "Clevelanders support Cleveland. Every other city depends on tourists. We support ourselves and do a pretty good job of it. We should get the tourist business too."

Jim is currently working on a new restaurant to be opened the end of this year or early next year in Avon Lake. It will be called the Grand Tavern and will feature his same high standard of cooking excellence, but at a $20 or less price tag.

"We want to cater to the everyday folk. Swingo's on the Lake is a special occasion restaurant to a lot of people. Grand Tavern will be an everyday restaurant."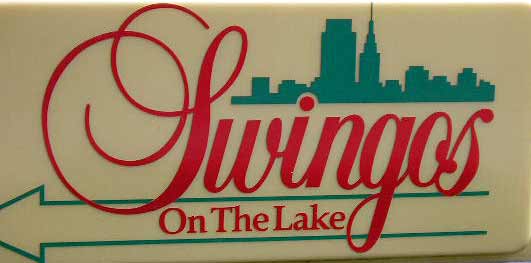 He's thrilled with the large crowds he gets at Swingo's on the Lake. This last Mother's Day they had over 800 reservations! "The easiest restaurant to run is a busy one." He has no intention of leaving the business especially since he says "My sons run it, I'm just a figure head."

He credits much of his success on his ability to learn from his sons and other young people. "I have a lot of friends in and out of this business. We all thought we knew everything, but I listened, and I'm glad I did."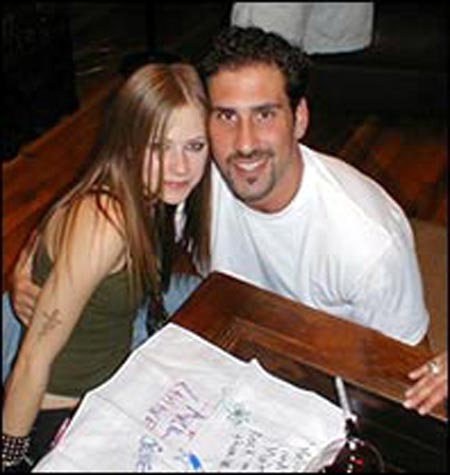 Dan Swingos with singer Avril Lavigne



He cites their extensive wine collection as an example. "We have an inventory of 20,000 bottles of wine. I never would have done that. My son did and it's a wonderful thing. My son Matt is now one of the foremost wine connoisseurs in the country. God gave him a palate and he put it to use. It's paying off."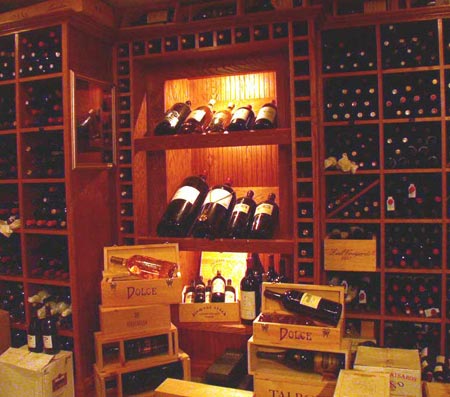 Views of the fabulous Swingos wine cellar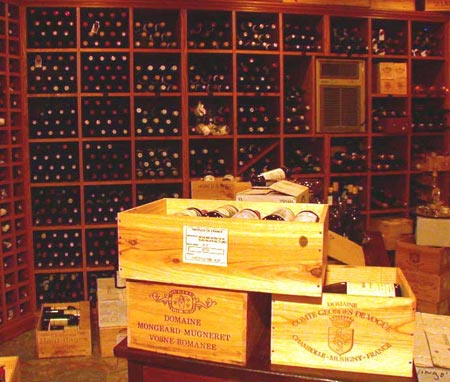 One of the many awards for food and wine



When he's not doing restaurant business he's thinking about the restaurant business. He does like to play poker but doesn't have much time for hobbies. "How can you leave your business for 4 hours to go play golf? There's just no time for that."

Jim has absolutely no regrets - about anything! He doesn't consider this to be work because "I just enjoy it too much!" He comes in no later than 6 a.m. every day. "In my prime I wouldn't come in until 8 or 9 but then I'd stay until 1 a.m."

His philosophy is "It's hard to get on a train when it's already rolling. You need to get up early to stay on top."

He has formed solid relationships with the people he works with and meets through the business. Luigi Mazzone walked in during the interview and they appeared to be best friends.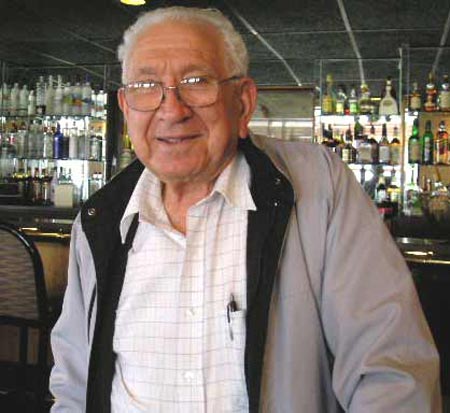 Luigi Mazzone



As it turns out Luigi has been Swingo's bread man for 25 years and they have a special bond. "All I can tell you about Jim is that he is a good man. A very good man. That's all I know, that's all I need to know".

Jim greeted him in Italian, but speaks only English and Greek fluently. "In this business you pick up words in just about every language after you've been in it this long."



Jim leans back in his seat at Swingo's on the Lake, takes a sip of perfectly brewed coffee and says "It's been a good ride. I have no complaints."

Most people who have met or dealt with Jim Swingos would say the same. He has an honest, friendly and sincere approach to business and life. He has not been afraid to take risks and they have paid off for him.

Though you know you are talking to a powerful man, you feel that you could trust him with anything. He is truly a man of the people.




Profiled by Debbie Hanson

---
Top of Page
Back to Profiles of Cleveland Seniors
Back to Cleveland Greeks