---
Don't hang out with Negative People
A man was getting a haircut prior to a trip to Rome. He mentioned the trip to the barber, who responded, "Why would anyone want to go there. It's crowded and dirty and full of Italians. You're crazy to go to Rome. So, how are you getting there?"
"We're taking United," was the reply. "We got a great rate!" "United!" exclaimed the barber. "That's a terrible airline. Their planes are old, their flight attendants are ugly and they're always late. So, where are you staying in Rome?"
"We'll be at the downtown International Marriott." "That dump! That's the worst hotel in Rome. The rooms are small, the service is surly and they're overpriced. So, whatcha doing when you get there?"
We're going to go to see the Vatican and we hope to see the Pope. "That's rich," laughed the barber. "You and a million other people trying to see him. He'll look the size of an ant. Boy, good luck on this lousy trip of yours. You're going to need it!"
A month later, the man again came in for his regular haircut. The barber asked him about his trip to Rome. "It was wonderful," explained the man. "Not only were we on time in one of United's brand new planes, but it was overbooked and they bumped us up to first class. The food and wine were wonderful, and I had a beautiful young stewardess who waited on me hand and foot.
And the hotel! Well, it was great! They'd just finished a $25 million remodeling job and now it's the finest hotel in the city. They were overbooked too, so they apologized and gave us the presidential suite at no extra charge!"
"Well,"muttered the barber. "I know you didn't get to see the Pope" "Actually, we were quite lucky, for as we toured the Vatican, a Swiss Guard tapped me on the shoulder and explained that the Pope likes to meet some of the visitors, and if I'd be so kind as to step into his private room and wait, the Pope would personally greet me. Sure enough, five minutes later, the Pope walked in. As I knelt down he spoke to me."
"What did he say?"
"He said, 'Where'd you get the crappy haircut?
---
Fun with Maps - Great Britain
The recent passing of Queen Elizabeth led to some confusion, even in media reports, about the difference between England, the UK, Great Britain and so on. Was she Queen of England? Why was she in Scotland? What about the Prince of Wales? In this episode of Fun with Maps host Dan Hanson looks at the island of Great Britain which consists of England, Scotland and Wales. It is not the same as England or the United Kingdom. Great Britain is the largest of the British Isles, the largest European island and the ninth-largest island in the world. So what's the United Kingdom? The United Kingdom is a sovereign country in Europe that comprises England, Wales, Scotland, Northern Ireland and many smaller islands within the British Isles.
This episode also covers the English Channel, the Chunnel, the Mull of Kintyre, the character of Britannia, the Firth of Forth, Treaty of Union, the patron saints and flags of the 3 countries, the vast range of the British Empire and more.
See more Fun with Maps episodes
---
St Elizabeth of Hungary Church 130th Anniversary
St Elizabeth Hungarian Church held a Fall festival event to celebrate the 130th anniversary of the historic church. A bilingual Mass was celebrated followed by a delicious lunch with traditional Hungarian foods, including gulyás and lángos in the courtyard. This was followed by music and dance from Hungarian, German, Austrian and Croatian groups.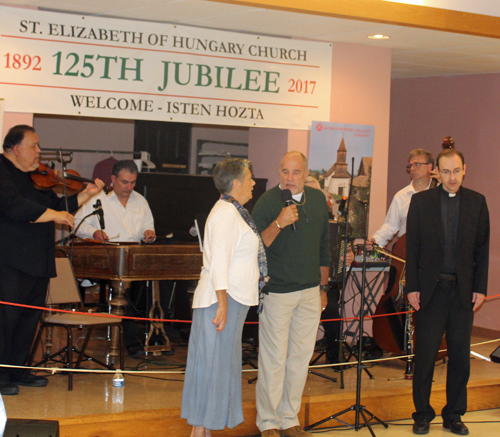 See photos and videos of the 130th Anniversary
---
Cleveland Junior Tamburitzans at St Elizabeth Hungarian Church
The
Cleveland Junior Tamburitzans
are a non-profit cultural organization that works to preserve their Croatian heritage through music, song, and dance - taught by professional instructors. The Cleveland Junior Tamburitzans has been active for over 60 years. They performed at the 130th anniversary of St Elizabeth Hungarian Church in Cleveland Ohio.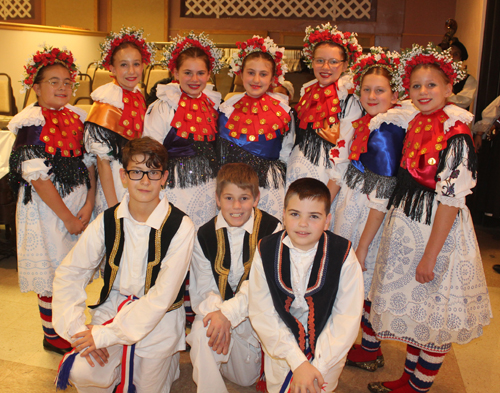 Some of the Cleveland Junior Tamburitzans
See photos and videos of the Cleveland Junior Tamburitzans performing
---
Gottscheer Tanz Und Spielkreis Austrian Dancers at the 130th anniversary of St Elizabeth Hungarian Church
The Gottscheer Tanz Und Spielkreis Austrian Dance Group performed at the 130th anniversary of St Elizabeth Hungarian Church. This dynamic group specializes in Austrian Folkdances and Viennese Ball venues. They are part of the First Austrian Mutual Aid Society, or Erster Österreichischer Unterstützungs Verein
(EOUV)
which formed over 130 years ago in Cleveland.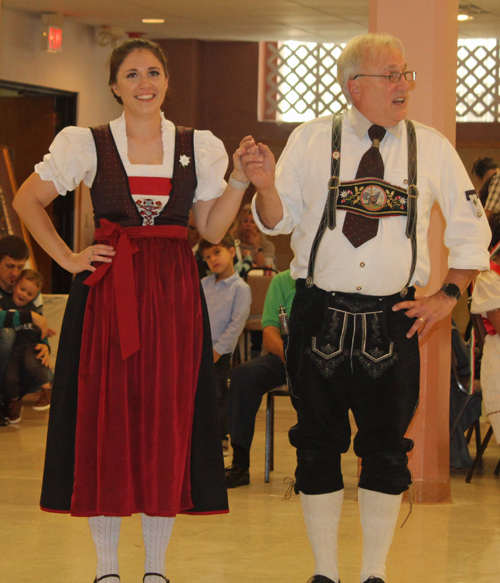 Gottscheer Tanz Und Spielkreis Austrian Dancers
See photos and videos of Gottscheer Dancers at St. Elizabeth Church
---
Donauschwaben German-American Cultural Center Dancers at St. Elizabeth Hungarian Church
In the 1700's German immigrants settled near the Danube River and were later named Danube Swabians. The Danube Swabians continued to speak German and keep their German traditions alive. Both children and adults from the Donauschwaben German-American Cultural Center in Cleveland Ohio performed at the 130th anniversary of St Elizabeth Hungarian Church. First was the Cleveland Donauschwaben Kinder (children) group dancing.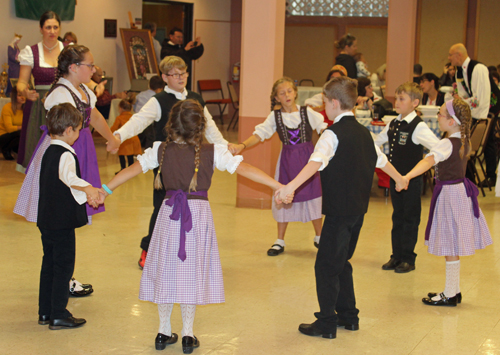 Donauschwaben Kinder dancers
Then the adult (Kultur) group performed.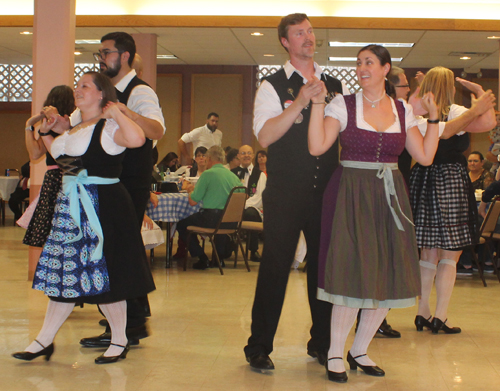 Donauschwaben Kultur dancers
See photos and videos of all their dances at St Elizabeth
---
RIP Michael Heaton
So sorry to hear of the passing of
Michael Heaton
, former Plain Dealer writer and more. I did an interview with Michael Heaton in 2007 when his book Truth and Justice came out. It has some great stories and many Cleveland connections -
Danny Green, Michael Symon, Frank Jackson, Joe Esterhas
and the like. Some great stories as only the
Minister of Culture
could tell them.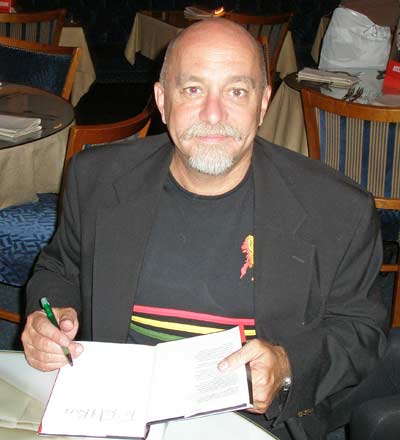 Listen to the interview with Michael Heaton
Rest in Peace Minister
---
Impressionism to Modernism: The Keithley Collection
Cleveland Museum of Art
The latest exhibit at the Cleveland Museum of Art is called Impressionism to Modernism: The Keithley Collection.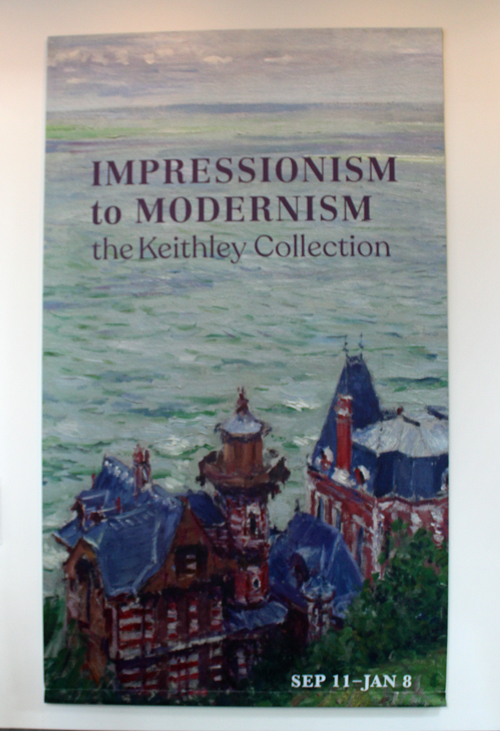 This new exhibition runs from September 11, 2022 to January 8, 2023. It celebrates the extraordinary gift and promised gift of art made by Clevelanders Joseph P. and Nancy F. Keithley to the Cleveland Museum of Art. In March 2020, the Keithleys gave more than 100 works of art to the museum-the most significant gift since the bequest of Leonard C. Hanna Jr. in 1958.
It's not just a huge collection - it's very diverse and covers a lot of styles. The Keithleys' collection focuses on Impressionist, Post-Impressionist, and modern European and American paintings.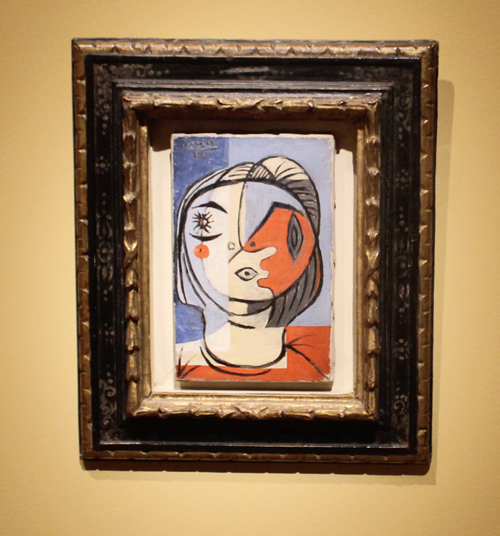 Picasso from the Keithley Collection


You will see works by familiar names such as
Picasso, Henri Matisse
and
Andrew Wyeth
but if you are more of an amateur like me you will be exposed to some amazing works by new (to me) artists such as
Maurice Denis, Georges Braque, Joan Mitchell
and others. Plan on spending some time in each of the themed rooms.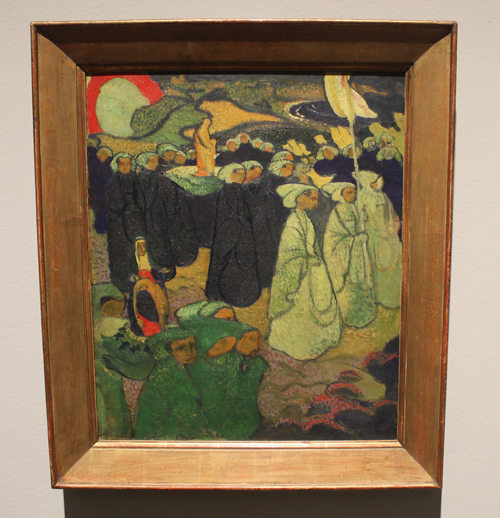 Maurice Denis painting
Also included in the exhibition is a selection of European and American decorative arts. The Keithleys also collected Chinese and contemporary Japanese ceramics. In the exhibition, Asian ceramics are shown alongside Western paintings and drawings. That's how the Keithleys liked to display them.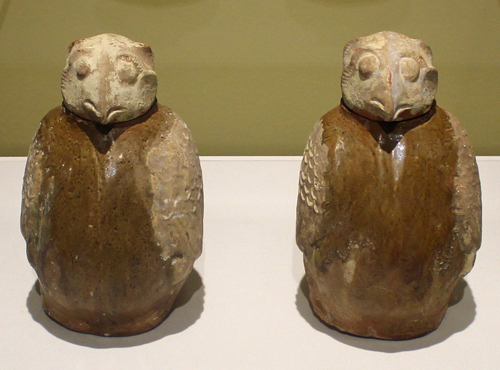 Ancient Chinese Owl shaped jars
It wasn't all haphazard. Throughout two decades of collecting, the Keithleys selected works of art to complement and enrich the CMA's collection. At times, the Keithleys built upon a strength in the museum's collection; on other occasions, they acquired a work of art that would bring something entirely new to the collection.
See photos and take a video tour of the Keithley Collection.


---
Dominique Moceanu - Grand Marshal of Parade of Flags at One World Day
August 28, 2022 is the
76th One World Day
in the Cleveland Cultural Gardens. A highlight of One World Day is the
Parade of Flags
where hundreds of marchers from dozens of heritages will march down MLK Blvd. wearing the costumes of their heritage and carrying their flags. Cleveland
Mayor Justin Bibb
, the Cleveland Police and Fire Chiefs will march and there will be a special tribute from the Ukrainian Garden.
The big news is that Olympic Gold Medalist Dominique Moceanu will be the Grand Marshal of the parade. At the young age of 13 she became the youngest US Senior National Champion in American gymnastics history. Then, of course, she was part of the Magnificent Seven that won the gold medal for the US for the first time in 1996. She was the youngest member of the gold-medal-winning 1996 Olympics team and, in fact, she was the last gymnast to compete legally in the Olympics at the age of 14.
She has also spoken out and even testified about the abuses in gymnastics. She runs the Dominique Moceanu Gymnastics Center and Carmen's Yoga Studio. Dominque is of Romanian and Greek/Macedonian heritage and is excited to be the Grand Marshal of the Parade of Flags at One World Day. She sees it as a kind of mini Olympics Opening Ceremony.
The Parade and all of One World Day are free and open to the public. Free parking too.
Watch the video interview with Dominique Moceanu below
---
The oldest alcohol known to man (or woman)
We stopped at the Feisty Mead booth at the 2022 Ohio Celtic Festival in Painesville just east of Cleveland. Mead is a drink more similar to beer and wine than hard liquors. Variations can resemble cider or beer or, as in the case of Feisty Mead, more like wine. The alcohol content is a little over 13% and they have a variety of flavorings and spices. Brian from Feisty Mead told us that mead is the oldest alcohol known primarily because it's so easy to make.
---
87,000 New IRS Agents - Tips from a former IRS agent/auditor
Samy Tanious, CPA
says "The IRS is getting $80 billion in funding and hiring 87,000 new IRS agents/auditors. This is very scary - It simply means more IRS audits than ever! Years ago, when I used to work for the IRS, the workload was 50 audit cases a month per auditor – do the math with 87,000 additional auditors!
It is a matter of when not if you and I will get audited by the IRS.
"
Here are a few tips to help you get ready
Eliminate all cash transactions.
Keep records and documents everything.
You must have support for every deduction, expense, and credit.
Get your accounting, and financial statements in order.
Reconcile your bank and credit accounts monthly.
Know the differences between employees and subcontractors.
Do not commingle funds between personal and business.
Please note – As a CPA and former IRS agent/auditor, tax resolution and representation are essential parts of my tax services.
Contact Sam Tanious at 440-991-6864 or e-mail samytaxservices@gmail.com


---
Seen at the Ohio Celtic Fest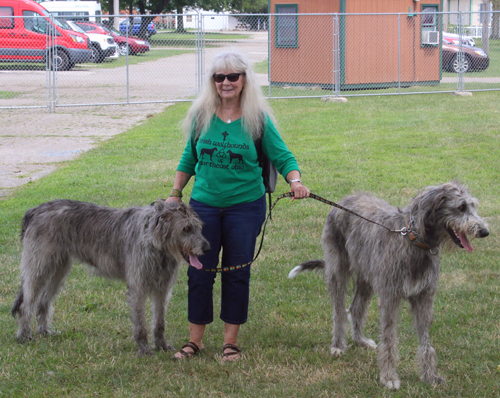 Irish Wolfhounds
---
Dunham Tavern Musem Tour with Cleveland Rotary - July 8, 2022
The Rotary Club of Cleveland had a special meeting at the Dunham Tavern Museum on Thursday July 28, 2022. Once a stagecoach stop on Buffalo-Cleveland-Detroit post road, today Dunham Tavern Museum is the oldest building still standing on its original site in the city of Cleveland.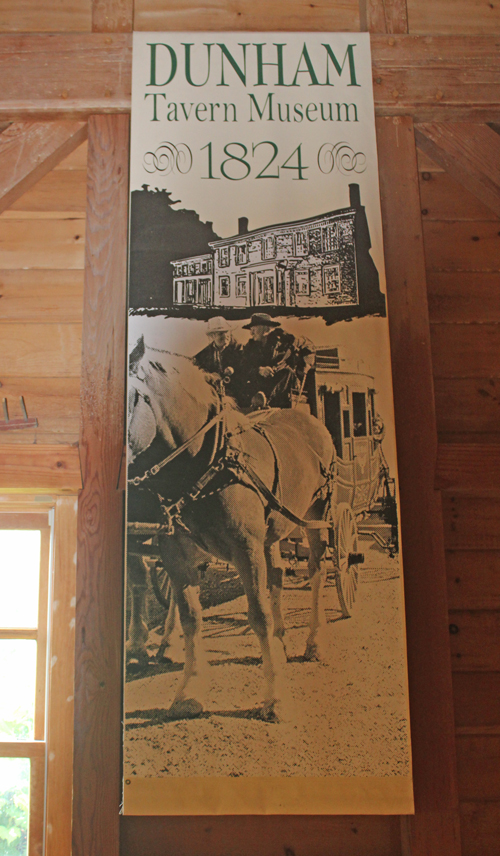 >
Photos and videos of the Dunham Tavern Museum Tour


---
Mexican Fashions
The Cleveland Cultural Gardens Federation World on Stage series presented a night of music and the Ballet Folklorico Mexicano, a highly acclaimed folk dance group. This included a fashion show of dresses from different regions of Mexico. It was presented in conjunction with the Mexican Cultural Garden.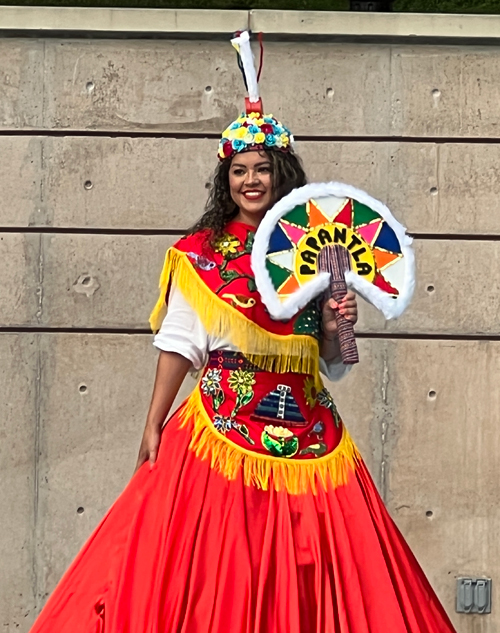 See more of the Mexican costumes
---
Cleveland Tall Ships Festival - Port of Cleveland - July 7 - 10, 2022
The Cleveland Tall Ships Festival returned to Lake Erie for a 4-day maritime celebration. Serving as the second host port of the TALL SHIPS CHALLENGE® Great Lakes 2022 race series, Cleveland was honored to welcome a fleet of historic tall ships from harbors through the United States, Canada and Spain.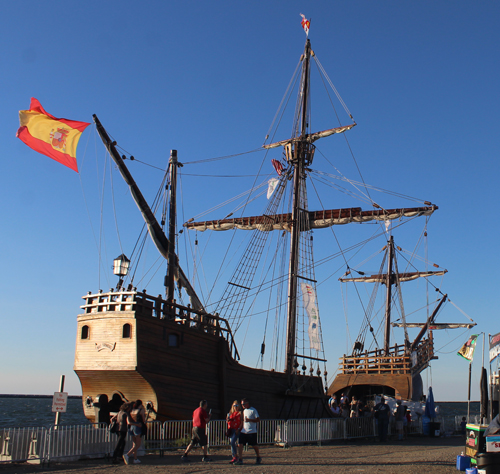 Nao Trinidad Tall Ship from Huelva Spain
Photos and videos of the Cleveland Tall Ship Festival


---
Cleveland International Hall of Fame - What a Night!
Since 2010, the
Cleveland International Hall of Fame (CIHF)
has inducted people who have made significant and lasting contributions to our multicultural society. Cleveland is home to people representing about 120 different ethnic groups. The CIHF exists not only to honor those special people but also to inspire a new generation of leaders to follow in their footsteps.
Over 150 worthy candidates were nominated for both the 2020 and 2022 Classes of the Cleveland International Hall of Fame. The selection committee was advised by previously inducted members of the Cleveland International Hall of Fame.
Covid-19 forced the always sold out induction ceremonies to be cancelled in 2020 and 2021. We tried to induct the 2020 class virtually but it was not the same. So once we were able to gather together again, we included the 2020 class in the induction ceremony along with the 2022 class on June 7, 2022. The event at Windows on the River was a sell out and the 2020 class finally got their moment in the spotlight.
2022 Class of the Cleveland International Hall of Fame

2022 Class of the Cleveland International Hall of Fame
Seated (l-r) Anda Cook, Taras Szmagala
Standing - Victor Ruiz, Carl Robson MD
2020 Class of the Cleveland International Hall of Fame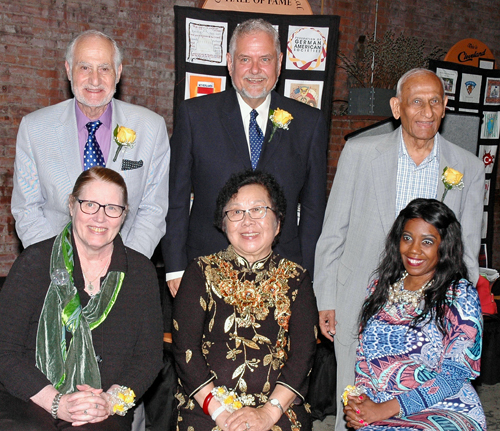 2020 Class of the Cleveland International Hall of Fame
Seated (l-r) Margaret Lynch, May Chen, Valarie McCall
Standing Berj Shakarian, Joe Valencic, Ramesh Shah


See the entire Cleveland International Hall of Fame Induction Ceremony
See pictures of many of the attendees at the event
---
You didn't know I was a chef, did you?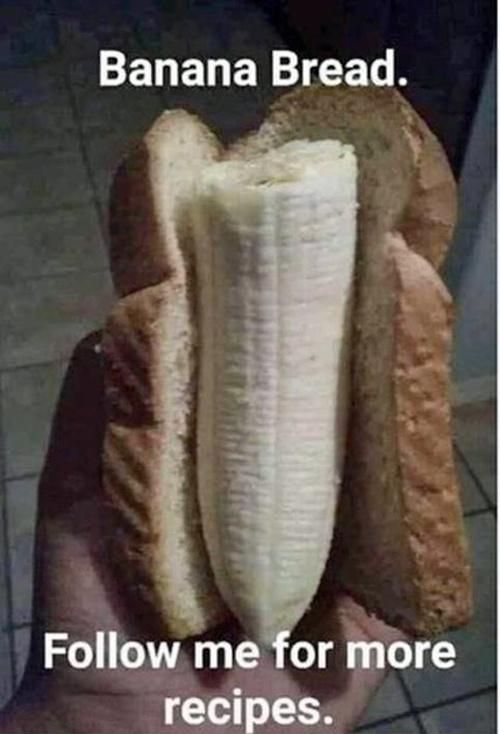 ---
Can you still feel the burn from this?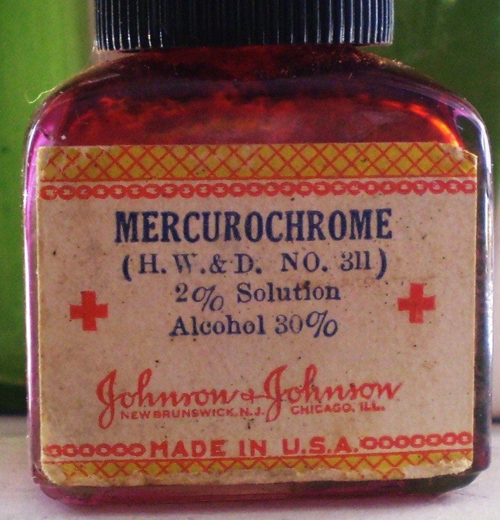 ---
Battlefield Crosses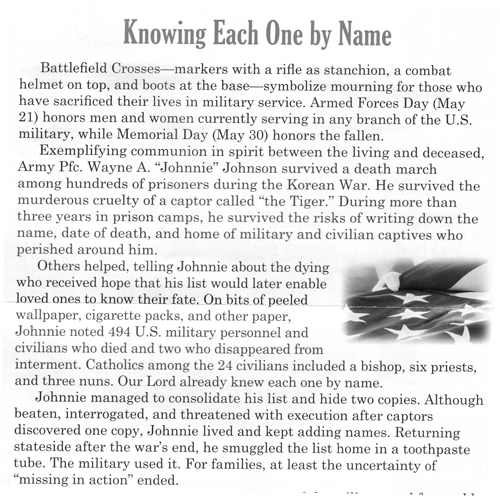 ---
10 Ways to Make the Most of Your Air Fryer
Sure, air fryers achieve a satisfyingly crisp finish with just a fraction of the fat, putting a healthier spin on fried foods. But there's another reason to love your air fryer: the mind-blowing array of exciting new dishes you can add to your everyday repertory.
---
Mianbaoxia Shrimp Toasted Sandwich and Teriyaki Beef Jerky Recipes
For your Air Fryer
Try these 2 favorites in your air fryer.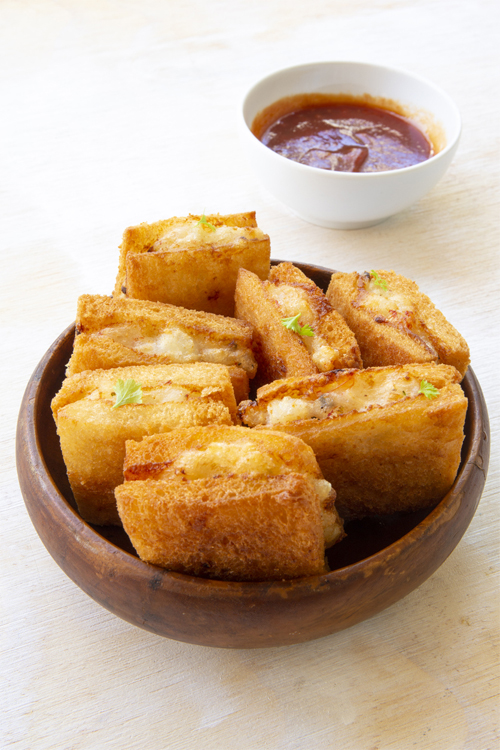 Mianbaoxia Shrimp Toasted Sandwich
Mianbaoxia Shrimp Toasted Sandwich and Teriyaki Beef Jerky Recipes
---
If they only knew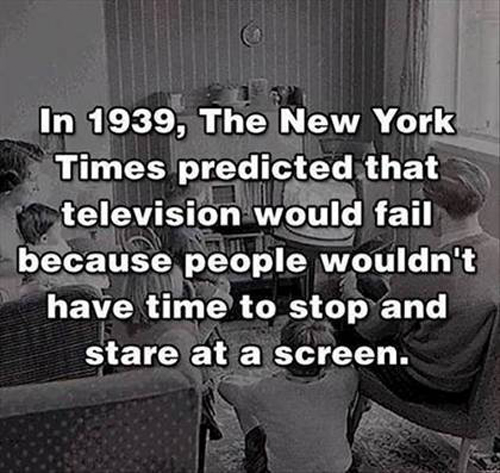 ---
Cleveland Guardians new Food at Progressive Field 2022
The Cleveland Guardians are offering some new foods at Progressive Field for the 2022 baseball season. This includes items such as a Chicken and Waffle sandwich, Plant-based Nachos, Pork Mac and Cheese in a waffle cone, Wisconsin brat burger on a pretzel bun and more.
You can go to the stands to get your food when you are at a game or order it on your phone for mobile delivery.
I really liked the Chicken and Waffle and the Footlong Chili Dog which has a spicy chili and onion. I tried the plant-based nachos and with the cheese and salsa and jalapenos did not even notice that the "beef" was plant-based. Hungry yet?
---
Signs of a Stroke - Remember STR
Remember the '3' steps, STR. Sometimes symptoms of a stroke are difficult to identify. Unfortunately, the lack of awareness spells disaster. The stroke victim may suffer severe brain damage when people nearby fail to recognize the symptoms of a stroke. Now doctors say a bystander can recognize a stroke by asking three simple questions:
S Ask the individual to SMILE.
T Ask the person to TALK and SPEAK A SIMPLE SENTENCE (Coherently) (i.e. It is sunny out today.)
R Ask him or her to RAISE BOTH ARMS.
If he or she has trouble with ANY ONE of these tasks, call emergency number immediately and describe the symptoms to the dispatcher.
New Sign of a Stroke - Stick out Your Tongue. Another 'sign' of a stroke is this: Ask the person to 'stick' out his tongue... If the tongue is 'crooked', if it goes to one side or the other,that is also an indication of a stroke.
---
Lost Words From Those Of Us Lucky Enough To Have Lived Through the 1950's
Mergatroyd!
Do you remember that word? Would you believe the spell-checker did not recognize the word Mergatroyd? Heavens to Mergatroyd!
The other day a not so elderly, (I say 75), lady said something to her son about driving a Jalopy; and he looked at her, quizzically and said, "What the heck is a Jalopy?" He had never heard of the word jalopy! She knew she was old ... But not that old!
Well, I hope you are Hunky Dory after you read this and chuckle.
About a month ago, I illuminated some old expressions that have become obsolete because of the inexorable march of technology. These phrases included: Don't touch that dial, Carbon copy, You sound like a broken record, and Hung out to dry.
Back in the olden days, we had a lot of moxie. We'd put on our best bib and tucker, to straighten up and fly right.
Heavens to Betsy! Gee whillikers! Jumping jehoshaphat, Holy moley!
We were in like Flynn and living the life of Riley ; and even a regular guy couldn't accuse us of being a knucklehead, a nincompoop or a pill. Not for all the tea in China!
Back in the olden days, life used to be swell, but when's the last time anything was swell? Swell has gone the way of beehives, pageboys and the D.A.; of spats, knickers, fedoras, poodle skirts, saddle shoes, and pedal pushers. Oh, my aching back! Kilroy was here, but he isn't anymore.
We wake up from what surely has been just a short nap, and before we can say, "Well, I'll be a monkey's uncle!" Or, "This is a fine kettle of fish!" We discover that the words we grew up with, the words that seemed omnipresent - as oxygen - have vanished with scarcely a notice from our tongues and our pens and our keyboards.Poof, go the words of our youth, the words we've left behind. We blink, and they're gone. Where have all those great phrases gone?
Long gone: Pshaw, The milkman did it. Hey! It's your nickel. Don't forget to pull the chain. Knee high to a grasshopper. Well, Fiddlesticks! Going like sixty. I'll see you in the funny papers. Don't take any wooden nickels. Wake up and smell the roses.
It turns out there are more of these lost words and expressions than Carter has liver pills. This can be disturbing stuff! (Carter's Little Liver Pills are gone too!)
Leaves us to wonder where Superman will find a phone booth...
See ya later, alligator! Okeydokey.


---
Eliza Bryant Village to Close Nursing Home on June 8, 2022
Eliza Bryant Village wrote:"The Eliza Bryant Village Board of Trustees has made the difficult decision to close our skilled nursing facility effective Wednesday, June 8, 2022.
We will continue to operate our affordable senior housing, home care, senior outreach, adult day services, community transportation, caregiver support groups and Elder Justice Center. Our staff members will assist in relocating residents to area facilities that can capably and compassionately meet their needs.
Our current business model is just not financially sustainable due to skyrocketing operating costs, inadequate Medicaid reimbursement and the impact of the pandemic, among other issues.
We value each and every resident and are committed to helping them find the best quality care in the Cleveland-area to meet and exceed their needs. Also, we will work tirelessly to help our dedicated staff members secure employment at other facilities.
Thank you for the love and support you've shown throughout our 126 years of providing long-term care to African Americans in Greater Cleveland. We know our founder, Eliza Simmons Bryant, would like the organization she founded in 1896 to continue providing quality services to our constituency. How we serve may change, but our dedication to this community we love will continue to be expressed in new ways."


---
Stay Fit To Drive
The
Ohio Department of Transportation (ODOT)
supports the state highway system and promotes transportation initiatives statewide. ODOT's mission is to provide safe and easy movement of people and goods from place to place.
As we age we have all experienced slowing down and/or weakening of some of our abilities. Maybe it's our vision or hearing not being what it used to be. Or a physical or mental challenge. Or even our medications! Maybe we didn't drive much during the Covid pandemic and are a little rusty or fearful now.
The good news is that we older adults are among the safest drivers on Ohio roads. We are more likely to wear our seatbelts and less likely to speed or drink and drive as some of the younger people. The bad news is that the risk of being injured or killed in a crash increases with age.
The best news is that ODOT is sharing information about resources and services available to older Ohioans, families and friends, caregivers and others who interact with older drivers through its Stay Fit to Drive program.

More information and a free informative, colorful brochure
---
Local nuns help raise awareness about kidney transplant exchange program
When it comes to organ transplants, the greatest number of people are on the waiting list for a human kidney. Unfortunately, the demand for kidneys far exceeds the supply. As part of the celebration of National Catholic Sisters Week, March 8-14, two nuns who are members of the Poor Clares of Perpetual Adoration in Cleveland are doing their part to raise awareness about an innovative program that helps address the kidney shortage.
In 2019, Sister Jacinta, the youngest member of the PCPA monastery in Cleveland, began experiencing shortness of breath and other symptoms. Eventually, she was diagnosed with kidney failure stemming from an autoimmune disease. Learning that a kidney transplant was the best option, a fellow member of her order, Sister Mary Joseph, volunteered to be a living donor.
"She's in my religious community, an extension of my family," said Sister Mary Joseph. "I just felt that love for her, so that I would want to help her any way I could."
Unfortunately, Sister Mary Joseph was not a match to donate her kidney directly to Sister Jacinta. However, the two sisters became part of what is called "kidney paired donation" run by the National Kidney Registry. The program allowed Sister Mary Joseph to donate a kidney to another patient in the program who was a suitable match to her. Sister Mary Joseph chose to remain anonymous to her recipient.
Thanks to Sister Mary Joseph's gift, Sister Jacinta, in turn, got a voucher to receive a kidney from another patient in the program who was a match for her. Sister Mary Joseph's surgery to remove her kidney took place at UH Cleveland Medical Center in April 2021 and Sister Jacinta had her transplant at UH seven weeks later.
"It is a great act of love she did," Sister Jacinta said about her fellow sister's sacrifice. "I feel that God has given her great grace and she is sharing with me and our community."
Sister Mary Joseph said sharing their story publically was something she never imagined doing. The Poor Clares of Perpetual Adoration is a cloistered order and members lead a humble, prayerful life. However, given the importance of helping people understand the benefits of living donor transplants, their mother superior granted them special permission and allowed producers from the Diocese of Cleveland to videotape the sisters outside of the grated-screen parlor where they usually receive visitors.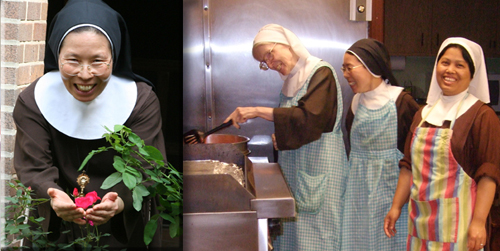 What makes National Catholic Sisters Week even more special for the Poor Clares is that 2022 is the celebration of their arrival in Cleveland 100 years ago. The centennial actually as in 2021, but last year's celebration was postponed by the COVID-19 pandemic. The delayed celebration will include a fundraising gala on April 24 at Cleveland Browns Stadium. Kevin Stefanski, the Browns' head coach and a devout Catholic, will be the keynote speaker.
---
MagniPros Lighted Magnifiers - Review and Special Offers
Let's face it. Our vision is probably not what is was when we were younger. Even with "cheaters" it can be a struggle to read fine print in documents, prescription bottles, thread a needle and so on. And when the lighting is not as bright as we would like it can be a real problem.
MagniPros has solutions for these and other problems. Read on to see how you can get 20% off, get a second product for free or maybe even win a free product.

MagniPros review and special offers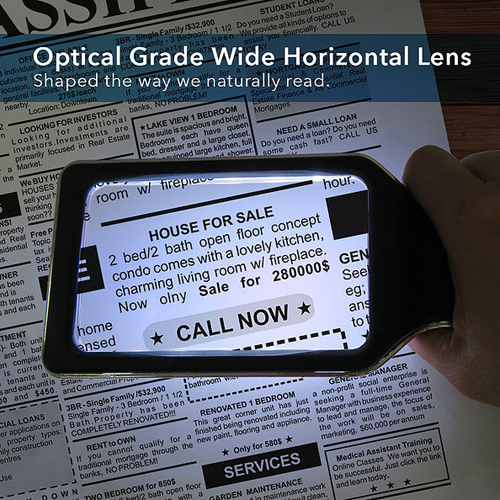 ---
So many jobs, so few people - Why not Workers over age 55?
Coming in to 2022 the residual effects of Covid-19 are still with us. Among many economic issues plaguing the country, persistent supply chain problems persist and hordes of people are finding ways of not returning to work so employers can't find job applicants, much less qualified job applicants.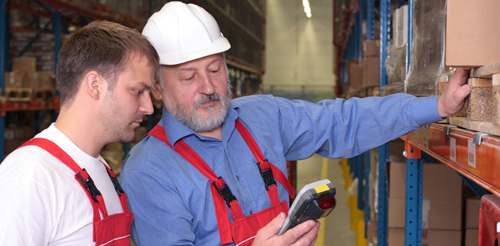 If the unemployment numbers and the economy return to its pre-Covid19 status it will mean the continuation of having more jobs out there than there are people to fill them. In a normal job market, job seekers over the age of 55 aren't normally welcomed with open arms, outside of menial part-time work. And unfortunately, in some cases HR people regard job applicants in their late 40's as too old. It's more of a personal attitude of those in the hiring process and not necessarily a matter of company policy - not on the record anyway.
Read the rest of the article about hiring senior employees


---
Hi! What do you want to do today?
Or just Browse around using the topics to the left
---
Better than many weather forecasters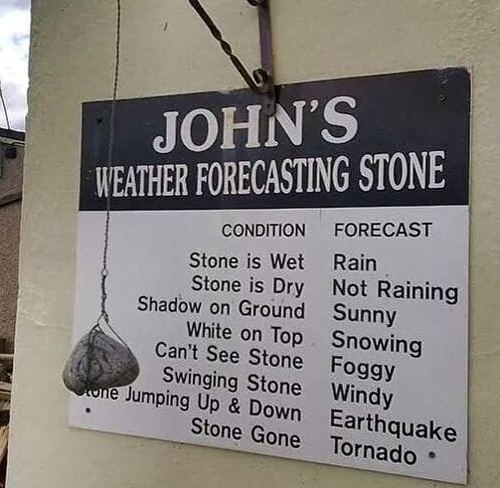 ---
ClevelandSeniors.Com Joke of the Week
After seeing a documentary about ice fishing, Zeke decided to give it a try. He gathered some gear and headed out to the ice. As he se t up and was about to drill his first hole he heard a booming voice from above saying "There are no fish under the ice."
Zeke was starled but started to drill. He again heard the powerful voice stating "There are no fish under the ice."
Zeke got scared. But decided he must be imagining it and began to drill again.
The voice boomed out again, "There are no fish under the ice."
Zeke looked up to the havnes and asked, "Is that you Lord?"
The voice boomed, "No, this is the manager of the skating rink"
---
McDonalds menu in 1972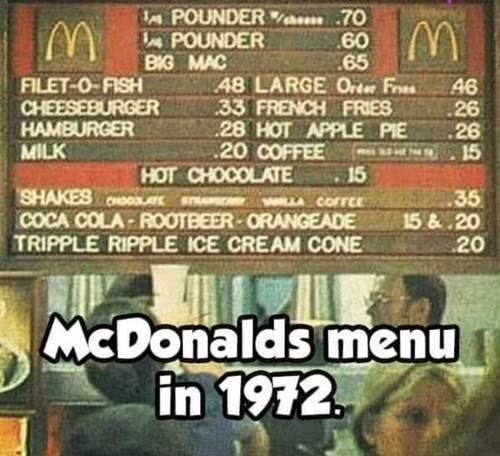 ---
Mrs. Garrett's Front Porch by Darrell Smith
A seven-year-old kid from West Virginia, living on the near east side of Cleveland, Ohio, never imagined he would spend the bulk of the summer of 1957 with his ninety-seven-year-old neighbor, Mrs. Garrett. She was a woman with a most colorful life story that includes, for starters, being born a slave in 1860. After a tumultuous meeting they warm up to each other and become fast friends through sharing and story-telling, looking at the world, past and present and all done from her front porch. She experienced first-hand the wondrous results of advancements in chemistry, modern science and technology. The world was spellbound by the marvelous inventions of the day and yet she had to navigate an existence in post-bellum America during Reconstruction and into the 20th Century. Now, her life was coming to an end and his was just beginning.
Although Mrs. Garrett's Front Porch was written more than 30 years ago, due to its historical perspective, it is as relevant today, as it was thirty years ago and would have been in 1957. It's time travel without a machine – it's about awakening our imaginings concerning life before our time and life that comes after our time - the beauty of what was, is and what will be is explored… but that may be just what I got out of it.
Mrs. Garrett's Front Porch by Darrell Smith


---
Advice from someone heading toward his 80th birthday
After loving my parents, my siblings, my spouse, my children and my friends, I have now started loving myself.

I have realized that I am not "Atlas". The world does not rest on my shoulders.
I have stopped bargaining with vegetable & fruit vendors. A few pennies more is not going to break me, but it might help the poor fellow save for his daughter's school fees.

I leave my waitress a big tip. The extra money might bring a smile to her face. She is toiling much harder for a living than I am.

I stopped telling the elderly that they've already told that story many times. The story makes them walk down memory lane & relive their past.

I have learned not to correct people even when I know they are wrong. The onus of making everyone perfect is not on me. Peace is more precious than perfection.

I give compliments freely & generously. Compliments are a mood enhancer not only for the recipient, but also for me. And a small tip for the recipient of a compliment, never, NEVER turn it down, just say "Thank You."

I have learned not to bother about a crease or a spot on my shirt. Personality speaks louder than appearances.

I walk away from people who don't value me. They might not know my worth, but I do.

I remain cool when someone plays dirty to outrun me in the rat race. I am not a rat & neither am I in any race.

I am learning not to be embarrassed by my emotions. It's my emotions that make me human.

I have learned that it's better to drop the ego than to break a relationship. My ego will keep me aloof, whereas with relationships, I will never be alone.

I have learned to live each day as if it's the last. After all, it might be the last.

I am doing what makes me happy. I am responsible for my happiness, and I owe it to myself. Happiness is a choice. You can be happy at any time, just choose to be!
---
Beatitudes for Friends of the Aged
Blessed are they who understand
My faltering step and palsied hand.

Blessed are they who know that my ears today
Must strain to catch the things they say.

Blessed are they who seem to know
That my eyes are dim and my wits are slow.

Blessed are they who looked away
When coffee spilled at the table today.

Blessed are they with a cheery smile
Who stop to chat for a little while.

Blessed are they who never say,
"You've told that story twice today."

Blessed are they who know the ways
To bring back memories of yesterdays.

Blessed are they who make it known
That I'm loved, respected and not alone.

Blessed are they who know I'm at a loss
To find the strength to carry the Cross.

Blessed are they who ease the days
On my journey Home in loving ways.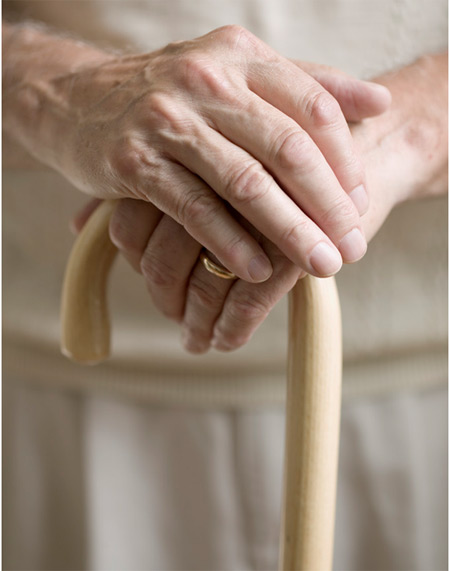 ---
An Answered Prayer
Smith climbed to the top of Mt. Sinai to get close enough to talk to God. Looking up, he asked the Lord.. "God, what does a million years mean to you?"
The Lord replied, "A minute."
Smith asked, "And what does a million dollars mean to you?"
The Lord replied, "A penny."
Smith asked, "Can I have a penny?"
The Lord replied, "In a minute."
---
The 7 Dwarves of Old Age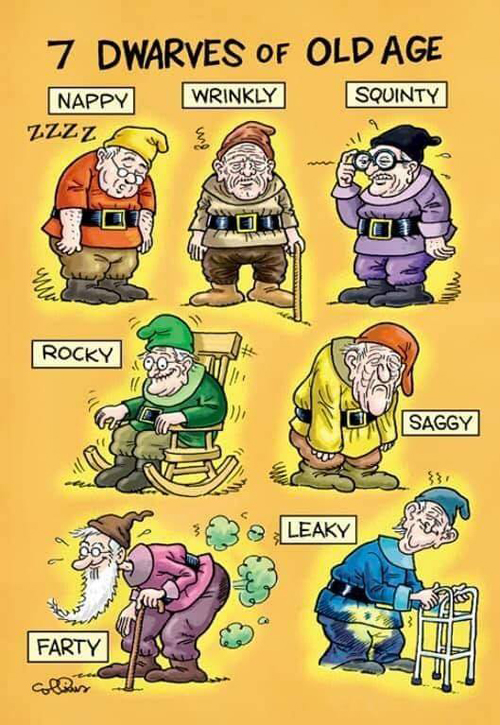 ---
Murder in the Cultural Gardens
"It just didn't seem right to DJ. A body found bludgeoned in a place known for "Peace through Mutual Understanding." But there she was, crumpled behind a bust of composer Franz Liszt in the Hungarian Cultural Garden. He pulled out his cell phone and dialed 911. "What is the nature of your emergency?" the dispatcher queried. With a suddenly very dry mouth DJ managed to get out, "There's been a murder in the Cultural Gardens."
That's the beginning of the recently published first novel by Dan Hanson.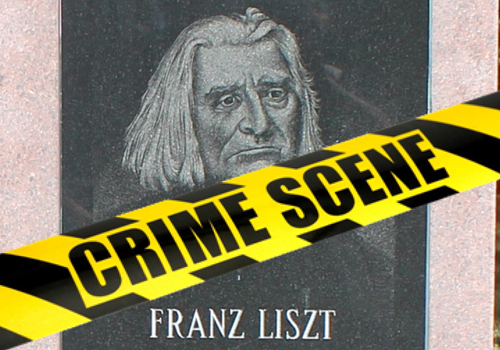 The whodunit, titled
Murder in the Cultural Gardens
, takes place in the Cleveland Cultural Gardens and all 30+ gardens are featured during the mystery. You may even recognize some of the characters.
Click the link above to learn more or to purchase in paperback or Kindle version from Amazon. Or contact Dan via the
Murder in the Cultural Gardens webpage
to have a signed book delivered.
---
A Senior Prayer
God, grant me the senility to forget the people I never liked anyway, The good fortune to run into the ones that I do, and the eyesight to tell the difference.
---
Do you need help paying your Medicare expenses?
If you are a low-income Medicare beneficiary, the Medicare Premium Assistance Programs (MPAP) may help you pay some or all of your Medicare cost-sharing expenses (premiums, copays, and coinsurance). MPAP is part of the Ohio Medicaid program. MPAP is sometimes called the "Medicare buy-in" or "Medicare savings" program.
Learn more about help paying your Medicare expenses


---
Who Needs Advance Directives about Medical Care?
Advance directives help ensure that you receive the medical care you would want even when doctors and family members are making decisions on your behalf. There are two different types of advance directives: Health Care Power of Attorney and Living Will.
Learn more about Health Care Power of Attorney and Living Wills


---
Elder Abuse: What Is It and How to Get Help
It is difficult for people to accept the notion that adult abuse occurs in the elderly, but the sad fact is that it occurs everyday. Last year in Ohio over 16,000 incidents of elder abuse were reported to Ohio Department of Job and Family Services. In Cuyahoga County alone, over 3,000 incidences of elder abuse were reported to Cuyahoga County Department and Senior Adult Services, Adult Protective Services.
---
Should you purchase prepaid funeral arrangements?
Many people do not like to think about death or funeral arrangements, but some people do make plans for when they pass. For example, some people choose to purchase "pre-paid funeral contracts." These contacts allow you to make decisions about your own funeral, and pay for it ahead of time. These pre-paid contracts give some people peace of mind. But before purchasing such a contract, keep the following issues in mind.
More about prepaid funeral arrangements


---
How can seniors learn more about benefits available to them?
BenefitsCheckUp is a web-based service that helps seniors. It is especially helpful for those with limited income and resources, their family members and, social service organizations. It connects people to over 2,000 public and private programs. Many adults over 55 need help paying for basic needs. Some of the benefits screened for are health care services, prescription drugs, rent assistance, in-home services, meals, heat, and energy assistance, and transportation.
Learn more about Benefits Checkup


---
Grandparent POAs and Caretaker Authorization
Grandparents sometimes find themselves caring for a grandchild unexpectedly. This often happens without any formal court order giving the grandparent custody or guardianship. Without custody or guardianship, the grandparent will face problems getting medical care for the child or dealing with the child's school.
More about Grandparent POAs and Caretaker Authorization


---
How do I name a Durable Power of Attorney?
A durable power of attorney can be one of the most helpful estate planning tools a person uses, but it can also be very risky. A durable POA gives a person (who is called an "attorney in fact") legal authority to act for another person in a variety of matters, including banking, benefits, housing, taxes, real estate, litigation, and more. (The durable POA is different from a Health Care Power of Attorney, which is the form used to appoint a person to make decisions about health care.)
Learn more about Durable Power of Attorney


---
Are Wills Really That Important?
:When my mother died in 2012, we discovered that her will was from 1959 and had not been updated to reflect the many changes in her life since then: she had four more children, she bought a house, furniture, an automobile, jewelry, and a dog. As a result, my mother died without a valid will. Following her death, bills had to be paid, property sold, her furniture, jewelry, the car divided, and someone had to take in the dog."
Read more about the importance of Wills
---
Recommended For You (popular with other Cleveland Seniors)
---
ClevelandSeniors.Com Book of the Week
Before You Leap
Before You Leap starts on screeching tires, literally—an interstate bridge, a police chase, three men trapped in a car, driving at full speed. The two in the front are arguing, one is brandishing a gun, and the third is bleeding profusely in the backseat. You can't help but be immediately hooked and wonder, Who are they? And how on earth did they get here?
The novel then takes you back a few days. Greg Cole's quiet and secluded life is about to be thrown into chaos when he learns that his dead sister's convicted murderer has been released early.
Before You Leap is absorbing, thought-provoking, and psychologically riveting. I was struck by how the author is able to delve into Greg's psyche and express his grief over the loss of his sister—and the inner turmoil that overtakes him—with such clarity. What you're left with is a poignant, complex, nail-biting novel where you watch in a stupor as someone's life and sanity shatter. And as it crescendos, the story pulls the rug from under your feet and delivers the most unexpected twist—one that took my breath away and left me reeling.

Before You Leap
---
Free weekly eNews
Every Tuesday evening we send an e-mail message to people who are interested in upcoming (the next week) events that have an ethnic or cultural connection. So it may be Opera in the Italian Garden or Puerto Rican Day Parade or Slovenian Kurentovanje or...
If you are interested in receiving this free weekly e-mail just sign up for the free eNews.
You can also sign up to receive more specific free eNews for any groups or groups you may choose (Irish, German, Polish, Chinese, etc.)
It's easy and free and will let you know every week about fun and interesting events that are coming up in the next week.
---
Website Disclaimer
We participate in the Amazon Services LLC Associates Program, an affiliate advertising program designed to provide a means for sites to earn advertising fees by advertising and linking to Amazon.com. Please note that some of the links on this website are affiliate links, and at no additional cost to you, we will earn a small commission if you decide to make a purchase after clicking through the link. Please do not spend any money on these products unless you feel you need them or that they will help you achieve your goals.
---
---
Calendar of Events for Cleveland Seniors & Baby Boomers
---
---
Sign up for our free eNewsletter sent about once every month with special offers, discounts, contests and more.
---
Whether you are a
Boomer
who's just turned 50 (and don't think of yourself as a Senior) or part of the
"Greatest Generation,"
you can learn about issues that are important to you and your family right here on ClevelandSeniors.com from Cleveland area experts.
Don't miss our profiles of interesting Cleveland Seniors and Baby Boomers - Maybe it's someone you know! (Or tell us about someone we should know)



Take advantage of discounts and specials selected just for you.



Ask questions and receive answers from our many experts from all walks of life.



Share your thoughts, memories, ideas with other Cleveland Seniors and Baby Boomers.



Keep your mind sharp with some of our games, quizzes and mind expanders.



Most importantly, come back often and
Have Fun!


---
Top of Page