Home




What's New

Feedback

Instant Vote

Health & Fitness

Legal & Financial

Home & Garden

Family

Arts & Leisure

People

Forever Young

About Us




Search the Site


What kind of Cleveland People are you?
Is your group represented?
Find out more
about Cleveland's
rich ethnic cultures at
ClevelandPeople.Com

---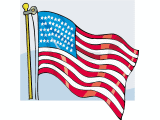 God Bless America!
---
"I still miss those I loved who are no longer with me but I find I am grateful for having loved them. The gratitude has finally conquered the loss."

-Rita Mae Brown
---
New Items for Cleveland Seniors

Six Things To Do Now for a Better Garden Next Year
by Melinda Myers, gardening expert, TV & radio host, author and columnist

Fast, Fabulous, Fresh Foods - Class 4
Chinese Chicken Salad

Dan Coughlin - ClevelandSeniors.Com Official Profile
Still Crazy After All These Years

2011 Cleveland Oktoberfest - Labor Day Weekend
Win Free Tickets!

How Selfish we Seniors were
Without 'The Green Thing'

Where would you find President Garfield
and his wife's Final Resting Spot?

Fast, Fabulous, Fresh Foods - Class 3
Panzanella (Italian bread salad) Recipe

Social Security Benefits and 'Grey' Divorce
Divorce is on the rise among seniors

Domestic Violence and Divorce in Later Years
1 out of 4 women will experience domestic violence in her lifetime

Health Insurance After Divorce
Options for Seniors

Get Free Help with Pension Problems and Questions
Six regional Pension Counseling Projects

New Protection for Federal Benefits
More protection for retirees, veterans and disabled persons who use bank accounts

ClevelandSeniors.com profile - Doris O'Donnell
Front-Page Girl

Who is this "Ideal Boy" in the statue?
Cleveland Photo Quiz

Fast, Fabulous, Fresh Foods - Class 2
Honeydew Salad with Mint and Cilantro
and Watermelon, Feta, & Red Onion Salad

Flag Day 2011
US Army 236th birthday celebration

University Heights Memorial Day Parade
Chaired by Cleveland Senior Anita Kazarian

Amy Kenneley says, "On this Memorial Day, I am remembering ACTION people who showed their love by what they sacrificed. Their actions DID speak louder than words, and I can only humbly say… THANK YOU.

Read Amy's Memorial Day essay - Where the Action is.

Eleanor Roosevelt (portrayal) at Noble Road Library reopening
History comes to life

The Scale is Evil!
Chat with Pat goes on a diet

Aren't we all are looking for ways to eat better?
Introduction to the series

Pineapple Salsa Recipe
A little sweet, a little savory, with bright, clean flavors that enhance so many foods.

Raisin' Canes Vaudeville Troupe
From the Parma Seniors Center

This is MY road
Don't mess with an elephant!

Do you care about the Royal Wedding?
Vote in our Anonymous Survey

Jellybeanville in Euclid, Ohio
Huge Easter display benefit Bellflower Center

Huge Senior Softball Tournament
June 2011

Hotel on the Corner of Bitter and Sweet by Jamie Ford
Reviewed by Jean Walsh

Fast Medicare coverage even when you're not retired
Most people should apply for Medicare coverage at age 65

The Sheer Nightgown
ClevelandSeniors.Com Joke of the Week

Four Legged Friends in St Patricks' Day Parade
Irish Wolfhounds, Setters and More

St. Patrick's Day Parade 2011
Parade route, honorees and step off

Who is this woman in the sculpture
Cleveland Photo Quiz

Where should we eat?
ClevelandSeniors.Com Joke of the Week

Desk job making you fat?
Easy ways to shed that jelly belly for good!

Remember Martha Raye?
Did you know she did more than sing and act?

The Cathedral of St. John the Evangelist
Helen D. Schubert Concert Spring 2011 Series
Free and Open to the Public

Is Cancer Curable?
Cleveland Clinic and University Hospital Doctors discuss

Cheating Spouse - What would You do?
ClevelandSeniors.Com Joke of the Week

'BEE' my Valentine
Amy remembers a special grade school Valentine


---
Crazy, with the papers to prove it
By Cleveland Sports Writer Dan Coughlin

The Sandbank Piano and My Thwarted Musical Career
Amy wonders about abandoned pianos

Medicare: General Enrollment and General Information
Medicare: Parts A, B, C and D

Home Remedy Solutions and Tips
For winter driving in cold and snow

2011 tax numbers are adjusted for inflation
Changes to keep in mind as you review tax strategies for 2011

Learn from babies (great pictures!)
They can teach us how to live better

Q&A from a Senior Forum
Funny answers you may not want to hear

Gifts for the Teacher
ClevelandSeniors.Com Joke of the Week

Jeanette Grasselli Brown - ClevelandSeniors.Com Profile
Chemistry in the Lab and with Glenn and her Hungarian Roots

Wishes for the New Year
Featuring fun pictures of our animal friends

Christmas Party Advice
Avoid Carrot Sticks and more fun tips

She's Making a List
Amy learns a holiday lesson from Himself

Rudolph the Red Nosed Reindeer
The real story behind the Reindeer Tale

Away in a ... Cabin?
Chat with Pat shares a special holiday memory

Reason for Speeding
ClevelandSeniors.Com Joke of the Week

Are TIPS right for your portfolio?
Treasury inflation-protected securities or TIPS are in the spotlight

Year-end tax housekeeping
Three tasks you can complete quickly

Passing Gas
ClevelandSeniors.Com Joke of the Week

Remember Ghoulardi?
Photos from 2010 Ghoulardifest with Hoolihan, Dick Goddard, Big Chuck, Lil John, Son of Ghoul and more

Snolympics at Cleveland Indians Snow Days
Media preview at Progressive Field

Las Vegas Casinos and the Church
ClevelandSeniors.Com Joke of the Week

Snow Days at Cleveland Indians Progressive Field
Starts this Friday - Snow or Not!

Jesse Owens Way Street Dedication
Downtown Cleveland November 15, 2010

Fabulous Food Show 2010
Giada, Michael Symon, Guy Fieri and more

Cleveland Cooks Vol 3 - Ethnic Recipes
Now available and at Fab Food Show prices

Tax strategies investors should consider at year-end
Wash sales, Worthless stocks and Stock Donations

Long live the Queen!
Photos of Queen Elizabeth with US presidents back to Truman

Grace Kelly, Prince Charles and Goldie Hawn
Famous November birthdays - do you have a twin?

Collectibles face special tax rules
Check before selling

Where's my babushka? by Amy Kenneley
Not a designer-labeled, expensive scarf

Gang of Moose roaming the neighborhood
They are magnificent


---
---
Cuyahoga means Crooked River
The Iroquois were very accurate in their naming

Shop Till You Drop
Chat with Pat has always loved to shop!

Famous Times Square Kiss on V-J Day
Recreated in Cleveland 65 years later

USS Cod World War II Submarine
Photos and a video of a submarine veteran

Terminal Tower Observation Deck
Photos and a video of Cleveland from the 42nd Floor

Terminal Tower Observation Deck
More Photos of Cleveland from the 42nd Floor

Shopping at warehouse stores
Do you really save money?

Cleveland Senior Debbie Hanson throws out the first pitch
at Cleveland Indians game

Year of the Tiger sculptures
Public Art in Cleveland - which is your favorite?

God Never Blinks - 50 Lessons for Life's Little Detours
by Regina Brett
Win a free copy of the book

Beatitudes for an Aged Friend
Blessed are they who never say, "You've told that story twice today."

Cottage Hams - from our Expert Butcher
See how they are prepared and more about this popular cut.

Incredible photo from 1918
18,000 soldiers form Human Statue of Liberty

Sit, Stay, Pay
Mary has a doggone good idea for health care reform

7 Steps To A 720 Credit Score
by Philip X. Tirone

The donkey caught in the well
Two surprising morals to this story

What Would Mickey Mantle Say
#7 coaches Men to Health and Happiness - book review

Sausage 101 with our Expert Butcher from Old World Meats
Polish, Italian, Slovenian, Hungarian, Breakfast and more!
Watch expert meat cutter Ed Jesse make sausage

Steak 101 with our Expert Butcher from Old World Meats
Strip, Porterhouse, T-bone, Rib - the best for you and your budget

Harrison Dillard - ClevelandSeniors Profile
Only person to win Olympic Gold in hurdles and sprints

Jan Jones Profile
From Morning (Exchange) to PM (Magazine), her smile shines through

Euclid Beach Park Now
Photos, Memories and Updates on Restoration

The 13th Annual Cleveland Powwow
Photos (and drums!) from the weekend event

1956 Hungarian Freedom Fighter
Statue dedicated in Mindszenty Plaza

Cleveland Fire Fighters Memorial - Photo Quiz
Includes video of Fire Fighter bagpipes and drums

Princess Diana, A Celebration
Western Reserve Historical Society

A 'Guess' of Cleveland Weathermen
Don Webster, Dick Goddard, Mark Nolan, Mark Johnson and Jon Loufman

Hogan, the Black Lab, has a Blog!
Dogs, Humans and even Cats are welcome to read Hogan's blog and leave their own comments.

Are you getting all the benefits you could?
Check with this free online service



---
A beginner's guide to surfing this web site
Print a copy out for your friends
---


---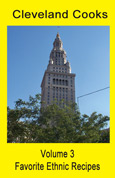 Cleveland Cooks Vol 3
The best Ethnic Recipes from Cleveland
Browse our Amazon Christmas Store
Want to learn about special offers and features first?

Sign up here for our free e-mail newsletter.
---
Click here to read comments from other visitors to the site (or leave your own)
---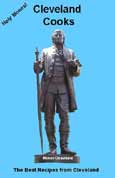 Cleveland Cooks
The best recipes from Cleveland
---

Browse our
On-line Store
---