Harrison Dillard
Only person to ever win Olympic Gold
in both hurdles and sprints
William Harrison Dillard was born at 32nd and Orange Avenue, approximately where the Post Office is today on July 8, 1923. He was born at home, a practice not uncommon in those days.
He stayed there until he was about five years old when they went to East 63rd Street where he continued to live through high school. He graduated from East Tech in 1941.
He had an older brother and sister and a younger brother. Both brothers are deceased, but his sister is still alive and "God willing she will be 97 in September."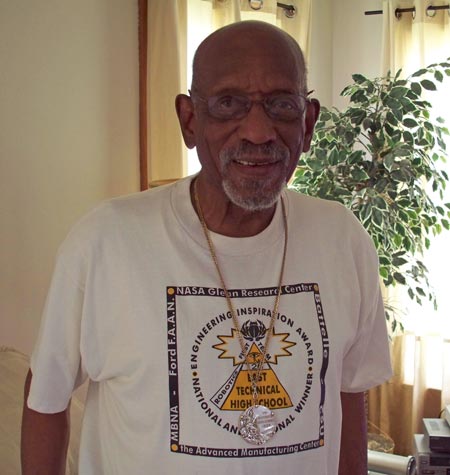 Harrison Dillard wearing one of his 4 Olympic gold medals
- and an East Tech shirt



Harrison was very successful in Track and Field during High School. His coach was Ivan Green, a well known and prominent coach in the area. Green was responsible for numerous championships and titles; both local and state. Green also taught History and Driver's Education and, in fact, taught Harrison to drive.

Green was from Texas originally, a point that Harrison feels is important to the story since the athletes he was coaching were predominantly African American or "Negro as we were called then."

"I remember how he stood up for us when we would go to various track meets around the state. In particular I remember going down to Columbus, I think it was 1939 my first year on East Tech High's track team and we had problems getting a hotel room. How indignant he got when we were told that we couldn't stay in a hotel. In fact he raised so much hell that eventually we did get in. I remember it so vividly. How a Texan stood up for these black High School kids in 1939."

Harrison remembers this as a time when the issue of race was prevalent. In Columbus when the team went to a movie they had to sit in the balcony, they weren't allowed on the first level or loges or anything. "But we survived."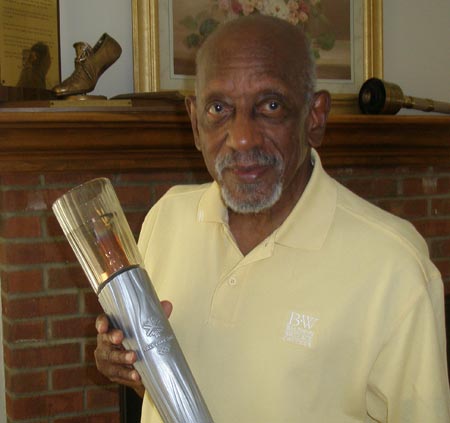 Harrison Dillard with one of his Olympic torches



Harrison got a scholarship to Baldwin Wallace University. He had planned on going to Ohio State University. Jesse Owens, a fellow East Tech Alum attended Ohio State.

Owens had just recently competed in the 1936 Berlin Olympics. "Of course he was our hero. So it would only seem natural that I would go to Ohio State as well. We went to the same school and competed in the same event he did. He was my idol."

But Eddie Finnegan, Coach at BW, tried to convince Harrison to go to BW but Harrison told him he had decide to go to Ohio State. A week before he was to leave for OSU a little bit of homesickness hit him and he decided Ohio State was just too far away. So he contacted Baldwin Wallace and they were more than happy to welcome him.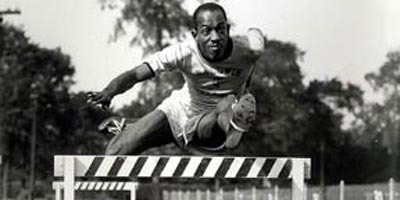 Harrison Dillard running the hurdles at Baldwin Wallace



Harrison was a city and state champion in track and field while at East Tech. So when he got to BW, Finnegan told him it had always been a dream of his to be able to coach a national champion - something he thought was impossible until Harrison arrived. "The team had never even won an Ohio Conference championship in track. So in 1943 early in my sophomore year we finally got around to winning the Ohio Conference Track and Field Championship… First time the school had ever won it."

This being 1943 - it was the height of World War II. Harrison was in the enlisted reserve, which enabled him to stay in school a bit longer, but in May, 1943 he was called to active duty by the Army. "Eventually I wound up in the 92nd Infantry Division and we were sent to Italy in September, 1944". He served a total of 32 months in the military: 16 months were overseas and about 8 of those were in active combat.

When the war ended in May, 1945 the military wanted to both occupy the time of, and entertain the troops that were still stationed overseas. So they formed numerous athletic teams including basketball, football, baseball and of course, track. Harrison signed up for the track team.

He remembers a non-com officer tacking up the notice letting the soldiers know they could sign up for the various teams. The officer's name was Roscoe Lee Browne, a name that meant nothing special then. However, Roscoe Lee Browne later became an award-winning actor appearing in everything from The Cowboys with John Wayne to Shakespearean roles to All in the Family with Carol O'Connor to narrating the movie Babe.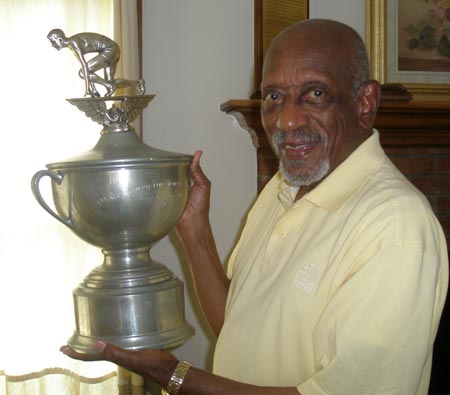 He was also a track athlete running 800 meters or half-mile. He was on Harrison's track team in Italy. They were stationed in a little town in Southern Italy, Veraggio, which was something of a resort town. They were stationed with the 5th Army, of which the 92nd was part.

They ran track all over Italy and were eventually notified that at the end of the summer there would be the first GI Olympics in Frankfurt, Germany. Harrison was undefeated in Italy. He flew to Frankfurt for the games, his very first flight, before this he had been on ships or on busses.

They went on a plane that had previously flown paratroopers so the sides were open and the seats were just benches. It was a first flight for many of the athletes. As they flew over the Alps, somewhere between Italy and Germany, the plane ran into a thunderstorm and was tossed around like a kite. Needless to say, they were thrilled to finally reach solid ground.

His team was made up of the best athletes from The Mediterranean Theater and they were to compete against the European Theater. In addition to the Americans there was one "big Italian discus thrower, I think he was a world record holder, and there were several Algerians and Moroccans".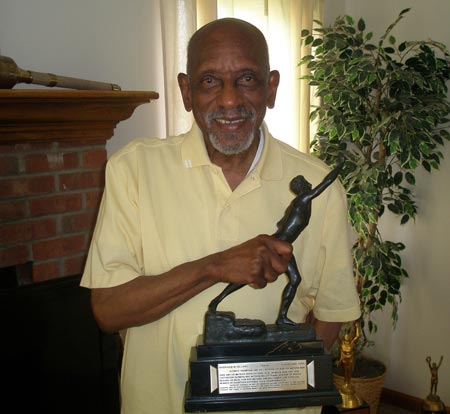 Four-time Olympic Gold Medal Champion Harrison Dillard with one of his many awards



In the stands to watch the games was a General we all know: General George S. Patton. "Of course he was a legend among the troops. And he was there all spit and polish. He wore the helmet liner, not the full helmet and that had been shellacked and it was shiny and he was wearing riding pants and boots and he had the two bone-handled pistols. It was quite a show."

Harrison won four events at the GI Olympics: high hurdles, low hurdles, 200 meters, and a relay. Stars and Stripes, the military paper was there to cover the event. They asked General Patton what he thought about the PFC from the Mediterranean Theater. Patton answered "He's the best G** D**** athlete I've ever seen."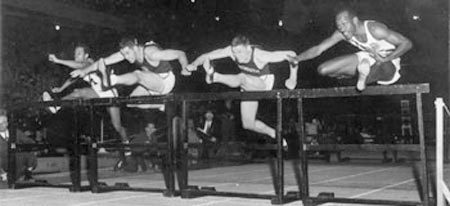 Harrison Dillard wins again!
Harrison returned to Italy after the competition and the men were permitted to attend school while they waited to be shipped home. So he enrolled in The University of Florence for a short period. He was also tasked with guarding German prisoners during this time. These were prisoners who had surrendered prior to the end of WWII. Harrison says one reason we were able to beat them was because they (the Germans) ran out of everything from food to munitions.
On May 8, 1945 the Germans physically surrendered and "the odd thing to us was … they got in parade formation and actually when they came in to surrender to our generals they marched in...that's how proud they were"
Harrison returned to America (Virginia) on an aircraft carrier - a trip that took only 7 days compared to the 30 days it took to get to Italy. On the way over they had traveled by Liberty ships, the little transport ships that were used for transport and to carry cargo. "Trying to avoid the German submarines and mines that had been planted on the Atlantic Ocean, the trip was a zig-zag thing that's why it took thirty days, coupled with the fact that the ship was so small and didn't travel very rapidly."
Soon after he was discharged (January 1946) and came back home to Cleveland. He immediately went back to Baldwin Wallace to continue his education. There he was highly successful and won numerous titles including National Collegiate Championships in 1946-47. He won the NCAA and AAU 120-yard and 220-yard hurdles in both 1946 and 1947 and he tied world records in both events with a 22.3 in the 220 in 1946 and a 13.6 in the 120
He traveled all over the country representing BW. He earned a degree in Economics when he graduated in January, 1949.
All of his championships and races were leading up to the Olympic games, which had not been held since 1936 in Berlin Germany when "our idol, Jesse Owens, threw that racial superiority, that Arian superiority right back in Hitler's face when he won four gold medals. That was the thing that inspired a great number of us to go on and try to become Olympic Athletes."
In the United States you must go through trials to compete for your position, whereas in other countries you are chosen to participate. In 1948 Harrison wanted to compete in three events; a 4 x 100 relay, the 100 meter dash and the High Hurdles, the event in which he held a world championship. He finished third in the 100 meters, qualifying him to be on the Olympic team.
The next day he competed in the event "which I am supposed to be the best in the world, something happened and I didn't qualify... I failed in the hurdles." Harrison says that the story always was that he tried for the 100 meters after he failed, but, as he says "it makes a better story that way, but the actual fact was that I qualified the night before."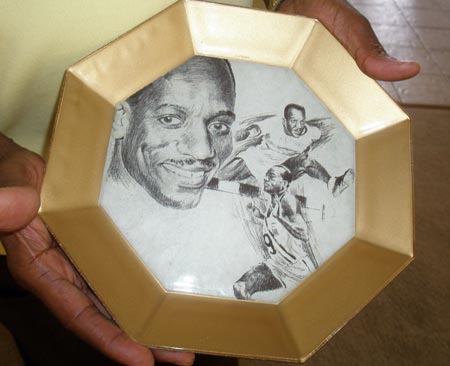 He went to London for the first revival of the Olympic Games. England had been hard-hit by the war so they were really not back to normal, but had done enough to qualify to be a host of the games. Much of the food for the team was flown in on a daily basis because it was not readily available in London. Olympic Village had been a Royal Air force Encampment during the war. Competition went well for Harrison in London - he was in two events and won the gold medal in both.

He was not the favorite American sprinter, having finished third in the qualifiers. There was a capacity crowd of around 75,000 people but Harrison was very calm. His roommates, Barney Ewell and Mel Patton, were nervous and apprehensive, but not Harrison.

The field of six had three Americans, two British and one Panamanian. He knew he had to start off quickly and then maintain that lead and that's what happened. At the half way mark he was ahead by almost five feet. By the time they got to the tape both Harrison and Barney Ewell felt it break against their chest.

This was the first time a photo electrical timing system was used in the Olympic Games. The picture showed clearly that Harrison won the race by well over a foot.

The nickname "Bones" was given to him when he was a child. He was so thin and frail at 7 or 8 years old that the kids nicknamed him "Boney-Babe", which was shortened in high school to just Bones. "Even if I don't recognize a person, I know they know me from way back when they call me 'Bones'."

Harrison tries to explain the feeling of hearing the National Anthem sung. "When you get on that victory stand… I thought my idol Jesse Owens had stood here just a dozen years before. So as I stand there, and face the huge scoreboard with all the athletes' names and the country they represent and the results are there and the three flag poles…. And they play your country's national anthem. Thoughts of Jesse Owens flashed through my mind… He was there, in the stands. He congratulated me after of course."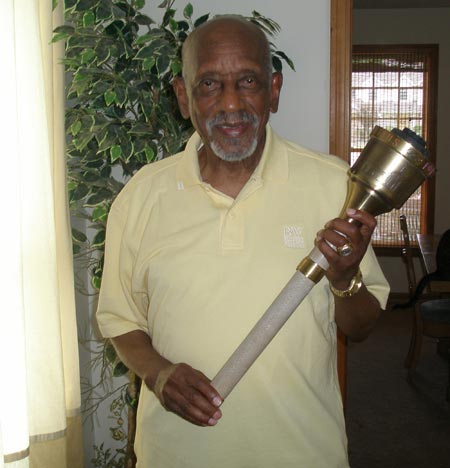 Harrison Dillard with Olympic Torch



When they play that anthem and you're standing there and it's being played because of something you did it is a feeling that you can't describe. I remember in subsequent years watching the Olympic Games on television and [the athletes] some with tears streaming down their face, some look like they're in shock. I felt the hair on the back of my neck stand up as I stood there the first time. I was lucky I got to get back up there again and hear it again."

Four years later, Harrison went to Helsinki Finland for his second Olympics. This was the first time the Russians were going to take part in the Olympics. The Russians did not stay in the same Olympic Village as the rest of the thousands of competitors. All of the Iron Curtain countries stayed in a separate facility.

"But we did train on a common ground, work out grounds. Their officials were all there and we made a joke of it. All of them had full length coats things like that. We thought they were part of their police, which they may well have been… As far as the competition was concerned they were very friendly with no animosity of any kind, quick to congratulate you - very gracious in victory or defeat."

In that race in Helsinki, the Americans finished 1-2-3, with Harrison taking the gold. "I was smaller, lighter and quicker and I knew I had to just hang on. I knew they'd be coming for sure." He was once again chosen to run on a 4 x 100 relay, which they won "handily" giving Harrison his fourth Olympic Gold Medal.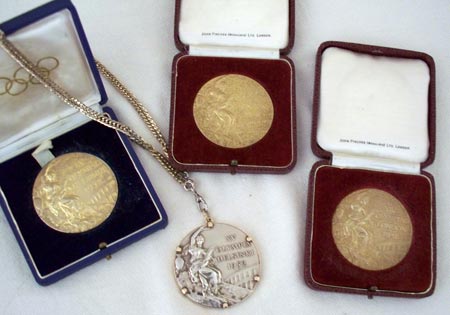 Harrison Dillard's 4 Olympic Gold Medals



In 1955, Harrison won the Sullivan Award. The Sullivan Award is given to the best all around athlete in the country. This was a tremendous honor for Harrison, but the Olympics still rank as his proudest achievement. "The Olympics were the best in the world - the Sullivan was the best in the country."

Harrison continued to compete indoors. In 1956 he was able to get to the finals, but not qualify for, the Olympics and that was the last race he ever ran in competition.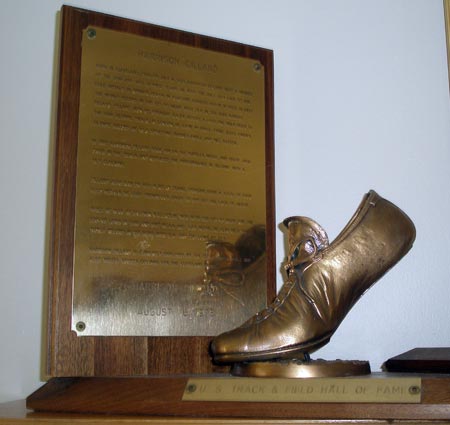 Harrison Dillard Track and Field Hall of Fame Award



He did run hurdles against Jesse Owens once in an exhibition race. It was an old High School track meet called Salem Relays. They ran 120 meters of low hurdles, which was not a standard race. "He beat me, but it was close. He didn't run away and leave me. I was just a high school kid - I don't know how hard he was trying but I had the pleasure of running against him."

Harrison ran into Jesse at another track meet in Columbus, where Jesse gave him a pair of brand new track shoes. Legend has it that it was Harrison's first pair of athletic shoes "That's just not true, but the story still goes around."

If everyone was in their prime, Harrison would like to compete against athletes such as Jesse Owens, Carl Lewis, Tyson Gay and Usain Bolt. "I question that I could beat a Usain Bolt. The extent to which these guys train now… I really question if I could beat them...On second thought maybe if Jesse and I trained we'd be able to take them."

Bill Veeck from the Cleveland Indians called Harrison and asked him to come to Municipal Stadium to see him. Veeck asked him to work for the Indians in Public Relations. However, Harrison had promised the State Department that he would go on a tour to Central America, South America and the West Indies.

The tour lasted 93 days. He went to Argentina, Brazil, Chile, Panama, Uruguay and many other places. Jamaica was a day-off trip, and that is where he met his wife. Herb McKenley, a great Jamaican runner for Jamaica introduced Harrison to his wife, Joy in 1952.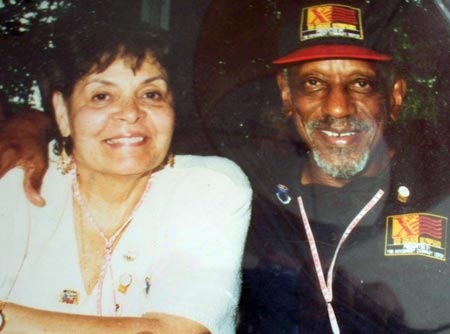 Harrison Dillard and wife Joy



Joy came to this country in 1955 and they were married in 1956. They have one daughter, Terri. Bill Veeck told him he could go to work for the Indians when he returned, and he did. He worked for the Indians for over 10 years.

Harrison hosted a radio talk show on WABQ as a sportscaster and eventually programmer. He also did weekends at WERE where he worked with Bill Gordon and Bill Randle, among others. He spent some time on television also, when channel 5 first came on the air. He fondly remembers Dorothy Fuldheim and remembers Mel Harder and Bob Feller being on the show with him. He also worked on the shows at the same time as Fred Griffith and Paige Palmer.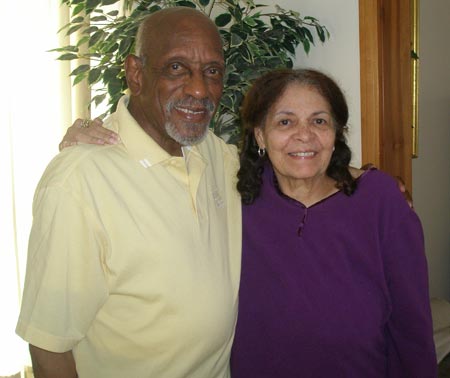 Harrison Dillard and wife Joy



Harrison is the only person to ever win gold medals in both hurdles and sprints. "Now no one would even try it - everything is too specialized." It is this amazing feat that he wants to, and will, be remembered for.

Some people would say that Track and Field is the perfect sport - it is simply man against man with no tools or equipment and yet it does not have the coverage and the following of team sports like football, basketball and baseball. Harrison believes that this is because there is very little question about the outcome of a meet. "Talent will win out"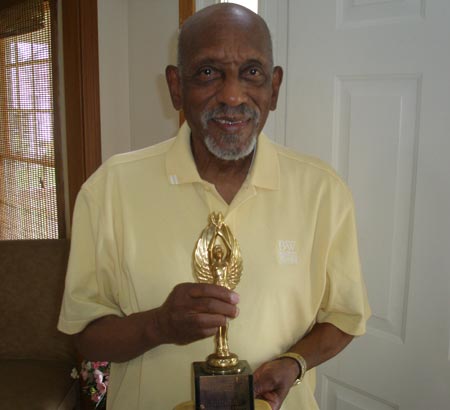 He says that if you are the best, you will win unless something like a leg cramp occurs, and "you can't count on that". He says Americans want to root for a team or a person even if they are the underdog and "knowing or being able to predict the outcome is not as exciting to Americans as maybe it should be. Like soccer, Track and Field is bigger in Europe than in the United States."

Watch a short video message (below) from Harrison Dillard

We throw around the word "hero" today, and some say it is often misused. Athletes who win a lot of games, but have no character are really not heroes - they are merely good athletes. But every now and then a man like Harrison Dillard comes along and you really have to consider using "hero" to describe him.

He ran at a time when he was forced to sit in the Negro seats at a theater. He got his degree in Economics from Baldwin Wallace. He served in the Mediterranean Theater with the U.S. Army during World War II. He has been married for 57 years and raised a daughter he is proud of. He won four gold medals for his country and stood proudly on the dais as the national anthem was played. He is a man of character, discipline and commitment.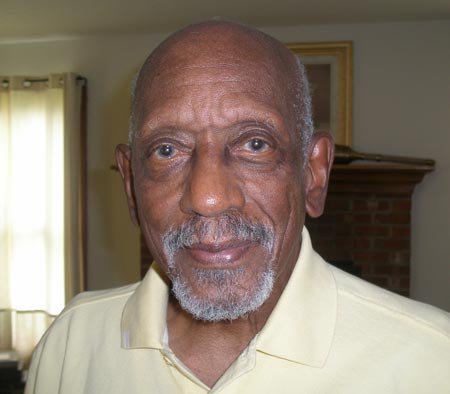 Hero? The choice of words to describe him is up to you. Any parent would be thrilled to have their child look up to an emulate Harrison Dillard - and isn't that what being a hero is all about?

Listen to a brief message from Harrison Dillard to the people of Cleveland.


---
Profiled by Debbie Hanson (July 2009)

---
Update: See photos of Harrison Dillard at the naming of Jesse Owens Way in downtown Cleveland.


Dr. Eugene Sanders and Harrison Dillard


---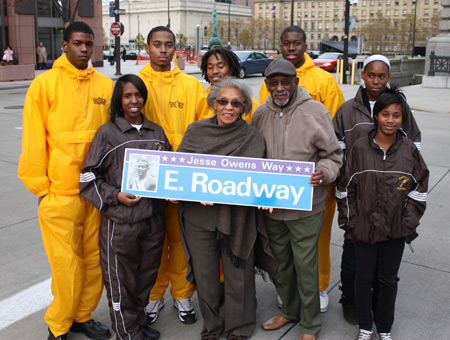 Gloria Owens, Harrison Dillard and East Tech athletes


---
Update: Harrison Dillard passed away on November 15, 2019 at the age of 96. Rest in peace Champ.
---
---
Top of Page
Back to Profiles of Cleveland Seniors