Sam Rutigliano
A Coach of Football - and Life
Sheepshead Bay in New York is famous for bringing us football greats Vince Lombardi and Joe Paterno. But there is still another great man, both in football and in general, that was brought up in this Brooklyn neighborhood.
Sam Rutigliano was born there on July 1, 1933 where he joined his older brother and later became a big brother himself.
The son of immigrant parents, Sam was a star football player while in High School and went on to be a great player at both Tennessee and Tulsa.
He coached High School football in New York and from there went to the college level where he coached the University of Connecticut and the Universities of Maryland and Tennessee.
The NFL seldom overlooks the talent Rutigliano had and he soon became an assistant coach in Denver followed by the New England Patriots, the New York Jets and finally the New Orleans Saints. Within eleven years he coached four NFL franchises.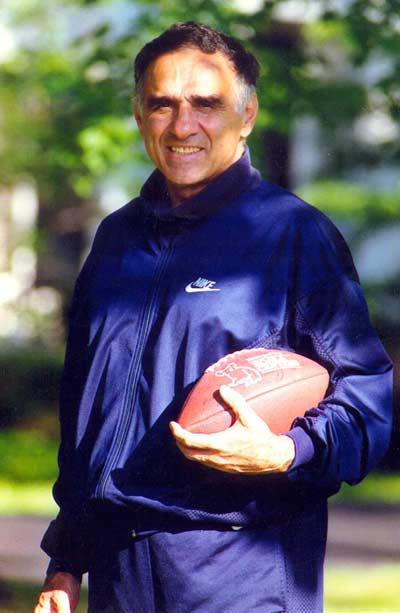 "Riverboat" Sam Rutigliano



In 1978 he came to Cleveland as head coach of the Cleveland Browns and he stayed there until 1984. He was the first non-Browns assistant coach to be named Head Coach of the team.

His time with the Browns included The Kardiac Kids, Brian Sipe, Al "Bubba" Baker, Earnest Byner, Hanford Dixon, Bernie Kosar, Clay Mathews, Ozzie Newsome, Webster Slaughter and so many more truly memorable football players.

When Sam left the Browns in 1984, he went to work for NBC and had his own pre-game show on ESPN. He stayed with sports broadcasting for about 5 years.

In 1989 he went to Liberty University, a Christian school in Lynchburg Virginia. "This gave me the opportunity to do what I really wanted to do; teach and be around 1950's kids with Christian values and beliefs." He became the winningest coach in the school's history.

He spent eleven years with Liberty and then "retired" in 2000. But a mere two hours after he retired he accepted a coaching job with NFL Europe.

Sam and his wife always have (and always will) maintained a home in Cleveland. "This is where we want to live."

His wife joins him in Europe for training camp every year. The first 4 years he was in Barcelona with the Dragons, then last year he was in Glasgow, Scotland with the Tigers and this year it's Hamburg Germany's Sea Devils.

"Can you believe it? It's unbelievable to me - and they're paying me too!" NFL Europe is like AAA baseball. "These kids are 21-23 years old and haven't played in awhile. My goal is to help them reach their goal."

Sam has been in a high risk/high reward profession all of his life and retirement was just not going to be enough for him. He doesn't golf, play tennis or bridge and certainly wasn't ready to retire in Florida.

"I grew up in New York City. First time I saw a Golf Course I thought it was a cemetery. Anyway, like someone once said golf is a good way to ruin a nice walk."

Sam is also an author. He wrote the book "Pressure", which not only covers the story of an NFL Coach, but goes on to explain how he, and you, can handle the pressures we are faced with on a day to day basis.



Click for more info or to buy the book securely from Amazon.com


If nothing else, the book is a must read to get a better look at the Kardiac Kids; the players and the team.

Sam has spent many years speaking around the country. His speeches cover a variety of subjects, but are always motivational and spiritual and of course include football. He speaks at banks, businesses, churches, amateur and pro-football venues.

"I could speak over 100 times a year if I chose too." But Sam wants to stay in the community, not travel the country on a speaking tour.

"Cleveland is where I am living now and where I am spending the rest of my life. Plus I have the opportunity to be close to my wife and that is very important to me."

Sam and his wife Barbara just celebrated 50 years of marriage this year. "Divorce was never an option. It just wasn't. Murder maybe, but never divorce! I mean she would have killed me, not the other way around."

Their meeting is straight out of a movie. While Sam was in college he was in an accident. Barbara was his nurse. The rest, as they say, is history.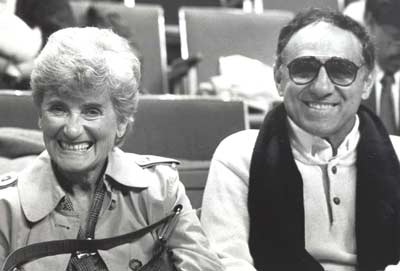 Barbara and Sam Rutigliano


Since that time they have moved 19 times, bought and sold 13 homes and had four children. His son Paul lives with his wife and 2 children in Virginia; daughter Allisa lives with her husband and child in Dallas and; Kerry and her husband live in Greater Cleveland where she is an English Teacher. Their fourth child, Nancy died in 1962 and as can be imagined her death had a tremendous impact.

Sam and Barbara and their 4 ½ year old daughter, Nancy, had been in Montreal and had to hurry back to Poland Springs, Maine. Their first stop was in Vermont, just a quick stop for donuts and coffee and then they continued to drive on.

Sam fell asleep at the wheel and the car turned over. Barbara was bleeding but Nancy couldn't be found. She had been thrown from the car and was under the rear right wheel. Mouth to mouth resuscitation did nothing, and their precious daughter Nancy died.

Life would never be the same for the Rutigliano's. The couple had not been actively spiritual or religious to this point. They had been married outside of the Church because they were two different faiths (Catholic and Lutheran).

They decided to go to the same Church and there was another couple there who ministered to them and helped them with their grief. They prayed for guidance and help "And God answered us. Through the wonderful pastor we met we realized that God wasn't going to bring her back, but he promised us we would be together in the next life."

Since then Sam has taken every opportunity to comfort others. "You can look them in the eye and say I know the pain, and I know the answer, and mean it."

Sam could have gone the other way and spent his life wallowing in guilt and sorrow but he says "Only God could heal that spirit." Sam and Barbara were born again and have spent each day since actively living and witnessing the Word of God.

Sam is an active membership in the Fellowship of Christian Athletes of North East Ohio. The organization is best described by it's 40 year mission statement: "To present to athletes and coaches, and all whom they influence, the challenge and adventure of receiving Jesus Christ as Savior and Lord, serving Him in their relationships and in the fellowship of the church."

The home page of the Fellowship states there's "No shootin - No slammin - No pushin - No popping - No smoking - No snorting - No boozing - No dropping. Cuz there's only 1 way 2 play - DRUG FREE"

"I have had a very rewarding life. As we speak, I am preparing myself to retire some day - but I don't really expect that day to come."

Sam has always had a reputation for being a gambler and a risk taker. New York Daily columnist Dick Young once called him "The luckiest Italian since Christopher Columbus."

He loves the fans in Cleveland. "They've seen the best of times and the worst of times, but they're always fans. When Model took the Browns away, "Clevelanders said 'Go, good riddance. You're not taking anything that counts. Not the name, not the traditions, not the feelings'

We said go ahead go - who needs you. We'll be back without you, because THE CLEVELAND BROWNS could never leave this city. Nobody could take them away. No other cities did that. All the other cities that had this happen to them just whimpered off and allowed it to happen. But not Cleveland."

As a result the NFL realized that although Cleveland may not be as large a market as some of the other cities, the fan base here was huge and much needed by the NFL.

"So many guys have been fired since me that they think I was good!" The fact is he was good. Only two coaches from the Cleveland Browns have ever won the very prestigious NFL Coach of the Year Award. The first was Paul Brown; the second - Sam Rutigliano.

Sam earned this title in 1980 when he led the team to an 11 and 5 season. His record as Cleveland's head coach was 47-51-0 or .480

He may have been equally well known for his character and personality as a coach. He treated his players well and as individuals. He knew the importance of a healthy atmosphere for the players. He made a great impact on his players.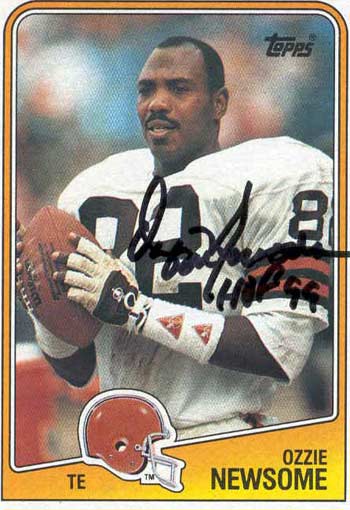 Ozzie Newsome played for Rutigliano and remembered this lesson from his coach "Sam Rutigliano told me that luck is the result of preparation meeting opportunity."

Another fine example of Sam's character was his relationship with Browns quarterback Brian Sipe. You can't talk about Sam's time with the Browns without mentioning the player he loved and admired so much. "When I first came here, we talked. Brian is a very profound, smart guy."

"In 1979 we were undefeated and were playing the Monday night games against the undefeated Dallas Cowboys. Brian's father had come to town for the entire week. It was a wonderful time for the team and for Brian.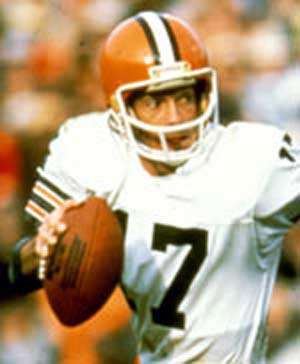 Brian Sipe


"That same year we were playing our second game against Pittsburgh and Brian's father died. Brian stayed in the game. We lost 33-30 in the final seconds of overtime, but Brian was focused on the game the whole time and played for the team and his father."

Then of course, there is the now infamous play of January 4, 1981. It was the AFC Divisional Playoff Game. Oakland was playing Cleveland right here at Municipal Stadium.

The Browns were trailing 14-12 and there was just under a minute to play. The Browns had the ball on the 19 yard line. Brian Sipe called the fatal play "Red Right 88" and threw a pass that was intercepted in the end zone by Oakland's Mike Davis. Oakland went on to win the game and the Super Bowl, the only wild card team to accomplish that goal.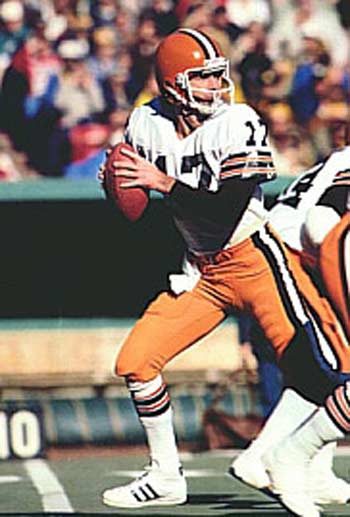 Brian Sipe


The fans went crazy, they could not believe they lost. The Raiders were ecstatic. Sipe was devastated. He knew what that game meant to Cleveland fans, and to his team. He walked off the field dejected and crestfallen. His coach, Sam Rutigliano, ran up to him, put his arm around him and said "I love you."

"What else could I say? I did love him. A football play does not make a person what he is. He needed to hear it."

Sam has won numerous awards including the 1981 Paul Brown trophy from the Columbus Touch Down Club.

Justifiably so, one of the things Sam is most proud of is his Inner Circle. The late 70's and early 80's were a tough time for a lot of society, and pro football was no exception. Drugs where prevalent and readily available to the players and it was becoming a major problem and concern.

At that time there was not so much as a bed available at the Cleveland Clinic for substance abuse. Today there is an entire ward. The NFL mandated the hiring of a psychiatric professional specializing in substance abuse. The Browns hired Dr. Greg Collins from the Clinic.

Sam knew there were a couple of guys with problems and he wanted to take the NFL mandate further, but the players were afraid to come forward. With the support of team owner, Art Model, he started the Inner Circle which promised the players anonymity and help. Eventually one came forward and then nearly a dozen followed.

Calvin Hill and Paul Warfield helped him with the project and every one of the Inner Circle players got the help they needed and got themselves going. No one lost their anonymity except Charles White, who chose to go into a rehab center in Los Angeles.

"What amazed me was not that the program worked, but that it wasn't adopted anywhere else in the NFL. Principal players and head coaches alike just didn't want to be bothered."

When he approached Model for support he explained it in terms of not only the well being of the players, but the financial problems that could result if the players didn't get help.

"The Inner Circle was one of my greatest accomplishments. Wins and losses are okay, but this, this matters."

Sam recalls being in Scotland with the team when a package arrived for him. It was from a man who had been with the New Orleans Saints at the time Sam coached there. The man got cut and asked Sam for advice. He had two options go play in Canada or go to Dental School. Sam told him simply "If you were my son I would tell you to go to Dental School."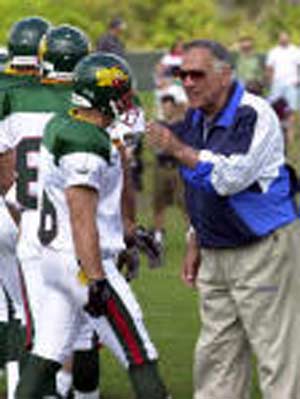 Coach Sam Rutigliano in Europe



The young man took his advice and was sending this letter to let Sam know how much he appreciated his honesty and concern. He became a dentist and a surgeon and went on to work for the Olympics. Sam Rutigliano had given him the drive to do this.

"Letters like that, I sit back and discuss them with my wife. And we both know that's what it's really all about. That's what coaching and teaching are all about. Encouragement is the oxygen of the soul."

"God has been very good to me."

God has indeed been good to Sam Rutigliano, and he in turn has been good to everyone he comes in contact with.

Sam Rutigliano has scored well in life, and his plays have been good, clean and hard-won.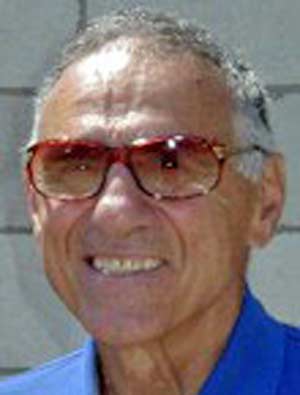 Coach Sam Rutigliano


He was not handed a silver spoon and a guarantee back in Sheepshead Bay, but he took what he had and turned it into something positive and powerful. We can all learn from his coaching - and his example.




Profiled by Debbie Hanson

---
Books by and about Sam Rutigliano


Sam, Sipe, & Company: The story of the Cleveland Browns
Pressure
---
Top of Page
Back to Profiles of Cleveland Seniors
Back to Where are they now?