Mae Stewart
Crusader for the Underdog
On Friday, June 4, 1926 in Memphis, Tennessee little Mae Terry first came into this world, and things have never been the same. This is a woman who has made a strong impact on everyone and everything she comes in contact with. This is her story.
Mae was one of 7 children of John and Lillian. When Mae was only about five her mother died in childbirth. Her aunt came to take care of them, and Mae has vivid memories of her aunt.
She also remembers her mother's death, although she always thought it was her imagination - after all she was so young when it happened. But she asked her aunt one day if her mother had been singing and asking for ice water at the time of her death. Her aunt was astonished and confirmed the detail. She even remembers the undertaker taking her mother away in a long oblong basket. Again, her aunt was shocked at her memories.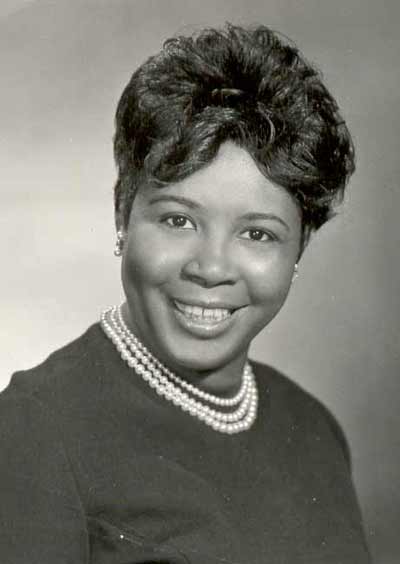 She remembers a coat her mother had - a brand new coat with a fur collar. It was special to her and rare for the day.
Her aunt was given the coat and Mae remembers seeing both her mother and then her aunt wearing this coat. Mae gets a wistful look on her face and you almost believe she is seeing her mother and her aunt right then.
Her father remarried shortly after her mother's death. "He was a man with seven children. I think he almost had to remarry!"
Mae went to Melrose Elementary School in Memphis. She had a reputation for being mouthy and smart ("And I was!") She never really studied much, but was always able to make good grades. "I think God knew how busy I was, so he studied for me."
Mae was busy with cleaning, washing, scrubbing and other household chores. In addition to the chores at home, Mae was working outside of her home doing kitchen chores and babysitting for a well-to-do family in town. They had company one day and it was at this time that she experienced her first episode of racism.
Mae, a black woman, heard the "n" word for the first time, and the feisty young girl hurled it right back at the woman who said it. The woman spat on her. She spat back. And then she walked out the door, refusing a ride home and walked all the way to her house.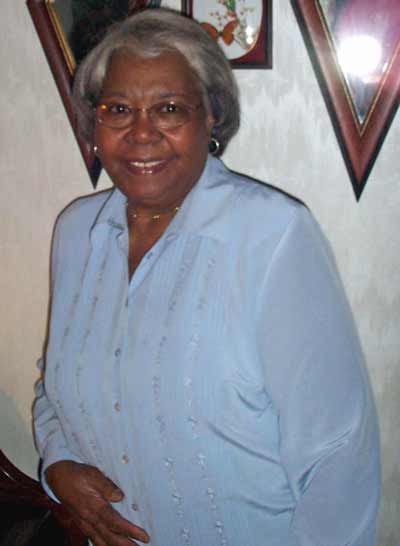 While she was working, Mae turned over all of her wages to the family. There was never a question, "We were family and we all had to do our part."

It took Mae some time to realize how much she loved and respected her second mother. "When I was young, I just didn't try." Her second mother was a frugal woman, but looking back Mae not only understands but also appreciates the position she was in.

"Here was a young woman being married for the first time. She got seven children right off the bat and then had four of her own. I developed an amazing love for her" Her second mother died many years ago.

Her father was "a great, great man". He worked as an orderly at the Veteran's Hospital and his lack of education did not keep Mae from idolizing him. He also grew peanuts, sweet potatoes and peach trees. The land they lived on then now has four separate houses on the property.

"I guess we were really poor, but just never knew it. We were trained to be clean and to be honest". They always bought their food on credit and she remembers her father praying because the storeowner was suing them. She never knew the outcome of the suit.

She remembers they were the first ones in the neighborhood with electricity and they even had a car! And the phone - well that was always a good time!

They would take turns listening in on their multi-party line system. One would listen and one would be the look out. "We had to know when our folks were coming so we had time to turn into little angels!"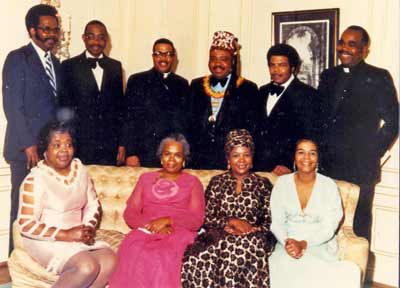 Mae Stewart and family


Mae graduated from High School and then moved to Cleveland. Her second mom's sister moved to Cleveland (East 100th street between Quincy and Cedar) and Mae took a Greyhound bus to see her. Her aunt is back in Memphis, but she's the reason the rest of the family is here.

Mae went back to Memphis to be married. She married at age eighteen, and literally married the "man next door". He had been writing to her from the service while she was in Cleveland and finally, one day, proposed.

Robert Leonard Stewart was thirteen years older than her and little Mae Terry thought that being married and becoming Mae Stewart was going to bring her riches and freedom. She remembers thinking it would be movies at the picture show every day!

Her baby brother, John meant the world to her. In one catastrophic episode after another Mae went to the rescue of the brother she just couldn't save. She used her house for bail money when he needed it and put him up in her home as long as she could. She visited him in the hospital everyday while he was dying.

Those familiar with the law will remember her brother, John Terry, from the text book case of Terry v Ohio, taught in every law school in the country. (It involves the 4th Amendment and Search and Seizure) Her husband drove her to prison to see her brother and never complained.

She remembers meeting Dr. Robert White while visiting her brother. She was touched by his compassion and concern. When her brother was transferred to Sunny Acres she called on County Commissioner Virgil Brown to correct some health and safety issues she discovered while visiting.

Mae and Robert had 4 children: a son who is a police office in Columbus, training other police officers; another son who has been with CMHA for eighteen years; a daughter who has been with East Cleveland Schools for over 30 years and a daughter who passed away at the age of 39 as a result of a chronic asthma condition.

Mae also has four grandsons and one granddaughter. Her granddaughter was adopted when she was just 4 days old. Like Mae she has a fantastic outlook on life, as she asks people she meets if they too are adopted. If the answer is no she responds "Oh, poor you. I'm so sorry"

Mae takes her role in the family very seriously. "I've always been the 'burden bearer' in the family even for older brothers and sisters. We all have our roles and that's mine."

She knows what it means to grow up hurt or scared. "Even when corporal punishment in schools was legal I didn't approve of it because I got my fair share of beatings, and then some!" "I'm not scared of being hurt because I've lived hurt every day of my life. I think that's why I want to be everybody's mother. If you're hurting I want to help you because I know how it feels." But she is also practical enough to realize "Love isn't aspirin - it doesn't always remove pain".

As involved with family as she is, Mae still has time for many other programs and projects.

Her involvement in political activities began in the early 70's when racism was "running rampant".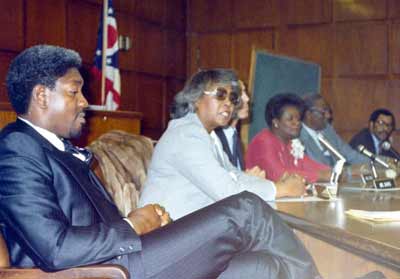 Mae Stewart speaking at East Cleveland City Council



She remembers a neighbor turning a hose on the children coming into her house because they didn't want black people living there. She found through life that racism was not reserved for comments and actions from white to blacks. "Blacks are racist, too - sometimes even against other black people."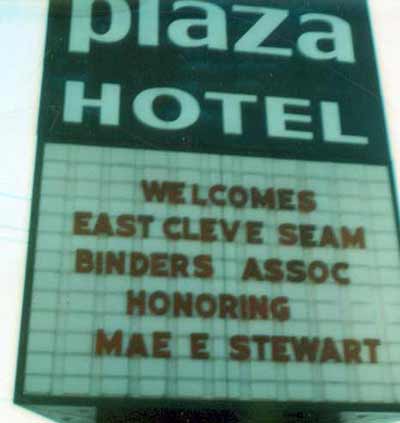 Mae Stewart and SEAM Award


She served as President of the East Cleveland Commission before it was changed to a City Council. She is involved in The Seam Builders Association (SEAM = MAE S backwards).

She was active in the Citizens Committee at Huron Hospital. In 1998 she founded the East Cleveland K9 Unit, an integral part of the East Cleveland Police Department. (for more information)

Although she says she is "not a fan of traditional politics," Mae is well known and well respected in the political scene. "I don't want anybody to be scared of me - but they better take me seriously!"

She met Lou and Carl Stokes when they were young attorneys looking for work. She asked them for help with her brother's case, and they did.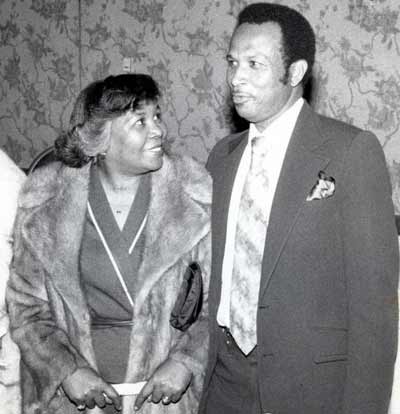 Mae Stewart and George Forbes


Even though she and George Forbes both grew up in Memphis it took Cleveland politics to introduce them.

Mae also sits on the board of CMHA (Cuyahoga Metropolitan Housing Authority), representing the City of East Cleveland.

She is an activist more than a politician and an effective activist at that. "I just can't do the things you have to do to be a politician."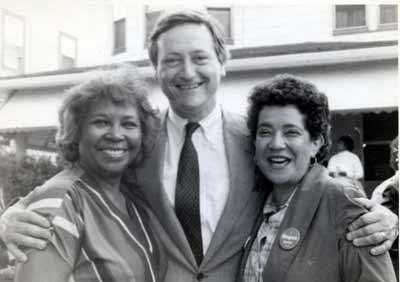 Mae Stewart and Governor Dick Celeste


"God has given me a strange, and welcome, ability to see through lies. It's like I find the cracks and see through them." Those people who lie to her loose her respect instantly, and it is not easy to regain her respect once it is lost. "I tell people, contact me when you want to tell the truth"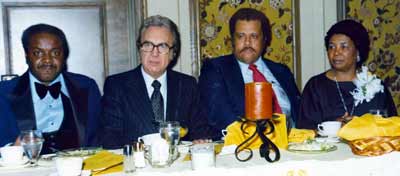 Mae Stewart on the dais with
Cleveland Mayor Ralph Perk


Mae takes things very personally - she truly feels your pain in her heart. Sometimes she wakes up in the middle of the night in a sweat afraid she won't find a solution to a problem she is helping solve. She'll stay up and figure out an answer before she is able to go back to sleep!

One project near and dear to her heart is the children and music department at Chambers School. Chambers is part of a government-sponsored program (21st Century Learning Centers.) Mae is the Coordinator for Chambers now and their music program is second to none.

"Children carry their parent's baggage. They smile through their music". In addition to teaching musical instruments the school has a choir ("The Hallelujah Choir would put the Mormon Tabernacle Choir to shame!" There are also other classes such as P.E., tutorial math, drama and visual arts. The school is for K-3rd grade and for many of the children the school and Mae's presence are the highlight of their young day.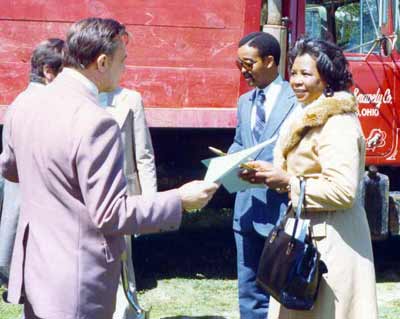 Mae Stewart crusading


"I'm a hugger now, because I do everything I missed as a child and I just love these little ones!"

It's not hard to make Mae happy. She loves to see other people happy, and even more so if she's had a part in bringing the smile to their face. She focuses on people who may otherwise fall through the cracks, not rich enough to be self sufficient, not poor enough to qualify for help. "Why am I always fighting for the underdog? Because I am one!"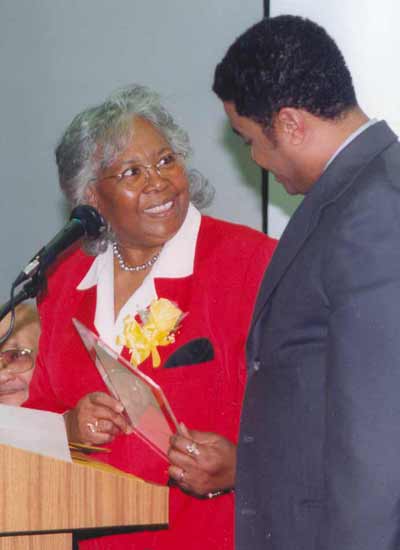 Another well deserved honor for Mae Stewart


Mae has a strong foundation in her faith and this gives her a basis for her hope for the future. "When I am driven, I am always successful. And God drives me. Theirs is work to do and God drives me to do it. Other people are driven by God too and if they listen to Him we can all get the job done together. Wouldn't that be wonderful?"

Mae Stewart is truly an inspiration. She surrounds herself with misery and with the people who can offer her nothing. Yet she will quickly tell you how much they give her and how much she needs them. We can only hope her goodness is contagious.

Profiled by Debbie Hanson




Do you know somebody with an interesting story to tell?
E-Mail us at:profiles@ClevelandSeniors.Com


Top of Page

Back to Cleveland Senior Profiles

Back to Cleveland African Americans