Congressman Louis Stokes
From Cleveland's Projects to Historic Achievements
Born on February 23, 1925 in Cleveland Ohio, Louis Stokes is one of two very famous children born to Charles and Louise Stokes. The other, of course, is his younger brother Carl, the one time Mayor of Cleveland.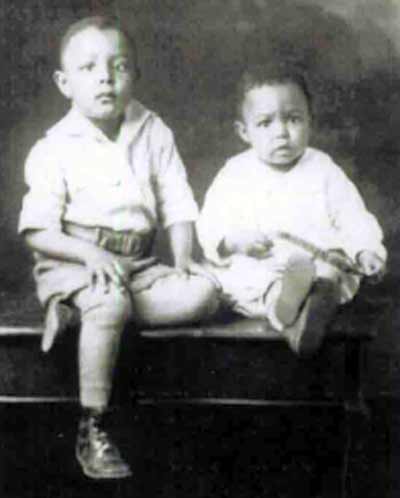 Louis and Carl Stokes



With the passing of his father when Louis was only three, he was raised by his mother and grandmother. He attended Central High School and graduated from Western Reserve University. While at Central, he ran track, worked on the school newspaper and was a member of the Latin Club.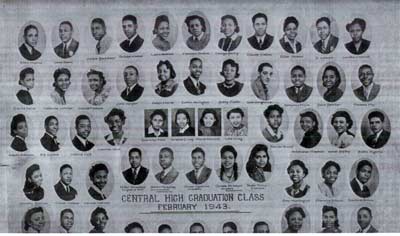 Louis Stokes Central High School graduation class 1943
(top row, 2nd from left)



When he turned 18, Louis entered the Army. He served from 1943-1946, the height of World War II. It was not a good time for a black man in this country; even one wearing the uniform and serving in the military.

"Both my brother Carl and I were drafted into WWII. We came from Cleveland where we had been born and raised. We had never been in conditions were we were required to eat, drink, work, play and live under segregated conditions."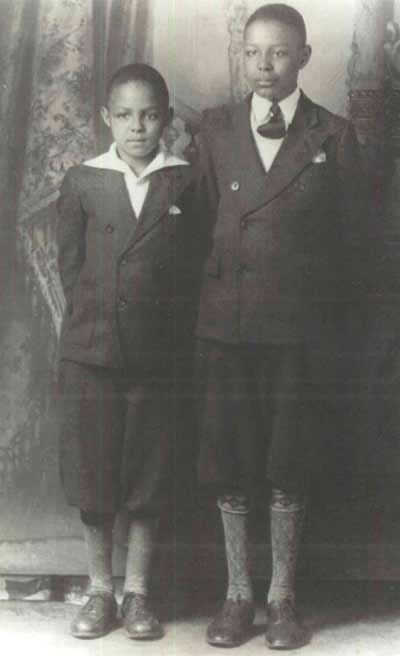 Young Carl and Louis Stokes



He was fighting for the freedom of the same countrymen that relegated him, quite literally, to the back of the bus and forced him to drink from "Blacks Only" water fountains. Getting on a crowded bus, in uniform, he would put his dime in the turnstile and then have to get off and go around entering through the back door with the other "colored people".

He endured many instances of "vicious racism" something that he does not think today's generation could possibly understand. Even with talking and reading and seeing pictures, Louis knows it is not the same as having experienced it first hand.

He could have easily become bitter, but instead he accepted that this was the way things were at the time. That does not mean, however, that he was willing to let them proceed in that manner.

When he was discharged in 1946, he took advantage of the government's G.I. Bill of Rights and went to Case Western Reserve University. He then earned his Doctor of Law Degree from Cleveland Marshall College of Law.

By 1955 he had opened his own law firm, Minor, Stokes and Stokes. He was a good friend of Mae Stewart and had represented a number of her brother's friends in previous cases. So it was not a surprise when a young John Terry, Mae's brother, called on him to defend him in what turned out to be a landmark case.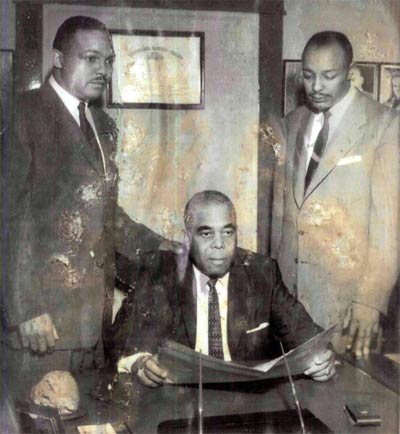 Carl Stokes, Norman Minor and Louis Stokes



The case concerned the 4th Amendment of the Constitution. "The issue was search and seizure and whether a police officer can stop and frisk a pedestrian on the street in the absence of "probable cause".

Although to anyone watching television today, the idea of probable cause seems very basic, at this time it was not. "Once we got into this case we learned there were two other cases in the country on the same subject. And the Supreme Court merged those two cases onto the docket with my case."

Terry was the lead case. "What I was raising at that time was very similar to what they are saying today about racial profiling." Stokes' case was first case Supreme Court to ever look into the criteria of being able to stop someone and frisk them where no crime had been committed.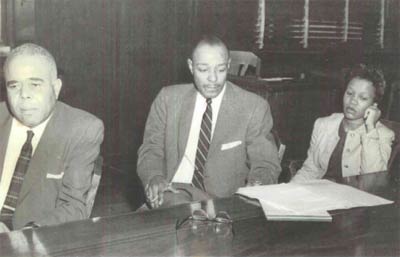 Norman Minor, Louis Stokes and a defendant



This case is now taught in every law school in the country and every police academy. Stokes is justifiably proud of this achievement and the effect it has had on individual's civil rights.

Louis Stokes argued this one case before the U.S. Supreme Court and twice appeared before the court as part of a panel of lawyers. Those two cases, however, were decided on their merits and Stokes did not argue them before the Court.

Louis Stokes was very happy with his law career and had no intention of changing professions or going into politics. "I really didn't have any real interest in politics other than to help my brother since he was involved in politics. I preferred my activities as a lawyer. I was perfectly content at that."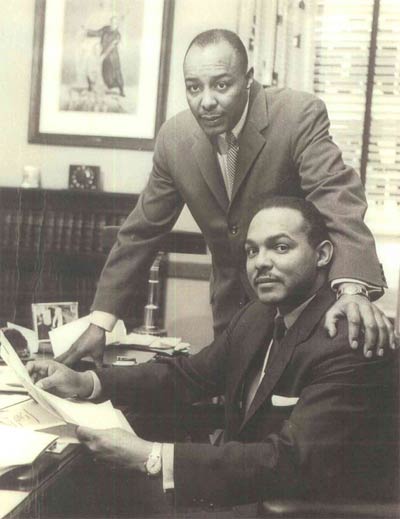 Louis and Carl Stokes in the law office



His brother Carl had been serving in the Ohio Legislature in the 21st District. The District was re-defined in a way that Louis says, "completely diluted the strength of the black community by dispersing them throughout the county." "This", says Congressman Stokes, "made it impossible for a black to run for or be elected to office in that district."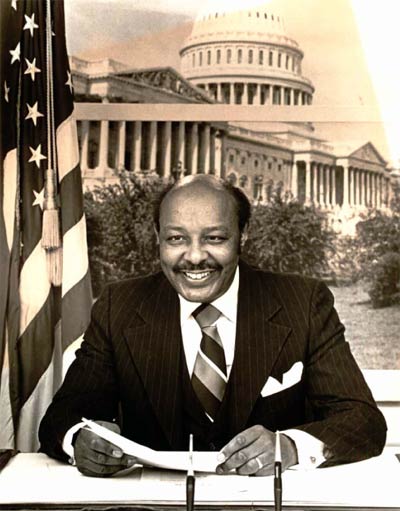 Congressman Louis Stokes



Carl asked the Cleveland branch of the NAACP to bring a law suit against the Legislature and try to force them to re-organize the district back to its original lines.

"And the Cleveland branch of the NAACP asked me to handle the lawsuit. I got the legal redress committee together, we agreed to take the case and we worked on it." It eventually went to court and Stokes lost. However, the case was taken to the United States Supreme Court and the lower court decision was overturned.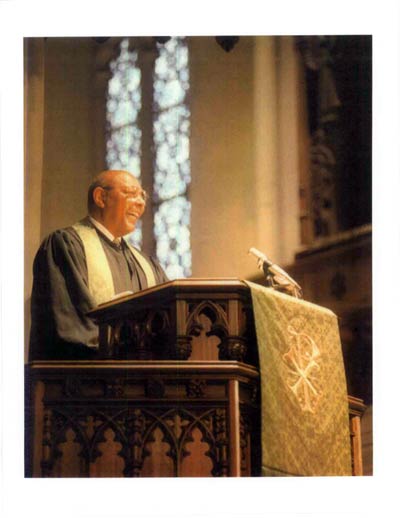 Louis Stokes preaching at Church of the Covenant at a
Martin Luther King Day celebration



The Supreme Court required the local district court to re-draw the congressional lines in a constitutional fashion. The district turned out to be 65% black 35% white - which meant that there was a base there for a black to be elected to Congress.

During the time Louis was ardently fighting the decision, Carl ran for and was elected Mayor of Cleveland. He was the first African American Mayor of a major city in the entire country. So when Louis told Carl they won the appeal and he could now run for Congress Carl said, "I don't want to go to Congress, I'm Mayor of Cleveland."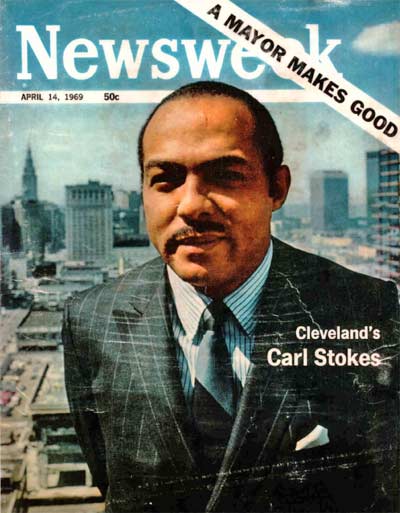 Cleveland Mayor Carl Stokes on the cover of Newsweek



When the other politicians learned he was not going to run, people from all over town threw their hat in the ring. Because Louis and his team had made such efforts in the districting issue, it was only logical that he consider running himself. Many people and committees approached him and finally he decided to run.

"I did decide to run, with Carl's blessing. There were 21 who ran for the seat; 14 Democrats and 7 Republicans. I won the primary and then I won the general election." Louis Stokes was the first African American elected to Congress from the State of Ohio. Louis faced off against Republican Charles Lucas, the Executive director of Cleveland Branch NAACP and as Louis describes him "a great guy".


Congressman Louis Stokes
First official photograph as a Congressman - 1969



For someone who never had political ambitions, Congressman Stokes was a natural. He proceeded to be re-elected to an astounding 15 terms.

In 1969, he co-founded the Congressional Black Caucus. While in congress, he served on and/or chaired the Ethics Committee, The Appropriations Committee and The Intelligence Committee. As a member of the House Select Committee, he was integrally involved in the investigation of the assassination of both Dr. Martin Luther King, Jr. and President John F. Kennedy.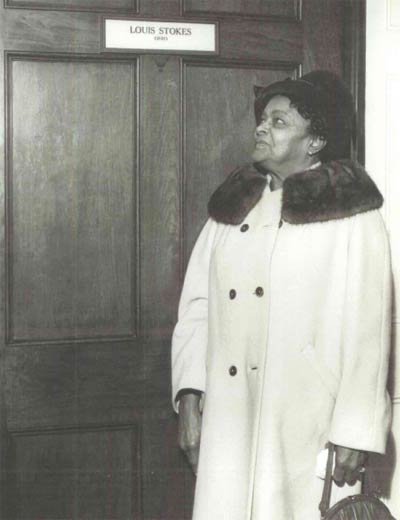 Proud mother Louise Stokes on the day of son Louis' swearing-in ceremony



"I loved every day I was there" but does not miss being there now. Many people would say that the office would be his today, should he decide to run again.

How did it happen that two African American men from the projects beat the odds and turned out to be the fine citizens and examples to so many others? Louis thinks the answer is basic.

"I suppose if we were to try and discover the root cause for whatever Carl and I became it would have to be the inspiration, discipline and teachings and loving comforting care that we received from our mother and other members of our family, including her mother and her brother. They raised us and she along with them are the ones who gave us a moral compass."

His mother also taught him the value of personal responsibility and giving back and "be somebody" as Louis says that was "her constant drum" "Get something in your head. Get something in your head. Get an education. So you won't have to work with your hands, like I've had to work with mine."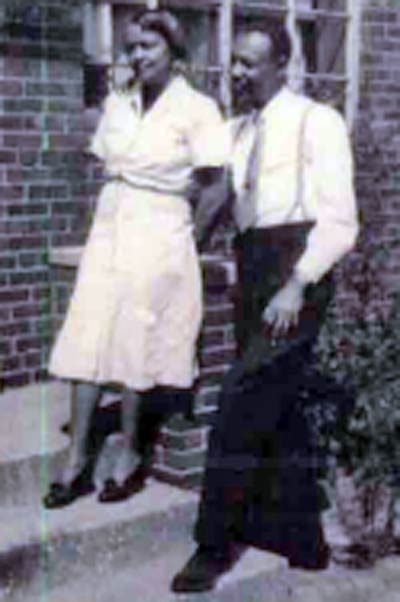 Louis Stokes with his mother Louise at 4301 Case Court
(their home in The Projects)



He and brother never really talked about their "firsts" or their leadership - they both just knew. "I don't think we really understood exactly why we did all this except that we would have to give attribution to our mother."

In fact, it comes as no surprise, that one of Louis' favorite childhood memories involves his mother. Most of the time the boys were growing up their mother left for work on Monday morning and came home on Friday night. In between their beloved grandmother raised them. Christmas was the time that their mother set aside just for her and her boys. They didn't have much money, but to this day Louis remembers Christmas with their mother as a special and wonderful day.

Today, in a time when thirty years old are counting down the days to retirement, Congressman Stokes opted not to "fall asleep in front of the television after dinner." Instead, when he retired in 1999, he started a third career and is now with the prestigious international firm of Squires, Sanders and Dempsey.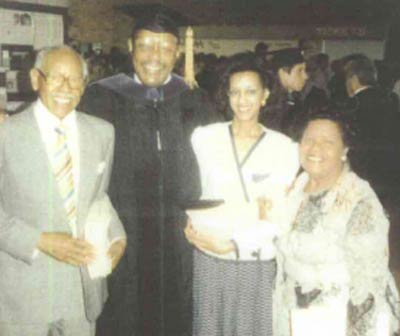 Commencement Speaker Louis Stokes at Case Western Reserve University, with Linton Freeman, Judge Angela Stokes (daughter), and Mrs. Ruth Freeman



He is also on the faculty of Case Western Reserve at the Mandel School of Applied Social Science.

"I felt that after 14 years as a trial lawyer and 30 years as a Congressman I had acquired some expertise and wisdom." He feels it is important that he pass on what he has learned and share his experience and wisdom with young people.

He finds it an inspirational experience to stand in front of a classroom full of young people pursuing Master Degrees and PhDs. "It is refreshing to try to answer their questions and satisfy their curiosity about politics and politicians."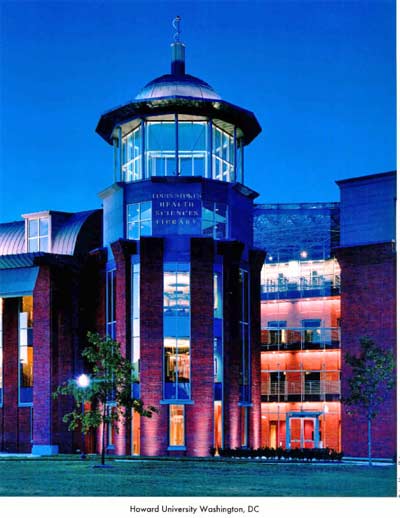 Louis Stokes Health Sciences Library
at Howard University



In addition to the degrees he has earned Louis also has 26 honorary doctorate degrees and innumerable buildings, schools and even streets named after him. Even his mother Louise, who had been named the 1968 Cleveland Woman of the Year and the 1969 Ohio Mother of the Year, has a Post Office in Shaker Heights named after her.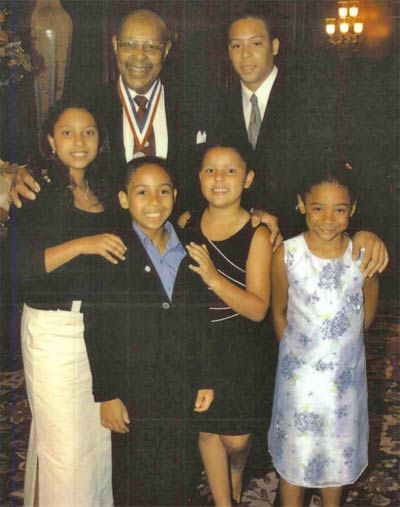 Congressman Louis Stokes receiving Congressional Distinguished Service Medal, with Eric Hammond (grandson), and front row from left grandchildren Alexandra Thompson, Grand Hammond, Nicolette Thompson, and cousin Dacia Johnson



It is unreal to him and to his brother that the work they did inspired people to name things after them. "Just the fact that we gave the kind of service that warranted people wanting to show their appreciation to use by naming buildings, streets and other programs and the sort after us is just an honor to us that is indescribable. A great honor."

His mother never saw the Post Office named after her and his brother never saw the U.S. Federal Court House named after him. But his mother did get to see Carl inaugurated as Mayor and Louis sworn in as a Congressman.

Louis is married to Jay and credits her with the success of their family and their fine children. "I am fortunate to have had a wonderful wife who I have been married to for 47 years without whom it would not have been possible to do the things I've done."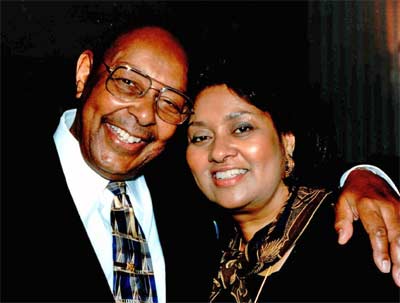 Louis Stokes and wife Jay



He adds that his four children often had to sacrifice time with their father so he could help other children. "My wife spent time raising the children and made them what they are."

His eldest daughter, Angela is a municipal court Judge. Lori is the morning and noon anchor for the ABC affiliate in New York, Channel 7. Next in line is son Chuck who is Public Affairs Director at WXYZ in Detroit. Daughter Shelley is the developer Director of The Founders library at Howard University.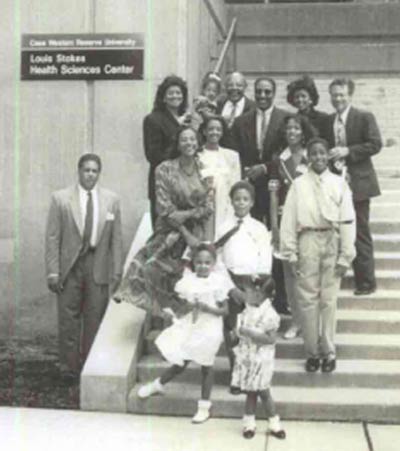 The Stokes Family at dedication of Case Western Reserve University Louis Stokes Health Sciences Center



Congressman Stokes says he has also been blessed with seven wonderful grandchildren. With the recent college graduation of his grandson there is a third generation of college educated Stokes.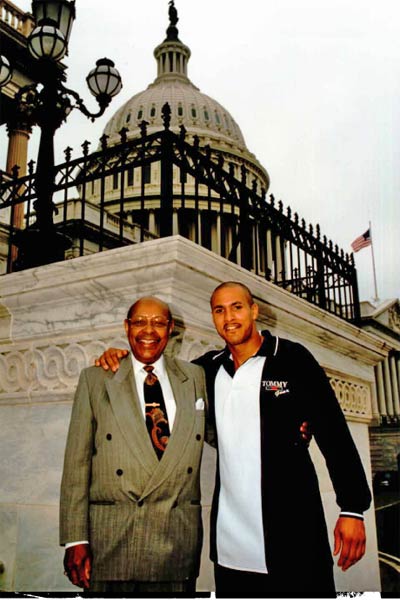 Congressman Louis Stokes with nephew Cordell (Carl's son)
in front of the Capitol



Carl and Louis were both college graduates as were their children and now their grandchildren. "I am extremely proud of all of them."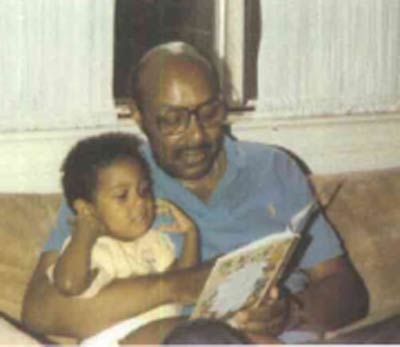 Louis Stokes with Grandson Brett Hammond



The Congressman does not consider himself a leader in the community, although most would disagree. He would like to be able to tell today's young people to learn as much as they possibly can. Comparing the human brain to a computer he says it is only possible to draw out knowledge that you have put in their.

He would also like to tell the young people of today that: "They are the brightest young people in the world today. They are brighter than Carl Stokes. They are brighter than Louis Stokes, and that says to me that with the opportunities today, with the barriers that have been shut down that in this day and age they have every opportunity, if they apply themselves to be whatever they want to be.

Congressman Louis Stokes is a remarkable man who has served his country and its people for generations. In addition, he has inspired countless young people to follow in his footsteps.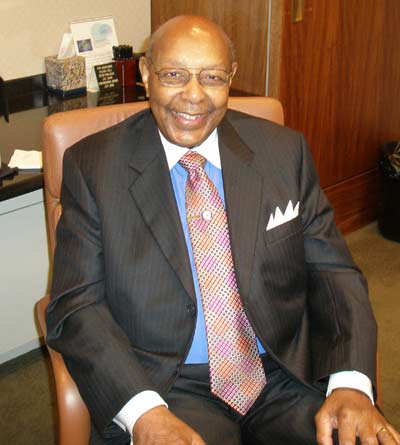 Congressman Louis Stokes in June 2007



When we talk about what is right in the world we talk about things like family values and a willingness to "walk our talk." When we talk about those things, we are, indubitably talking about Congressman Louis Stokes.
---

See many more photos of Louis Stokes with his family, politicians (Al Gore, etc) and celebrities (Bill Cosby, Muhammad Ali and more)

Listen to an audio Interview with Congressman Louis Stokes


---


Profiled by Debbie Hanson (7/07)

---
---
Top of Page
Back to Profiles of Cleveland Seniors
Back to Cleveland African Americans