Food, Recipes, Cooking and Kitchen Tips
Don't miss the
Cleveland Cooks cookbook
Volumes 1, 2 and 3
---
Reviews - Foods, Products and Restaurants
ZYN Immunity & Recovery Drinks Cleveland Cooks™ Review
With Curcumin and Turmeric

Beetology beet + veggie drink Cleveland Cooks™ Review
Healthy and Tasty

Steeped Coffee Cleveland Cooks review
Just add water and steep


---
Cheese
Venturing beyond the basic Cheeses
like Cheddar, Swiss and Mozzarella

Not your usual Grilled Cheese
How about Marinated Halloumi Kabobs

Irish Cheese like Dubliner
Dubliner, Fig and Walnut Focaccia

Farmer's Cheese and Italian Mascarpone
Fresh cheeses, uncooked and un-ripened

Grana Padano Parmesan
Cauliflower Au Gratin recipe

Imported Dutch Red Wax Gouda
Classic mild cheese from Gouda, Holland


---
How to Serve a Gourmet Cheese Course
as a starter or centerpiece of the meal


---
Meat
Steak Primer
Different steak cuts can fit different tastes and budgets

Sausage Primer
Different sausage types and watch Ed Jesse make sausage

Different types of Sausage
Smoked or Freshe

Cottage Ham
Boneless pork shoulder that has been cured and smoked

Grilling Meat, BBQ and Cookout Advice
Almost everything tastes better grilled!

T-Bone, Ribeye and other Beef and Steak Questions
Advice from an expert meat cutter

Ham, Corned beef and Rib Questions
Freezing ham and more expert tips

Meat Q&A with our Expert Meat Cutter
Rib Roast, Pork Shoulder, Curing vs Smoking and more

href="https://www.clevelandseniors.com/home/meat-turkey-safe-handling.htm">Thanksgiving TurkeySafe Handling Advice


Chefs
Let's Make A Cake
How to make an All Occasion Cake

Starting off with a basic set of kitchen equipment
Knives, Pots and Pans, Utensils

Cleaning out your Fridge?
What to do with Leftovers

Frying and Sauteing
What's the difference?

Bring your Cast Iron Skillet back
and then reseason it

How to Skin a Salmon
Video of Chef Jerry Cook

Tips to Make Sure Fish is Cooked Right
and a test for Doneness

Cooking with Alcohol
Alcohol Burn-off Chart

Start with a Healthy (and Tasty!) Breakfast
Strawberry Nut Muffins Recipe

How to Break Down a Chicken
Video of Chef Jerry Cook

How to find the Oyster of a Chicken
Video of Chef Jerry Cook

How to Cook Rice
Tips from Chef Jerry Cook


---
Kitchen and Food Tips, Tricks and Advice
Air Fryer Tips
10 Ways to make the most of your Air Fryer

Mexican Food Guide
What the words mean to help you order

Chinese Food Guide
What do Chinese restaurant words mean?

Ohio Apple Varieties
Over a dozen choices

Alternatives to Traditional Thanksgiving Meal
For Special Diets

Ten Tips for a Top Notch Turkey
From Butterball Turkey Talk

How to lay Dinnerware
Setting the Table

Make Sauerkraut Part of Your Summer Grilling
German Potato Salad Recipe

Food Thermometer to test Food Temperature
Not just for turkeys anymore

Restaurant Food and Take-Out Food Safety
Be Careful with your Doggie Bag

Helpful Home Food Tips
Bananas, Cheese, Eggs and More

10 Ways to Cut Grocery Bills
Save Money when Shopping

Kitchen and Cooking Tips and Tricks
from Marie McQuistion

How to Stock A Kitchen
Must-Haves For Today's Pantry

How Long are Leftovers Safe to Eat?
Thanksgiving Turkey and More


---
Recipes
Recipes
Ours and yours

Mianbaoxia Shrimp Toasted Sandwich and Teriyaki Beef Jerky Recipes
For your Air Fryer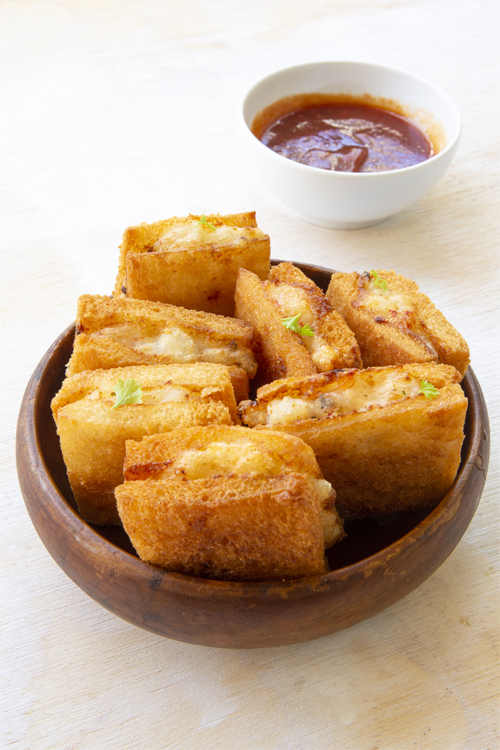 Mianbaoxia Shrimp Toasted Sandwich
---
Ethnic Food
Making Pierogi
Two schools of thought regarding traditional pierogi dough

Healthy Asian Cooking with Rose Wong
Chinese and other Asian cooking is often healthier than the West

Celtic Cooking
With the Celtic Caterer Chef Eric W. McBride

Lithuanian appetizers, entrees and desserts
Cepelinai is the national dish of Lithuania

Lithuanian tree cake
Sakotis or Naumkuchen

Branka Malinar of Cleveland's Croatian community explained some of the food and eating habits of Croatia and Croatian people. She said for Croatians the most important meal of the day is lunch (rucak). Christmas meal might include Turkey with mlinci (flat, sour dumplings). She spoke at the Dubrovnik Garden as part of the Food Adventure of ClevelandPeople.Com.



See more Ethnic Food Tips and Recipes at ClevelandCooks.com


---
Other
Erie Bone Broth was launched in 2015 by Kelly, a home cook, who personally discovered the health benefits of bone broth as a wholesome dietary staple in their everyday lives. Kelly personally discovered Bone Broth because she had severe joint pain and found out that bone broth fights inflammation. Dan Hanson of ClevelandCooks.com caught up with Kelly at North Union Farmer's Market at Shaker Square and learned more about bone broth and small business.


---
2015 was the second year that a group of Cleveland Vegans marched in the annual Cleveland St Patrick's Day Parade. They were followed by Cleveland Crops whose mission is to create innovative work opportunities and career choices for adults with developmental disabilities by providing agricultural and food processing training and employment.


---
Have a favorite Recipe or Kitchen tip? Share it with others.
Send it to: feedback@ClevelandSeniors.Com and we'll post the best right here for others to learn from and enjoy.


---
---
Top of Page
Back to House, Home & Family Tips & Expert Advice


Sign up for our free eNewsletter sent about once every 2 months with special offers, discounts, contests and more specifically for Cleveland area Seniors and Baby Boomers.






Follow us on Twitter