10 Brilliant Ways to
Make the Most of Your Air Fryer
And 2 Bonus Recipes!
Sure, air fryers achieve a satisfyingly crisp finish with just a fraction of the fat, putting a healthier spin on fried foods. But there's another reason to love your air fryer: the mind-blowing array of exciting new dishes you can add to your everyday repertory.
We're talking not just entrees and sides, but snacks and sweets, too. ChefWave, makers of the Magma 16 qt. Multifunctional Air Fryer Oven, encourages you to think outside the deep fryer basket.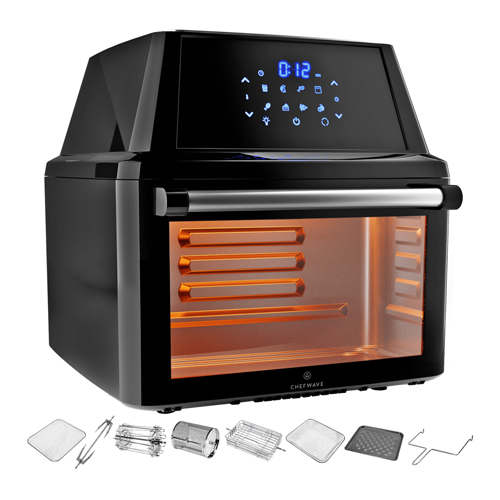 Magma Air Fryer Oven

Get creative with things you never thought you could make at home—and things you'd never dreamed could be fried.

1. Chips, chips, chips!

Air fryers can turn just about anything into a crispy snack. Get a good mandolin and cut a medley of root vegetables into paper-thin rounds—we love carrots, parsnips, beets, sweet potatoes, and taro—and fry 'em up. Apple and pear chips? Why not? Kale chips? Make your own and save big bucks at the store.

2. Pasta perfection

You're at a cocktail party and somebody passes you a tray of air-fried ravioli. Whaaat?? Yes—many kinds of pasta can be transformed into crispy nibbles with your air fryer. Whether you make your own gnocchi or buy frozen tortellini, you may never need a jar of marinara sauce again. Get imaginative with the dipping sauce and you've got an elegant appetizer.

3. Pickles

If you're not up on today's fried pickle craze, you may be due for a trip to the State Fair. Or better yet, make up a batch of your own. You'll need to dab them dry before coating them with breadcrumbs or flour, seasoned your way. Be prepared to get hooked!

4. Jerky

High in protein and low in fat, jerky is basically the stuff of air fryer dreams. Take some super-thin strips of beef, turkey, or salmon and marinate them overnight in the flavor profile of your choice (salty, sweet, spicy, smoked, herbed, or some/all/none of the above). Then pop them on the rack of your air fryer and cook low and slow. Shout-out to the vegans: tofu or mushrooms can also be 'jerkified' to excellent results.

5. Sneaky sides

Ever wonder how to make healthy veggies they'll actually want to eat? Hello, air fryer! Try crisping up string beans, baby carrots, brussels sprouts, zucchini, cauliflower, broccoli…even radishes. A spritz of cooking spray beforehand, a dash of herbs, and maybe some grated cheese when they come out. Then watch them disappear.

6. Versatile wonton wrappers

Your ticket to air fryer magic is waiting in your grocer's refrigerator or freezer section. Wonton wrappers will take you wherever you want to go. We're talking about savory dumplings filled with meat and veggies. Gooey goodies stuffed with fiery jalapeño-cream cheese. Sweet delights with fruit, nut butter, or caramel centers. You can even cut them in strips and air-fry them plain with a dusting of powdered sugar.

7. Just desserts

Air-fried donuts are kind of a no-brainer, but brownies? Yes, please! The secret is out: the Internet is filled with recipes for baked goods like pies, cookies, bread pudding, and even lava cake á la air fryer. Sweet!

8. Got meat?

Skip the smoky kitchen—cook up a nice thick ribeye, sirloin, or juicy ribs to tender perfection in the basket of your air fryer.

9. Be a good egg

Mornings are busy enough. Who wants to cook? With your trusty air fryer, you can whip up some fluffy omelets (hint: prepare the mixture the night before) or even a batch of perfect "hard-boiled" eggs.

10. Toasted sandwiches

Dial snack time up a notch with some exotic Mian Bao Xia shrimp toast, the Korean finger food that's crunchy on the outside and luscious on the inside with just the right amount of umami.

The ChefWave Magma 16 qt. Multifunctional Air Fryer Oven (SRP: $149.95) does it all, easily. This versatile workhorse also includes a rotisserie and dehydrator! You also get all the accessories you need, plus a recipe book.
---
Try these 2 recipes
Mianbaoxia Shrimp Toasted Sandwich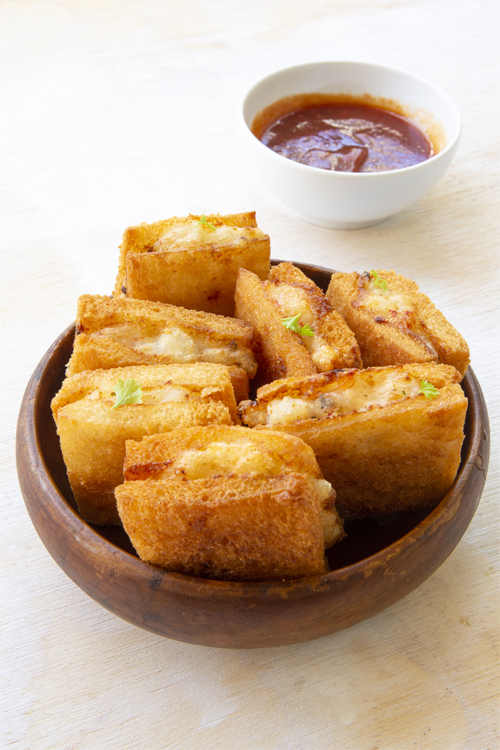 Ingredients
3 slices of white bread
150g shrimp, minced
1 tablespoon all-purpose flour
½ egg
½ tablespoon lemon juice
Cooking oil spray
Pinch of Salt
Pinch of Pepper
Instructions
Slice the bread into 4 squares. You may remove the crust if it's preferred.
Combine the shrimp, salt, pepper, flour, egg and lemon juice in a bowl until well mixed.
Spray an even layer of cooking oil on all sides of the bread.
Construct the sandwiches by spooning a small ping pong ball sized shrimp mixture in between 2 slices of bread.
Spray a small amount of cooking oil on the mesh basket and place the sandwiches on it (make sure to leave a small gap in between each sandwich to allow all sides to cook evenly).
Use the Fish program and set the cook time to 10 minutes.
Serve while hot, enjoy!
---
Teriyaki Beef Jerky Recipe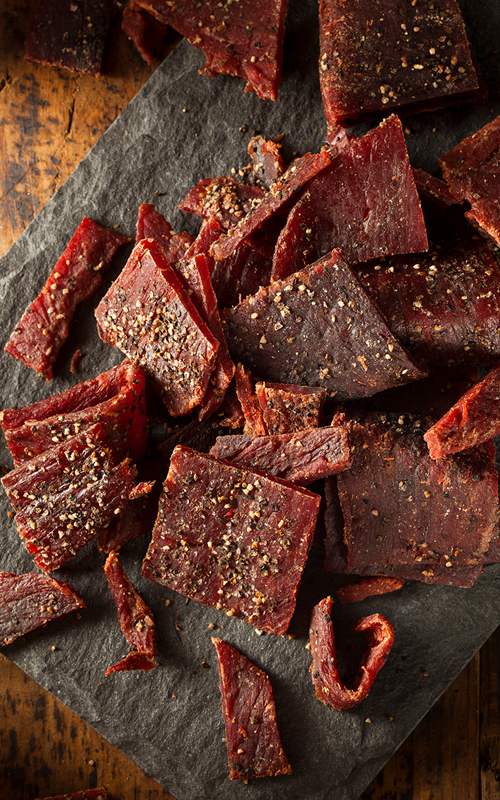 Ingredients
1 x 1 ½ - 2 lb flank steak
1 cup soy sauce
3/8 cup brown sugar
1 tsp five-spice powder
1 tbsp ground ginger
1 tsp ground cumin
Directions
Trim and slice the flank steak
Combine the other ingredients in a small bowl to make the jerk marinade. Add your prepared flank steak to the marinade.
Refrigerate your marinating flank steak for 24 hours. Drain the flank steak, lay it out on the food dehydrator trays, and dehydrate at 167 F for 4-6 hours.
Serve with your favorite side dish!
---
---
Top of Page
Back to Food Tips and Advice