Cleveland Sports


It's not easy being a Cleveland Sports Fan. Baby Boomers will remember The Drive, The Fumble and the Shot.

Seniors will remember the fun of 1948 and 1964 and wish there were more championships since then.

Whether you live and die with the Browns, Indians and Cavs or just like to play and keep active yourself, this is the section for you.
---
2021
Jack Graney to receive Frick Award at Baseball Hall of Fame
Cleveland Indians player and broadcaster
Jack Graney, who followed up a 14-year big league career with the Cleveland Indians by becoming a legendary Northeast Ohio broadcasting voice, has been selected as the 2022 recipient of the Ford C. Frick Award, presented annually for excellence in broadcasting by the National Baseball Hall of Fame and Museum. Graney will be recognized posthumously during the Hall of Fame Awards Presentation as part of Hall of Fame Weekend, July 22-25, 2022. Graney becomes the 46th winner of the Frick Award, as he earned the highest point total in a vote conducted by the Hall of Fame's 16-member Frick Award Committee.
---
Rocky Colavito statue unveiling and 88th Birthday
Rocky Colavito was an All-Star for six seasons (9 All-Star Games). He is the fifth player in the history of the AL to have eleven consecutive 20-home run seasons (1956–1966). During that span, he exceeded 40 home runs three times and 100 runs batted in, six times. He also led the AL in home runs, RBI, and slugging average once each. Colavito ranked third among AL right-handed hitters for home runs (371) and eighth for AL games played at right field (1272), at the end of his MLB playing career in 1968.

But Rocky is so much more than a bunch of all-star caliber achievements. He was a hero to a generation of Clevelanders and every kid in little league copied the stretch and other batting nuances of #6.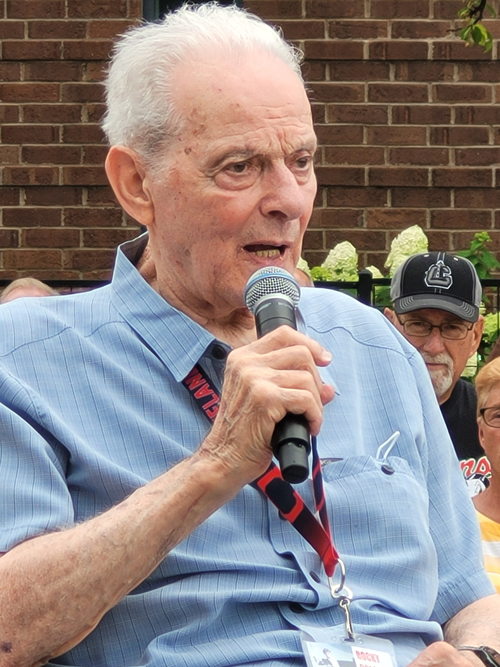 Rocky Colavito speaking at the ceremony



Rocky was in Cleveland to celebrate his 88th birthday and the dedication of his statue in Little Italy.

Photos and videos of Rocky Colavito's birthday and statue unveiling


---
Rocky Colavito statue in Tony Brush Park in Cleveland's Little Italy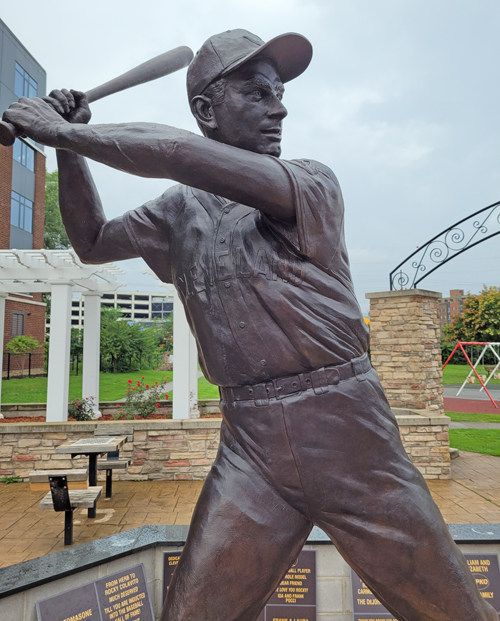 Rocky Colavito statue in Little Italy in Cleveland
Lots of photos of the statue of the iconic Cleveland Indian ballplayer.
---
National Football League (NFL) 2021 draft in Cleveland
The National Football League (NFL) is hosting the 2021 draft live in Cleveland. A stage is being created between First Energy Browns Stadium and the Great Lakes Science Center and the Rock and Roll Hall of Fame.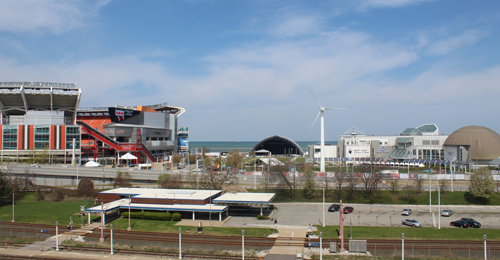 Stage for 2021 NFL Draft in Cleveland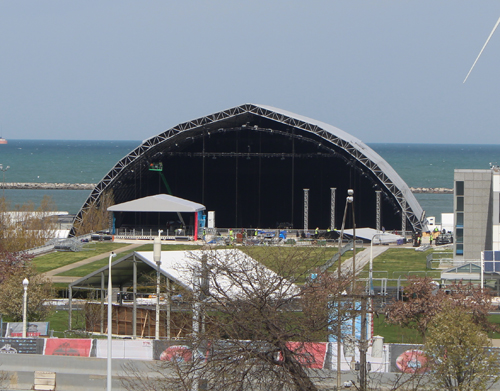 On Mall C there are large helmets of all the NFL football teams.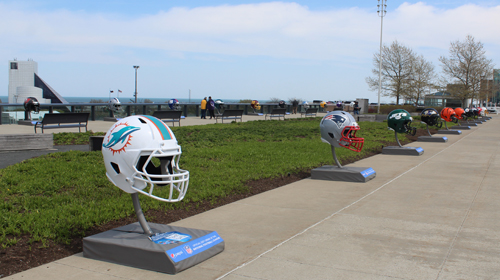 See more photos and a video of the NFL Helmets display
---
2019
Major League Baseball All-Star Game Play Ball Park Preview
While the biggest baseball stars will come together at Progressive Field during the All-Star break this July, the Indians and MLB will provide fans with their own opportunity to play and experience the game just a few blocks away. A new interactive baseball festival, PLAY BALL PARK, will arrive inside and outside the Huntington Convention Center from July 5-9. The outside activities will be free to all fans, while the indoor activities will be ticketed. We took a brief tour outside as crews set up for the big event.


---
Negro Baseball Leagues Exhibit at Cleveland All-Star Game
Major League Baseball presented Play Ball Park at the 2019 All-Star Game in Cleveland. Here is a look at an exhibit showcasing the Negro Leagues and the history of African-American players way before Jackie Robinson and Larry Doby.


---
Baseball Diversity (Latino, Women, etc.) Exhibit at Cleveland All-Star Game
Major League Baseball presented Play Ball Park at the 2019 All-Star Game in Cleveland. Here is a look at an exhibit showcasing the diversity of Baseball. First the international game - London, Mexico, Tokyo. Then Hispanic legends like Roberto Clemente and the Latino Legacy and also Women in baseball.


---
Famous Major League Baseball Trophies display at Cleveland All-Star Game
Major League Baseball presented Play Ball Park at the 2019 All-Star Game in Cleveland. Here is a look at an exhibit showcasing the major trophies and awards presented by Major League Baseball including the Willie Mays World Series MVP Award which features the amazing 1954 catch made by Willie Mays against the Cleveland Indians.
---
Archive of Cleveland Sports - 2018 and before
---
Ohio State Buckeyes vs Michigan Wolverines
Jokes for the big game (with a Buckeye slant)!

Cleveland Blues Vintage Baseball
Uniforms, equipment and rules from the 1860's

Crazy, with the papers to prove it
By Cleveland Sports Writer Dan Coughlin

What Would Mickey Mantle Say
#7 coaches Men to Health and Happiness - book review

Whatever happened to 'Super Joe' Charboneau
Catching up with 45 Good Old Guys from the Bad Old Days of the Cleveland Indians - by Russell Schneider

Browns Scrapbook
50 years of Hall of fame football reporting by Chuck Heaton

Twelve Days of Cleveland Browns Christmas
...on a Rutigliano Super Bowl Team!

Curses! Why Cleveland Sports Fans Deserve to Be MiserableA Lifetime of Tough Breaks, Bad Luck, Dumb Moves, Goofs, Gaffes, And Blunders
by Tim Long

Bob Hope sings Thanks for the Memories
at Cleveland Indians last game at Municipal Stadium

Browns Town 1964
By Terry Pluto

Cleveland Sports Legends
The 20 Most Glorious & Gut Wrenching Moments of All Time - By Bob Dyer

The Toe - The Lou Groza Story
By Lou Groza with Mark Hodermarsky

The Best of Hal Lebovitz
Great sportswriting from 6 decades in Cleveland

Debbie Hanson throws out the first pitch
at Cleveland Indians game

Game 5 - 1920 World Series
Cleveland Indians vs. Brooklyn Dodgers

Pride of the Indians
The Mel Harder Story

Cleveland Browns Football Trivia Quiz
How many can you answer?

War Year Cleveland Indians
Jim Sweeney remembers


---
Take Me out to the Ballgame
---

Stan Musial and other St Louis Cardinal greats
Statues at Busch Memorial Stadium

St Louis Cardinal milestones
Plaques at Busch Memorial Stadium


---
Top of Page
Back to Arts & Leisure for Cleveland Seniors




Sign up for our free eNewsletter sent about once every 2 months with special offers, discounts, contests and more specifically for Cleveland area Seniors and Baby Boomers.






Follow us on Twitter