The Pride of the Indians
My time with Mel Harder by Bob Becker
Pitcher, teacher, and role model. That was Mel Harder.
If you're from the WWII generation you probably remember the unassuming man who pitched for the Cleveland Indians for 20 seasons, 1928 - 1947. If you're a baby boomer, you may recall his stint as a pitching coach for the Tribe from the late 40s to the early 60s.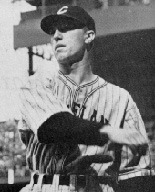 Without even trying Mel Harder affected my life for the better. Like concentric circles in a pond, his quiet life in the very public and raucous arena of baseball has touched the lives of thousands who've learned valuable life lessons. I'd like to tell you about my time with Mel Harder.

A private man in a public place

In an era where self-centered athletes (Pete Rose, Ricky Davis, Maurice Clarett) parade across our TV screens, its refreshing to look back on the life and times of a man like Mel Harder.

Harder had Hall of Fame statistics as a pitcher and as a coach. He has the best All Star game record of any pitcher in baseball, past or present, and as a coach he developed some of the best arms (Bob Feller, Early Wynn, Bob Lemon) in the history of the game. But he was never one to call attention to himself.

Maybe that's why I, a lifelong Clevelander and Indians fan, never heard of Harder until I was in my 30s. By the time I started following Indians baseball in the mid 60s, Mel was no longer with the club. I could tell you all about my boyhood Indians heroes Sam McDowell, Vic Davillio, Fred Whitfield, or Max Alvis, but I knew nothing about Harder.

Meeting the teacher

That changed in the 1980s when I was a reporter at Cleveland's Channel 3, WKYC. In 1987, as the Indians opening day drew near, I was assigned to do a historical feature on the Indians. It was suggested I find a retired Tribesman who could tell some stories of old League Park, which the Indians used up until the 1940s.

The feature was to tie in with present day stories of the hoped for development of a new ballpark on the site of the old Central Market. (That site was to become Jacobs Field.) There weren't too many well-known retired Indians making their home here.

The first guy to come to mind was Bob Feller, but Feller was on TV all the time. I wanted to find someone we didn't get to see that often. The Indians PR department said a pitcher by the name of Mel Harder still lived in Chardon and he might be willing to do it.

The Cleveland Indian

I called Mel and he agreed to meet me and a camera crew at League Park at East 66th and Lexington the next day. This gave me some time to do some research on Mel. It didn't take me long to wonder why Harder wasn't better known. Mel Harder was the ultimate Cleveland Indian!

He played for the Tribe longer than anyone else in the history of the club. His brilliant curve ball baffled the best hitters in the game. Both Joe Di Maggio and Ted Williams said Harder was the toughest guy they ever faced.

His record of 223 victories exceeds the records of 17 pitchers (people like Don Drysdale, Stan Coveleski, Bob Lemon, Hal Newhouser, Sandy Koufax, Dizzy Dean and Rollie Fingers to name a few) who are already in the Hall of Fame. What gives? Why don't more people know about him? Why isn't he enshrined at Cooperstown?

I figured Harder must have some kind of character flaw or skeletons in his closet that kept him out of the Hall and our present-day consciousness. When I met him at League Park the next day I found a warm, humorous, seemingly unselfish, gentle man. I'd interviewed famous former athletes before and found a number of the them to be egotistical, self-centered braggarts who would bore you with the intricacies of their past glories. Mel wasn't like that at all.

This slightly shy man from Beemer, Nebraska, spread the credit around when telling tales of past Indian triumphs and defeats at League Park and old Municipal Stadium. I thought to myself, that this was a guy who could make an interesting profile in a long-form television documentary, not just the 90-second "packages" reporters put together for the evening news.

Going in-depth with Mel

Fast forward to 1994. I'm no longer at Channel 3. My Emmy award-winning skills as a reporter were no longer needed when the station started doing budget cuts and my contract was not renewed. That was OK. I felt it was time to move on.

I wanted to start doing long-form documentaries. I was grateful for the TV production skills I'd learned at Ch. 3. I enjoyed my time there and left with no regrets. And it was just about this time that my wife, Luanne, and I were talking about working together.

Since we were married in 1978, Luanne had enjoyed a very successful career in the banking and accounting world. She was on the fast track to be a partner at a large accounting firm. Even though she excelled at crunching numbers and working as a data systems analyst and developing computer systems development methodology, her frustration was growing. She was also very artistic and the left-brained part of her railed against the conservative corporate world.

For a number of years she found some very satisfying work at Challenger Center, an educational organization set up by the families of the deceased Challenger astronauts. But the television and film arts always intrigued Luanne. We pooled our divergent professional backgrounds and decided we would produce documentaries.

To get our feet wet, we decided to attend the Sundance Film Festival and check out what other filmmakers and documentary producers were doing and whether we could measure up. We saw some really great productions and some other work that was quite forgettable. The bottom line was that we thought we could craft programs that were as good or better than what other independent producers were making.

We had a lot of ideas on what to do. Luanne had been fascinated by quiltmaking. Not as a craft, but as a way that women told stories by what they wove into their quilts. This idea produced two award-winning programs, Unraveling the Stories and A Scrap of Pride.

A Scrap of Pride was a project that documented a 1996 Cleveland Bicentennial project where people of all backgrounds gathered together to make quilts reflecting their families and their heritage. It promoted cross-cultural unity and friendship.

Unraveling the Stories documented different cultures and eras of quiltmakers in Ohio who used their quilts to show family history, represent different ethnic cultures, and make political statements. Both of these projects were funded by a mixture of foundation grants and our own bank accounts.

I kicked around a number of ideas for my pet project and the one that continued to resonate was a program on Mel Harder. But first I needed money. Would anyone remember or care about Harder. Some felt a show about a nice guy with no scandals in his past just wouldn't make a good story. Lots of people said no or never returned my calls.

But there are some believers out there and The Pride of the Indians project became a reality when Jack Borkey, Sr., of the Pepco wholesale electronics firm made a substantive donation to the project. Borkey saw Harder pitch at League Park and Municipal Stadium and always admired his quiet professionalism.

A smooth production

As we started to make plans to shoot interviews with Mel and people who could talk about his career, something very pleasant happened. The videographer, cinematographers, equipment rental people, and video editor donated much of their services to the project. They liked what Mel stood for and wanted to be part of telling his story.

Our first major shoot for The Pride of the Indians was at Jacobs Field. I wanted the program to start off with a dream sequence showing the passage of time and relationships between generations. The idea was to show a present day pitcher who passes the baseball off to Mel as we go back in time to tell Mel's story. The perfect Indians pitcher to do that was Charles Nagy.

Nagy and Mel were very much alike. They were both "control" pitchers, guys who didn't have blazing fastballs, but could put the ball anywhere they wanted to. Both Charlie and Mel were among the best in baseball at throwing a curve ball.

Charley and Mel were also the first guys to pitch a ball over home plate in Jacobs Field, during a promotional ceremony a couple of years before the park was finished. Mel was also the first Indian to throw the first pitch at Cleveland Stadium and threw out the last one when it closed in 1993.

Mel and Charlie

But Harder and Nagy also really liked each other. They were both quiet guys who did their job, didn't complain, and were role models for other players on the club. Still, when I worked through the Indians front office to arrange the shoot at Jacobs Field and get Nagy to be there for the shoot I thought I'd be in for a lot of problems.

Nagy was a Major League baseball player with an agent. I figured he would want to be paid handsomely for his time and there would be all sorts of restrictions on what he could and couldn't do. Nothing could be further from the truth.

When I spoke Nagy on the phone he said, "Oh, it's for Mel? No problem." He didn't want any compensation and he stayed until we got all the shots we needed.

The July day we shot the sequence, it was over 90 degrees. Nagy was wearing his polyester Indians uniform and Mel was wearing a replica of his 1930s Tribe uniform. It was 100% wool! Mel was an 87-year-old man walking around in the midday heat in heavy wool. He didn't complain a bit.

It was like that through the whole production of The Pride of the Indians. People went out of their way for us to get the program done because it was for Mel Harder. Guys who played with him like Bob Feller, Lou Boudreau, and Al Lopez opened their homes to us for a few hours while we set up our cameras and lights to conduct long interviews.

I spent an afternoon with a good friend of Mel's, Browns Hall of Fame quarterback Otto Graham. They respected each other because they were great players and good people.

Players that he taught the art of pitching like Herb Score, Gary Bell, Sam McDowell, and Jim "Mudcat" Grant went out of their way to be part of the program because it was for Mel.

All these people and more are part of a life that continues to affect people in a positive way. They were touched by the nice guy who developed his God-given talent, taught what he knew to others, and became someone people looked up to. All of us who saw him play, coach, or shook his hand are part of those concentric circles in a pond. It's up to us to pass it on.

Pitcher, teacher, role model

When I started working on The Pride of the Indians I was concerned at first because I couldn't find any "dirt" in Mel's life. Not that someone was out to make him look bad, but that's what often makes a good story.

Someone who starts small, gains a measure of success, messes it up because of a flaw in their character, and then learns from the experience. That's not the story of Mel Harder. He was not perfect. He had his own foibles and challenges. The thing about Mel was that he was steady. Not flashy. He just got the job done.

Maybe if he'd played in New York, was in a World Series, or tried to call attention to himself, he'd be in the Baseball Hall of Fame. He isn't.

But I don't think he'd trade his life or reputation for half the guys in Cooperstown. Pitcher, teacher, role model. That was Mel Harder.

(Note: Mel Harder passed away in Chardon on October 20, 2002)
---

The Pride of the Indians won a National Telly award and was nominated for an Emmy for best sports program.
---
"He's OK with himself. He doesn't have to put on a show for somebody or have to impress somebody. That's a very strong individual, a very knowledgeable individual. In society it's the quiet people that we all watch because we know that they know what they're talking about."

"Sudden" Sam McDowell,
Indians pitcher 1961-1972
---
"Mel had this type of demeanor about him and it taught me something that I use even today. The confidence in what you are teaching and the fact that you have patience with the individual. You have to put yourself into the student's body and then do the best thing for the student. That's the type of role model that comes out of Mel Harder."

Jim Grant,
substance abuse counselor/former Indians, Twins pitcher
---
"He adjusted his coaching to the person he was coaching. A lot of coaches justify their existence by tinkering with people. Mel was never like that."

Herb Score,
baseball broadcaster
---
"Mel Harder's greatest asset is knowing the individual. He would get inside a pitcher's mind and body and draw the best out of them."

Lou Boudreau,
Hall of Fame manager/shortstop
---
"He always used positive reinforcement. As a coach he would never impress his style on a pitcher, but would pick up on a person's best talents and help them develop their own style."

Penny Harder Burns,
Mel's youngest daughter
---
"The toughest pitcher I ever faced was Mel Harder." - Joe DiMaggio

More about Mel Harder - Pride of the Indians

---
---
Top of Page
Back to Memories for Cleveland Seniors
Back to Mel Harder