The Best of Hal Lebovitz
Great Sportswriting from Six Decades in Cleveland


That the editors, including sports guru Les Levine, managed to cull these great columns from about 60 years of fantastic writing, is an amazing feat.
Hal Lebovitz has been the main sportswriter in Cleveland for more than 60 years. Anyone who ever played or followed sports knew Hal - just Hal, you didn't need to mention the last name.
Even the rest of the country and world knew him as Hal from his famous series in the Sporting News called Ask Hal, the Referee. Uncountable arguments and bets were settled after checking with Hal - an expert who officiated in baseball, basketball and football and even did a stint as a regular ref for the Harlem Globetrotters.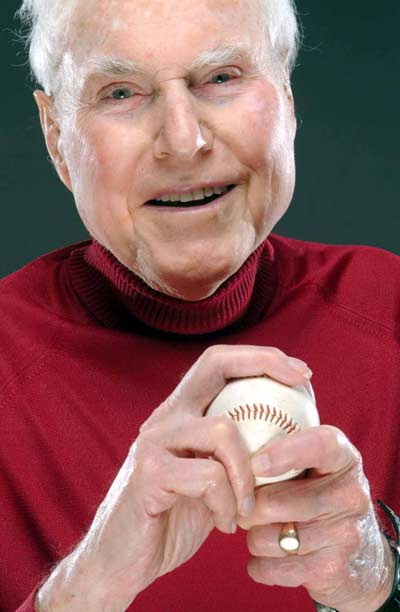 From selling hot dogs to Babe Ruth at League Park to his induction into the Writers Wing of the Baseball Hall of Fame in Cooperstown in 2000, Hal has done it all in sports - and shared his experiences and expertise with those of us lucky enough to read him in the newspaper.
Over 10,000 columns covering Rocky Colavito, Paul Brown, Bob Feller, Ted Williams, Woody Hayes, Jim Brown and every major sports figure of the time were carefully sifted through until 400 of the best were selected. Then a final list of 90 of the ultimate crème of the crop made the cut in this outstanding book.
Any one of the sections (Strong Words, Goodbyes, Events, The Game, People, Looking Back, A Sportswriter) would have made a fantastic book. With all included, it is a real treasure.
Some columns will seem familiar - the famous "Never Cut a Kid" is included. Countless coaches, students, parents, teachers and schools have used this column as a guideline. Hal still receives weekly requests from high schools for this classic.
Hal wrote about misbehaving Little League parents back in 1972. He discussed the "babying" of pitchers (6 innings and out) back in 1986. He tackled issues of character and the Hall of Fame (Gaylord Perry) long before Pete Rose.
He was not afraid to be honest even when contradicting big names such as Paul Brown or offering opinions on Kevin Mackey or Art Schlicter.
His writing also caused people to act as witnessed by the tribute to Luke Easter that became Luke Easter Park. Les Levine says, "Hal saved the Indians from moving town on at least four different occasions. He helped bring the Cincinnati Royals to the Cleveland Arena for several games a year, leading to the arrival of the expansion Cleveland Cavaliers. Hew was directly responsible for the Grandstand Manager Night, Bat Day and Ball Day at Cleveland Municipal Stadium."
The term is overused but this book really is a "must-read" for anyone who has had any interest in sports in the last 60 or so years. It really is that good and I sincerely hope there is a Volume 2.
---
Top of Page
Back to Books for Cleveland Seniors