---
Fred Ziwich's 70th Birthday Polka CD
Fred Ziwich is known as just about the most versatile musician ever on the Cleveland polka scene. He is a virtuoso on several instruments, a prolific recording artist, and an expert music arranger. His band, the "lnternational Sound Machine" has mastered, performed and recorded all of the major polka styles. Fred also plays a large repertoire of popular music. There is no music he can't play and perform well. He has had many awards including a Grammy nomination and the National Cleveland Style Polka Hall of Fame Lifetime Achievement Award.
Fred Ziwich
Fred just released a 21 song CD to commemorate his 70th birthday. There are many classic polkas such as Cleveland Girls Polka", Polish Polka medley" and "Clarinet Polka." But the CD has some non-traditional songs such as "wasn't that a Party" and "Grandma got run over by a Reindeer." The biggest surprise is an instrumental version of the Queen song "Bohemian Rhapsody" predominantly featuring the accordion.
E-mail Fred at FredPolka@yahoo.com for a catalog of his music or to purchase this CD.


---
Degas and the Laundress: Women, Work, and Impressionism
Edgar Degas was a French Impressionist artist famous for his pastel drawings and oil paintings. His reputation was built on images of upper-middle-class entertainment in 19th century Paris - especially dancers and horse racing. Degas is especially identified with the subject of dance; more than half of his works depict dancers.
This is a very surprising (to me) new exhibition at the Cleveland Museum of Art. It's surprising for the very narrow topic of the exhibition and also for the quantity of pieces on that topic from big name artists such as Degas, Renoir, Toulouse Lautrec and Picasso.
It's titled Degas and the Laundress: Women, Work, and Impressionism and is in the Kelvin and Eleanor Smith Foundation Gallery from 10/08/2023 to 01/14/2024.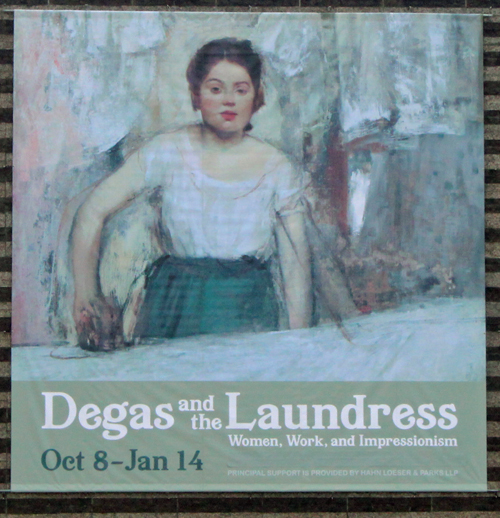 See our review of the Degas and the Laundress Exhibit
---
Jesse Owens Olympic Oak Plaza Dedication
There was a dedication of the Jesse Owens Olympic Oak Plaza near Rockefeller Lagoon in Cleveland Ohio on Monday, September 25, 2023.
James Cleveland "Jesse" Owens was the track and field athlete who achieved international fame at the 1936 Summer Olympics in Berlin, Germany, by winning four gold medals: 100 meters, long jump, 200 meters, and 4 × 100-meter relay. As a black American man, Jesse was able to disprove Hitler's myth of Aryan supremacy by being the most successful athlete at the Games right in front of Hitler. Cleveland played an important part of Jesse's life. At the age of nine, Jesse and his family moved to Cleveland from Alabama and first came to national attention when he was a student of East Technical High School in Cleveland and later attended Ohio State University.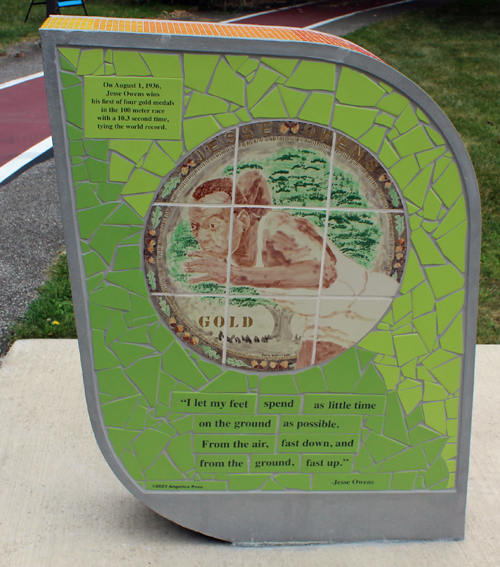 Photos and videos of the Jesse Owens Olympic Oak Plaza Dedication
---
75th anniversary of Paramount Pictures - January 1987
Who do you recognize?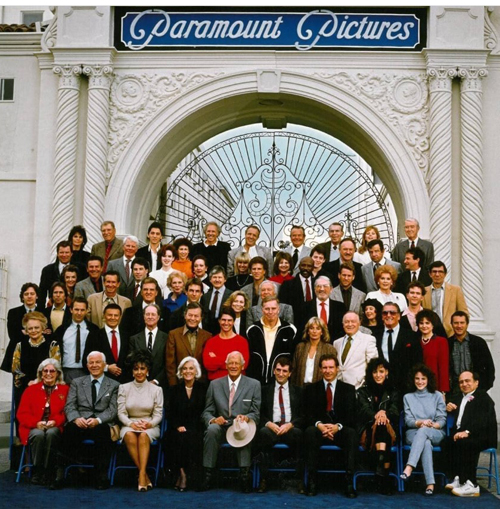 ---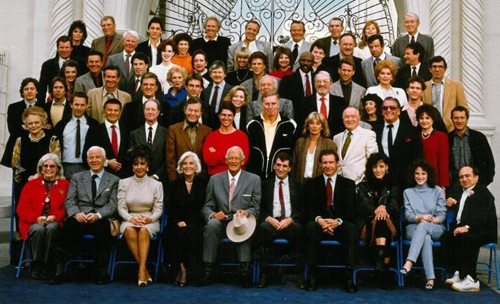 ---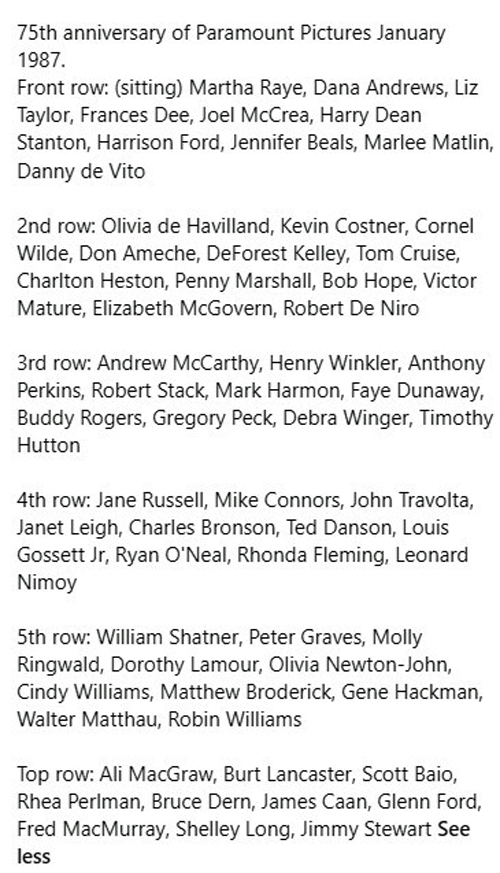 ---
Just Thinking
Today I was in a shoe store that sells only shoes, nothing else. A young girl with a tattoo and green hair walked over to me and asked, "What brings you in today? I looked at her and said, "I'm interested in buying a refrigerator." She didn't quite know how to respond, had that deer in the headlights look.
I was thinking about old age and decided that old age is when you still have something on the ball, but you are just too tired to bounce it.
When people see a cat's litter box they always say, "Oh, have you got a cat?" I just say, "No, it's for company!"
Employment application blanks always ask who is to be called in case of an emergency. I think you should write, "An ambulance."
The older you get the tougher it is to lose weight because by then your body and your fat have gotten to be really good friends.
The easiest way to find something lost around the house is to buy a replacement.
Have you ever noticed: The Roman Numerals for forty (40) are XL.
The sole purpose of a child's middle name is so he knows when he's really in trouble.
Did you ever notice that when you put the 2 words "The" and "IRS" together it spells "Theirs?"
Aging: Eventually you will reach a point when you stop lying about your age and start bragging about it.
Some people try to turn back their "odometers." Not me. I want people to know why I look this way. I've traveled a long way and a lot of the roads were not paved.
Ah! Being young is beautiful but being old is comfortable.
Lord, keep your arm around my shoulder and your hand over my mouth.
May you always have:
Love to share,
Cash to spare,
Tires with air,
And friends who care.


---
A Different Perspective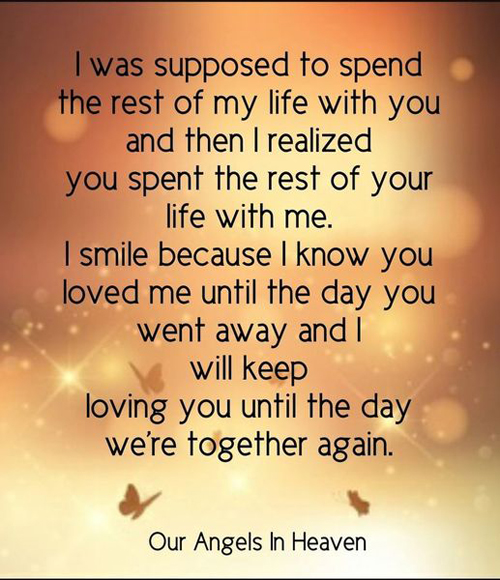 ---
New Art Museum Exhibit
China's Southern Paradise: Treasures from the Lower Yangzi Delta
A new exhibit at the Cleveland Museum of Art called China's Southern Paradise: Treasures from the Lower Yangzi Delta will be open from September 10, 2023 to January 7, 2024.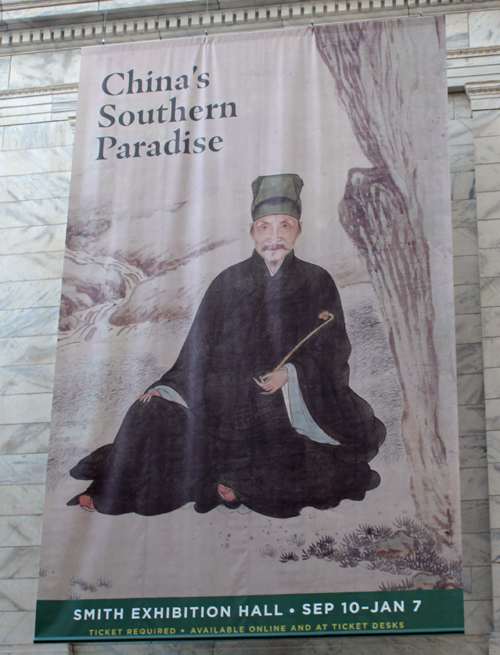 China's Southern Paradise: Treasures from the Lower Yangzi Delta
is the first exhibition in the West that focuses on the artistic production and cultural impact of a region located in the coastal area south of the
Yangzi River
called
Jiangnan
.
It's a large and diverse exhibition. It features more than 200 objects from Neolithic times to the 18th century, ranging from jade, silk, prints, and paintings to porcelain, lacquer, and bamboo carvings.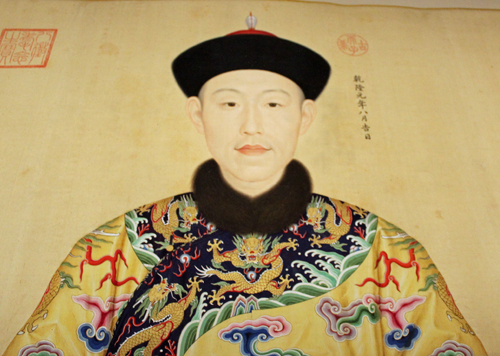 Portraits of the Qianlong Emperor and His Twelve Consorts
See photos and a video tour from the Treasures from the Lower Yangzi Delta exhibit
---
We are a Unique Generation
We grew up in the 40s-50s-60.
We studied in the 50s-60s-70s.
We dated in the 50s-60s-70s.
We got married and discovered the world in the 60s-70s-80s.
We ventured into the 70s-80s.
We stabilized in the 90s.
We got wiser in the 2000s.
And went firmly through the 2010s.
Turns out we've lived through NINE different decades, TWO different centuries, & TWO different millennia.
We have gone from the telephone with an operator for long-distance calls to video calls to anywhere in the world.
We have gone from slides to YouTube, from vinyl records to online music, from handwritten letters to email and WhatsApp.
We have gone from live matches on the radio, to black and white TV, and then to HDTV.
We went to Blockbuster and now we watch Netflix.
We got to know the first computers, punch cards, diskettes and now we have gigabytes and megabytes in hand on our cell phones or iPads.
We wore shorts throughout our childhood and then long pants, oxfords, Bermuda shorts, etc.
We dodged infantile paralysis, meningitis, H1N1 flu and now COVID-19.
We rode skates, tricycles, invented cars, bicycles, mopeds, gasoline or diesel cars and now we ride hybrids or 100% electric.
Yes, we've been through a lot but what a great life we've had! They could describe us as "exennials" people who were born in that world of the fifties, who had an analog childhood and a digital adulthood.
We're kind of Ya-seen-it-all. Our generation has literally lived through and witnessed more than any other in every dimension of life. It is our generation that has literally adapted to "CHANGE".
A big round of applause to all the members of a very special generation, which are UNIQUE.


---
Thinking of buying an Electric Car for tax the credit?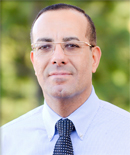 CPA
Sam Tanious
, who is a former IRS agent/auditor, gives this advice for those thinking of buying an electric vehicle in 2023.
Not all electric vehicles and not all car manufacturers qualify. Qualifying vehicles must be assembled in North America.

The $7,500 tax credit is all about the battery, has been split into two parts: You get $3,750 if a certain percentage of critical battery minerals were sourced from the U.S. The other $3,750 is dependent on the percentage of battery components manufactured or assembled in the U.S.

There are now significant eligibility limits on both the price of the vehicle and the income of the buyer; if either figure is too high, you will not qualify for the tax credit.

The new electric vehicle must have an MSRP price cap of $55,000 or less.

Buyer income limits are based on modified adjusted gross income and tax filing status. (150K for single, 300K for married filing jointly)
Based on the above, you might get the full credit of $7,500 or less than the $7,500 or even Zero. It depends on the vehicle and your tax situation. So please do your homework before you buy.
Have questions? Contact CPA Sam Tanious at 440-991-6864 or e-mail samytaxservices@gmail.com


---
Italian Sculptors of Guardians Ohio Historical Marker Ceremony
Since the Cleveland Indians changed their name to the Cleveland Guardians the stone monuments called the Guardians of Traffic on the Lorain Carnegie - Hope Memorial Bridge in Cleveland have deservedly received more attention. Now the Italian immigrants who cut and sculpted the stone for those impressive monuments are getting much-deserved attention. An Ohio Historical Marker was dedicated on May 5, 2023 on Random Road on the street in Little Italy at the former site of Ohio Stone Cut Company which created the statues.
Tom Chema, Mary Martin, Blaine Griffin, Pamela Dorazio-Dean,
Joe Marinucci, Father Joseph Previte and Anthony Pinto at the unveiling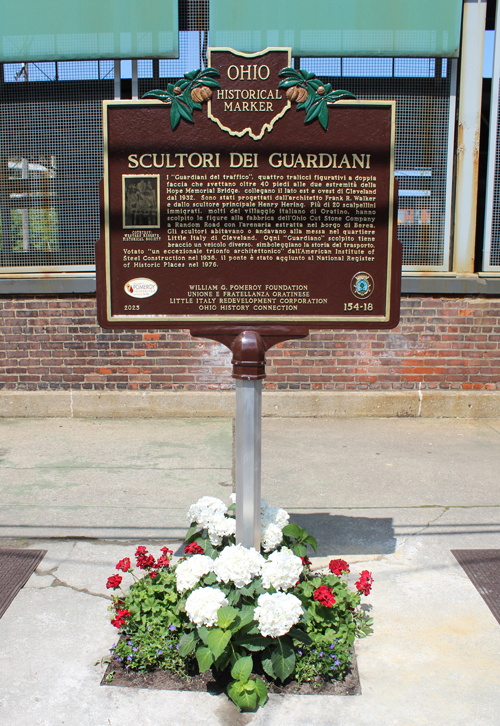 The only bilingual Ohio Historical marker
Photos and videos of the Italian Stone Cutters marker ceremony
---
Remember our car radios?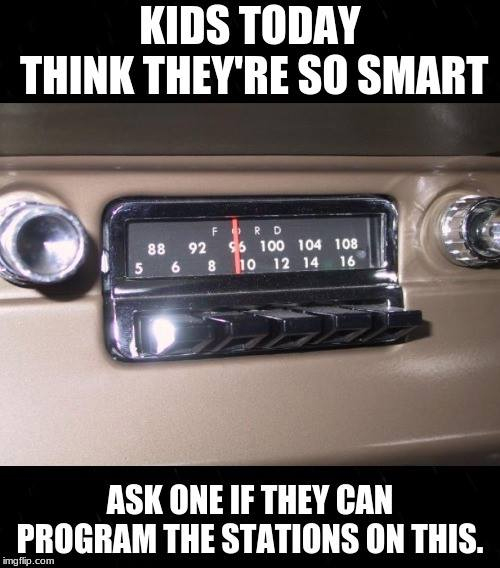 ---
Doc Hudson at the Crawford Auto-Aviation Museum
They have a replica "Doc Hudson" at the
Crawford Auto-Aviation Museum
on loan from the Hudson Essex Terraplane Historical Society (HETHS), Indianapolis, IN. This traveling display is a HETHS tribute to Doc Hudson, the star of Disney's animated movie "Cars" which honored vintage automobiles and automotive racing history.
This Doc Hudson started as a rust-free 1951 Pacemaker sedan with 59k original miles. His grill was gone and the front end had been wrecked at some point. The hood and front fenders were green, but the rest of Doc had his original Texas tan paint dulled by the sun to a rusty colored brown. The original "parts car" was donated by the Harry Bong estate.
The original 1951 Hudson Pacemaker sedan was transformed by the Martinsville High School shop class and others into a strikingly beautiful Doc Hudson that draws crowds of children and adults everywhere it goes.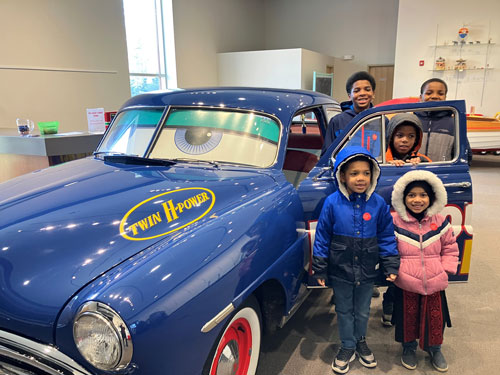 ---
Funny Retiree Mental Fitness Evaluation
This test is to ascertain your mental state now. If you get one right you are doing OK, if you get none right you better go for counseling. (I'll meet you there.)
There are 4 test questions. Don't miss one.
Giraffe Test
1. How do you put a giraffe into a refrigerator?

Stop and think about it and decide on your answer before you scroll down.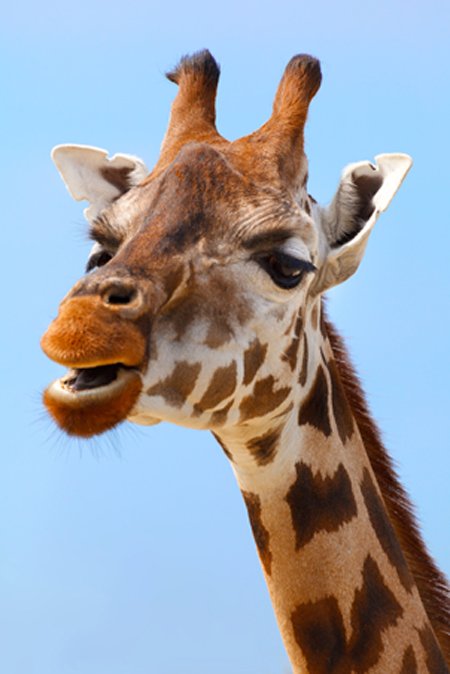 The Correct Answer: Open the refrigerator, put in the giraffe, and close the door. This question tests whether you tend to do simple things in an overly complicated way.
Elephant Test
2. How do you put an elephant into a refrigerator?
Did you say, Open the refrigerator, put in the elephant, and close the refrigerator?
Wrong Answer.
Correct Answer:
Open the refrigerator, take out the giraffe, put in the elephant and close the door. This tests your ability to think through the repercussions of your previous actions.
Lion King Test
3. The Lion King is hosting an Animal Conference. All the animals attend... except one. Which animal does not attend?
Correct Answer:
The Elephant. The elephant is in the refrigerator. You just put him in there. This tests your memory.
Okay, even if you did not answer the first three questions correctly, you still have one more chance to show your true abilities.
Crocodile Test
4. There is a river you must cross but it is used by crocodiles, and you do not have a boat. How do you manage it?
Correct Answer:
You jump into the river and swim across. Haven't you been listening? All the crocodiles are attending the Animal Conference. This tests whether you learn quickly from your mistakes. Ha Ha!


---
The Best Websites of 2022
We recently received this notice. "You have earned 36/40 in our annual website review study (The TGE awards) and thus qualify for our "Top Website 2022" award."
Thanks!
---
Clevelander Sara Lucy Bagby
The last person returned to slavery in the US
The Underground Railroad was a network of secret routes and safe houses established in the US during the early 1800s to help slaves escape into free states and Canada. It was run by abolitionists and others sympathetic to the cause of the escapees. Ohio had many stops on the Underground Railroad and since Canada was an ultimate destination, the short distance across Lake Erie from Cleveland to Canada made the city a popular destination. Cleveland was codenamed Hope on the Underground Railroad.
Restore Cleveland Hope operates the Underground Railroad Interpretive Center in the Cozad-Bates House, the only surviving pre-Civil War building in University Circle. They offer tours and events and it was here that we learned of the story of Sara Lucy Bagby.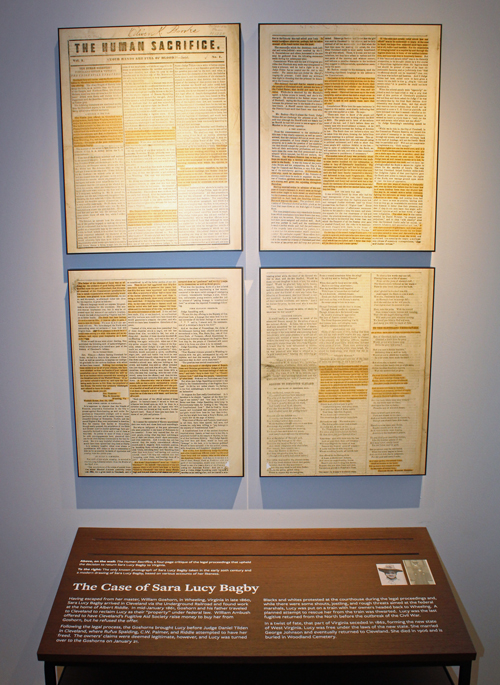 Sara Lucy Bagby display at Cozad-Bates House
Sara Lucy Bagby
was born in the early 1840s in Virginia. On October 3, 1860 Bagby fled from slavery in Wheeling. She eventually escaped slavery via the Underground Railroad and made her way to Cleveland, Ohio.
Her arrest in Cleveland on January 19, 1861 became a test case of the Fugitive Slave Act.
Wheeling resident John Goshorn and his son showed proof of ownership, and the federal court ordered her return to Virginia. Sara Lucy Bagby was the last person in the United States forced to return to slavery in the South under the Fugitive Slave Act.
The Cleveland Plain Dealer and Democrat Party of the US were both pro-slavery so despite the state government's and citizens of Cleveland's attempts to intervene, Lucy was transported back to Goshorn's property in Wheeling, then still part of Virginia.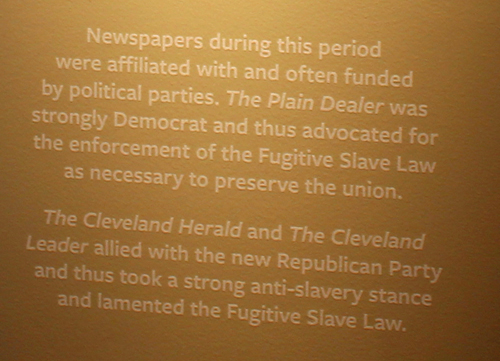 After the Emancipation Proclamation, Bagby eventually resettled in Cleveland, where she died in 1906 and was buried.
In this video, Kathryn Puckett, Restore Cleveland Hope Board Chair, tells the story of Sara Lucy Bagby.
See more from the Cozad-Bates House in Cleveland
---
I Wish You Enough
Recently I overheard a father and daughter in their last moments together at the airport. They had announced the departure. Standing near the security gate, they hugged and the Father said, "I love you, and I wish you enough." The daughter replied, "Dad, our life together has been more than enough. Your love is all I ever needed. I wish you enough, too, Dad."
They kissed and the daughter left. The Father walked over to the window where I was seated. Standing there I could see he wanted and needed to cry. I tried not to intrude on his privacy, but he welcomed me in by asking, "Did you ever say good-bye to someone knowing it would be forever?"
"Yes, I have," I replied. "Forgive me for asking, but why is this a forever-good-bye?"
"I am old, and she lives so far away. I have challenges ahead and the reality is, the next trip back will be for my funeral," he said.
"When you were saying good-bye, I heard you say, 'I wish you enough,' may I ask what that means?"
He began to smile, "That's a wish that has been handed down from other generations. My parents used to say it to everyone..." He paused a moment and looked up as if trying to remember it in detail, and he smiled even more. "When we said, 'I wish you enough,' we were wanting the other person to have a life filled with just enough good things to sustain them.'' Then turning toward me, he shared the following as if he were reciting it from memory.
I wish you enough sun to keep your attitude bright no matter how gray the day may appear.
I wish you enough rain to appreciate the sun even more.
I wish you enough happiness to keep your spirit alive and everlasting.
I wish you enough pain so that even the smallest of joys in life may appear bigger.
I wish you enough gain to satisfy your wanting.
I wish you enough loss to appreciate all that you possess.
I wish you enough hellos to get you through the final good-bye.
He then began to cry and walked away.
They say it takes a minute to find a special person, an hour to appreciate them, a day to love them; but then an entire life to forget them.
---
Don't hang out with Negative People
A man was getting a haircut prior to a trip to Rome. He mentioned the trip to the barber, who responded, "Why would anyone want to go there. It's crowded and dirty and full of Italians. You're crazy to go to Rome. So, how are you getting there?"
"We're taking United," was the reply. "We got a great rate!" "United!" exclaimed the barber. "That's a terrible airline. Their planes are old, their flight attendants are ugly and they're always late. So, where are you staying in Rome?"
"We'll be at the downtown International Marriott." "That dump! That's the worst hotel in Rome. The rooms are small, the service is surly and they're overpriced. So, whatcha doing when you get there?"
We're going to go to see the Vatican and we hope to see the Pope. "That's rich," laughed the barber. "You and a million other people trying to see him. He'll look the size of an ant. Boy, good luck on this lousy trip of yours. You're going to need it!"
A month later, the man again came in for his regular haircut. The barber asked him about his trip to Rome. "It was wonderful," explained the man. "Not only were we on time in one of United's brand new planes, but it was overbooked and they bumped us up to first class. The food and wine were wonderful, and I had a beautiful young stewardess who waited on me hand and foot.
And the hotel! Well, it was great! They'd just finished a $25 million remodeling job and now it's the finest hotel in the city. They were overbooked too, so they apologized and gave us the presidential suite at no extra charge!"
"Well,"muttered the barber. "I know you didn't get to see the Pope" "Actually, we were quite lucky, for as we toured the Vatican, a Swiss Guard tapped me on the shoulder and explained that the Pope likes to meet some of the visitors, and if I'd be so kind as to step into his private room and wait, the Pope would personally greet me. Sure enough, five minutes later, the Pope walked in. As I knelt down he spoke to me."
"What did he say?"
"He said, 'Where'd you get the crappy haircut?
---
RIP Michael Heaton
So sorry to hear of the passing of
Michael Heaton
, former Plain Dealer writer and more. I did an interview with Michael Heaton in 2007 when his book Truth and Justice came out. It has some great stories and many Cleveland connections -
Danny Green, Michael Symon, Frank Jackson, Joe Esterhas
and the like. Some great stories as only the
Minister of Culture
could tell them.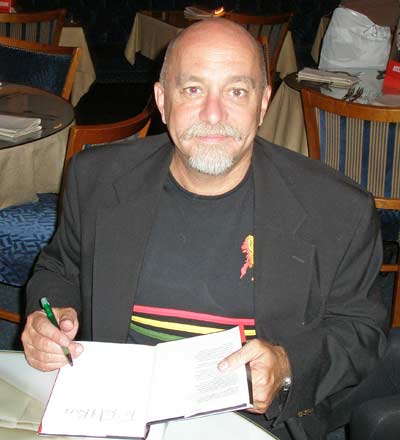 Listen to the interview with Michael Heaton
Rest in Peace Minister
---
You didn't know I was a chef, did you?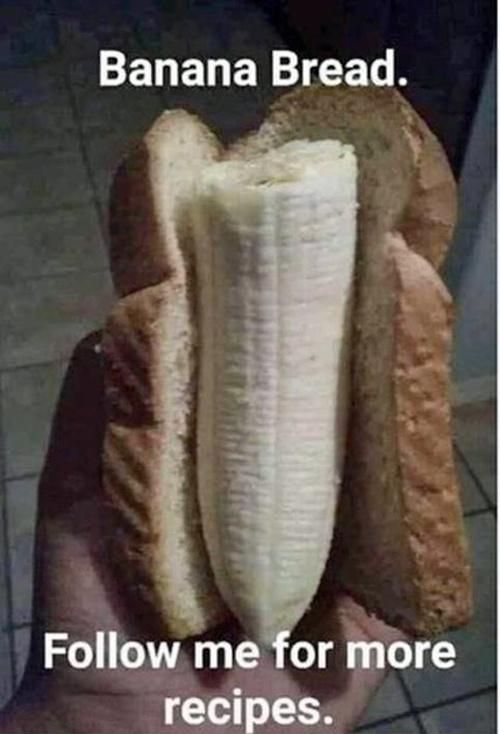 ---
Can you still feel the burn from this?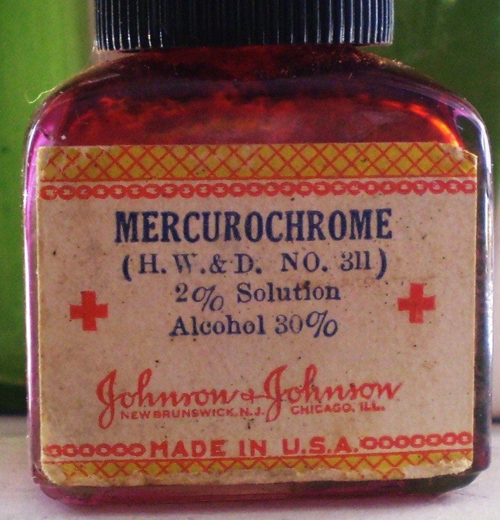 ---
Battlefield Crosses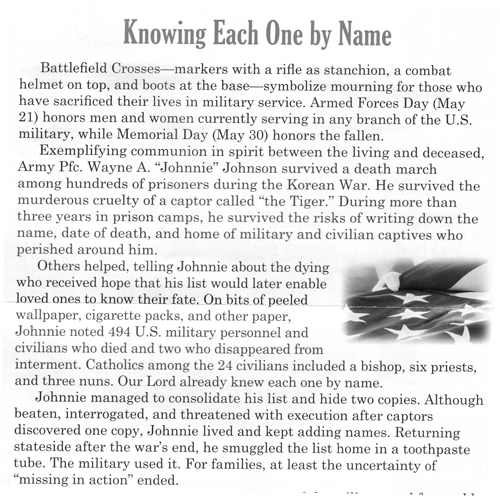 ---
10 Ways to Make the Most of Your Air Fryer
Sure, air fryers achieve a satisfyingly crisp finish with just a fraction of the fat, putting a healthier spin on fried foods. But there's another reason to love your air fryer: the mind-blowing array of exciting new dishes you can add to your everyday repertory.
---
Mianbaoxia Shrimp Toasted Sandwich and Teriyaki Beef Jerky Recipes
For your Air Fryer
Try these 2 favorites in your air fryer.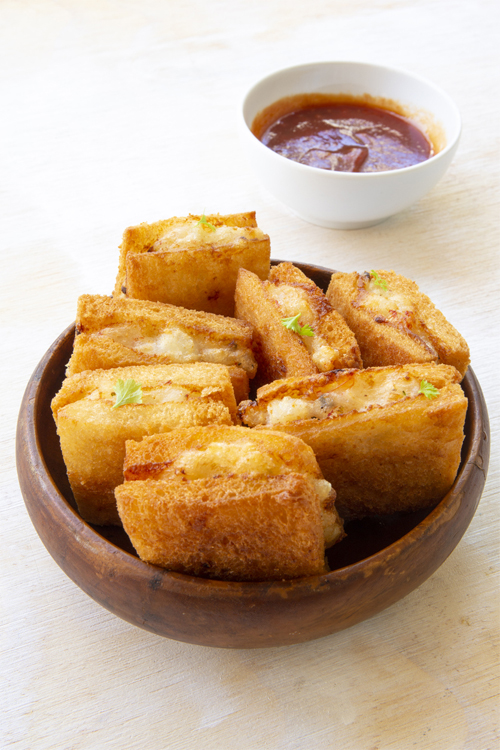 Mianbaoxia Shrimp Toasted Sandwich
Mianbaoxia Shrimp Toasted Sandwich and Teriyaki Beef Jerky Recipes
---
If they only knew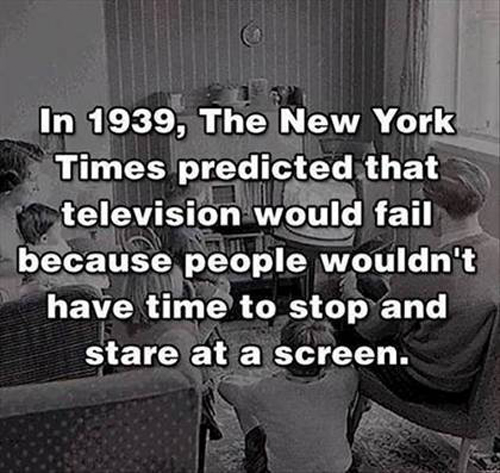 ---
Signs of a Stroke - Remember STR
Remember the '3' steps, STR. Sometimes symptoms of a stroke are difficult to identify. Unfortunately, the lack of awareness spells disaster. The stroke victim may suffer severe brain damage when people nearby fail to recognize the symptoms of a stroke. Now doctors say a bystander can recognize a stroke by asking three simple questions:
S Ask the individual to SMILE.
T Ask the person to TALK and SPEAK A SIMPLE SENTENCE (Coherently) (i.e. It is sunny out today.)
R Ask him or her to RAISE BOTH ARMS.
If he or she has trouble with ANY ONE of these tasks, call emergency number immediately and describe the symptoms to the dispatcher.
New Sign of a Stroke - Stick out Your Tongue. Another 'sign' of a stroke is this: Ask the person to 'stick' out his tongue... If the tongue is 'crooked', if it goes to one side or the other,that is also an indication of a stroke.
---
Lost Words From Those Of Us Lucky Enough To Have Lived Through the 1950's
Mergatroyd!
Do you remember that word? Would you believe the spell-checker did not recognize the word Mergatroyd? Heavens to Mergatroyd!
The other day a not so elderly, (I say 75), lady said something to her son about driving a Jalopy; and he looked at her, quizzically and said, "What the heck is a Jalopy?" He had never heard of the word jalopy! She knew she was old ... But not that old!
Well, I hope you are Hunky Dory after you read this and chuckle.
About a month ago, I illuminated some old expressions that have become obsolete because of the inexorable march of technology. These phrases included: Don't touch that dial, Carbon copy, You sound like a broken record, and Hung out to dry.
Back in the olden days, we had a lot of moxie. We'd put on our best bib and tucker, to straighten up and fly right.
Heavens to Betsy! Gee whillikers! Jumping jehoshaphat, Holy moley!
We were in like Flynn and living the life of Riley ; and even a regular guy couldn't accuse us of being a knucklehead, a nincompoop or a pill. Not for all the tea in China!
Back in the olden days, life used to be swell, but when's the last time anything was swell? Swell has gone the way of beehives, pageboys and the D.A.; of spats, knickers, fedoras, poodle skirts, saddle shoes, and pedal pushers. Oh, my aching back! Kilroy was here, but he isn't anymore.
We wake up from what surely has been just a short nap, and before we can say, "Well, I'll be a monkey's uncle!" Or, "This is a fine kettle of fish!" We discover that the words we grew up with, the words that seemed omnipresent - as oxygen - have vanished with scarcely a notice from our tongues and our pens and our keyboards.Poof, go the words of our youth, the words we've left behind. We blink, and they're gone. Where have all those great phrases gone?
Long gone: Pshaw, The milkman did it. Hey! It's your nickel. Don't forget to pull the chain. Knee high to a grasshopper. Well, Fiddlesticks! Going like sixty. I'll see you in the funny papers. Don't take any wooden nickels. Wake up and smell the roses.
It turns out there are more of these lost words and expressions than Carter has liver pills. This can be disturbing stuff! (Carter's Little Liver Pills are gone too!)
Leaves us to wonder where Superman will find a phone booth...
See ya later, alligator! Okeydokey.


---
Stay Fit To Drive
The
Ohio Department of Transportation (ODOT)
supports the state highway system and promotes transportation initiatives statewide. ODOT's mission is to provide safe and easy movement of people and goods from place to place.
As we age we have all experienced slowing down and/or weakening of some of our abilities. Maybe it's our vision or hearing not being what it used to be. Or a physical or mental challenge. Or even our medications! Maybe we didn't drive much during the Covid pandemic and are a little rusty or fearful now.
The good news is that we older adults are among the safest drivers on Ohio roads. We are more likely to wear our seatbelts and less likely to speed or drink and drive as some of the younger people. The bad news is that the risk of being injured or killed in a crash increases with age.
The best news is that ODOT is sharing information about resources and services available to older Ohioans, families and friends, caregivers and others who interact with older drivers through its Stay Fit to Drive program.

More information and a free informative, colorful brochure
---
So many jobs, so few people - Why not Workers over age 55?
Coming in to 2022 the residual effects of Covid-19 are still with us. Among many economic issues plaguing the country, persistent supply chain problems persist and hordes of people are finding ways of not returning to work so employers can't find job applicants, much less qualified job applicants.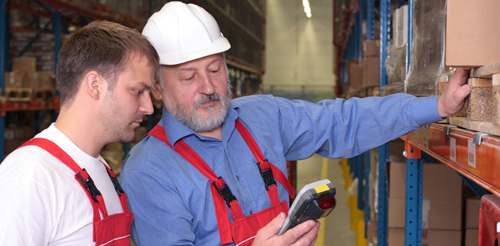 If the unemployment numbers and the economy return to its pre-Covid19 status it will mean the continuation of having more jobs out there than there are people to fill them. In a normal job market, job seekers over the age of 55 aren't normally welcomed with open arms, outside of menial part-time work. And unfortunately, in some cases HR people regard job applicants in their late 40's as too old. It's more of a personal attitude of those in the hiring process and not necessarily a matter of company policy - not on the record anyway.
Read the rest of the article about hiring senior employees


---
Hi! What do you want to do today?
Or just Browse around using the topics to the left
---
Better than many weather forecasters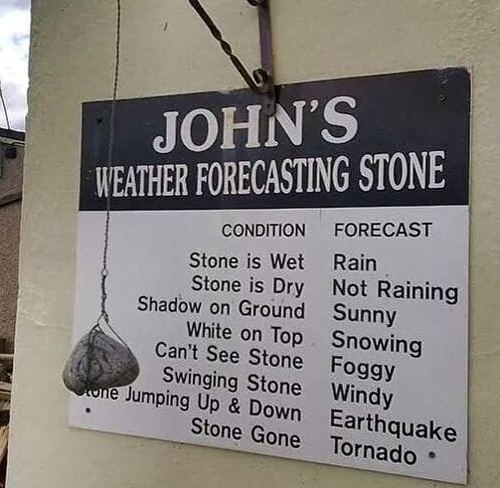 ---
ClevelandSeniors.Com Joke of the Week
After seeing a documentary about ice fishing, Zeke decided to give it a try. He gathered some gear and headed out to the ice. As he se t up and was about to drill his first hole he heard a booming voice from above saying "There are no fish under the ice."
Zeke was starled but started to drill. He again heard the powerful voice stating "There are no fish under the ice."
Zeke got scared. But decided he must be imagining it and began to drill again.
The voice boomed out again, "There are no fish under the ice."
Zeke looked up to the havnes and asked, "Is that you Lord?"
The voice boomed, "No, this is the manager of the skating rink"
---
McDonalds menu in 1972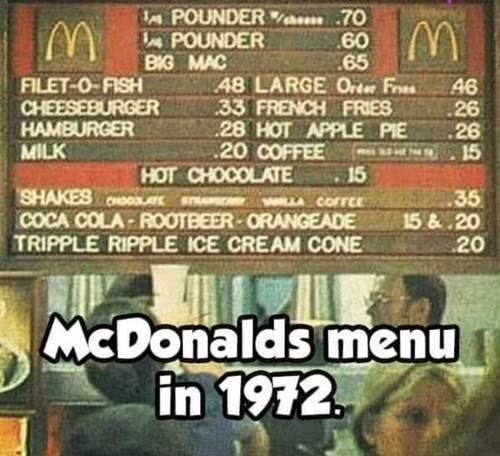 ---
Advice from someone heading toward his 80th birthday
After loving my parents, my siblings, my spouse, my children and my friends, I have now started loving myself.

I have realized that I am not "Atlas". The world does not rest on my shoulders.
I have stopped bargaining with vegetable & fruit vendors. A few pennies more is not going to break me, but it might help the poor fellow save for his daughter's school fees.

I leave my waitress a big tip. The extra money might bring a smile to her face. She is toiling much harder for a living than I am.

I stopped telling the elderly that they've already told that story many times. The story makes them walk down memory lane & relive their past.

I have learned not to correct people even when I know they are wrong. The onus of making everyone perfect is not on me. Peace is more precious than perfection.

I give compliments freely & generously. Compliments are a mood enhancer not only for the recipient, but also for me. And a small tip for the recipient of a compliment, never, NEVER turn it down, just say "Thank You."

I have learned not to bother about a crease or a spot on my shirt. Personality speaks louder than appearances.

I walk away from people who don't value me. They might not know my worth, but I do.

I remain cool when someone plays dirty to outrun me in the rat race. I am not a rat & neither am I in any race.

I am learning not to be embarrassed by my emotions. It's my emotions that make me human.

I have learned that it's better to drop the ego than to break a relationship. My ego will keep me aloof, whereas with relationships, I will never be alone.

I have learned to live each day as if it's the last. After all, it might be the last.

I am doing what makes me happy. I am responsible for my happiness, and I owe it to myself. Happiness is a choice. You can be happy at any time, just choose to be!
---
Beatitudes for Friends of the Aged
Blessed are they who understand
My faltering step and palsied hand.

Blessed are they who know that my ears today
Must strain to catch the things they say.

Blessed are they who seem to know
That my eyes are dim and my wits are slow.

Blessed are they who looked away
When coffee spilled at the table today.

Blessed are they with a cheery smile
Who stop to chat for a little while.

Blessed are they who never say,
"You've told that story twice today."

Blessed are they who know the ways
To bring back memories of yesterdays.

Blessed are they who make it known
That I'm loved, respected and not alone.

Blessed are they who know I'm at a loss
To find the strength to carry the Cross.

Blessed are they who ease the days
On my journey Home in loving ways.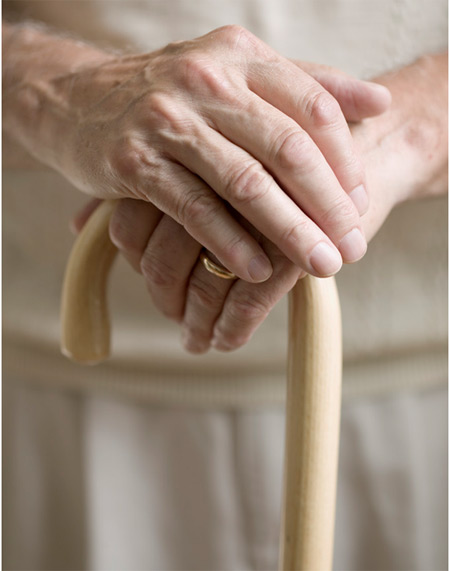 ---
An Answered Prayer
Smith climbed to the top of Mt. Sinai to get close enough to talk to God. Looking up, he asked the Lord.. "God, what does a million years mean to you?"
The Lord replied, "A minute."
Smith asked, "And what does a million dollars mean to you?"
The Lord replied, "A penny."
Smith asked, "Can I have a penny?"
The Lord replied, "In a minute."
---
The 7 Dwarves of Old Age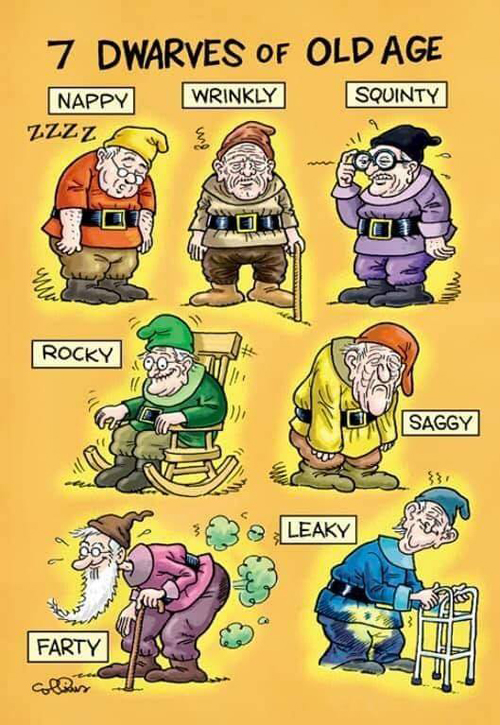 ---
Murder in the Cultural Gardens
"It just didn't seem right to DJ. A body found bludgeoned in a place known for "Peace through Mutual Understanding." But there she was, crumpled behind a bust of composer Franz Liszt in the Hungarian Cultural Garden. He pulled out his cell phone and dialed 911. "What is the nature of your emergency?" the dispatcher queried. With a suddenly very dry mouth DJ managed to get out, "There's been a murder in the Cultural Gardens."
That's the beginning of the recently published first novel by Dan Hanson.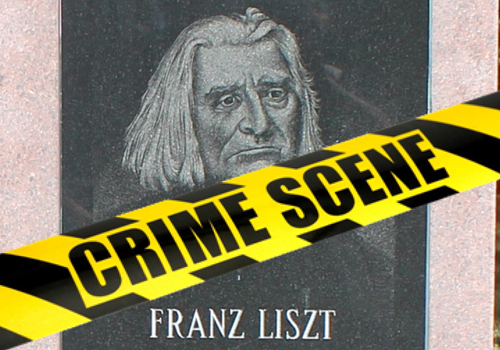 The whodunit, titled
Murder in the Cultural Gardens
, takes place in the Cleveland Cultural Gardens and all 30+ gardens are featured during the mystery. You may even recognize some of the characters.
Click the link above to learn more or to purchase in paperback or Kindle version from Amazon. Or contact Dan via the
Murder in the Cultural Gardens webpage
to have a signed book delivered.
---
A Senior Prayer
God, grant me the senility to forget the people I never liked anyway, The good fortune to run into the ones that I do, and the eyesight to tell the difference.
---
Do you need help paying your Medicare expenses?
If you are a low-income Medicare beneficiary, the Medicare Premium Assistance Programs (MPAP) may help you pay some or all of your Medicare cost-sharing expenses (premiums, copays, and coinsurance). MPAP is part of the Ohio Medicaid program. MPAP is sometimes called the "Medicare buy-in" or "Medicare savings" program.
Learn more about help paying your Medicare expenses


---
Who Needs Advance Directives about Medical Care?
Advance directives help ensure that you receive the medical care you would want even when doctors and family members are making decisions on your behalf. There are two different types of advance directives: Health Care Power of Attorney and Living Will.
Learn more about Health Care Power of Attorney and Living Wills


---
Elder Abuse: What Is It and How to Get Help
It is difficult for people to accept the notion that adult abuse occurs in the elderly, but the sad fact is that it occurs everyday. Last year in Ohio over 16,000 incidents of elder abuse were reported to Ohio Department of Job and Family Services. In Cuyahoga County alone, over 3,000 incidences of elder abuse were reported to Cuyahoga County Department and Senior Adult Services, Adult Protective Services.
---
Should you purchase prepaid funeral arrangements?
Many people do not like to think about death or funeral arrangements, but some people do make plans for when they pass. For example, some people choose to purchase "pre-paid funeral contracts." These contacts allow you to make decisions about your own funeral, and pay for it ahead of time. These pre-paid contracts give some people peace of mind. But before purchasing such a contract, keep the following issues in mind.
More about prepaid funeral arrangements


---
How can seniors learn more about benefits available to them?
BenefitsCheckUp is a web-based service that helps seniors. It is especially helpful for those with limited income and resources, their family members and, social service organizations. It connects people to over 2,000 public and private programs. Many adults over 55 need help paying for basic needs. Some of the benefits screened for are health care services, prescription drugs, rent assistance, in-home services, meals, heat, and energy assistance, and transportation.
Learn more about Benefits Checkup


---
Grandparent POAs and Caretaker Authorization
Grandparents sometimes find themselves caring for a grandchild unexpectedly. This often happens without any formal court order giving the grandparent custody or guardianship. Without custody or guardianship, the grandparent will face problems getting medical care for the child or dealing with the child's school.
More about Grandparent POAs and Caretaker Authorization


---
How do I name a Durable Power of Attorney?
A durable power of attorney can be one of the most helpful estate planning tools a person uses, but it can also be very risky. A durable POA gives a person (who is called an "attorney in fact") legal authority to act for another person in a variety of matters, including banking, benefits, housing, taxes, real estate, litigation, and more. (The durable POA is different from a Health Care Power of Attorney, which is the form used to appoint a person to make decisions about health care.)
Learn more about Durable Power of Attorney


---
Are Wills Really That Important?
:When my mother died in 2012, we discovered that her will was from 1959 and had not been updated to reflect the many changes in her life since then: she had four more children, she bought a house, furniture, an automobile, jewelry, and a dog. As a result, my mother died without a valid will. Following her death, bills had to be paid, property sold, her furniture, jewelry, the car divided, and someone had to take in the dog."
Read more about the importance of Wills
---
Recommended For You (popular with other Cleveland Seniors)
---
ClevelandSeniors.Com Book of the Week
Before You Leap
Before You Leap starts on screeching tires, literally—an interstate bridge, a police chase, three men trapped in a car, driving at full speed. The two in the front are arguing, one is brandishing a gun, and the third is bleeding profusely in the backseat. You can't help but be immediately hooked and wonder, Who are they? And how on earth did they get here?
The novel then takes you back a few days. Greg Cole's quiet and secluded life is about to be thrown into chaos when he learns that his dead sister's convicted murderer has been released early.
Before You Leap is absorbing, thought-provoking, and psychologically riveting. I was struck by how the author is able to delve into Greg's psyche and express his grief over the loss of his sister—and the inner turmoil that overtakes him—with such clarity. What you're left with is a poignant, complex, nail-biting novel where you watch in a stupor as someone's life and sanity shatter. And as it crescendos, the story pulls the rug from under your feet and delivers the most unexpected twist—one that took my breath away and left me reeling.

Before You Leap
---
Free weekly eNews
Every Tuesday evening we send an e-mail message to people who are interested in upcoming (the next week) events that have an ethnic or cultural connection. So it may be Opera in the Italian Garden or Puerto Rican Day Parade or Slovenian Kurentovanje or...
If you are interested in receiving this free weekly e-mail just sign up for the free eNews.
You can also sign up to receive more specific free eNews for any groups or groups you may choose (Irish, German, Polish, Chinese, etc.)
It's easy and free and will let you know every week about fun and interesting events that are coming up in the next week.
---
Website Disclaimer
We participate in the Amazon Services LLC Associates Program, an affiliate advertising program designed to provide a means for sites to earn advertising fees by advertising and linking to Amazon.com. Please note that some of the links on this website are affiliate links, and at no additional cost to you, we will earn a small commission if you decide to make a purchase after clicking through the link. Please do not spend any money on these products unless you feel you need them or that they will help you achieve your goals.
---
---
Calendar of Events for Cleveland Seniors & Baby Boomers
---
---
Sign up for our free eNewsletter sent about once every month with special offers, discounts, contests and more.
---
Whether you are a
Boomer
who's just turned 50 (and don't think of yourself as a Senior) or part of the
"Greatest Generation,"
you can learn about issues that are important to you and your family right here on ClevelandSeniors.com from Cleveland area experts.
Don't miss our profiles of interesting Cleveland Seniors and Baby Boomers - Maybe it's someone you know! (Or tell us about someone we should know)



Take advantage of discounts and specials selected just for you.



Ask questions and receive answers from our many experts from all walks of life.



Share your thoughts, memories, ideas with other Cleveland Seniors and Baby Boomers.



Keep your mind sharp with some of our games, quizzes and mind expanders.



Most importantly, come back often and
Have Fun!


---
Top of Page