Alternatives to Traditional Thanksgiving Meal For Special Diets
Low carb, low fat, low calorie, low sodium - millions will be following some sort of diet or eating plan this holiday season. It's no surprise nearly 90 percent of Americans will continue to serve turkey as their traditional holiday centerpiece (according to a recent survey ), as it is high in protein and low in fat and cholesterol.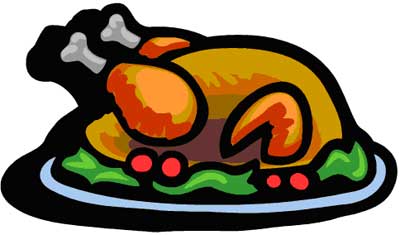 This holiday season, with advice from the experts at the Butterball® Turkey Talk-LineTM (1-800-BUTTERBALL or www.butterball.com), it's easy to make everyone at the table happy, no matter the meal plan.
"In recent years, we've received calls asking how to adapt holiday meals to specialized diets," said Mary Clingman, director of the Butterball Turkey Talk-Line. "I always tell them turkey is a main course that fits most people's diets and the Butterball Turkey Talk-Line is here to help you prepare it to perfection. This year butterball.com has new recipes with tips for making the holiday meal more nutritious."
Astrid Volpert, a registered dietitian and veteran of the Butterball Turkey Talk-Line, noted that turkey remains a great choice for the holidays because it's a "permitted" food in most diet plans because it is the perfect protein.
"Turkey is the easy part, especially when using Butterball's Open-Pan Roasting Method," added Volpert. "It's what we add and surround the turkey with that might not be on our new 'diet' menus."
Some tips from the Butterball Kitchens for simple changes in holiday meal preparation to help create a traditional meal that meets everyone's dietary needs include:


Traditional Holiday Offering
More Nutritious
Alternative(s)
Brush turkey with oil or butter
For easy preparation and clean-up, use a cooking spray like Pam® before putting your turkey in the oven
Gravy - turkey pan drippings
Use pan drippings from a Butterball fresh turkey that has been flavored with a salt-free seasoning rub
Broth
Pour pan drippings into a glass measure; let stand several minutes so fat rises to the top.
Remove and discard fat layer before adding reduced sodium broth to remaining drippings
Stuffing - bread or croutons with spices for flavor
Increase dietary fiber by using whole grain bread.
Replace part of the bread with extra onions, celery or other vegetables, as well as sausage or nuts
Mashed Potatoes
Smash cauliflower instead of potatoes to fit a carb conscious diet
Butter, cream or whole milk
Replace butter and whole milk with chicken broth and garlic for flavor when reducing calories
Sweet potatoes
Cook sweet potatoes by baking instead of boiling and flavor with sweet spices like cinnamon to bring out the natural sweetness
Brown sugar, butter, marshmallows
Eliminate marshmallows and minimize the amount of sugar and butter used to reduce calories
Cheese Sauce on Vegetables
Add color and nutrients by serving roasted sweet peppers, green beans, yellow squash or broccoli with a light sauce
Pumpkin Pie using Evaporated whole milk and Pastry or graham cracker crust
Use evaporated low-fat milk and bake the pumpkin filling without a crust to reduce fat
A La Mode with Ice Cream
Top pie with a small scoop of frozen low-fat yogurt instead of ice cream
Whipped cream
Serve with whipped topping such as Fat Free Reddi-wip® to reduce calories and fat
Traditional Desserts
Offer smaller portions or fresh fruit as an alternative dessert
---
Top of Page
Back to Thanksgiving
Back to Food Tips