Turkey Talk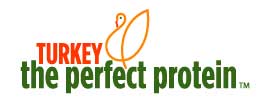 Health- and diet-conscious consumers looking for tasty ways to prepare high-protein, low-fat meals should grab some turkey and fire up their ... computers?

To help consumers discover new and easy ways to prepare turkey, the National Turkey Federation has launched an initiative to regularly e-mail recipes to consumers, particularly the tens of millions of Americans who are counting carbs and cutting fat from their diets.

Turkey is the perfect protein for people on low-carbohydrate diets because it has 8 percent more protein and less fat than beef or chicken.(1)

Available through the federation's web site, www.eatturkey.com, the "Recipe Club" enables consumers to choose to receive e-mails monthly.

Once a consumer signs up, the federation will regularly send selections from the more than 1,500 dishes in its recipe library, including instructions on how to cook new turkey cuts and products that can make preparation fast and fun.

"The Recipe Club is just one more way we're encouraging people to remember that turkey is the perfect protein -- no saturated fat, high-protein, great taste," said Sherrie Rosenblatt, the federation's senior director of marketing and communications. "Turkey is a healthy, nutritious option for all your meals, especially if you're following one of today's popular eating plans where lean protein is a must."

The federation's recipe library contains dishes ranging from Turkey Spinach Salad to Marinated Turkey Medallions, among hundreds of others.

The federation recently launched its "Turkey. The Perfect Protein(TM)" campaign to increase awareness of turkey as a high-protein, low-fat food.

(1) Nutri-facts Update, a skinless, cooked 3-ounce turkey breast contains no saturated fat and 26 grams of protein, 8 percent more protein than a 3- ounce skinless, cooked chicken breast or 3-ounce, cooked top loin steak, trimmed of visible fat.
---
Top of Page
Back to Food Tips