Welcome to
ClevelandSeniors.Com,
the online home for
"Seasoned Citizens"
of Cleveland, Northeast Ohio & Beyond!

---
ClevelandSeniors.Com Funny Picture of the Week
Lucky Strikes - A Gift of Pleasure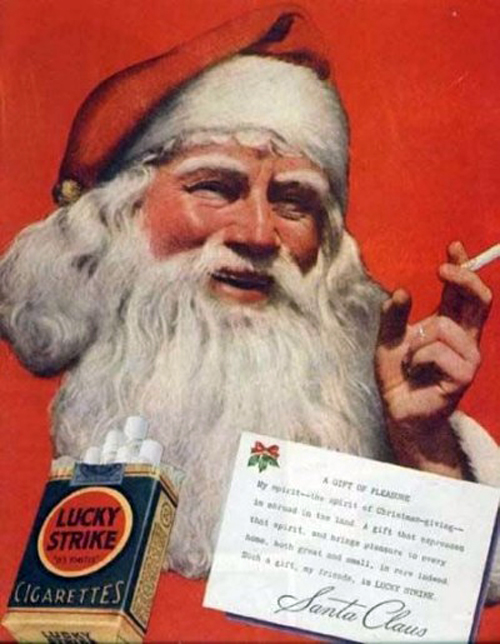 You won't see Santa in an ad like this anymore!
---
Expert Social Security Advice
Check In with Social Security before Traveling Outside the US
December 2013

Avoid Winter's Perils by Going Online for Social Security Business
December 2013


---
Apple and Walnut Salad with Maple Vinaigrette Recipe
Apple and Walnut salad is a riff on the classic Waldorf salad. Waldorf Salad was invented at the Waldorf Hotel in New York in the late 1800's. It is a simple but tasty mix of apples, celery, and walnuts in a mayonnaise dressing. Our version keeps the star ingredients - apples, celery, and walnuts - and tosses them in a light vinaigrette for a modern twist. The vinaigrette is sweetened with maple syrup. Dried cranberries or raisins are added for a tangy sweet bite.

Fast, Fabulous, Fresh Foods - Class 24
Apple and Walnut Salad with Maple Vinaigrette Recipe


---
Frozen vs Fresh Food
I think a lot about packaging and how important it is in retailing products. We talk about recycling and how wasteful it is to use all that packaging, particularly at Christmas.

I visited Cosco today and for some reason I became attracted to all the various packaging that they do for most of their products. For example, they have an exceptional apple package using a hard plastic see through unit to display them. Each variety is designated by a sign and that makes it easy to pick your variety...

Read the rest of Keeping Up With Maury


---
ClevelandSeniors.Com Joke of the Week
A lawyer and a senior citizen are sitting next to each other on a long flight.

The lawyer is thinking that seniors are so dumb that he could get one over on them easily. So, the lawyer asks if the senior would like to play a fun game. The senior is tired and just wants to take a nap, so he politely declines and tries to catch a few winks.

The lawyer persists, saying that the game is a lot of fun...."I ask you a question, and if you don't know the answer, you pay me only $5.00. Then you ask me one, and if I don't know the answer, I will pay you $500.00," he says.

This catches the senior's attention and, to keep the lawyer quiet, he agrees to play the game. The lawyer asks the first question. "What's the distance from the Earth to the Moon?"

The senior doesn't say a word, but reaches into his pocket, pulls out a five-dollar bill, and hands it to the lawyer. Now, it's the senior's turn.

He asks the lawyer, "What goes up a hill with three legs, and comes down with four?" The lawyer uses his laptop to search all references he can find on the Net. He sends E-mails to all the smart friends he knows; all to no avail. After an hour of searching, he finally gives up.

He wakes the senior and hands him $500.00. The senior pockets the $500.00 and goes right back to sleep. The lawyer is going nuts not knowing the answer.

He wakes the senior up and asks, "Well, so what goes up a hill with three legs and comes down with four?"

The senior reaches into his pocket, hands the lawyer $5.00, and goes back to sleep.
---
Cleveland Botanical Garden's Glow at the Garden

Take a train ride through the garden, feast your eyes on over 100 gingerbread houses (you can even decorate your own to take home!), enjoy live seasonal music performances, dozens of trees delightfully decorated by garden clubs, and the twinkling lights. Plus, there are a few new surprises in store for you.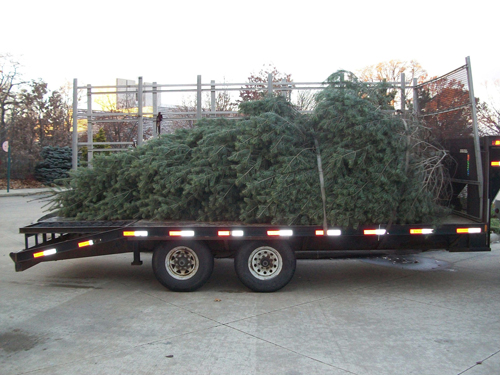 Bringing in the 24' concolor fir tree for the lobby
---
Mayor Ralph J. Perk duet with Ralph Perk Jr.
Former Cleveland Mayor Ralph J. Perk was born 100 years ago this January.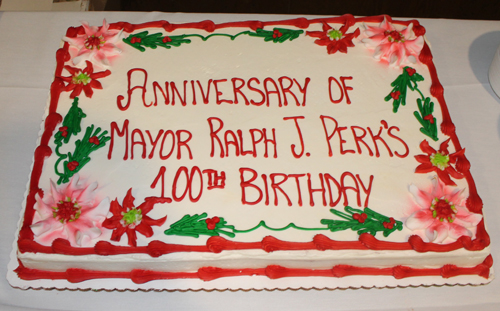 Friends and family celebrated the occasion at the American Nationality Movement's (ANM) Christmas event at the German Cultural Center in Olmsted Falls. Judge Ralph Perk Jr. sang along to his father Mayor Ralph Perk's rendition of May the Good Lord Bless and Keep You.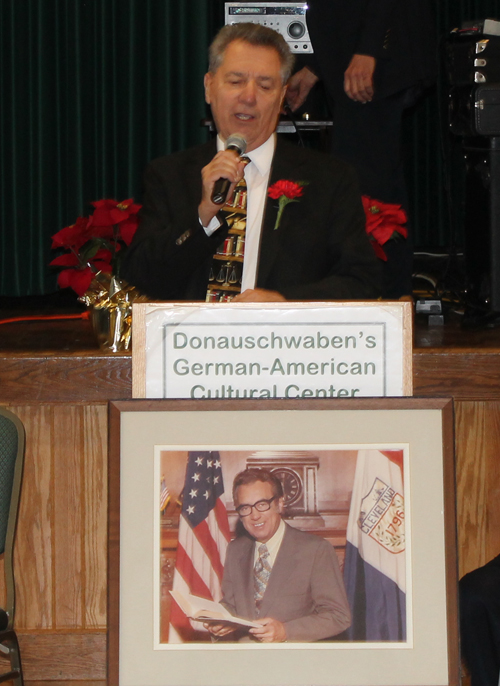 Senator George Voinovich said that Ralph Perk was smiling from above.
Watch the short video.
---
Maltz Museum of Jewish Heritage - Win Guest Passes
Win a pair of free guest passes to the Maltz Museum of Jewish Heritage and see the premiere of its original exhibition TRAITOR! Spies, Lies and Justice Denied: The Dreyfus Affair (October 8, 2013 - January 5, 2014).

See more about the exhibit and enter the contest to win guest passes


---
65 or over? You may qualify for free Eye Care
EyeCare America is a public service program of the Foundation of the American Academy of Ophthalmology. Our mission is to preserve sight by raising awareness about eye disease and providing access to medical eye care.

By age 65, one in three Americans has some form of vision-limiting eye disease. To help address this growing need, EyeCare America provides eye care to US citizens and legal residents through volunteer ophthalmologists (Eye M.D.s) at no cost to those who qualify.

EyeCare America facilitates eye care for U.S. citizens or legal residents who are without an Eye M.D. and who do not belong to an HMO or do not have eye care coverage through the Veterans Administration.

Those who are age 65 or older and who have not seen an EyeMD in three or more years may be eligible to receive a comprehensive, medical eye exam and up to one year of care at no out-of-pocket cost for any disease diagnosed during the initial exam. Volunteer ophthalmologists will waive co-payments, accepting Medicare and /or other insurance reimbursement as payment in full: patients without insurance receive this care at no charge.

Those who are determined to be at increased risk for glaucoma (by age, race and family history) and have not had an eye exam in 12 months or more may be eligible to receive a free glaucoma eye exam if they are uninsured. Those with insurance will be billed for the exam and are responsible for any co-payments. The initiation of treatment is provided, if deemed necessary by the doctor during the exam.

Learn more and see if you qualify.
---
---
---
Calendar of Events for Cleveland Seniors & Baby Boomers
---
---

Have you seen the Amazon Deal of the Day? Everyday, a new very special deal will be offered. Look to the left-hand column of this page for the daily special.


---
Sign up for our free eNewsletter sent about once every 2 months with special offers, discounts, contests and more.
---

Whether you are a Boomer who's just turned 50 (and don't think of yourself as a Senior) or part of the "Greatest Generation," you can learn about issues that are important to you and your family right here on ClevelandSeniors.com from Cleveland area experts.


Don't miss our profiles of interesting Cleveland Seniors and Baby Boomers - Maybe it's someone you know! (Or tell us about someone we should know)



Take advantage of discounts and specials selected just for you.



Ask questions and receive answers from our many experts from all walks of life.



Share your thoughts, memories, ideas with other Cleveland Seniors and Baby Boomers.



Keep your mind sharp with some of our games, quizzes and mind expanders.



Most importantly, come back often and
Have Fun!


---
Top of Page