Welcome to
ClevelandSeniors.Com,
the online home for
"Seasoned Citizens"
of Cleveland, Northeast Ohio & Beyond!

---
Happy 99th Birthday Maury Feren!
Our own Maury Feren turned 99 on September 27. He is still going strong and Maury's columns on ClevelandSeniors.Com have been very popular.

Be sure to read the official profile of Maury Feren.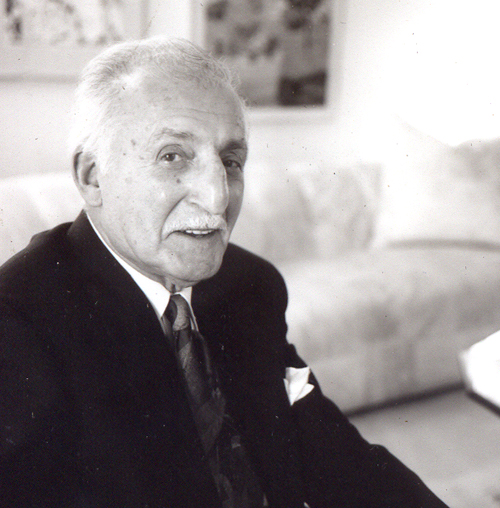 Maury Feren

Happy 99th Maury and many more!
---
Someday Is Closer Than You Think - Expert Social Security Advice
For many people, Someday is an elusive day on the far-off horizon-always close enough to see, but too distant to touch. Perhaps Someday you plan to go skydiving. Or enter a hot dog-eating contest. Maybe Someday you plan to ride a mechanical bull. Or travel around the world. Or visit all of America's national parks.

Read the rest of the Someday Is Closer Than You Think article


---
Football and Social Security
Good coaching and a great playbook can make all the difference in the world for a winning football team. Fail to create a sound game plan, and you're likely to miss opportunities and fall behind.

The same is true for retirement-except you call the plays, including when to retire and how much to save. If you walk onto the retirement field without a game plan, you may have to work longer than you had hoped. You certainly don't want to find yourself unable to have the comfortable retirement you envisioned.

Read the rest of the Football and Social Security article


---
If Your Child Is Disabled, Social Security Can Help
September is Childhood Cancer Awareness Month, designated to bring attention to the types of cancer that largely affect children. About 13,000 children under age 21 receive cancer diagnoses every year. About a quarter of them will not survive. Those who do will likely suffer with the disease for some time.

While Social Security cannot help with the cure, we can offer financial support to children with cancer-or any other severe disability.

Read the rest of the Childhood Disability and Social Security article


---
Cleveland Museum of Natural History
Traveling the Silk Road Exhibition
Win Free Tickets - Last Chance!
Update: Over 325 people entered the contest. We have notified the winners via e-mail and the tickets are being mailed out. Thanks to all who entered and come back often for more contests and special offers.

Imagine a world in which the latest ideas traveled not by wireless networks but by camel.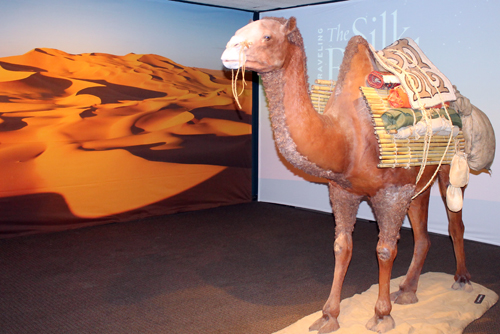 Centuries ago, merchants, missionaries and other travelers made their way across Asia, along the enormous trade network known as the Silk Road. Over rugged mountains and forbidding deserts, camel caravans loaded with precious cargo made possible the exchange of valuable goods, ideas and innovations. Named for the fabric that enticed traders from all over the world, the Silk Road spanned the far reaches of China to the center of the Islamic world from A.D. 600 to 1200.
The exhibition opened in New York and then went to Asia, Rome, Los Angeles and now Cleveland. Cleveland is the first city in the area to host this fascinating exhibit. And you can win free tickets to visit the exhibit!
The tickets include General Admission so you will be able to visit the Museum's permanent galleries of amazing dinosaurs, gems and jewels, live animals outside in the Perkins Wildlife Center and the hands-on, interactive Snead Discovery center for children.
Enter to win free tickets to the Cleveland Museum of Natural History Traveling the Silk Road Exhibition


---
ClevelandSeniors.Com Humor of the Week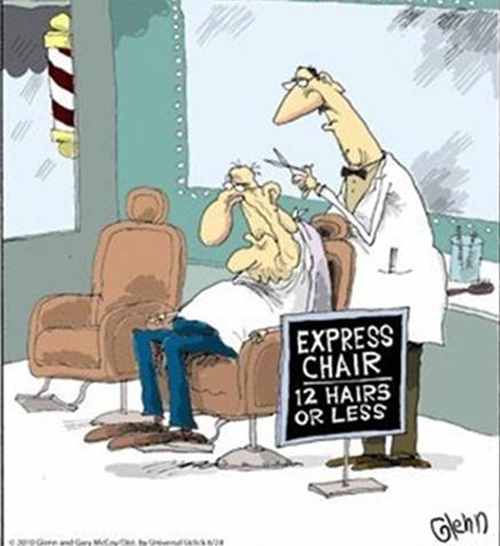 ---
Do you remember shelling peas? - Keeping Up With Maury
My friend George asked me, Where have all the English peas gone? Yes, those old time long peas that you had to open up one by one are called English peas.

So, here is the story. Everything changes, even peas. Many years ago the English peas were the only story in town. In summer, there were a few local growers who would grow them. It was wonderful because they usually were plump and full bodied with lots of peas.

It was the job of the youngest family member to shell them...

Read the rest of Maury's look at peas and lima beans


---
ClevelandSeniors.Com Book of the Week


The last book from the late Joan Rivers.

Follow Joan on a family vacation in Mexico and on trips between New York and Los Angeles where she mingles with the stars, never missing a beat as she delivers blistering critiques on current events, and excoriating insights about life, pop culture, and celebrities (from A to D list), all in her relentlessly funny signature style.

Diary of a Mad Diva
---
Wags 4 Warriors
Frank DeLorenzo and Jen DeLorenzo of Wags 4 Warriors spoke at the 12th annual Support Our Troops luncheon in Cleveland, Ohio. The Mission of the 501c3 non-profit WAGS 4 WARRIORS is to unite veterans whom upon returning home from war suffer with PTSD or TBI with an appropriate dog, and to provide all of the training, equipment and support for the dog to become the veterans service dog at NO COST to the veteran.

The ultimate goal is for the service dog to take away the struggle the veterans face every day. W4W was founded by Frank DeLorenzo (OIF Veteran) and Jen DeLorenzo. The organization was started to help service men and women that have been affected by their combat experience.




---
Were you Home Schooled?
Most of our generation was HOME SCHOOLED in many ways.

1. My mother taught me TO APPRECIATE A JOB WELL DONE.
"If you're going to kill each other, do it outside. I just finished cleaning."

2. My mother taught me RELIGION.
"You better pray that will come out of the carpet."

3. My father taught me about TIME TRAVEL.
"If you don't straighten up, I'm going to knock you into the middle of next week!"

4. My father taught me LOGIC.
" Because I said so, that's why."

5. My mother taught me MORE LOGIC.
"If you fall out of that swing and break your neck, you're not going to the store with me."

6. My mother taught me FORESIGHT.
"Make sure you wear clean underwear, in case you're in an accident."

7. My father taught me IRONY.
"Keep crying and I'll give you something to cry about."

8. My mother taught me about the science of OSMOSIS.
"Shut your mouth and eat your supper."

9. My mother taught me about CONTORTIONISM.
"Just you look at that dirt on the back of your neck?"

10. My mother taught me about STAMINA.
"You'll sit there until all that spinach is gone."

11 My mother taught me about WEATHER.
"This room of yours looks as if a tornado went through it."

12. My mother taught me about HYPOCRISY.
"If I told you once, I've told you a million times. Don't exaggerate!"

13. My father taught me the CIRCLE OF LIFE.
"I brought you into this world, and I can take you out..."

14. My mother taught me about BEHAVIOUR MODIFICATION.
"Stop acting like your father!"

15. My mother taught me about ENVY.
"There are millions of less fortunate children in this world who don't have wonderful parents like you do."

16. My mother taught me about ANTICIPATION.
"Just wait until we get home."

17. My mother taught me about RECEIVING.
"You are going to get it from your father when you get home!"

18. My mother taught me MEDICAL SCIENCE.
"If you don't stop crossing your eyes, they are going to get stuck that way."

19. My mother taught me ESP.
"Put your sweater on; don't you think I know when you are cold?"

20. My father taught me HUMOUR.
"When that lawn mower cuts off your toes, don't come running to me."

21. My mother taught me HOW TO BECOME AN ADULT.
"If you don't eat your vegetables, you'll never grow up."

22. My mother taught me GENETICS.
"You're just like your father."

23. My mother taught me about my ROOTS.
"Shut that door behind you. Do you think you were born in a barn?"

24. My mother taught me WISDOM.
"When you get to be my age, you'll understand

25. My father taught me about JUSTICE.
"One day you'll have kids, and I hope they turn out just like you!"
---
It's not too early to be thinking about Halloween!
---
Cleveland native Petty Officer Dameon Smith serving
aboard USS Gerald R. Ford
A Cleveland, Ohio native and 1999 John Hay High School graduate, is serving in the U.S. Navy as part of a hand-picked crew charged with bringing the Navy's newest aircraft carrier into service.

Petty Officer Second Class Dameon Smith is a legalman aboard Pre-Commissioning Unit Gerald R. Ford (CVN 78), the first ship in its class and the successor to the Navy's Nimitz-class aircraft carriers that have been in operation for the last half century.

Smith and the rest of the 1000-Sailor crew are slowly bringing the ship to life, a crew that will eventually grow to more than 4,500 when the ship is at sea. When complete, the aircraft carrier, powered by two nuclear reactors, will measure more than three football fields long at 1,092 feet in length and will weigh more than 100,000 tons. It will be capable of sailing at nearly 35 mph and will carry more than 75 Navy aircraft.

"Petty Officer Smith plays a vital role in preparing our Nation's newest and most technologically advanced warship for sea,"ť said Ford's Commanding Officer, Capt. John F. Meier. "We have the opportunity to build this command with the ideals of our namesake and we are creating the command climate and a culture of excellence that we have always wanted. This crew is setting that standard, a standard that will last for the 50-plus year life of the ship."

ťAs one of the sailors who will commission the ship, Smith, who enlisted 11 years ago, has the opportunity to see firsthand the innovations being incorporated into the design of the ship; from a redesigned flight deck to allow for more efficient aircraft operations to equipment that requires less maintenance.

As the crew grows and works toward the goal of joining the fleet in 2016, Smith and other Gerald R. Ford sailors will be will be accepting spaces on the ship, training to operate it and building a legacy that will last beyond their lifetimes.

Training for the crew has to come from some unique sources. There are no Navy schools for some of the new equipment, so the crew is partnering with Huntington Ingalls Newport News Shipbuilding and other vendors to master the new systems.

"This is a unique opportunity to see first-hand how the systems are installed and tested, which is an advantage that future crews won't have an opportunity to experience,"ť said Meier. "Petty Officer Smith and his shipmates are becoming the subject matter experts. They are working hand in hand with the Shipyard throughout the testing phase and in turn teaching the Navy how to operate this new class of aircraft carriers."ť

Smith said it is an exciting time to be in the Navy, helping to build a crew and a ship from scratch, something he never expected to be doing just a couple years ago. He also said he is proud of the work he is doing to help commission and man the Navy's newest aircraft carrier.

As a 33-year-old with numerous responsibilities, Smith said he is learning about himself as a leader, sailor and a person. "I've learned to take advice from the leadership from my throughout my career and apply it to my everyday life,"ť said Smith. "I take the things I've been told in the past and apply it to my life to accomplish my goals, which makes me a better person."

Smith adds he is ready to accept the sacrifices the Navy and his country are asking him to make. This humbling reward is being a part of something much bigger than he ever expected.

Like the Nimitz-class aircraft carriers that came before it, USS Gerald R. Ford's mission is to protect and defend America on the world's oceans. When the ship deploys it will bring four-and-a-half acres of survivable, sovereign U.S. territory, increasing the Navy's strike capability and defending the country's interests in any region of the world.

The ship is scheduled to commission in spring 2016.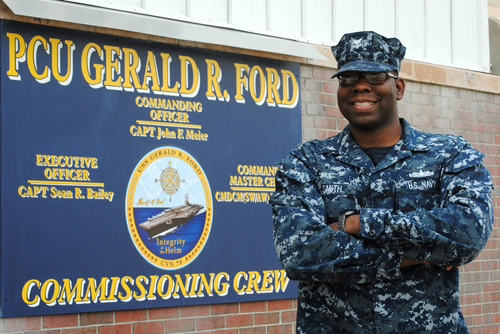 Petty Officer Second Class Dameon Smith is a legalman
aboard Pre-Commissioning Unit Gerald R. Ford.
---
ClevelandSeniors.Com Special offer of the Week
---
---
Calendar of Events for Cleveland Seniors & Baby Boomers
---
---

Have you seen the Amazon Deal of the Day? Everyday, a new very special deal will be offered. Look to the left-hand column of this page for the daily special.


---
Sign up for our free eNewsletter sent about once every 2 months with special offers, discounts, contests and more.
---

Whether you are a Boomer who's just turned 50 (and don't think of yourself as a Senior) or part of the "Greatest Generation," you can learn about issues that are important to you and your family right here on ClevelandSeniors.com from Cleveland area experts.


Don't miss our profiles of interesting Cleveland Seniors and Baby Boomers - Maybe it's someone you know! (Or tell us about someone we should know)



Take advantage of discounts and specials selected just for you.



Ask questions and receive answers from our many experts from all walks of life.



Share your thoughts, memories, ideas with other Cleveland Seniors and Baby Boomers.



Keep your mind sharp with some of our games, quizzes and mind expanders.



Most importantly, come back often and
Have Fun!


---
Top of Page