Welcome to
ClevelandSeniors.Com,
the online home for
"Seasoned Citizens"
of Cleveland, Northeast Ohio & Beyond!

---
Give Me Wings
by Amy Kenneley
They say travel is broadening---would someone please tell the airlines that? Hefting my soft travel bag as I walk down the inclined ramp onto the plane, I am already dreading the approaching "airplane crouch" I must go through to get into my seat. And broad is not the word I would choose.

Read the rest of Amy's flying adventure


---
What, no Peeps?
Ranker.com, a platform that hosts thousands and thousands of crowdsourced answers to opinion-based questions, has collected nearly 2,000 votes on The Best Easter Candy of All Time. Here are their results:
Reese's Peanut Butter Eggs

Cadbury Creme Egg

Cadbury's Mini Eggs

Easter Pastel M&M's

Hershey's Solid Milk Chocolate Eggs

Cadbury Caramel Egg

Jelly Belly

Whoppers Robin Eggs

Lindt Chocolate Bunny

Snickers Egg
---
Christ is Risen (from around the world)
Albanian: Khrishti unjal! Vertet unjal!
Arabic: El Messieh kahml Hakken kahm!

Armenian: Kristos haryav ee merelotz! Orhnial ch harootyunuh kristosee!
Byelorussian: Khristos uvoskros! Zaprowdu uvoskros!

Coptic: - Christos anesti! Alithos anesti!

English: Christ is risen! Indeed He is risen!

Finnish: Kristus nousi Kuolleista!

French: Le Christ est ressuscite! Kriste ahzdkhah! En verite il est ressuscite!

Georgian: Kriste ahzdkhah! Chezdmaridet!

German: Christus ist erstanden! Wahrlicit ist er erstanden!

Greek: Christos anesti! Alithos anesti!

Japanese: Harisutosu Siochatsu! Makoto-ni Siochatsu!

Latin: Christus resurrexit! Vere resurrexit!

Latvian: Kristus ir augsham sales! Teyashant ir augsham sales vinsch!

Polish: Khristus zmartvikstau! Zaiste smartvikstau!

Romanian: Cristos ainviat! Adeverat a inviat!

Russian: Khristos voskrese! Voistinu voskrese!

Serbian: Christos vaskres! Vaistinu vaskres!

Slavonic: Khristos voskrese! Voistinu voskrese!

Spanish: Christos ha resucitado! En verdad ha resucitado!

Ukrainian: Khristos voskres! Voistinu voskres!
---
Passover Seder
Keeping Up With Maury
If you're wondering why Jews all over the world began eating matzo on Monday night, April 14th, at a big family dinner, I will tell you why.

Everyone thinks that all this holiday is about is eating matzo having this big dinner with a lot of ritual taking place not realizing how much more is involved.

Read the rest of Keeping Up With Maury


---
ClevelandSeniors.Com Joke of the Week - Easter Bunny
A man is driving along a highway and sees a rabbit jump out across the middle of the road. He swerves to avoid hitting it, but unfortunately the rabbit jumps right in front of the car.

The driver, a sensitive man as well as an animal lover, pulls over and gets out to see what has become of the rabbit. Much to his dismay, the rabbit is the Easter Bunny, and he is DEAD.

The driver feels so awful that he begins to cry. A woman driving down the highway sees the man crying on the side of the road and pulls over. She steps out of the car and asks the man what's wrong.

"I feel terrible," he explains, "I accidentally hit the Easter Bunny with my car and KILLED HIM."

The woman says,"Don't worry."

She runs to her car and pulls out a spray can. She walks over to the limp, dead Easter Bunny, bends down, and sprays the contents onto him.

The Easter Bunny jumps up, waves its paw at the two of them and hops off down the road.

Ten feet away he stops, turns around and waves again, he hops down the road another 10 feet, turns and waves, hops another ten feet, turns and waves, and repeats this again and again and again and again, until he hops out of sight.

The man is astonished. He runs over to the woman and demands, "What is in that can? What did you spray on the Easter Bunny ?"

The woman turns the can around so that the man can read the label. It says..

(Are you ready for this?) (You know you're gonna be sorry)

It says, "Hair Spray - Restores life to dead hair, and adds permanent wave."

Happy Easter!
---
Did you ever notice?
The gap between the "K" and the "I" is a sideways chocolate kiss.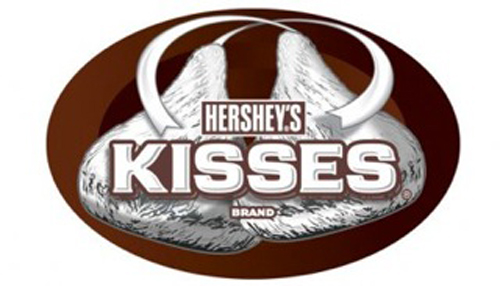 ---
AJC 11th annual Global Leadership Seder
The 11th Annual AJC (American Jewish Committee) inter-faith Diplomatic Seder was held at Anshe Chesed Fairmount Temple in Beachwood.

Each spring, when the world of nature renews itself, the Jewish people reflect upon their emergence from slavery and the meaning of freedom. Our ancestors have celebrated the Passover Seder, with its rich ceremonies, folk songs, and colorful symbols for thousands of years. Through our ritual retelling of the story of Egyptian bondage, we are reminded of the continuing battle for freedom in every generation.

Several speakers were asked to talk about 'What Freedom means to me.'

An orange was placed on the Seder plate because it was once said the idea of women as rabbis is as farfetched as oranges on the seder plate.
Photos and Videos from the AJC Seder
---
The world can learn from Cleveland
The 2014 Cleveland Cultural Garden Federation officer induction ceremony was held at the Ariel International Center in Cleveland. Ariel is now the business home of the Federation.

Photos and videos of The Cultural Gardens Induction Ceremony

As this photo shows, the peaceful philosophy of the Cultural Gardens endures even when the rest of the world does not.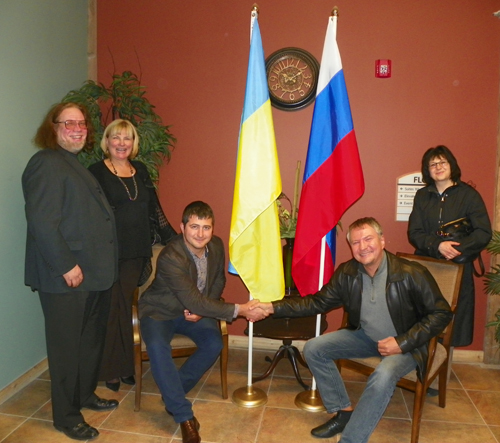 Russia and Ukraine Garden delegates shake hands in front of their flags
---
---
United States Air Force Honor Guard in Cleveland
There was a very special guest at the 2014 Cleveland Saint Patrick's Day Parade. The United States Air Force Honor Guard Joint Base Anacostia-Bolling, Washington DC marched in the 2014 St. Patrick's Day Parade in Cleveland Ohio.

The mission of the U.S. Air Force Honor Guard is to represent Airmen to the American Public and the World. The vision of the USAF Honor Guard is to ensure a legacy of Airmen who: promote the mission; protect the standards; perfect the image; and preserve the heritage.

Before the Parade began, the Honor Guard drilled on a side street.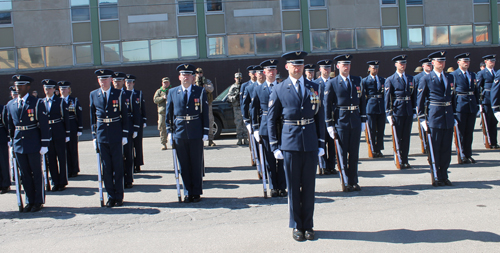 US Air Force Honor Guard



See the US Air Force Honor Guard in the Cleveland St Patrick's Day Parade.
---
---
ClevelandSeniors.Com Book of the Week


Flash Boys is about a small group of Wall Street guys who figure out that the U.S. stock market has been rigged for the benefit of insiders and that, post–financial crisis, the markets have become not more free but less, and more controlled by the big Wall Street banks. Working at different firms, they come to this realization separately; but after they discover one another, the flash boys band together and set out to reform the financial markets. This they do by creating an exchange in which high-frequency trading—source of the most intractable problems—will have no advantage whatsoever.

The characters in Flash Boys are fabulous, each completely different from what you think of when you think "Wall Street guy." Several have walked away from jobs in the financial sector that paid them millions of dollars a year. From their new vantage point they investigate the big banks, the world's stock exchanges, and high-frequency trading firms as they have never been investigated, and expose the many strange new ways that Wall Street generates profits.

The light that Lewis shines into the darkest corners of the financial world may not be good for your blood pressure, because if you have any contact with the market, even a retirement account, this story is happening to you. But in the end, Flash Boys is an uplifting read. Here are people who have somehow preserved a moral sense in an environment where you don't get paid for that; they have perceived an institutionalized injustice and are willing to go to war to fix it.

Flash Boys: A Wall Street Revolt
---
Dr. Love and and My Kidney Stone
A tiny stone makes Joe realize he is mortal

by Joseph Patrick Meissner
The past ten days have been hard and bad. Suddenly I begin to know that I am mortal. You go through life and never have any major medical crises and you think, "I am not vulnerable. I am immortal."

"Others go to the hospital. Others need their doctor every month. Others are hypochondriacs. They are not strong like me." "Others take 22 pills a day, but my Dad at age 102 took no medications and I will be like him. My body is good even in my seventies. I still can shovel the snow in the driveway and drive alone all the way to Columbus and back."

These are my arrogant thoughts.

Then something happens.
---
ClevelandSeniors.Com Special offer of the Week
---
---
Calendar of Events for Cleveland Seniors & Baby Boomers
---
---

Have you seen the Amazon Deal of the Day? Everyday, a new very special deal will be offered. Look to the left-hand column of this page for the daily special.


---
Sign up for our free eNewsletter sent about once every 2 months with special offers, discounts, contests and more.
---

Whether you are a Boomer who's just turned 50 (and don't think of yourself as a Senior) or part of the "Greatest Generation," you can learn about issues that are important to you and your family right here on ClevelandSeniors.com from Cleveland area experts.


Don't miss our profiles of interesting Cleveland Seniors and Baby Boomers - Maybe it's someone you know! (Or tell us about someone we should know)



Take advantage of discounts and specials selected just for you.



Ask questions and receive answers from our many experts from all walks of life.



Share your thoughts, memories, ideas with other Cleveland Seniors and Baby Boomers.



Keep your mind sharp with some of our games, quizzes and mind expanders.



Most importantly, come back often and
Have Fun!


---
Top of Page