Welcome to
ClevelandSeniors.Com,
the online home for
"Seasoned Citizens"
of Cleveland, Northeast Ohio & Beyond!

---
My Hospital Experience
by Maury Feren
As I sit down to write my hospital experience the first thing to come to mind is this: How ready is anyone to face a breakdown of the body? Everyone goes along thinking it couldn't happen to me. I really was ready for anything but it didn't happen that way.

The shocker is what actually took place. My numbers jumped sky high, my potassium went out of sync; that created a problem. I had to be hospitalized to start getting everything together. It was so hard to recognize that I had so little energy. I worked so hard trying to get my energy back but it was slow in coming. I lay in my hospital bed so worn out - too tired to take on any kind of activity.

Read the rest of Maury's column about his Hospital Experience


---
Youth speak out for Life
By Joseph Patrick Meissner
It is Thursday, January 22. This is the Forty First Annual Youth Rally for Life. Normally we have held this event on Cleveland Public Square at noon in the midst of all the lunch-time crowds. Despite the usual freezing cold, the young people have always come from their high schools and colleges to deliver their messages of hope and love. We more "mature young people" come to listen and find inspiration.

Read the rest of Joe's account of the Rally for Life


---
Senior Discount Tickets for the Cleveland Orchestra
Senior discount tickets are available for the season's performances of the Cleveland Orchestra. These tickets must be purchased in person only at the box office at Severance Hall and are available on Monday and through the week of the performance. The tickets are $30 and are on a first come basis.

All performances are at the magnificent Severance Hall. This is a good opportunity to see and hear one of the best orchestras in the world at a good price.
by Lynn Priemer


---
Antique Roadshow is coming to Cleveland
Antique Roadshow is coming to Cleveland and you can be part of it. WVIZ/PBS will host an all-day appraisal event on Saturday, July 11, 2015. (Time and place to be announced) The show has not been to Cleveland since 2002.

The deadline to apply for free tickets is April 6, 2015. At the appraisal event approximately 5,000 to 6,000 ticketed guests will receive free valuations of their antiques and collectibles. Tickets are given by a random drawing and will be mailed three weeks before the show.

Antiques Roadshow is also accepting furniture submission to appraise and display on the set. The deadline for submissions is also April 6, 2015. To apply for tickets got to ideastream.org or call 216-916 6301 for a postcard to apply for tickets.
by Lynn Priemer


---
Should you vaccinate your kids?
Dr. Delos M. (Toby) Cosgrove, CEO and President of the Cleveland Clinic, said that everybody should get vaccinated and that there is no evidence that the vaccines are associated with autism. He warned that we will have an uprising of diseases (like measles and whooping cough) if we don't immunize.

Dr. Cosgrove answered this question at the Rotary Club of Cleveland event that honored Dr. Cosgrove with the International Service Award on International Fellowship Day. Watch the short (less than 1 minute) video.




---
A Small Home with a Big Heart
By Lynn Priemer
The Sisters of Charity realized the unmet needs of homeless men being released from area hospitals with nowhere to go and no resources and decided to do something about it. An unused convent at 2412 Community College Blvd. was converted to Joseph's Home.

More about Joseph's Home in Cleveland


---
Charlie Sifford passes away at age 92 - Broke Golf's Racial Barriers
Before there was a Tiger Woods, Charlie Woods was the Jackie Robinson of Golf.

He played in the Greater Greensboro Open, breaking the color barrier. "There was a lot of name calling and a lot of problems. But as long as there was no physical pain, and I had the Lord on my side, I played. I finished the tournament and tied for 4th...It was one of my proudest moments and one of my scariest moments all at the same time!"

He was issued an approved player card that should have given him access to any golf course in the United States. He went to Texas and the police in San Antonio made him leave the course. Same story in Houston. And on and on.

Eventually he was honored by the Golf Writers Association of America for becoming the first African American inducted into the World Golf Hall of Fame and for being the first African American to play the PGA tour as well as the first to be invited to play The Legends in 1980.

Read the story of Charlie Sifford (with lots of photos)


---
Cleveland International Film Festival - Volunteers Needed
Are you a fan of the Cleveland International Film Festival and want to get more involved? Then join our incredible crew of volunteers for CIFF39! Various shifts are available March 18th – 29th, and signing up just takes a minute.

Don't delay; the deadline to become a volunteer for this year's Festival is Friday, February 20th.

Sign up for Cleveland International Film Festival

See more Volunteer Oportunities for Cleveland Seniors and Baby Boomers
---
Feeling 'Up' about Downsizing
by Amy Kenneley
It started innocently enough. The winter closed in and the rooms did too. I looked around at the stashes of accumulated boxes and drawers full of things and wondered, "Who is going to want this?" There needed to be a letting go of things that had been collected --and collecting-- through the years. How did it all happen?

Read the rest of Amy's column about getting rid of years of stuff


---
ClevelandSeniors.Com Aphorism of the Week
There are worse things than getting a call for a wrong number at 4 a.m. . ..like, it could be the right number.
---
ClevelandSeniors.Com Special offer of the Week

Make sure your PC or Mac is backed up and your data safe.
---
Progress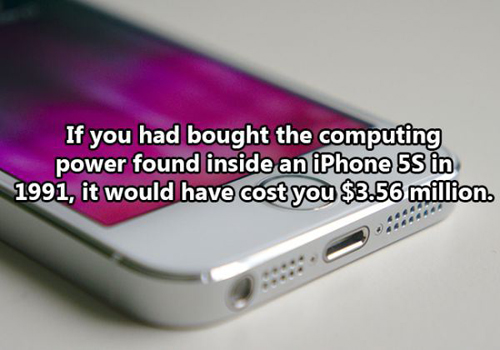 Top of Page
---
Cleveland Seniors Special of the Week
---
ClevelandSeniors.Com Humor of the Week
Sad but true.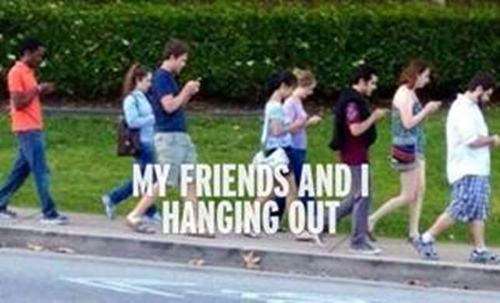 ---
ClevelandSeniors.Com Book of the Week


#1 NEW YORK TIMES BESTSELLER • SOON TO BE A MAJOR MOTION PICTURE

In boyhood, Louis Zamperini was an incorrigible delinquent. As a teenager, he channeled his defiance into running, discovering a prodigious talent that had carried him to the Berlin Olympics. But when World War II began, the athlete became an airman, embarking on a journey that led to a doomed flight on a May afternoon in 1943. When his Army Air Forces bomber crashed into the Pacific Ocean, against all odds, Zamperini survived, adrift on a foundering life raft.

Ahead of Zamperini lay thousands of miles of open ocean, leaping sharks, thirst and starvation, enemy aircraft, and, beyond, a trial even greater. Driven to the limits of endurance, Zamperini would answer desperation with ingenuity; suffering with hope, resolve, and humor; brutality with rebellion. His fate, whether triumph or tragedy, would be suspended on the fraying wire of his will.

Unbroken: A World War II Story of Survival, Resilience, and Redemption
---
Korean War Veterans Remembered
The Korean War was a war between the Democratic People's Republic of Korea (North Korea) and the Republic of Korea (South Korea) in which the United States led a United Nation's force fighting for the South and China, assisted by USSR, fought for the North. It arose from the division of the Korean Peninsula after WWII and the global tensions of the Cold War that developed immediately after.

Twenty-one members of the United Nations backed the South, with the United States providing some 88 percent of the troops. The war also saw the first combat between jet aircraft - such as the F86 used by the United Nations and the MG-15 used by the Chinese - in warfare. By the time it stopped about 2 million Korean civilians, 1.5 communist forces, 400,000 South Korean troops, 1,000 U.K. troops and 36,000 American troops had lost their lives.

After a contentious back and forth diplomatic fight that had been ongoing for several years, combat began in earnest in June, 1950. The Korean War officially lasted from June 25, 1950 to July 27, 1953.

The Korean American Association of Greater Cleveland gathered at the Louis Stokes Cleveland VA Medical Center to honor veterans of the Korean War. They said:

To our Korean War Veterans. In recognition of honorable service during the Korean War in defense of Democracy and Freedom. Through your selfless sacrifice, the tide of communism on the Korean Peninsula was halted and liberty triumphed over tyranny. The Department of Veterans Affairs and the people of America and Korea are forever grateful.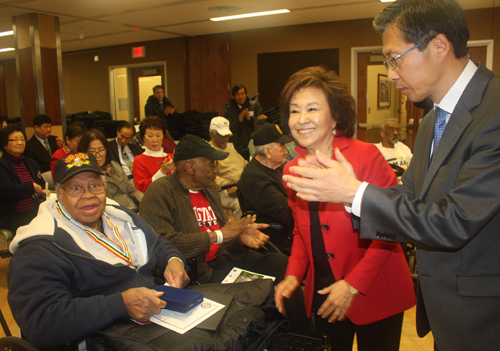 Veteran John Howard receiving his Medal
See photos and videos of the Korean War Veterans ceremony.


---
---
Calendar of Events for Cleveland Seniors & Baby Boomers
---
---

Have you seen the Amazon Deal of the Day? Everyday, a new very special deal will be offered. Look to the left-hand column of this page for the daily special.


---
Sign up for our free eNewsletter sent about once every 2 months with special offers, discounts, contests and more.
---

Whether you are a Boomer who's just turned 50 (and don't think of yourself as a Senior) or part of the "Greatest Generation," you can learn about issues that are important to you and your family right here on ClevelandSeniors.com from Cleveland area experts.


Don't miss our profiles of interesting Cleveland Seniors and Baby Boomers - Maybe it's someone you know! (Or tell us about someone we should know)



Take advantage of discounts and specials selected just for you.



Ask questions and receive answers from our many experts from all walks of life.



Share your thoughts, memories, ideas with other Cleveland Seniors and Baby Boomers.



Keep your mind sharp with some of our games, quizzes and mind expanders.



Most importantly, come back often and
Have Fun!


---
Top of Page