Welcome to
ClevelandSeniors.Com,
the online home for
"Seasoned Citizens"
of Cleveland, Northeast Ohio & Beyond!

---
Feeling 'Up' about Downsizing
by Amy Kenneley
It started innocently enough. The winter closed in and the rooms did too. I looked around at the stashes of accumulated boxes and drawers full of things and wondered, "Who is going to want this?" There needed to be a letting go of things that had been collected --and collecting-- through the years. How did it all happen?

Read the rest of Amy's column about getting rid of years of stuff


---
Coming of Age ... Again!
Coming-of-Age Day in Japan honors all the young people who reached age 20 during the past year. This national holiday takes place on the second Monday of January and celebrates their privileges and responsibilities as new adults.

Coming-of-age moments don't come just once in life. Another important coming-of-age moment occurs when you decide to retire. Social Security can help.

Coming of Age ... Again!
Expert Social Security Advice - January 2015


---
Special Deals and Shopping for Cleveland Seniors
We now have two great sources for you to find the best online pricing values. One is Cleveland specific and features products about Cleveland and by and for Clevelanders.

The other is about 15 companies that are the best of the best in on-line shopping products, value and service. Names you will know like Amazon, Walmart, 1800Flowers, Hanes, Microsoft, Drugstore.Com and Pets Warehouse. But also some lesser known best of breed stores such as Old Time Candy, Lauren Hutton makeup, ShopIrish, DermaDoctor, Shutterfly and more.

On-line store for Cleveland Seniors

Take a look. You can always get back to the Store by clicking on the Special Offers/Store link on the left hand side of the page.

Happy Shopping!
---
ClevelandSeniors.Com Aphorism of the Week
There are worse things than getting a call for a wrong number at 4 a.m. . ..like, it could be the right number.
---
The Produce Market World As It Once Was
by Maury Feren
When I talk about the wholesale produce market people confuse it with the West Side Market. It has no relationship. The Northern Ohio Food Terminal in its heyday served NE Ohio, the bordering NY states and PA., and sometimes West Virginia including Charleston and boundaries.

A thousand people a day went through that market. It was the centerpiece for Cleveland. When it opened in 1930 people came from all over the country to see how it operated. There were 50-60 warehouses for the wholesale produce sellers. Armour's meats contained one big building for itself including a small fresh fish warehouse. There were 50-60 singular and double warehouses centered in one large building.

Read the rest of Maury's column about the Produce Market


---
How many lawyers does it take to change a tire?
By Joseph Patrick Meissner
My car races along the Cleveland Shoreway coming east to downtown. I need to get there quickly on this bright but chilly March Saturday evening. The sun outside is glorious yellow and I revel in this unusual light despite the chill in the air. I pass the East 28th street exit, and then round the blind bend onto the Shoreway Bridge across the Cuyahoga River. Suddenly there appears a blond haired woman standing almost in the middle lane of this busy road, with her arms waving the rushing cars to the far center lane.

What is the problem?

Then I spot a car parked close to the concrete wall, like some kind of wounded dying beast. Another woman is crouched by the right front tire, almost invisible except for her dark hair.

My brain is high gear. I must avoid this. I will pretend I do not really see them. Just keep driving. Other cars are whizzing past. I have a good excuse to maintain speed. God, please. I am late. I know you will forgive my passing these two people in distress. Somebody else will surely help them. Let them gain the indulgences from helping their fellowman, or fellow women. ... Read the rest of Joe's Adventure


---
ClevelandSeniors.Com Special offer of the Week

Make sure your PC or Mac is backed up and your data safe.
---
Progress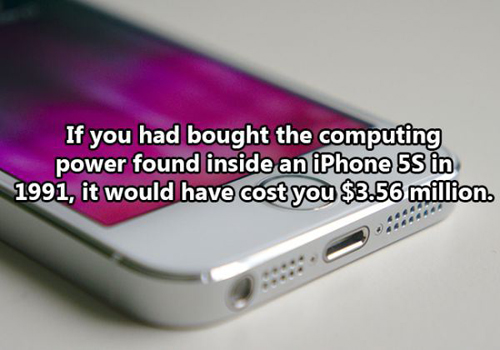 Top of Page
---
Cleveland Seniors Special of the Week
---
ClevelandSeniors.Com Humor of the Week
Sad but true.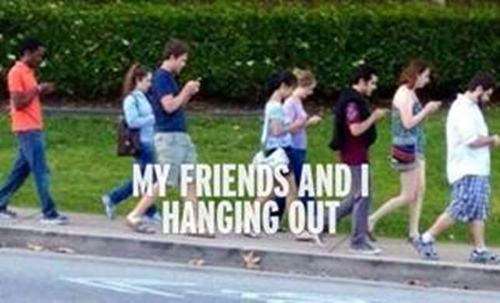 ---
ClevelandSeniors.Com Book of the Week


#1 NEW YORK TIMES BESTSELLER • SOON TO BE A MAJOR MOTION PICTURE

In boyhood, Louis Zamperini was an incorrigible delinquent. As a teenager, he channeled his defiance into running, discovering a prodigious talent that had carried him to the Berlin Olympics. But when World War II began, the athlete became an airman, embarking on a journey that led to a doomed flight on a May afternoon in 1943. When his Army Air Forces bomber crashed into the Pacific Ocean, against all odds, Zamperini survived, adrift on a foundering life raft.

Ahead of Zamperini lay thousands of miles of open ocean, leaping sharks, thirst and starvation, enemy aircraft, and, beyond, a trial even greater. Driven to the limits of endurance, Zamperini would answer desperation with ingenuity; suffering with hope, resolve, and humor; brutality with rebellion. His fate, whether triumph or tragedy, would be suspended on the fraying wire of his will.

Unbroken: A World War II Story of Survival, Resilience, and Redemption
---
Korean War Veterans Remembered
The Korean War was a war between the Democratic People's Republic of Korea (North Korea) and the Republic of Korea (South Korea) in which the United States led a United Nation's force fighting for the South and China, assisted by USSR, fought for the North. It arose from the division of the Korean Peninsula after WWII and the global tensions of the Cold War that developed immediately after.

Twenty-one members of the United Nations backed the South, with the United States providing some 88 percent of the troops. The war also saw the first combat between jet aircraft - such as the F86 used by the United Nations and the MG-15 used by the Chinese - in warfare. By the time it stopped about 2 million Korean civilians, 1.5 communist forces, 400,000 South Korean troops, 1,000 U.K. troops and 36,000 American troops had lost their lives.

After a contentious back and forth diplomatic fight that had been ongoing for several years, combat began in earnest in June, 1950. The Korean War officially lasted from June 25, 1950 to July 27, 1953.

The Korean American Association of Greater Cleveland gathered at the Louis Stokes Cleveland VA Medical Center to honor veterans of the Korean War. They said:

To our Korean War Veterans. In recognition of honorable service during the Korean War in defense of Democracy and Freedom. Through your selfless sacrifice, the tide of communism on the Korean Peninsula was halted and liberty triumphed over tyranny. The Department of Veterans Affairs and the people of America and Korea are forever grateful.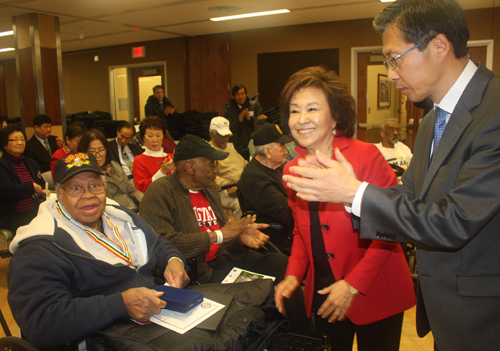 Veteran John Howard receiving his Medal
See photos and videos of the Korean War Veterans ceremony.


---
---
Calendar of Events for Cleveland Seniors & Baby Boomers
---
---

Have you seen the Amazon Deal of the Day? Everyday, a new very special deal will be offered. Look to the left-hand column of this page for the daily special.


---
Sign up for our free eNewsletter sent about once every 2 months with special offers, discounts, contests and more.
---

Whether you are a Boomer who's just turned 50 (and don't think of yourself as a Senior) or part of the "Greatest Generation," you can learn about issues that are important to you and your family right here on ClevelandSeniors.com from Cleveland area experts.


Don't miss our profiles of interesting Cleveland Seniors and Baby Boomers - Maybe it's someone you know! (Or tell us about someone we should know)



Take advantage of discounts and specials selected just for you.



Ask questions and receive answers from our many experts from all walks of life.



Share your thoughts, memories, ideas with other Cleveland Seniors and Baby Boomers.



Keep your mind sharp with some of our games, quizzes and mind expanders.



Most importantly, come back often and
Have Fun!


---
Top of Page