Welcome to
ClevelandSeniors.Com,
the online home for
"Seasoned Citizens"
of Cleveland, Northeast Ohio & Beyond!

---
99 Red Balloons in German Garden
The Cleveland Cultural Gardens are unique in the world and one of Cleveland's treasures. The first Garden in the chain (now at 30) was started in 1916 making 2015 the 99th year of the Gardens.

To celebrate, members of the Cleveland Cultural Garden Federation (CCGF) hosted a free lunchtime concert and fun event in the German Cultural Garden at 1036 East Blvd.

Why the German Garden?

The Goethe-Schiller monument in the German Garden is the largest of any statue in the Gardens and made a great backdrop for a fun event capitalizing on the 1993 German pop song called 99 Luftballons (99 Red Balloons).

The Cleveland Donauschwasbe Blaskapelle (brass band) performed and free German food was available. In a one-of-a-kind photo opportunity, attendees posed holding 99 red balloons (courtesy of Pink Gorilla) while the band played the popular song. Out of respect for the environment, the balloons were not released as originally planned.



There were brief remarks from the Honorary German Consul Diane Thimmig, Cleveland Councilman Tony Brancatelli, Cleveland Cultural Gardens Federation president Sheila Crawford, German Garden delegate Hans Kopp telling about the monument and more.

The 70th annual One World Day on August 23, 2015 will be the official kickoff of the Centennial Year of the Gardens.

The German food was provided courtesy of Five Star Meats, Orlando Bakery, Hofbrau House, Phuel Café, RJ Lipton and Coke.

Lots of photos and videos soon


---
Is There a Curse on Cursive?
by Amy Kenneley
Today, I can still create a passable penmanship when necessary. Many folks, especially family members, can distinguish my handwriting from someone else's. I can also decipher most other folks' handwriting as well. Up to this current generation, most of us had that skill down pretty good.

As specific subject, however, I could see how the cursive method slid down the essentials ladder of things to learn…until it slid right off many school agendas completely. A basic printing is taught, but where is the time devoted to actual cursive? Mostly gone.

Read the rest of Amy's thoughst on Cursive writing


---
Dimora, Russo, Tony and Joe
by Joseph Patrick Meissner
I do not mean pilfering or misappropriating an actual book, like sneaking one out of the library in your backpack. I am talking about seizing a potential writer's experiences and remembrances which could have made and will make a great book.

You see, Tony was one of the minor actors in the whole Jimmy Dimora and Frank Russo Scandal Story in Cuyahoga County. These two County politicians found themselves charged with all sorts of corruption and crimes.

Read the rest of Joe's story about the case


---
For Croatians the most important meal is lunch (rucak)
Branka Malinar of Cleveland's Croatian community explained some of the food and eating habits of Croatia and Croatian people. She said for Croatians the most important meal of the day is lunch (rucak). Christmas meal might include Turkey with mlinci (flat, sour dumplings). She spoke at the Dubrovnik Garden as part of the latest Food Adventure of ClevelandPeople.Com.




---
Weekly Produce Report
by Maury Feren
Lots of tips on various fresh produce from the man who knows. And a big secret tip at the end.
---
My Watermelon Love Story
by Maury Feren
I love Watermelons. Watermelons have played a great role in my life. How could that happen? How could a watermelon be a part of you. Easy! Let me tell you of its early beginnings...

Read how watermelon's helped Maury find love


---
15th annual Italian American Summer Festival - Win Free Tickets
The 15th annual Italian American Summer Festival will be held June 26, 27 and 28 at the Cuyahoga County Fairgorunds in Berea. More than 25 food vendors with a wide variety of food to please all palates. Italian, American and other ethnic foods will be available this year. 2 stages of live entertainment all weekend long. Fun for the whole family including Tiziano Wine Tastings, Pasta Eating Contest and an outdoor Italian Mass.

You can win a pair of free tickets to the event from ClevelandSeniors.Com
---
An Artist At Work
by Maury Feren
Maury discovers an artist who encourages "One Hour A Day". This mean that we should stop for one hour a day to see where we are and where we are going.

Read more about Maury's new artist discovery


---
Please, Big Mike, Keep Building Cleveland
by Joseph Patrick Meissner
I am so tired. My legs have no feeling. For five hours in the hot noonday sun I have been mowing the lush green spring lawn. This is an old-fashioned push mower where the mower only goes forward when you push the black metal hand bar and drive forward with your legs. Also the mower has not been used since last Fall and the tank is filled with old gas that has lost its potency.

Read the rest of Joe's experience with Big Mike


---
Maury's Witches Experience
by Maury Feren
Do you believe in witches? I don't mean witchcraft I mean people who are truly witches and follow in that path.

There are probably many ways to define what witches do and what make them witches. The witches I learned about looked and acted like normal people. What separated them were the psychic events that they talked about which were far from what I would consider normal.

Read the rest of Maury's experience with Witches


---
Cleveland Seniors observation of the Week
I've reached the age where 'happy hour' is a nap.


---
Tiny Bubbles - Hawaiian Hula Dance
The Manivic's Dance Company performs Pacific Island dances including Tahitian, Samoan, New Zealand, Hula and Philippine Folk styles. They performed at the 6th annual Cleveland Asian Festival in Cleveland's AsiaTown last weekend. This is a video clip of the classic Tiny Bubbles.


---
Redevelopment of Slavic Village in Cleveland
Slavic Village, a historical neighborhood located outside of downtown Cleveland, was devastated by the national housing crisis and continues to struggle in the aftermath of economic decline. A once vibrant neighborhood rich in history and culture has been plagued by blight, vacant homes and financial hardships. But it's on its way back.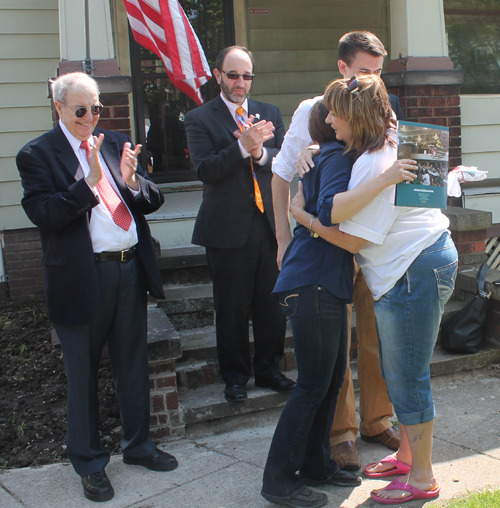 New Slavic Village neighbors
Slavic Village recovery and celebration of its 25th homebuyer
---
Advice from Dear Webby - Different Political Views than Friends
Dear Webby,

It seems like I have very different political beliefs than most of my friends. Whenever they start talking politics I just back off, not wanting to make waves. But then I get home and feel like a wimp for not standing up for what I think is right.

And I don't want them to think I agree with them because I am not arguing. What can I do?

Not Politically Correct

Dear Webby's advice for Not PC


---
ClevelandSeniors.Com Special offer of the Week

Make sure your PC or Mac is backed up and your data safe.
---
Cleveland Seniors Special of the Week
---
ClevelandSeniors.Com Book of the Week


#1 NEW YORK TIMES BESTSELLER • SOON TO BE A MAJOR MOTION PICTURE

In boyhood, Louis Zamperini was an incorrigible delinquent. As a teenager, he channeled his defiance into running, discovering a prodigious talent that had carried him to the Berlin Olympics. But when World War II began, the athlete became an airman, embarking on a journey that led to a doomed flight on a May afternoon in 1943. When his Army Air Forces bomber crashed into the Pacific Ocean, against all odds, Zamperini survived, adrift on a foundering life raft.

Ahead of Zamperini lay thousands of miles of open ocean, leaping sharks, thirst and starvation, enemy aircraft, and, beyond, a trial even greater. Driven to the limits of endurance, Zamperini would answer desperation with ingenuity; suffering with hope, resolve, and humor; brutality with rebellion. His fate, whether triumph or tragedy, would be suspended on the fraying wire of his will.

Unbroken: A World War II Story of Survival, Resilience, and Redemption
---
---
Calendar of Events for Cleveland Seniors & Baby Boomers
---
---

Have you seen the Amazon Deal of the Day? Everyday, a new very special deal will be offered. Look to the left-hand column of this page for the daily special.


---
Sign up for our free eNewsletter sent about once every 2 months with special offers, discounts, contests and more.
---

Whether you are a Boomer who's just turned 50 (and don't think of yourself as a Senior) or part of the "Greatest Generation," you can learn about issues that are important to you and your family right here on ClevelandSeniors.com from Cleveland area experts.


Don't miss our profiles of interesting Cleveland Seniors and Baby Boomers - Maybe it's someone you know! (Or tell us about someone we should know)



Take advantage of discounts and specials selected just for you.



Ask questions and receive answers from our many experts from all walks of life.



Share your thoughts, memories, ideas with other Cleveland Seniors and Baby Boomers.



Keep your mind sharp with some of our games, quizzes and mind expanders.



Most importantly, come back often and
Have Fun!


---
Top of Page