Welcome to
ClevelandSeniors.Com,
the online home for
"Seasoned Citizens"
of Cleveland, Northeast Ohio & Beyond!

---
Memorial Day - Sometimes a simple cartoon says it best.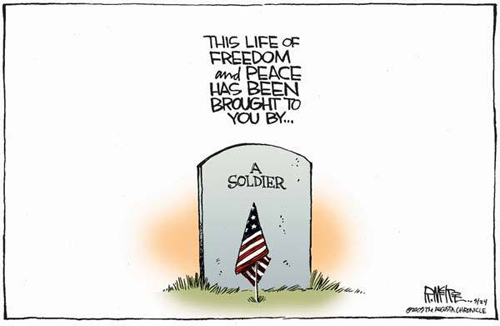 ---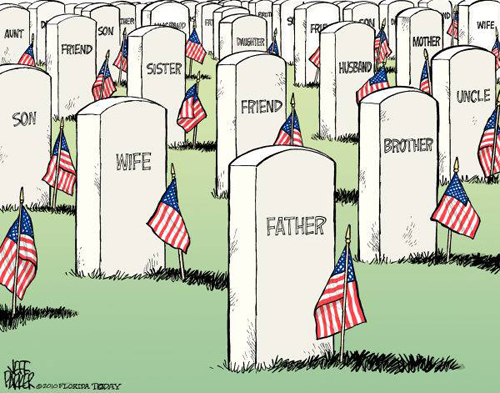 ---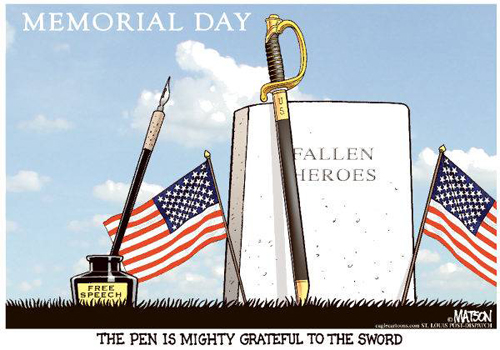 See more Memorial Day cartoons
---
Memorial Day Reflections
"Soldier, rest! Thy warfare o'er,
Sleep the sleep that knows not breaking,
Dream of battled fields no more.
Days of danger, nights of waking."
- Sir Walter Scott
---
"Sure I wave the American flag. Do you know a better flag to wave? Sure I love my country with all her faults. I'm not ashamed of that, never have been, never will be."

- John Wayne
---
"Patriotism is not short, frenzied outbursts of emotion, but the tranquil and steady dedication of a lifetime."

- Adlai Stevenson
---
"They fell, but o'er their glorious grave Floats free the banner of the cause they died to save."

- Francis Marion Crawford
---
"We come, not to mourn our dead soldiers, but to praise them."

- Francis A. Walker
---
More quotes about Memorial Day
---
Memorial Day - History of Decoration Day
Memorial Day was originally known as Decoration Day because it was a time set aside to honor the nation's Civil War dead by decorating their graves. It was first widely observed on May 30,1868, to commemorate the sacrifices of Civil War soldiers, by proclamation of General John A. Logan of the Grand Army of the Republic, an organization of former sailors and soldiers.

More of the history of Memorial Day


---
Cleveland Seniors observation of the Week
The trouble with bucket seats is that . . .not everybody has the same size bucket.


---
Tiny Bubbles - Hawaiian Hula Dance
The Manivic's Dance Company performs Pacific Island dances including Tahitian, Samoan, New Zealand, Hula and Philippine Folk styles. They performed at the 6th annual Cleveland Asian Festival in Cleveland's AsiaTown last weekend. This is a video clip of the classic Tiny Bubbles.


---
Violence and Domestic Abuse
by Maury Feren
I can't stand by and watch and hear about all the violence that is taking place in our society nationwide. But that is not the worst of it.

It is so hard to understand why beautiful women and even not so beautiful are willing to accept abuses such as beatings and verbal attacks as an acceptable tool for a man to be in control. How can that happen? What is the reasoning behind it? Is there any way that we can make an indentation and put some type of end to it. Aren't we the public aware of the change in our society?

Read the rest of Maury's thoughts about Violence


---
Redevelopment of Slavic Village in Cleveland
Slavic Village, a historical neighborhood located outside of downtown Cleveland, was devastated by the national housing crisis and continues to struggle in the aftermath of economic decline. A once vibrant neighborhood rich in history and culture has been plagued by blight, vacant homes and financial hardships. But it's on its way back.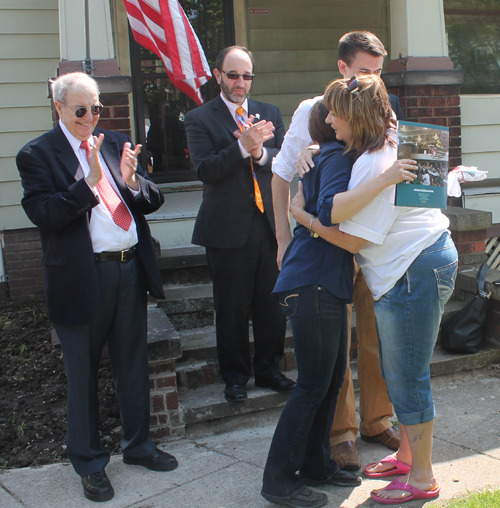 New Slavic Village neighbors
Slavic Village recovery and celebration of its 25th homebuyer
---
Advice from Dear Webby - Different Political Views than Friends
Dear Webby,

It seems like I have very different political beliefs than most of my friends. Whenever they start talking politics I just back off, not wanting to make waves. But then I get home and feel like a wimp for not standing up for what I think is right.

And I don't want them to think I agree with them because I am not arguing. What can I do?

Not Politically Correct

Dear Webby's advice for Not PC


---
ClevelandSeniors.Com Special offer of the Week

Make sure your PC or Mac is backed up and your data safe.
---
Cleveland Seniors Special of the Week
---
ClevelandSeniors.Com Book of the Week


#1 NEW YORK TIMES BESTSELLER • SOON TO BE A MAJOR MOTION PICTURE

In boyhood, Louis Zamperini was an incorrigible delinquent. As a teenager, he channeled his defiance into running, discovering a prodigious talent that had carried him to the Berlin Olympics. But when World War II began, the athlete became an airman, embarking on a journey that led to a doomed flight on a May afternoon in 1943. When his Army Air Forces bomber crashed into the Pacific Ocean, against all odds, Zamperini survived, adrift on a foundering life raft.

Ahead of Zamperini lay thousands of miles of open ocean, leaping sharks, thirst and starvation, enemy aircraft, and, beyond, a trial even greater. Driven to the limits of endurance, Zamperini would answer desperation with ingenuity; suffering with hope, resolve, and humor; brutality with rebellion. His fate, whether triumph or tragedy, would be suspended on the fraying wire of his will.

Unbroken: A World War II Story of Survival, Resilience, and Redemption
---
---
Calendar of Events for Cleveland Seniors & Baby Boomers
---
---

Have you seen the Amazon Deal of the Day? Everyday, a new very special deal will be offered. Look to the left-hand column of this page for the daily special.


---
Sign up for our free eNewsletter sent about once every 2 months with special offers, discounts, contests and more.
---

Whether you are a Boomer who's just turned 50 (and don't think of yourself as a Senior) or part of the "Greatest Generation," you can learn about issues that are important to you and your family right here on ClevelandSeniors.com from Cleveland area experts.


Don't miss our profiles of interesting Cleveland Seniors and Baby Boomers - Maybe it's someone you know! (Or tell us about someone we should know)



Take advantage of discounts and specials selected just for you.



Ask questions and receive answers from our many experts from all walks of life.



Share your thoughts, memories, ideas with other Cleveland Seniors and Baby Boomers.



Keep your mind sharp with some of our games, quizzes and mind expanders.



Most importantly, come back often and
Have Fun!


---
Top of Page