Dan Davenport
A life of Attitude and Philosophy
Attitude. Simply stated that one word summarizes the life of Dan Davenport. It's not where he was born (Toledo, Ohio), when he was born (8-10-26) or any of the other standard biographical statistics that make Dan Davenport 's life interesting.

It is the fact that he has devoted his life, from the earliest years to today, to living a philosophy. A philosophy that has been re-enforced in many ways and has carried him through many fascinating situations.

It is the philosophy that only 10% of a situation is beyond our control; the circumstances of life that bring us to a certain spot. The other 90% is our attitude and what we are going to do about and with the 10% we cannot control.

Let me share some of the examples of this philosophy in Dan Davenport's life.

As a graduate of Scott High School, Dan is a product of the Toledo Public School System. He played the trumpet in the school band. When he went on to Ohio State University he played in the Earl Hood Band in Columbus. Similar to a Duke Jenkins-type band here in Cleveland, the Earl Hood Band was a territorial band, well known and much loved in their local area.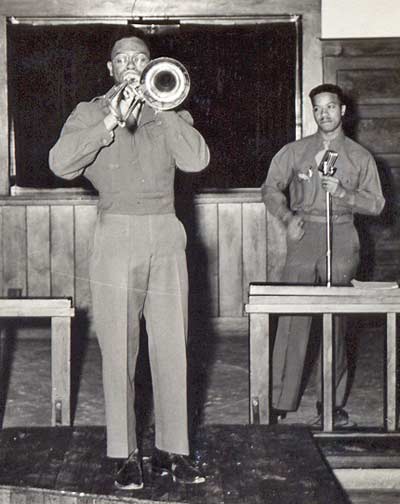 Dan Davenport playing trombone in an Army Show
(not his usual trumpet)



Then the war came. World War II. That's certainly something he could not control. But Dan considers his entry into the Air Force a lucky break. In his perfect world every child, male or female, regardless of their physical strengths or weaknesses would go into the service.

He feels that in the military you will find out, as he did, that people are essentially the same. You look the same in the shower. You look the same in your uniform. You follow the same orders and have the same opportunities.

So what is it that makes people different? Attitude. Dan believes the relationship between positive attitudes and success is unquestionable, and of course the opposite is true as well.

Just recently Dan used his vast computer skills to track down his old Air Force superior and successfully and happily re-acquaint themselves.

Dan worked as a Classification Specialist in the Air Force. He'll remind you of the old joke about mechanics in the service being made cooks - well Dan's the guy who did that. But he's quick to add that there's a very important and specific reason for doing that.

It was his job to find the right person for every position. If there were a surplus of mechanics and not enough cooks he would use all of the resources available to him to determine who, among the mechanics, could successfully be a cook. And he did, and it worked.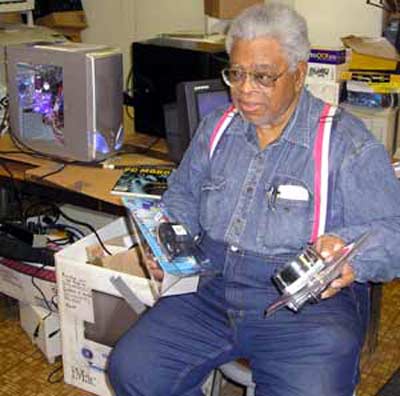 Dan Davenport teaching at a Hardware meeting



World War II had just ended and Dan was scheduled to go to Europe. At that time black and white soldiers were separate, there was no such thing as integration in the Air Force. There was a group of twelve hundred black air force soldiers in Florida - enough to qualify as it's own unit. One of the positions they could not fill from among this group was a Classification Specialist. So Dan, being black and qualified in this area, went to Florida instead of Europe.

He thinks if there were such as word as "geek" in those days, he would have been one. Of course there was no television at that time and there were few black available women near where he was stationed and many black soldiers. Dan found it easier (and safer) to stay in and study. The mind, he says, is like a sponge. If you put information in it, it will stay there. But if you don't, it will dry up.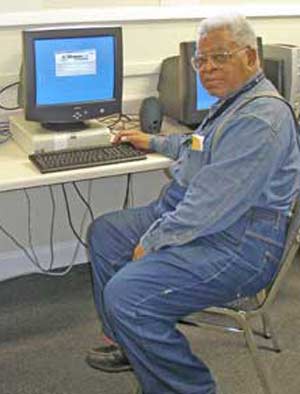 Dan Davenport volunteering for CAP



He tells the story of a Colonel from Atlanta, Georgia coming to the base and setting up monthly meetings with the division. Each squadron was to send one representative to air grievances and settle problems. Dan was chosen from his squadron. At this time, the base had bowling alleys and swimming pools, but they were off limits to the black soldiers.

Dan felt this was his opportunity to start making some changes. He reported the incident to the Colonel at one of the monthly meetings, and as a result of his negotiations he was able to get the black soldiers one day a week that they could use the pool. As it happened, the day was to be Mondays. It also happened that Mondays after the pool was closed they would drain and clean the pools.

Dan was thrilled with this breakthrough first step. It was one day more than they had before and if they drained the pools after they used it, so be it. They still got to use it. However, he was quick to find out that not everybody liked the idea of compromise. They wanted it all and they wanted it now. This would be the first time Dan was accused of selling out.

The black soldiers had all of the truck driving and janitorial positions sewn up. Dan used his skills as a Classification Specialist to find the soldiers with the potential to work in higher positions and make the positions available to them. He was fair in his selection of people, with no favoritism shown to soldiers based on race, strictly on ability and potential. When he left the military he left as an Acting First Sergeant.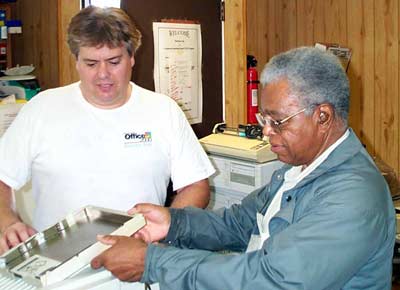 Dan Hanson and Dan Davenport volunteering for CAP



When Dan was a student at Ohio State he had taken courses to become a pharmacist. But when he went into the military he had the good fortune to meet a man making $1,000 per month, from the military! Dan explained to him that he was studying pharmacy because he wanted to open his own drug store. The man explained that you don't have to be a pharmacist to own a drug store, but you definitely need to know business.

Dan finished his education at the University of Toledo in Business Administration. Eventually he found himself in electronics and computers. He never did buy the drug store, but his business education has done him well.

World War II was 10%. Everything else was Dan Davenport.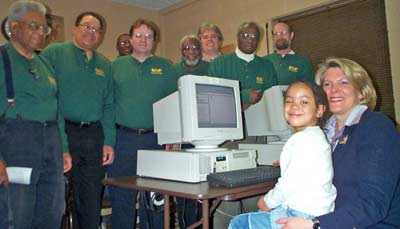 Cleveland Mayor Jane Campbell with CAP volunteers at a community center PC lab that CAP built



During the war, no new cars where built. All non-military or non-defense manufacturing was halted. So when Dan returned from the Air Force he knew there would be a need for new car salesman and he decided that is what he wanted to do. It never occurred to him that there had never been a permanent, full time, on-the-floor black car dealer before, and was surprised to find that nobody would hire him.

Finally he went to a Kaiser-Frazier Agency who thought he may be able to bring in the black population and their dollars with him. Kaiser Frazier had built ships during the war and now had a full size car with a sloping windshield and a steel top convertible (a padded top with nylon to make it look like a convertible). Dan wasn't looking to make history; he was looking to find a job. He did both.

He and his employer where amazed that his support came from the white community who found him to be honest and trustworthy, whereas the black community still, in 1948, preferred to buy from a white man.

Dan believes that some factors in life are more important than others. Trust is one of them.Needing a job after the war was 10%. Everything else was Dan Davenport.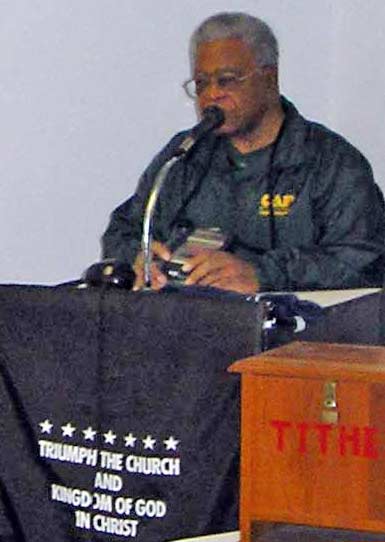 Dan Davenport speaking



Dunbar Insurance of Cleveland was the first black owned insurance company in Cleveland. They had a number of offices, including Toledo where Dan had worked. It was here that he met his future wife, Mae, the woman that has been his wife for fifty-two years. Together they had two children and one grandchild.

"The role of a parent, " says Davenport, "is to teach your children to survive". He and his wife have successfully done that. Both of their children were able to retire at age forty-six and their granddaughter just graduated from Kent State with a degree in Computer Science.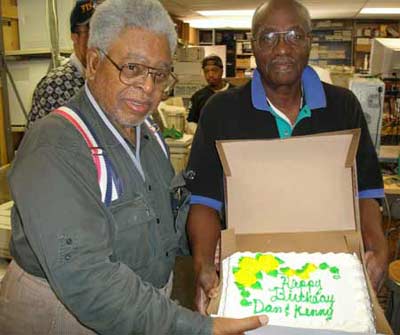 Dan Davenport and Ken Eskridge
CAP Volunteers and Birthday Buddies



When the Korean War was looming the Erie Ordinance Depot in Port Clinton was the storage spot for the big guns. They had been in storage since WWII, so they needed to be inspected, repaired and sent to the appropriate places. Quickly the ex-Air Force Classification Specialist became a Civilian Production Expeditor.

The Korean War and the economic state of the country were 10%. Everything else was Dan Davenport.

Born in Toledo, Ohio, Dan was always a Detroit Tigers Fan - that is, of course, until Larry Doby came to play for the Indians. It was at this time that he started to come to Cleveland to see the team. He and his wife, Mae, decided that they needed a safe, wholesome and secure environment for raising their children and decided Cleveland was the place.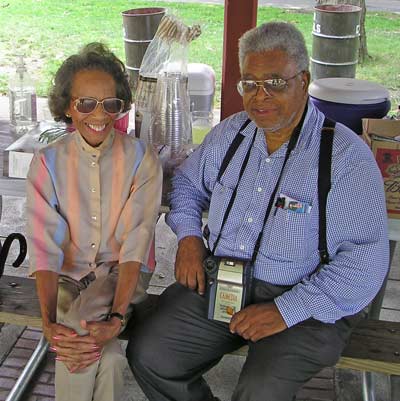 Mae and Dan Davenport on a picnic



The chance meeting of his wife Mae, and the birth of two children was 10%. Everything else was Dan Davenport.

When Dan came to Cleveland he went to work for the Post Office. He had a wife and two children and the decision was mainly one of economic need. He took night courses and became certified as an Electronics Technician. Then the Post Office went to electric processing and computerized time keeping and Dan saw another window of opportunity open for him.

It wasn't long before he realized that the people maintaining the machines were making a lot more money than he was. He quickly got himself transferred into Maintenance and stayed there for twelve years. He worked a total of more than thirty years for the Post Office.

Economic need to support a wife and 2 children was 10%. Everything else was Dan Davenport.

In Cleveland Dan worked in the insurance field, the Post Office and as a technician and Service Manager for Digital One Computers. Since "retirement" he works as an independent consultant. He is a hard-working volunteer for the CAP Program (Computers Assisting People). This is a non-profit organization that accepts donations of used computers and related equipment for redistribution to organizations and people in need.

This was a natural step for Dan as he is not only a kind and giving person; he has the technical expertise necessary to make his volunteering useful.

Retirement was 10%. Everything else was Dan Davenport.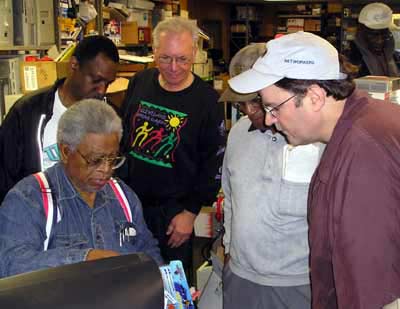 Dan Davenport teaching



There are hundreds of Dan Davenport stories, all with the same common thread. He would never expect anyone to support him or his family. Nor would he allow that to happen. That is his job, his responsibility.

Responsibility looms large in Dan's life. He points to the tribal societies as an example. "What" he asks "makes a young man know which plants to eat and which will kill him? What tells him that an animal is deadly or friendly or when a storm is coming and how to prepare? He has been taught by his elders and they by theirs. This is the job of a parent. To teach their children".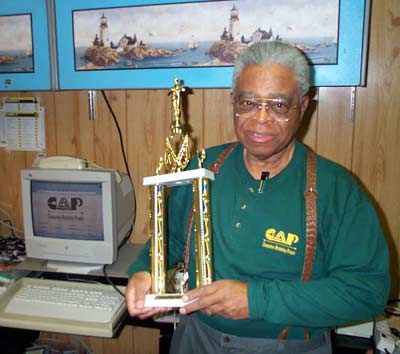 Dan Davenport with award at CAP Resource Center



Now that he is older Dan looks back over WWII and Korea and the years before and since and sees it from the vantage point of hindsight. His opinion doesn't change much from when he was the participant. There were many doors closed to Dan. Some because he was black, and some just because every door is not open to every person every time. But Dan tried another door and another until one opened. And if none would open, the he created his own door.

Fate was 10%. Everything else was Dan Davenport.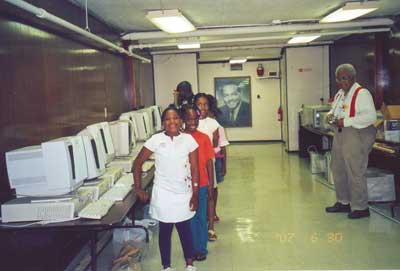 Dan Davenport with happy youngsters that he
and CAP helped at Union Grove Baptist Church



A message for today? Dan's is simple:

"Attitude is the ticket. If you believe you can - you can. If you believe you will fail - you will. Educate yourselves, never stop learning. And then teach others everything you know and learn everything they know. Poverty can become a thing of the past if you re-direct your attitudes."

Life handed him 10%. Everything else has been Dan Davenport.
---
Update: Dan Davenport was named one of the Plain Dealer's community heroes and recognized on the front page of the paper. He and his wife Mae attended the reception at the PD and received this plaque of the front page article.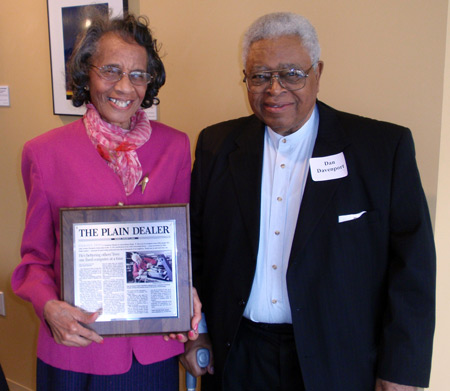 Mae and Dan Davenport



See more from the Plain Dealer Heroes reception



Profiled by Debbie Hanson



Do you know somebody with an interesting story to tell?
E-Mail us at:
profiles@ClevelandSeniors.Com

---
Top of Page
Back to Profiles of Cleveland Seniors
Computers Assisting People (CAP)