Andre Thornton
Thunder still rolls in Cleveland
He was born August 13, 1949 in Tuskegee Alabama "sort of in the middle of four brothers and three sisters."
Andre Thornton loved sports from the very beginning and played football, basketball and baseball in school. It was a Phillies scout that first paid him the attention he deserved and offered him a contract.
There were two conditions to be met before Andre would sign for Philadelphia. The first was that they would pay for his college and the second that they would get him in the Pennsylvania National Guard. It was 1967 and the draft was in place at the time and "a very big deal then."
Both conditions were met and Andre Thornton was signed as an amateur free agent. He started his college education at Cheyney State and graduated from Capital University, magna cum laude.
His baseball career is legendary. He played his first major league game for the Chicago Cubs at age 24. This dynamite first baseman (later to be a designated hitter) played with the Cubs and Montreal Expos from 1973 to 1986.
He was named 1974 All Rookie Team first baseman by Baseball Digest. But it was his time with the Cleveland Indians from 1977 to 1987 that brought him recognition such as two time American League All Star.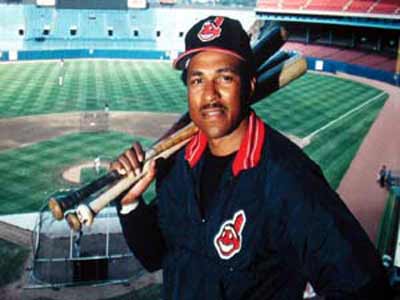 Andre Thornton
at Cleveland Municipal Stadium



Andre led the Indians in home runs seven times (four consecutive seasons). He was only the second Indian to have 100 walks and 100 RBI in the same season. In 1982 he set a Club record of 109 walks.

The 2004 record of Travis Haffner of 106 RBI as a designated hitter was second only to Andre Thornton's record of 109 in 1982.

Thornton is a member of the Ohio Baseball Hall of Fame and the Cleveland Sports Hall of Fame. In 1984 he received the Silver Bat Award and is also the recipient of the tribe's Man of the Year Award (1984) and four time recipient of the Golden Tomahawk Award.

One of the very special awards Andre has received is the Roberto Clemente Award. This award is given annually to the player thought to most emulate Clemente's commitment to community and his strong dedication to helping others. He joined other respected recipients such as Willie Mays, Rod Carew and Al Kaline. More recent recipients include Jim Thome and Cal Ripken Jr.

"Roberto was and still is held in such high esteem on and off the field, so this award means a lot to me. He is one of the first athletes that took the stance he did in terms of putting his name on something good. Roberto Clemente defined what our role should be in the community."

The Cleveland Indians of Thornton's era were not even close to the Tribe of the 90's and today's exciting team. They played in the cavernous Municipal Stadium where season crowds were often under 1 million fans. Andre was one of the true stars on a team that was always near the bottom of the lineup. So his impressive batting numbers loom even larger with the lack of support around him - other teams could pitch around him much of the time.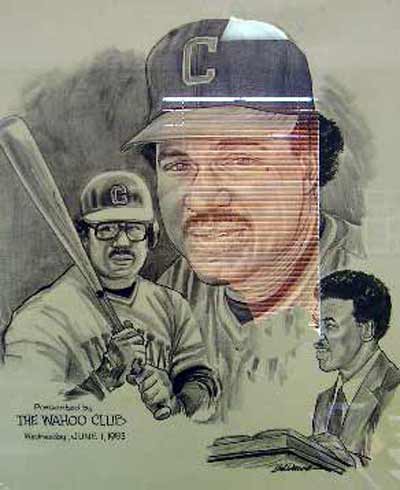 Andre Thornton Cleveland Indians Wahoo Club Plaque



If there were steroids in the game when he was playing, Andre was not aware of them. When it became national news, it also became known to him. At that time even weight training was taboo. "It was not until near the end of my career that they started to understand about weight training and nutrition and things like that."

He feels there could have been steroids being used on some of the other teams, but Cleveland was a second tier team "much like the poor relation" so if it was happening on other teams, Cleveland wasn't aware of it.

He does not believe that it is right to erase the records of players like Raphael Palmero, fearing the Pandora's Box it would open. "If they take Raffy's record away, then what about McGuire or others where there are suspicions? What about before there were tests or before there were repercussions? Raffy is reaping the results of what he did, but he can't be the designated scapegoat for everyone else. The stigma is there."

He goes on to say that many sportscasters were on the fence about Palmero's placement in the Hall of Fame, and this will probably be held against him when the vote comes up.

Andre was known as Thunder Thornton; a nickname his brother held before him. A brother, Andre says, who was a much better athlete than him. There was another football player, Thunder Thornton, from the University of Nebraska, and he's not sure if there was a connection to his getting the name or not.

Thornton acknowledges that there are very few African Americans in major league baseball and points to a number of variables as the reason. First and foremost is the lack of access. "Where are you going to put a baseball field in the inner city? And then where will the bats, balls and gloves come from? And if the field is further out, who is going to drive them for practices and games?"

He is grateful that there were "a couple of wonderful fields in my community that made it possible for me to play."

In addition to the accessibility issue he says baseball is not highly promoted in the black community. "The most visible sport is football. Most high schools have a football team and very few have a baseball team. It's also the first sport of the school year and by the time baseball comes around school's about over."

"At the end of the day for me, the reasons are access, support and finance. When these things come together, you have some really great African American players."

As for today's Cleveland Indians, Andre says "I really enjoy watching this team play. They have a good nucleus and strong pitching. Some of the players have really surprised us." Both (Grady)Sizemore and (Jhonny)Peralta were better than he expected.

He believes the current Indians are one or two players from being "top notch in the top tier." "We need a strong right hitter like Hafner is on the left. We're very strong up the middle - that's very important." He says, as Cleveland fans know all to well, the last "30 games are the toughest part of the season."

Most people know about the tragedy that was thrust upon Andre and his family in 1977. He and his wife Gertrude along with their two children, Andy (Andre Jr.) and Theresa were in a terrible car accident. His wife and 3 year old daughter were killed.

Instantly, Andre Thornton became a widower, a single parent, a survivor and a griever. But one thing about him didn't change, or if it did, it only became stronger. Andre was (and is) a Christian and it was his faith in the Lord that kept him strong during the dark hours to follow.

"I had to remember that tragedy was not unique to Andre Thornton, we all go through it. I depended on my faith more than I ever did before. I knew I had no strength, but I also knew that the Lord did, so I didn't need anything else. I don't understand it, but I know the power does not come from me, but it is in me."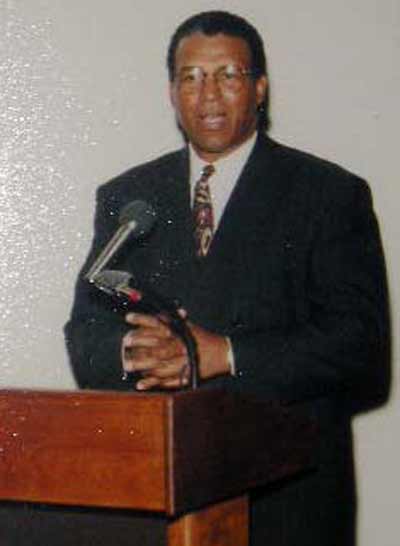 Andre Thornton speaking to a group



Andre has spoken to hundreds of groups trying to convince people to hand their troubles over to Jesus and He will see them through whatever tragedies befall them.

He also co-authored the book Triumph Born of Tragedy an account of the accident and his relationship with the Lord.

Andre has since remarried. He and his wife Gail will celebrate their 27th anniversary on November 4th. In addition to Andy (who now runs the Chicago office of Andre's business) there are now two more boys. Jonathan, the middle child works for his father in the Cleveland Office and is a graduate of Wheaton College. His youngest son, Dean, is a junior at Muskingum College.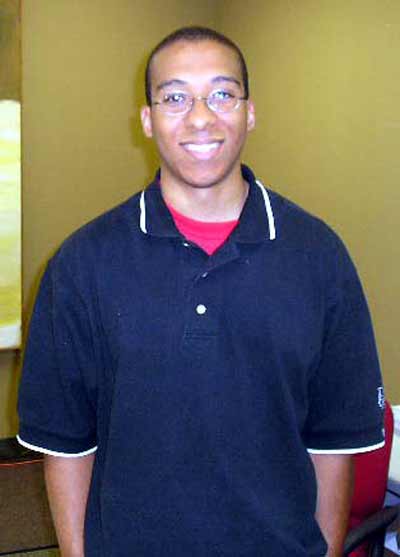 Andre's son Jonathan Thornton


Gail is an accomplished singer who has recorded one solo album and five with her sisters as the Jones Sisters Trio.

Andre and Gail enjoy traveling and working our together. He also likes to work around the house "and act like I'm a handyman - which I'm not!"

Most of all they both enjoy "growing and learning and meeting new people."

Andre is an avid and talented golfer. He often plays at Sand Ridge Golf Club near Chardon. He endorses the Andre Thornton Golf Outing in Phoenix Arizona every year; a fund raiser in support of their Free Clinic.

Andre is a member of the Board of Trustees at Nyack College and holds an annual golf outing fund raiser on their behalf. He is also on the Board of the Cleveland Council on World Affairs, The Cleveland Zoological Society and the Cuyahoga Community College Fund. He is a graduate (and now a member) of Leadership Cleveland.

Thornton is justifiably proud of his involvement with The First Tee of Cleveland program, which recently built a golf course for children in the Slavic Village area. He has been on board with the program since its inception.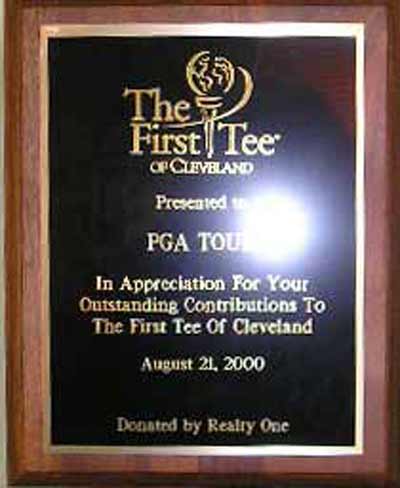 The mission of The First Tee is "To impact the lives of young people by providing learning facilities and educational programs that promote character development and life-enhancing values through the game of golf."

In 2002 Andre bought Global Procurement Management Company. He had previously owned an interest in Apple Partners, a restaurant management group that handled Applebee's Restaurants in Portland Oregon and St. Louis. He started with two, turned it into twenty and then sold them to Applebee's.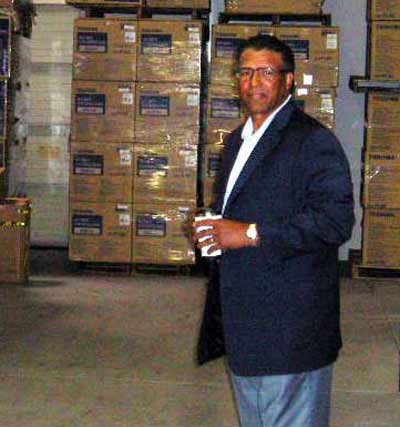 Andre Thornton in his company warehouse



Global specializes in management consulting, advertising promotional products and event planning. Andre Thornton has lived and worked in Cleveland for thirty years. He has been an integral part in the growth of a city he strongly supports. - and he has a lot of hope for the city.

But, he feels that the future of the city "won't come from the city officials, regardless of who they are. The city's needs must be addressed by the civic leaders. Many of the city leaders have prospered because of this city and we have accepted the challenge to assist the city in its growth. Other civic leaders need to come forward and address the issues on a practical level as well."

He believes Cleveland is at a crossroads of sorts and the decisions as to what we do next are vital. "There are major issues that need to be addressed: Loss of jobs, loss of major corporations, educational issues and economic issues. There was redevelopment occurring under Voinovich and White Administrations and I think they may be starting to come back again."

He sees regionalism as a major point that needs to be dealt with. "There may be a lot of community leadership - I know there are a lot of good community leaders - but it is not channeled. Someone needs to rally the community leaders. We need to be shown and taken to the next step."

He is not sure if the current or proposed leadership can accomplish that. "The face of Cleveland will change dramatically over the next 20 years. The way that face will look must begin now."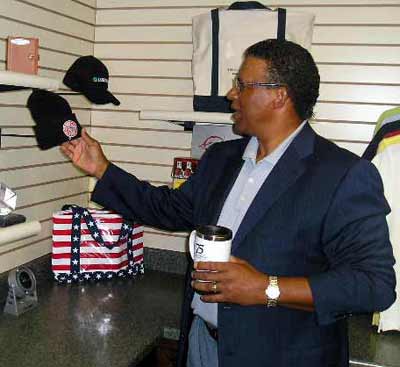 Andre Thornton in his company showroom



Andre is a member of the Presidents Council and as such works with major corporations within the city, pledging assets and time in creating a new Cleveland community.

Andre Thornton walks his talk. As a ball player he gave his all at every game. As a Christian he turned his grief over to the Lord at a time when so many would have given up. As a father he has raised three sons who are now college educated responsible citizens. As a businessman he runs his companies with integrity and kindness. As a citizen he understands and acts on his role as a leader and as one of the more fortunate. As a Clevelander he takes pride in his city and puts his time, effort and finances into its future.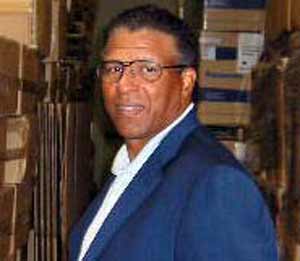 Andre 'Thunder' Thornton today



He flies under the radar - you won't often hear his name mentioned other than in terms of baseball greats. And yet he is quietly making major contributions to the future of our city and our children.

When all is said and done he should be revered more for his work in our community than on the baseball diamond. That's saying a lot since his baseball accomplishments are worth celebrating!
---
Update: Andre Thornton was indcuted into the Cleveland Indians Hall of Fame on Saturday August 11, 2007. He enters the Hall of Fame along with Jim Bagby Sr., Mike Garcia and Charles Nagy.

Congratulations of this well deserved honor!



---
Profiled by Debbie Hanson

---
Top of Page
Back to Profiles of Cleveland Seniors