Funeral Pre-Planning vs. Pre-Funding
Pre-Planning vs. Pre-Funding. Is there a Difference? YES!!
Pre-Planning
This is fairly simple to do although it may be difficult if someone is gravely ill. But it is a wise choice so you have all of your questions answered.
Pre-Planning is just that… sitting down with the funeral director to discuss funeral arrangements in advance of the need, so you can make the right choices. By the way, it can also be done over the phone.
We, at St. John Funeral Home provide all the time you need and all the information you need in order to Pre-Plan properly. We will thoroughly cover all phases of funeral needs, as simple or as complex as things may call for. Being well informed is where to start.
For planning purposes, thought must be given to what merchandise and what service you might truly prefer. Remember, there are choices, there are options, and you choose only what you either need or want. Our role is to inform you and guide you, but not to choose for you.
Essentially, our goal is to help you make wise decisions by answering all your questions. We can show you merchandise and discuss services. We have caskets, burial vaults, cremation urns, clothing and grave markers on hand for those that need same.
We will explain about various services we provide, optional choices, cemetery information, floral needs, death certificates, newspaper notices, religious services, crematory services and receptions/luncheons.
We can answer most questions concerning veterans' benefits, social security, life insurance, estates, wills and pensions. We also can put an accurate cost figure to all items needed.
In Pre-Planning, most people will make choices, some times tentative and subject to change. Costs are always indicated, so when finished, you would have some idea of final expense. By the way, this is done without any obligation. It is subject to your final decisions.
So, Pre-Planning is just that...Making funeral plans in advance of the need, arriving at a comfort level for complete funeral arrangements that you are satisfied with.
Finally, Pre-Planning does not guarantee the prices as time goes on. If you are to Pre-Fund the arrangements, you eliminate increased costs.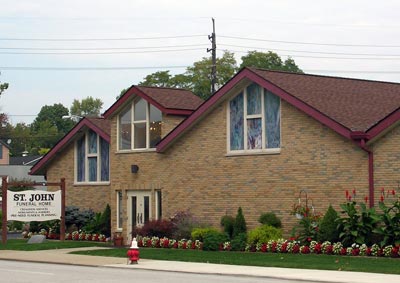 Pre-Funding Funeral Arrangements
Pre-planning is the first step for making funeral arrangements in advance of the actual need. In our day and age, that is a wise decision to make.
Pre-Funding takes you to the second step, that of paying in advance for all the merchandise and services that are chosen. By paying in advance, you essentially lock-in all the prices for all items selected, therefore, no further increase in the price of those items, forever - guaranteed.
So you have done your planning. You have selected merchandise if that applies, and service, if desired or, you have chosen something very basic such as direct cremation or direct burial. Whatever the choices made, prices have been established so you know the final cost. This cost is what Pre-Fund the funeral arrangements.
If you choose to Pre-Fund the funeral, most people pay the costs in full so as to guarantee the prices. At the St. John Funeral Home, we have an "in-house" payment system of our own. If that is your choice, we will further explain. Paying in full, or not paying in full, will have a temporary effect on the full guarantee.
When the money has been received for the Pre-Funded funeral plan, we have the money insured by one of two nationally used companies that insure funeral contracts. We keep none of your money. It is all insured, so that if unfortunately something happened to our business, your money is still 100% safe and sound for the use for which it has been set aside. You will not loose one penny.
The risk of loss when Pre-Funding a funeral is minimal at most. Because your money is insured, it will be there when needed.
Another point of information is this: should you move, funeral contracts can be transferred at no further cost. Also, you might like to know that funeral contracts can be switched from one funeral home to another anytime you wish to do so. So, should you wish to change funeral homes, all you need to do is ask.
Lastly, unlike most funeral firms, we guarantee absolutely all items of merchandise and/or services that are selected. Many funeral firms have a section in their contract which is "not guaranteed." Take a look if you are shopping around and getting prices.
So, Pre-Planning is one thing, it is a start, and Pre-Funding is another thing, it is finalizing the plan. There are various views on what to do or not to do.
That decision is yours to make, and should you decide to seek more information, simply start by calling us and we will help you out.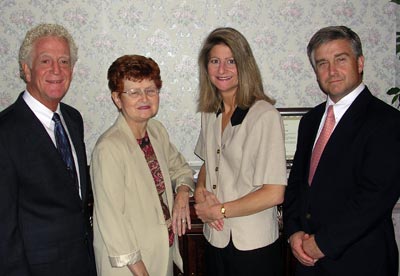 The St John Funeral Home Family
---
Call for information with no obligation: 440-232-1155.

St. John Funeral Home
923 Broadway Avenue
Bedford Ohio 44146-9804

Phone: 440-232-1155
Fax: 440-439-1840

Learn more about the St. John Funeral Services
---

---
Top of Page
Back to St John Funeral Home
Back to Resources for Senior Citizens