Cleveland in 2018
---
---
Cleveland Indians renovate baseball fields in Hough
The Cleveland Indians hosted the fourth annual Fields for the Future project on Thursday, May 10 at Thurgood Marshall Recreation on Cleveland's East Side.

Along with Cleveland Indians owner Paul Dolan and his wife Karen, Indians catcher Yan Gomes and his wife Jenna, who made a financial donation to support the project, City of Cleveland Assitant Director of Public Works Kim Johnson, City of Cleveland Councilman Basheer Jones, State Representative Stephanie Howse, and staff from U.S. Representative Marcia Fudge's office were on hand to unveil renovations. Local youth then played a game on the newly renovated field.

The Fields for the Future program began in 2015 at Luke Easter Park on Cleveland's East Side. In 2016, a field was renovated at Gunning Park and in 2017, a field was renovated at Halloran Park. According to the City of Cleveland, field usage improved tremendously after the renovations, with the number of games played at the field growing four-fold.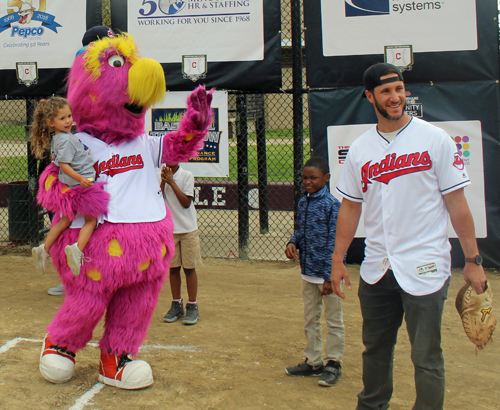 Cleveland Indians mascot Slider with Yan Gomes and kids
See photos and videos of the Cleveland Indians Charities project
---
Superman wasn't born on Krypton. He was born in Cleveland.
More precisely he was born at 10622 Kimberly Ave. in Cleveland's Glenville neighborhood.

While attending Glenville High School in Cleveland in early 1933, Jerry Siegel wrote a short story, illustrated by his friend and classmate Joe Shuster, titled "The Reign of the Superman", which Siegel self-published in his fanzine, Science Fiction #3. Originally Superman was a villain but in June 1933 Siegel developed a new character, also named Superman, but now a heroic character.

"This is the house where Superman was born," reads the sign hanging on the fence in front of 10622 Kimberly Ave. It's a private home.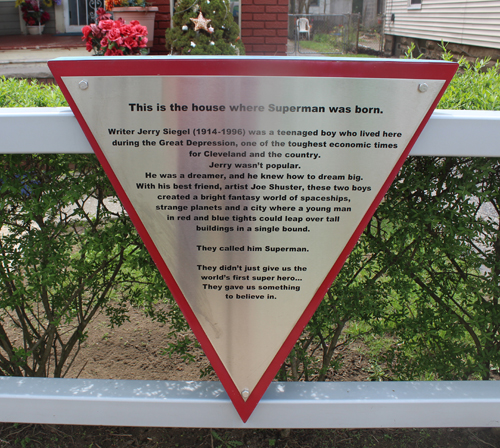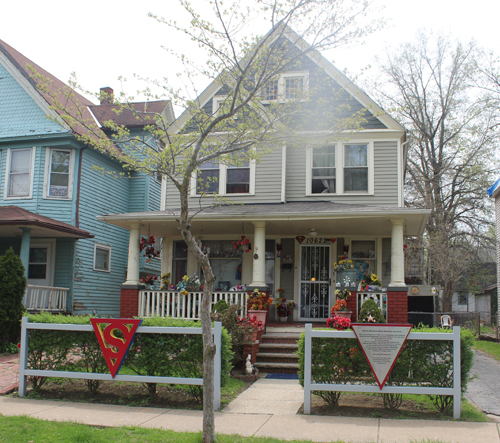 See more from Superman creator Jerry Siegel's home
---
Top of Page
Back to main Cleveland Page