Marty Sullivan
Superhost
Little did his parents know on that March morning in 1932 that they had given birth to not only little Marty Sullivan but to the future SUPERHOST! Yes, we are talking about that super host of Saturday afternoon movie madness!
Marty was born in Detroit, Michigan. His parents were divorced before he graduated from High School. An aunt, who was very influential in his life, paid for him to go to a boarding school in Canada.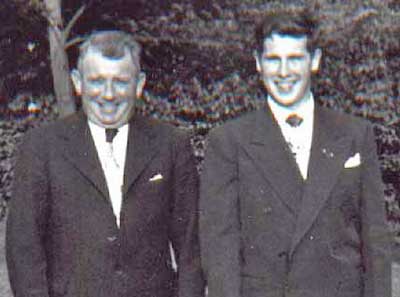 Mike Sullivan with his son Marty at
Marty's High School graduation in 1950


He went on to Assumption College (now University of Windsor) but after two years he knew he was about to be drafted, so he joined the Navy. He spent four years in the Navy on a Guided Missile Test Ship on the west coast and Guam.

After the Navy he went back to college, where he took a psychological test to see what area he was best suited for. It was suggested he take up public speaking to "get out of my shell and build self esteem". He went to Peru, Indiana and then back to Detroit.

His wonderful low, crisp voice got him work as a staff announcer at WJR in Detroit. It wasn't long before he got a call to come work for Cleveland radio station WGAR. It was 1963 and they were looking for a newsman and had been told Marty was the man to get.

He was a beat reporter for WGAR, covering stories such as the Hough Riots ("I remember it started with just one woman, who happened to be black, throwing a brick")

After about a year and a half he went to work for an advertising agency, Ritchie and Satther, but that didn't work out. Following that he was out of work for about 6 months. It was during this time that he heard about a brand new UHF station opening in a shopping Mall in Parma. He went and checked it out and was hired to do anything that needed doing.

He was an announcer and a newsman, a cameraman and a switchboard operator. He and Fred Griffith were beat reporters at the same time, they'd often cross paths at the Police Stations or The Coroners Office. He also worked with, and is very fond of Lin Sheldon (Barnaby).

The station (WUAB Channel 43) started out in a bowling alley in Parma - they took over the nursery section. The announcers' booth where Marty spent most of his time was right next to the children's bathroom.

Acoustics were such that they had to hang a big sign "DO NOT FLUSH WHEN ANNOUNCER IS ANNOUNCING."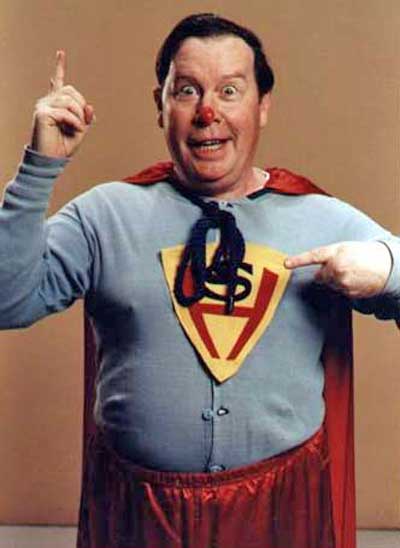 It's a bird, it's a plane. It's Superhost!


In 1969, Marty was doing the floor directing for the Big Beat Dance Party, where "A lot of aging youngsters would dance to fifties music". On one occasion he was setting up the lighting for the Four Lads who were scheduled to perform.

He would stand in various positions and mark the spot for proper lighting so that when the Four Lads were actually there singing the famous "Standing on the corner watching all the girls go by" everything would be perfect.

A voice from the loudspeaker let Marty know that he was "unzipped". It was this comment that prompted Marty to act "a little silly" and Superhost was created.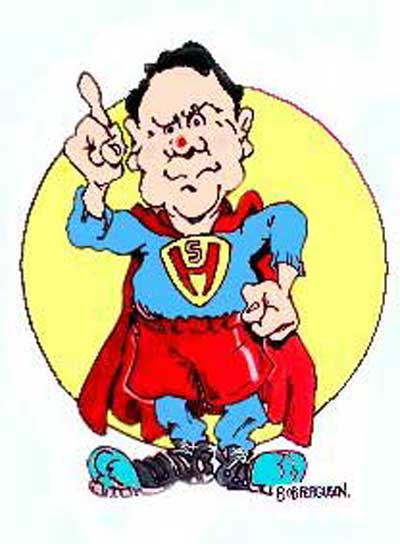 Superhost was a two-level show, according to Sullivan. The humor was usually political and aimed at the adults, but the character himself was created for children. The mix worked so well that it lasted for twenty years!

During this time he also did five minutes of headline news each night. He would often be in the middle of taping a Superhost show when news time came. He'd take off his big red nose and turn into a newsman.

What most people never knew was that the top half of his attire (visible on television) was all business, the bottom half was still the comic character of Superhost!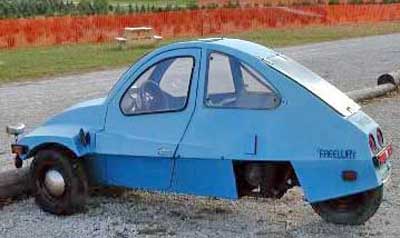 Car from one of Superhost's parade appearances


He did a lot of public appearances, handing our pictures and autographs at places like Uncle Bills. Whenever his ego got too big "because after all I was a star, or so I thought" there was always "someone who would bring me back down to earth and force me to keep things in perspective."

"I loved Cleveland. I can't say one bad thing about it. The people were wonderful". And yet he now lives in Oregon in a home he bought with his widowed sister. Unfortunately, she died after only three years in their new home.

Marty is still living there. He chose Oregon because he wanted a climate that was consistent. "It wasn't because I didn't like Cleveland - I truly did. I was used to cold winters between Detroit and Cleveland, but I wanted a place where the climate stayed the same pretty much all year around."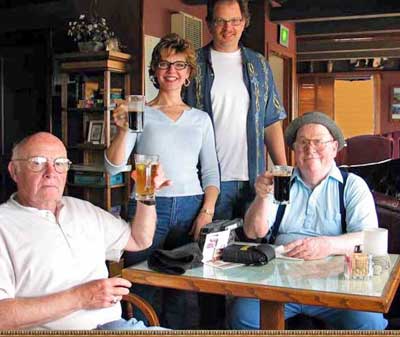 The Oregon Gang - Cousin Bob, Bob's son and daughter-in-law and Marty at an Oregon Microbrewery


Marty is the recipient of a Silver Circle Award from NATAS (National Academy of Television Arts and Sciences).

Sullivan's show ran for four hours on Saturday afternoons - noon to four. It would start with The Three Stooges and would be followed by 2 horror movies. He also ran the Dick Tracy series for a while, as well as Leon Errol shorts.

He was famous for his comic parodies, such as his take-off on The Bionic Woman, The Moronic Woman. Slim Whitman was a favorite spoof (becoming Fat Whitman) for Marty, but it may be he is most famous for his "Convoy" skits.

He "tried not to be a gross-out artist. I wouldn't do anything for just shock value and I wouldn't use foul language or do off-color comedy. I wasn't comfortable with it then and I'm not comfortable with it now."

To this day Sullivan is offended by the language he so often hears, especially when it comes from a woman. "It's the easy way of talking - go to the least common denominator"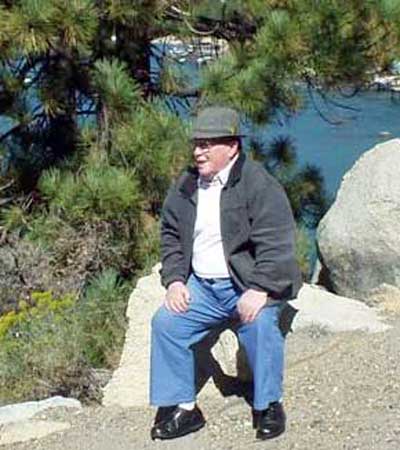 Marty Sullivan on a recent trip to Lake Tahoe


Although age has affected his eyes, he still loves to read the Science Fiction he always loved. He also has discovered political books and discovered what he calls his "gap in my knowledge about politics."

Since retirement he has also become proficient in the use of a computer and video editing his photography. Before retirement "I thought a pencil was a word processor."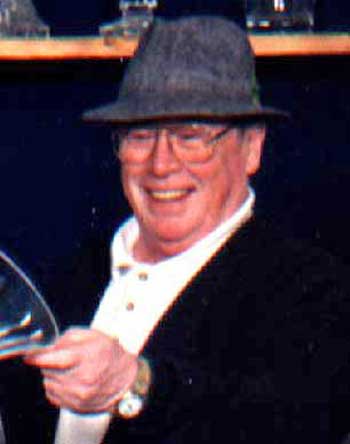 >

Marty Sullivan on a recent trip to Ireland



Marty Sullivan brought much fun and many entertaining moments to Cleveland television. His humor, wide grin and red nose will not be soon forgotten.


Although he is living in Oregon, this super host remains in the hearts of Clevelanders.




Profiled by Debbie Hanson

---
Marty has dug up some of the classic Superhost bits and put them on a DVD. He has generously (he doesn't want any of the proceeds) allowed us to make them available to his many fans.
For a DVD of classic Superhost bits such as the Superhost pilot, The Moronic Woman, Fat Whitman, Convoy and the last Superhost show send a check or money order made out to Magnum for $12 (shipping included in US) to:

SupeBits
868 Montford Rd
Cleveland Heights, OH 44121
Or click on the link to pay via credit card and PayPal (the credit card charge will say Magnum Computers)

---
Top of Page
Back to profiles of Cleveland Seniors