Bob Feller
Part 2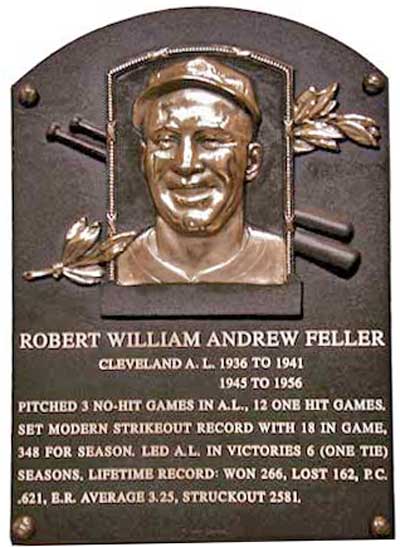 The text on the Baseball Hall of Fame Plaque for Bob Feller:
ROBERT WILLIAM ANDREW FELLER
CLEVELAND A.L. 1936 TO 1941
1945 TO 1956
PITCHED 3 NO-HIT GAMES IN A.L., 12 ONE HIT GAMES.
SET MODERN STRIKEOUT RECORD WITH 18 IN GAME, 348 FOR SEASON.
LED A.L. IN VICTORIES 6 (ONE TIE)SEASONS.
LIFETIME RECORD: WON 266, LOST 162,
P.C. 621,
E.R. AVERAGE 3.25, STRUCKOUT 2581.
---
You can find detailed statistics for the years 1936-1956 at the Baseball Hall of Fame web site.
Bob Feller was elected to the Hall of fame with 150 votes of 160 ballots cast: 93.75%
The other 10 votes must have come from sportswriters who were Yankee fans. The team-focused and competitive Feller was quoted as saying, "I would rather beat the Yankees regularly than pitch a no-hit game."
---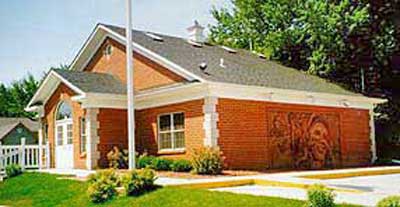 >



More career statistics and higlights are available at the official Bob Feller Museum web site
---

Bob Feller's Little Black Book of Baseball Wisdom (by Bob Feller with Burton Rocks) is loaded with "Down-to-earth advice for baseball fans of any generation."

Click on the book jacket to see more about the book, including 28 sample pages.

"In this handy volume, the sharp-tongued Hall of Famer offers philosophical, anecdotal, and candid reflections on baseball and everyday American life."

More Bob Feller books:

Bob Feller's Strikeout Story

Now Pitching Bob Feller





Top of Page

Back to Bob Feller Profile

Bob Feller at Heritage Park- Cutting the ribbon at Jacob's Field


---