Bernadette Bulanda, Executive Director of Senior Citizen Resources in Old Brooklyn, is excited and she has a reason to be.
The 24th annual Senior Olympics, an eight day event consisting of 18 individual and team events for seniors 60 years of age and older just concluded. The participants are grouped by age 60-69, 70-79, 80-89 and 90+.
You may expect the higher age groups to have the least amount of competitors, but that is not the case. 70-79 has the highest number of participants and 60-69 the lowest. About 65% of the participants are female. This year there were 296 competitors.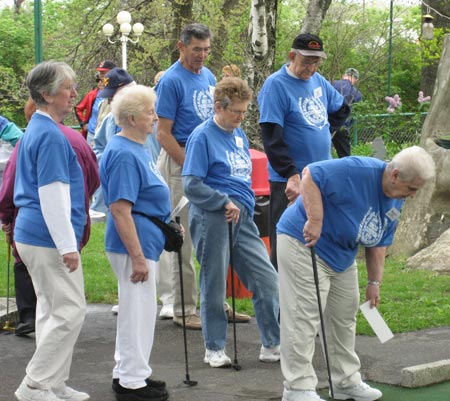 Participants came from over 30 communities, including one competitor who comes in every year from Michigan. This year's oldest is Corrine Hughes a 97 year old bowler with a 130 average.

The events are geared to seniors of all physical abilities. Certain events are strictly for the more frail senior. These events include such sports as seated volleyball and seated bowling. (Corrine Hughes competes in standard bowling, not seated).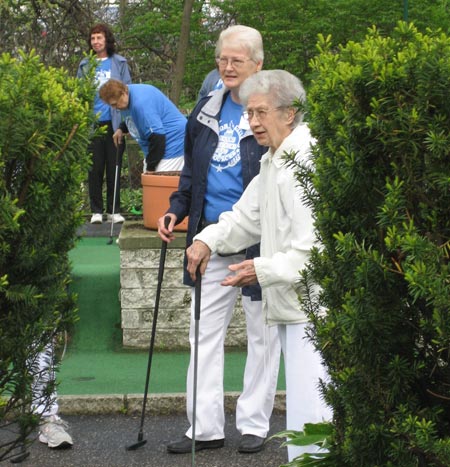 Corrine Hughes competes in Senior Olympics at age 97



Some of the standard events include golf (Seneca Country Club), Miniature golf, shuffleboard, darts, lawn darts, corn hole, bowling (Freeway Lanes) basketball throw, horseshoes, volleyball and billiards. The darting competition alone had 125 entrants and miniature golf had 115! Most events are held at Estabrook recreation Center.

Each event has medal winners (Gold, Silver, Bronze) which were presented at a Victory Luncheon at Estabrook. Guest speaker for the luncheon and awards ceremony was TV 3 Good Company's Andrea Vecchio.

Ms. Bulando has seen an amazing change in seniors throughout the years. She says they are looking for ways to be challenged and keep active. Her company, Senior Citizen Resources, is a nonprofit organization "dedicated to providing the senior citizens of Old Brooklyn, Ohio, with the services and support they need to continue independent living and better their quality of life."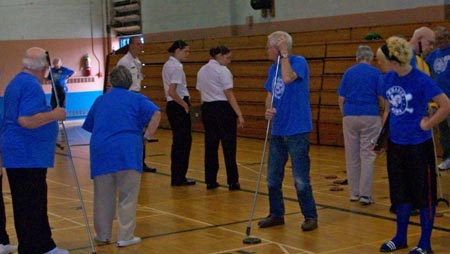 A new group of volunteers from Rhodes High School help out every year. Ms. Bulando reports that the students tell her they do not look forward to this project, thinking the people will be old and feeble.
Each year the students are delightfully surprised at the energy level of the participants and how much fun they have. But we could have told them that.
---
Top of Page
Back to Events for Cleveland Seniors
Back to Cleveland Sports