National Senior Games &
Senior Olympics
The National Senior Games Association (NSGA) was first established in 1985 with the purpose of promoting a healthy lifestyle for seniors through education, fitness and sports. It is located in Baton Rouge, Louisiana where this years games as well as the Senior Olympics were held.
The summer senior games are held every two year on odd numbered years, such as 2001. The winter games are also held every two years, but on the alternating years.
The age requirement to compete in these games is 50 or older. The athletes must also qualify at state-sanctioned games before they are allowed to participate in the Summer games. (Winter games have only the age requirement).
Local athlete, Joyce Prohaska, participated in the games and reported the following:
There were approximately 12,000 registered athletes from 49 states and the District of Columbia - all of them 50 and over! Ohio participants ranked third largest of all the states .....that's pretty good! Over 400 Ohio athletes. There were 425 racewalkers, which is Joyce's event.
Another local athlete, Gunter Sprockhoff, also participated in the Racewalking event, placing 8th in his division in the 1500 meter.
It was a sweltering 102 degree in Baton Rouge, but Joyce reported that none of the Ohio contingent had a problem with heat stroke that she knows of. Maybe they are more "conditioned athletes" both mentally and physically?
Joyce placed fourth in the 1500 Meter Racewalk, to be beaten by 36 hundredths of a second, but in the 5K Racewalk (3.1 miles) she placed third - winning a BRONZE MEDAL!!!!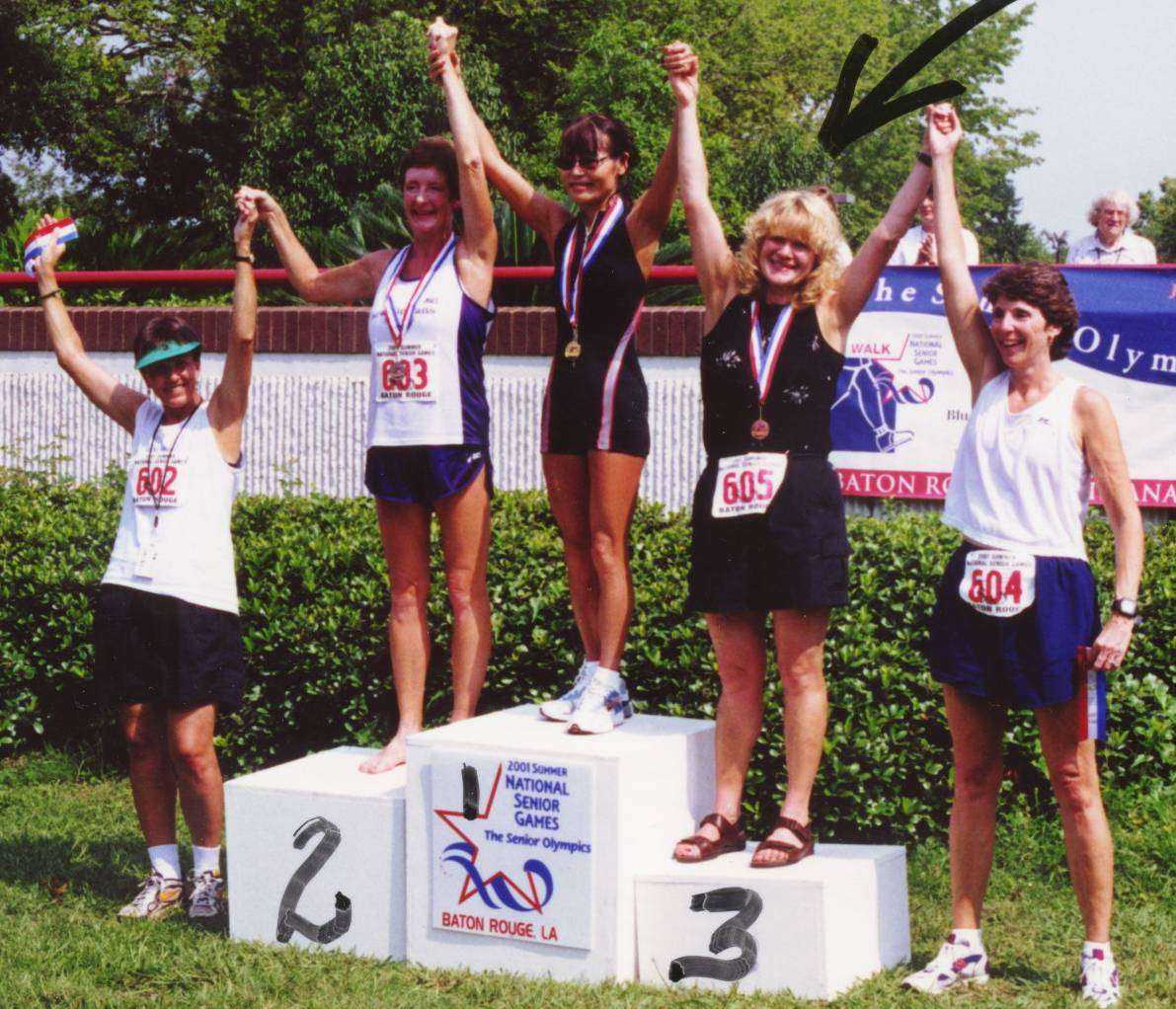 Senior Games in 2003 will be held in the Hampton Virginia area end of May thru June 9.
To read more about Joyce Prohaska, Gunter Sprockhoff and other local track and field athletes see our article on The Over The Hill Track Club
---
Top of Page
Back to Sports