Over The Hill Track Club
By Debbie Hanson



What makes someone come out early on a Saturday morning with temperatures already in the 80's and compete in an assortment of Track and Field events?

There are as many different motivating factors as there are people in the Over The Hill Track Club. For some it's their personal answer to Doctor's orders, for others it's the thrill of competition. Some just like the way it makes them feel and some have been doing it so long they know no other way.

Take Gunter Sprockhoff for example.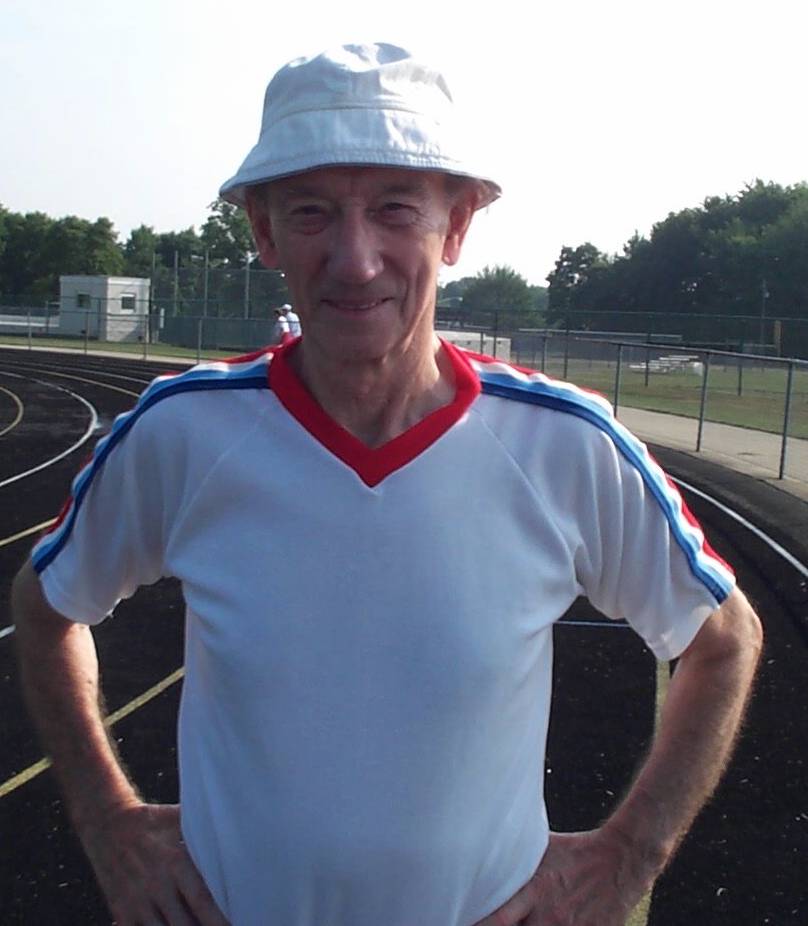 He retired in 1988 and took up race walking. Now, at age 76 he's been to the Nationals many times and plans on going to the Senior Olympics in Baton Rouge. Gunter walks to challenge himself, and keep himself in great shape.
Jeff Gerson, who at the time was not a senior, started the Over The Hill Track Club in the mid-seventies. (He's only 54 now!). The goal was to meet other people interested in track and field and organize them into a competitive club. The Club has no qualifying events or standards to join. They welcome all those interested, regardless of their skill level.
The Club provides for competition in all major events including, Javelin, Pole Vault, Discus, Weight Throw, Sprinting, 50, 100, 200, 1500, 3000 Meter Runs, Race Walking and High Jump. Jeff himself enters almost every event, but not usually on the same day.
Members come from all over, but predominantly northeastern Ohio. There are currently about seventy members, both male and female, and all ages. You don't have to be over 50 to be a member of the Club, but there certainly are a number of members who are.
(Note - More photos of the OTHTC are on the photo page.)
Race Walker, Joyce Prohaska, (50) has competed in numerous marathons, including the Disney Marathon and the Vegas Half-Marathon. She explained the exacting technique required for race-walking. One foot must always be on the ground, and your motion is actually a heel-toe-heel-toe motion. At all costs, you must avoid any appearance of running or you will be disqualified by one of the four to five judges placed around the track. She qualified this year to compete in Baton Rouge.
Joyce started about ten years ago, off and on, and then got serious about two years ago. A car accident left her with less than optimum lateral movement, which prevented her from doing the aerobics she was so used to. Race walking answers her need to stay active and competitive.
58-year-old Mary Holbert is new to race-walking. She's hoping to qualify for the 2003 Senior Olympics, but her biggest goal is "to stay healthy and have fun". She finds race-walking mentally therapeutic as well as physically exhilarating.
As a man who started distance running for exercise at age 50, John Means was temporarily disappointed to hear his Doctor say he needed to stop the strenuous pace he had set for himself. But rather than give up the exercise, at age 70 he changed the venue. Now he runs the 100, 200 and 400-meter sprints.
At 81 years old, John runs the 100 in 16.3 and plans on breaking 16 seconds. He brings along his coach and biggest fan, his wife Gail, who keeps track of his stats and beams with pride as he takes to the field. He, too, will be at the Senior Olympics in Baton Rouge. He took a Gold Medal in the National Masters Indoor Championship in Boston in March in the 50 meter; a Silver in the 200 and a silver in the 400.
Some people have been competing in these events for many years. Bob Kuebler, now 55, has been running track since he was 25. His event is the 1500-meter (just under a mile.). Others, like Chuck Wiedman (age 69) started just 4 years ago after a 46-year break! He competed in his college days at Case Western Reserve. Now, all these years later, he competes in almost every event: long jump, high jump, shot put, discus, javelin and pole vault.
Health reasons brought Everett Poe (72) to Track & Field as well. He had been a member of the Super Senior Tennis Players, playing tennis as often as he could. Unfortunately, he acquired an eye problem, which resulted in the loss of his depth perception. Not one to just quit the athletic life he was used to, Everett took up Pole Vaulting. On a good day, he can clear eight feet!
Everett himself used to work in the field of Gerontology as a Geriatric Social Worker. Now retired, he and his son own thoroughbred horses, which they race at Thistledown Race Track. He says if he's not out running himself, he'll be watching his horses run! His definition of old age is a simple one - it is always ten years older than he!
Rudy Bredenbeck participated in track in high school. Shot put, discuss, javelin - he did it all. But then he stopped and never really thought he'd take it up again until he started coaching his daughter when she was in Junior High. At age 40 he found he still loved the events and now at 70 he continues for the fun and the health benefits. He competes against himself, always striving to better himself. His philosophy is that people do not wear out, they rust out, and that's not going to happen to him.
Current Club President, Norman Thomas (51), himself quite an athlete, will also be joining the gang in Baton Rouge. His event is the 1500-meter race. He also finds personal competition to be the strongest motivator that of course and the tremendous health benefits.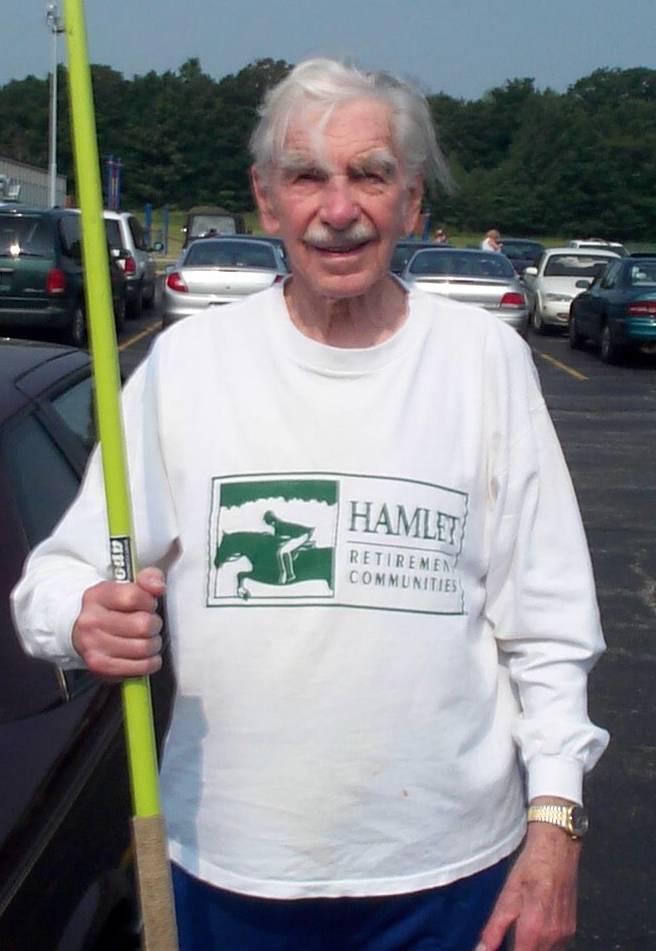 You can't talk about The Over The Hill Track Club or senior track events in general, without talking about Everett Hosack.
At 99 years old he holds world records in: Hammer throw (his favorite); discuss; shot put; weight throw 25; weight throw 35; 100 meter; 200 meter; long jump and; high jump, and he's got the record book right there with him to prove it. He is the only person to have 14 consecutive events records listed. (His is in the 25# weight throw category.)
Everett started out in sports at the University of Florida, but only lasted one year because money was tight and he needed to come back to Cleveland and go to work. He found a job at New York Central and, to Everett's joy, the President of the Company was very interested in sports. He opened up a division for employees to compete with other companies in track meets around the country. Of course, Everett joined in, and did very well. But the Depression came and the stockholders were concerned about the company spending money on sports, so the program was discontinued.
Everett did not participate in Track and Field events for 50 years! He did, however, keep himself in shape any way he could. He owned some property in Highland Heights where he planted over 300 evergreen trees. For exercise he would run laps around the trees. The in 1980 he discovered the Over The Hill Track Club. He started with the track events and soon broke out into the field events as well.
Like the rest of these athletes, Everett is never completely satisfied - there's always another second to take off your best time, or inch to add to your best distance. Some find the best competition is within themselves, some find it to be the record book. For Everett, his motivation is to break the distance record of a man from California, John Whittemore. Everett has broken his records in every event - every event but one that is. Everett hasn't yet broken Whittemore's 24'2" javelin throw. That's his inspiration. He must break the record.
To build up his muscles, he plans on increasing the number of daily pushups, extra time on his daily rowing machine regiment and a few more laps around the track first thing every morning.
"I don't fault seniors who stop exercising. I don't fault anybody for anything. The secret is desire, if you don't want it, you won't do it. I can't imagine not having the thrill of fresh air and oxygen in my lungs as I run the track every morning, but if that's not what people like, that's up to them." He continues, "I don't do this to live longer. But if I'm going to live longer, I want to feel good."
You can see all of these fine athletes, and many more, at Independence High School on August 4, 2001 where they will hold a Track and Field Competition. For more information on the competition or on the Over The Hill Track Club, long onto their website at www.othtc.org or write to them at 7547 Basswood Court, Apt. C, North Royalton, Ohio, 44133.
(Remember - More photos of the OTHTC are on the photo page.)
---
Top of Page
Back to Sports