Cleveland Music
---

Cleveland Rocks. But it also swings, waltzes, polkas and lots more.
Cleveland Style Polka
Joe Valencic, Joe Novak and Bob Kravos explain the different kinds of accordions and styles of polka music. They favor the Cleveland Style or Slovenian style of Polka. Why? In the words of the great Frankie Yankovic, 'Just Because.'



More Polka from the Polka Hall of Fame in Euclid


---
Raisin' Canes Vaudeville Troupe
From the Parma Seniors Center

Chopin performed in the Polish Cultural Garden
Dr. David Dubal and prodigy Dongning Yang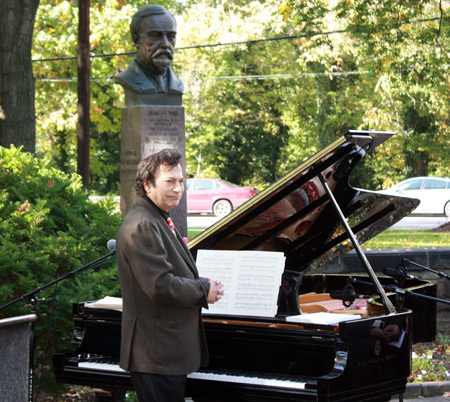 Dr. David Dubal, Professor of Performance and Piano at Julliard



Franz Liszt performed in the Hungarian Cultural Garden

Opera in the Cleveland Italian Cultural Garden
Rossini, Puccini, Verdi, Mascagni, Donizetti and more
Photos and videos of the performances


---
Dan Doty of Opera per Tutti (Opera for All)sings Puccini's Nessun Dorma at the Cleveland Italian Cultural Garden
---
Bruce Springsteen Exhibit Preview Party
Rock and Roll Hall of Fame + Museum - 03-31-09

America's Polka King
The real story of Frankie Yankovic and his music

Frankie Yankovic Square
Photos from the Dedication Ceremony

Cleveland Rock & Roll Memories
By Carlo Wolff

Polka Hall of Fame
Cleveland Style Polka - Frankie Yankovic and more



---
Music Reviews

Tony Bennett's Christmas CD
With the Count Basie Big Band

Harry Connick Jr.'s CD
What A Night - A Christmas Album

Neil Diamond's CD
Home Before Dark

Steve Winwood's Nine Lives
New album from the Traffic, Spencer Davis, Blind Faith vocalist


---
Top of Page
Back to Arts & Leisure for Cleveland Seniors



Sign up for our free eNewsletter sent about once every 2 months with special offers, discounts, contests and more specifically for Cleveland area Seniors and Baby Boomers.






Follow us on Twitter