Frankie Yankovic Square Dedication
August 21, 2007 in Cleveland Ohio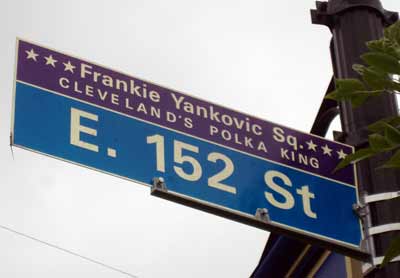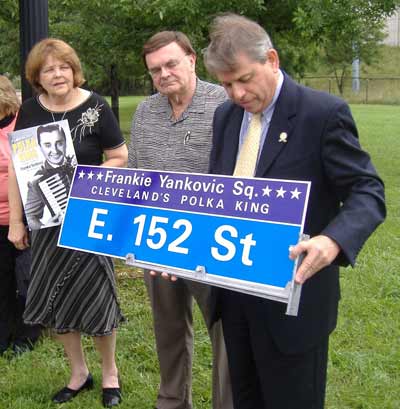 Cecilia Dolgan, president of the National Cleveland-Style Polka Hall of Fame with radio host and Hall of Fame Chairman Tony Petkovsek and Cleveland City Councilman Michael Polensek who initiated the process of naming Frank Yankovic Square.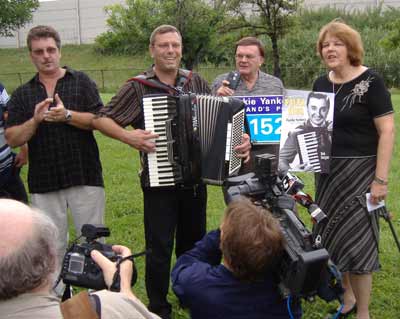 Bob Yankovic (Frank's son), accordionist Bob Kravos (Frank's grand-nephew), radio host Tony Petkovsek and Cecilia Dolgan lead a singalong of "Just Because" at the dedication.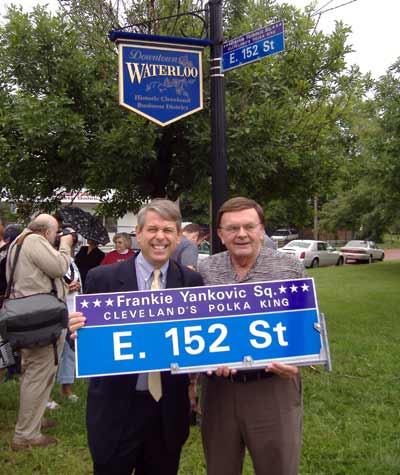 Cleveland councilman Mike Polensek and polka radio host Tony Petkovsek with the new Frankie Yankovic Square signs.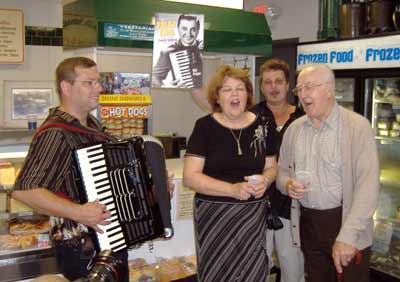 Accordionist Bob Kravos, Cecilia Dolgan, Bob Yankovic and some-time Yankovic vocalist Paul Yanchar lead a singalong at the reception at Raddell's Sausage Shop on Yankovic Square.
By Joe Valencic
National Cleveland-Style Polka Hall of Fame and Museum


---
Top of Page
America's Polka King Book by Bob Dolgan
Slovenians in Cleveland
Back to Music for Cleveland Seniors



Sign up for our free eNewsletter sent about once every 2 months with special offers, discounts, contests and more specifically for Cleveland area Seniors and Baby Boomers.






Follow us on Twitter