John Wayne - and Westerns - endure
Every culture seems to possess its own grand mythical legends, and ours here in America is the romantic image of the American West as illustrated in Western cinema. It's a genre that perhaps peaked in the 1940s and '50s, but continues forth today more selectively as a living homage to a time when real men patrolled the prairie on horseback.
And of course, no one embodied the charismatic zeal of cowboys and six-shooters like the great John Wayne. While The Duke is sadly gone, his spirit triumphantly lives on in the Hallmark Channel Original Movie "Angel and the Badman" which premieres Sunday, July 5 (9/8c) and stars Lou Diamond Phillips, Luke Perry and Wayne's own grandson, Brendan Wayne.
It's a remake of the 1947 classic of the same name that featured Wayne along with Gail Russell, Harry Carey and Bruce Cabot. The following item is available for all press uses, with photos, from Crown Features Syndicate™.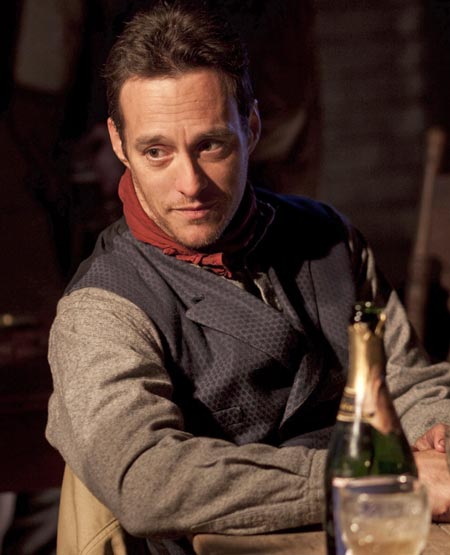 John Wayne's grandson Brendan Wayne



Like Mom, apple pie and the flag, the film/television/literary genre known as the Western has grown to become practically part of our nation's collective DNA. While fictional, they tell stories set primarily in the latter half of the 19th century that depict morality, bravery, honor and sacrifice during a particularly primitive time.

Men rode horses tall in the saddle, guns blazing, cooking their meals by campfire and living their lives by specific codes of good and evil. You were either a hero or a villain; there was no time for neutrality or nuance out on the prairie.

Of course, the undisputed king of the Western was a fellow by the name of John Wayne. You might be familiar with him. Starred in more than 150 films over a career that stretched for a half-century, from the 1920s to the '70s, centering such classics as "Stagecoach" (1939), "Red River" (1948) and "Sands of Iwo Jima" (1949) along with countless others. He died of lung and stomach cancer nearly 30 years ago to the day – in July 1979 – but his legacy lives on with an institute bearing his name still searching for a cure for the disease that claimed his life.

But while he was here, The Duke (as Wayne was long known) cast a towering shadow over the Western as its greatest personality, embodying the spirit of the era. And while screens big and small no longer are flooded with horse operas (so to speak), the Western continues to leave its mark on entertainment culture – primarily on TV.

But even by Western standards, what the Hallmark Channel is doing on July 5 qualifies as a true rarity, daring to remake one of the Duke's iconic pieces of work: The 1947 saga "Angel and the Badman." It comes back to life in a Hallmark Channel Original Movie airing Sunday, July 5 (9/8c). And not only does this "Angel" star real-life Western aficionados Lou Diamond Phillips and Luke Perry, it also features in the cast Wayne's grandson, Brendan Wayne, in a key role.

"People always used to ask me, especially when I was younger, if it was hard being John Wayne's grandson," Wayne, now 37, says. "I was always like, 'Are you kidding me?' It's been nothing but a blessing, truly. I mean, here I am in this movie with guys like Lou and Luke – and they came to me! How lucky an SOB am I? When the producers came to me and asked if I was interested in being in a remake of something my granddaddy did, I'm like, 'Is this a trick question? I just hope people who watch understand I want to honor this man not only in a movie, but in my life.'"

Wayne co-stars in "Angel and the Badman" as Randy, the former partner of a notorious gunman named Quirt Evans (portrayed by John Wayne in the original, Phillips in the new version) who – after being wounded and on the run from his deadly foe, Loredo (Perry) – takes refuge with a family of peace-loving Quakers. It inspires Quirt to change his violent ways and turn the other cheek, playing into Wayne's long-held ideal of playing characters who eschewed violence except when absolutely necessary.

Phillips, whose resume' also includes such Westerns as "Young Guns" (1988), "Young Guns II" (1990) and Hallmark Channel's "The Trail to Hope Rose" (2004), wasn't intimidated by the idea of filling the shoes once worn by the Western's perpetual king.

"This stuff just doesn't phase me," Phillips, 47, insists. "I mean, I'm the guy who followed Yul Brynner in "The King and I" on Broadway and got nominated for a Tony Award. Besides, 'Angel' was actually one of Wayne's more obscure films. If you look at the original, you'll see that it's OK for what it is but absolutely could use a reinterpretation. We made this one grittier, more thoughtful and sexier. That's what made it worth redoing. It isn't like we were trying to remake 'True Grit,' which would have been a mistake."

By contrast, it was the daunting idea of trying to better a John Wayne film that gave Perry pause. The 43-year-old former regular on the original "Beverly Hills, 90210" in the 1990s and star of the Hallmark Channel Western "A Gunfighter's Pledge" that aired on July 5, 2008 (a year to the day before "Angel" premieres) is such an avowed fan of Wayne's that he was concerned with disrespecting Wayne's memory.

"I don't step lightly toward remaking anything Wayne was involved with," he admits. "What finally steered me toward doing it was, well, it's going to get done, and maybe it's good if I do it since my heart's in the right place and no one will take more seriously the responsibility of maintaining the integrity of the original movie. So I flipped a coin, and it came up, 'Go!'."

If he had his way, Perry insists, he would act in nothing but Westerns for the rest of his career. That's how big a buff the man is.

"Any story that you want to tell in the human realm can be told through the Western," Perry believes. "It's not limited by language, or the caliber of story, or its nature. As an actor, it's the best part of filmmaking. It isn't all about the makeup and hair. For someone like me, who spent years in series TV, you're way out there on the horse maybe a quarter-mile away, and they can't easily call you back for a touch-up."

The best part of it for Phillips is the way making a Western transports him to a whole different world, as it did on "Angel and the Badman" during its shoot up in Vancouver, B.C.

"When you're doing one of these, you really know you're making a movie," he says. "It's always a blast. We shot this in late November and December in Canada. We hit snow, rain and freezing weird stuff. Our director had to keep re-shooting stuff to explain the change in weather. But it makes you feel like you're part of the land, part of history, part of something bigger than life. Plus, you get to shoot guns, fight in bars, ride horses. It's a kick."

At the same time, Phillips is a firm believer that "not everybody is cut out for the Western. Not everybody fits well in the saddle. Some actors look less like they're in the Old West and more like they're going to a Halloween party. Now, Brendan Wayne, he's cut out for it. He's a real actor. It was great to have him there with us, carrying to torch for his grandpa and giving us legitimacy with the Wayne family."

That's certainly music to Brendan's ears. While he's been a working actor since the beginning of the decade, it's the first time he's been privileged to be involved in a project where he's able to follow a trail blazed directly by his gramps. That obviously made it extra special.

"The thing with my grandfather was, he really walked the walk that you saw in his characters onscreen," Wayne maintains. "He lived his patriotism and believed in doing the right thing in the toughest moments, and I think people sensed that in how they embraced him. He wasn't just an actor but an example, and somebody who impacted people's lives in a profoundly positive way."

Wayne still sounds giddy when describing his time on the "Angel and the Badman" set. He fulfilled a dream in working with stunt man and horse wrangler Danny Virtue and to ride one of the equines on film. "Danny's a guy who works with real cowboys," he says, "and here he is working with me. It was awesome. He was doubling me when I got thrown out of a bar. It doesn't get any better than that."

While there is some genuine facial resemblance between Brendan and the young version of his legendary grandpa, it isn't as if anyone is mixing the two up. "He was 6'5 and 260," he notes, "while I'm 6'0 and 170. I've gone into auditions where they think they're getting John Wayne and watched the casting director's eyes drop about five inches. It's like, 'Oh, he's down there'."

Naturally, Wayne is a major fan of Westerns. It isn't like he had any choice; it's clearly in his blood. But the first of those movies he recalls were the so-called Spaghetti Westerns with Clint Eastwood like "The Outlaw Josie Wales."

"There are mythologies in every empire," he believes. "The Romans had them. The Greeks had them. I think that ours here in America lie in the pioneering, tough, hardscrabble spirit of men succeeding in spite of long odds."

Those odds would finally catch up to John Wayne with his death from cancer at age 72, after a lifetime of heavy smoking and drinking. But in his wake, the Duke has been able to plant a seed of hope with the founding of the John Wayne Cancer Institute at St. John's Hospital in Santa Monica, CA, a research and education center dedicated to finding the cure.

"And they will find it," Wayne stresses with assurance. "When they do, my grandfather's death will have helped to make that happen."
---
---
Top of Page
Back to Television