What brings baseball Hall of Famer Henry "Hank" Aaron along with former Cleveland Browns, Indians and Cavaliers to Solon, Ohio on a Friday night? Only one thing: The Yoder Brothers Memorial Scholarship Foundation dinner hosted by Mr. and Mrs. Larry Dolan and the Cleveland Indians.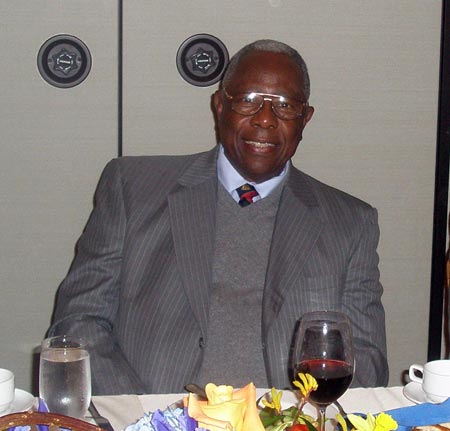 Hank Aaron
The Brothers Foundation is a loving tribute to two young men - brothers - both of whom died in tragic, separate accidents. Joshua Allen Yoder was just a few weeks short of his 18th birthday when he died in 1996.
Seven years later, in 2003, his brother Tyler Gabriel Yoder died, a few short months after turning 18. Both were kind, loving young men who had so much to offer the world they left behind. Through the creation of this Foundation, their memory will be preserved forever.
Jack J. Menosky is the boys' grandfather and the creator of the foundation. The concept was the result of the outpouring of love and goodwill after the loss of his first grandson, Joshua.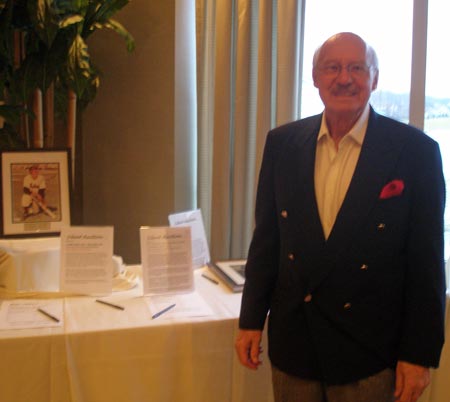 Jack Menosky



The Scholarships would be the family's way of saying thank you to the community, while at the same time offering others the opportunity to continue in their education and fulfill the dreams Joshua and Tyler were never able to realize.

As described on the Foundation's website, "The Yoder Brothers Foundation offers college scholarships to senior student-athletes: seven four-year renewable scholarship grants and one trade/technical school grant are given annually to three Geauga Counties high schools - Berkshire, Cardinal and Newbury. All of these schools are in rural and farming communities; the young men and women have a great need of financial assistance to realize their dreams of a college education.

Today, the Yoder Brothers Foundation's scholarship program is one of the largest scholarship providers in Northeast Ohio, distributing more than $500,000 since the scholarship program began in 1997. Presently, we hold more than $700,000 in assets in an investment account with a goal of $1,000,000, which would allow the scholarship program to be self-sustaining…. There is no administrative expense for the Yoder Brothers Foundation.

Through many kind and generous people, all work is done on a volunteer basis and 100% of all contributions go directly into the scholarship fund."

Friday night's dinner was the 6th annual event. It is a testament to the importance of this Foundation that someone of the caliber of Henry "Hank" Aaron was there to "talk baseball" with Tom Hamilton and offer many autographed items for auction. The numerous other celebrity athletes in attendance was impressive as well.

Listen to Tom Hamilton talk about the Cleveland athlete. (38 seconds)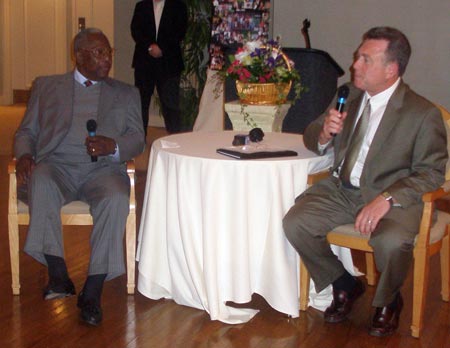 Hank Aaron and Tom Hamilton
Aaron and Hamilton sat down for a nice conversation about The Game. Aaron said he would talk about anything "but steroids."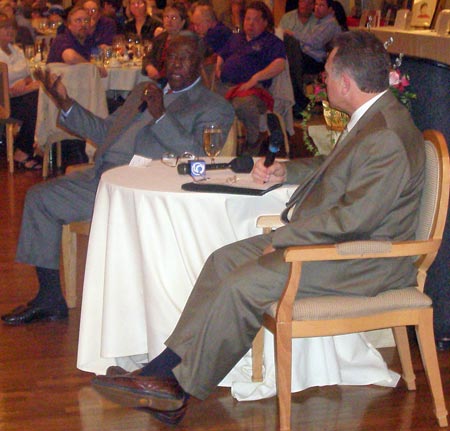 Hammering Hank reminisced about the many times he would get on a plane in Atlanta and sneak into town to sit in the Dawg Pound and watch the Browns play. "I woofed right along with the rest of 'em." When people recognized him, he always denied being Hank Aaron, he just wanted to watch his favorite team play. He's still a fan to this day.
Listen to Hank Aaron talk about going to the Browns games (44 seconds)
He was a teammate of Joe Torre's and says he never thought he would be a manager. Although he would love to be playing today "making the money Manny Ramirez makes" he is proud of playing at the time he did; a time MLB only had 8 teams and he played with and against players like Willie Mays and Roberto Clemente.
Listen to Hank Aaron talk about playing with Willy Mays and Roberto Clemente and how Bob Gibson once beaned him in the on-deck circle! (1:46)
He says pitchers like Bob Gibson would "hit you in the head for no reason" but says it was a different day back then. He remembers 6'5" Stan Williams pitching to him. With a 3-0 count he was surprised when Williams threw hard and hit him "right in the neck". He says he told Gil Hodges to "go out and pitch his head off" because "that's the way the game was played."
For Aaron one of the hardest pitchers for him to hit was Curt Simmons from the St. Louis Cardinals. Hank thinks Willie Mays was probably the best player of his day.
He also spoke about his time chasing Babe Ruth's record. He says it should have been the happiest time in his life, but it wasn't. People were not happy about the Babe's record being broken.
He had threats of kidnapping and harm to his daughter; he couldn't stay in the same hotel as his teammates; he even had to be escorted off the field and out of the ballpark for his own safety.
Break the record he did (with 755 home runs) and many still consider him the true Home Run King refusing to accept Giants hitter Barry Bonds record-breaking home runs because of steroid allegations.
Hank won't respond to this but says that his stats and his accomplishments are in the record book and they will never change. Aaron has no asterisks after his record.
Hank Aaron is happy that baseball gave him the opportunities it did, even after he finished playing. "I met some of the most powerful people in the world… My wife and I have travelled all over the world".
Most importantly he feels that young people listen to him and that he is in a unique position of potentially influencing them. He has started his own foundations and has worked for years with The Boys and Girls Clubs of America. He offers motivation and insight to people around the country in his guest appearances and speeches.
Hank Aaron is a man of substance and honor. It is appropriate that he be the speaker at this event in memory of these young men and in support of future generations.
More information about the Yoder Brothers Foundation
---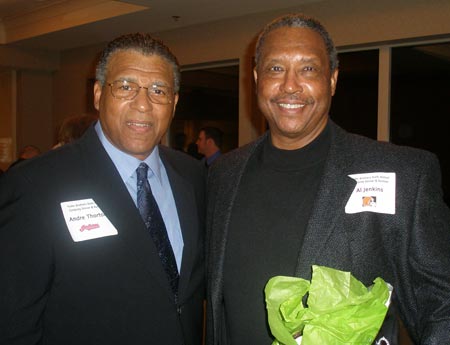 Cleveland Indian Andre Thornton and Cleveland Brown (and Miami Dolphin) Al Jenkins


---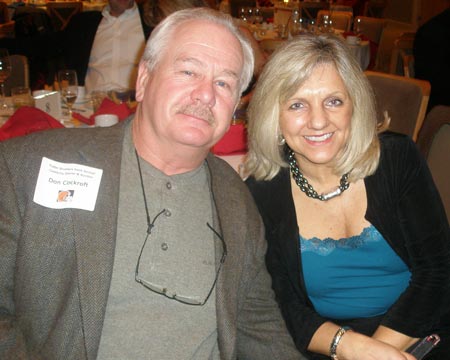 Cleveland Brown Don Cockroft and wife Barb


---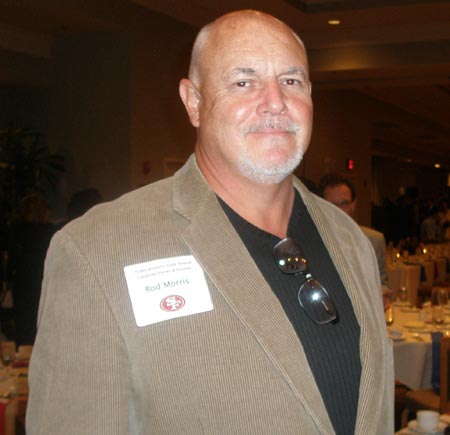 Rod Morris of the San Francisco 49ers


---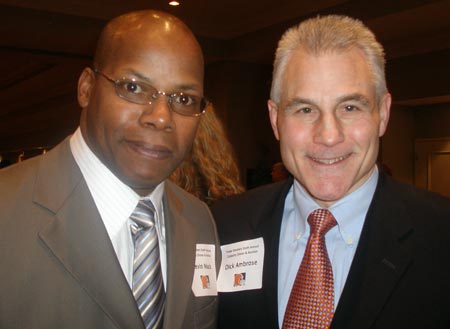 Cleveland Browns Kevin Mack and Dick Ambrose


---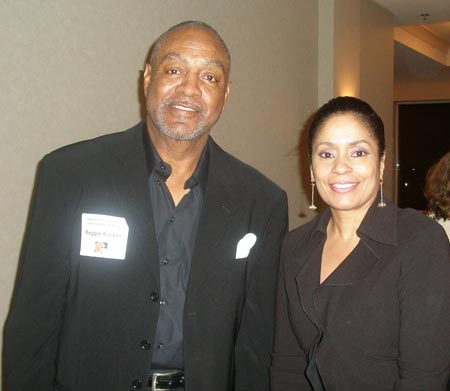 Cleveland Brown Reggie Rucker and wife Darlene


---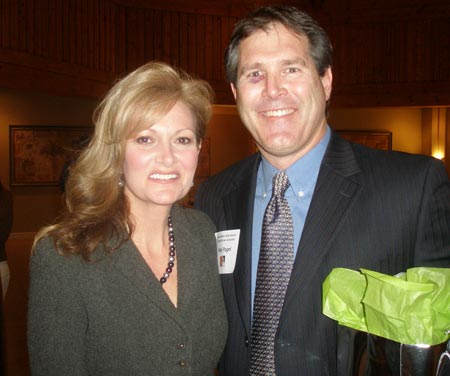 Cleveland Brown Mike Pagel and wife Lisa (Mike's black eye is courtesy of an elbow thrown in one of his basketball leagues)


---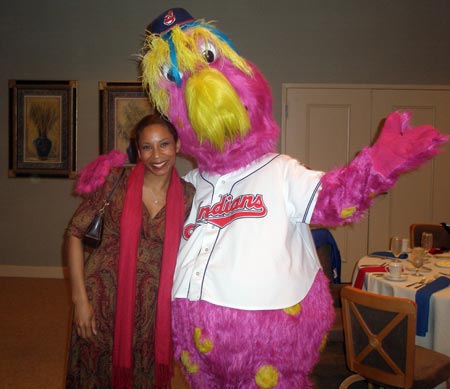 Danielle Cherry of the Cleveland Indians and Slider


---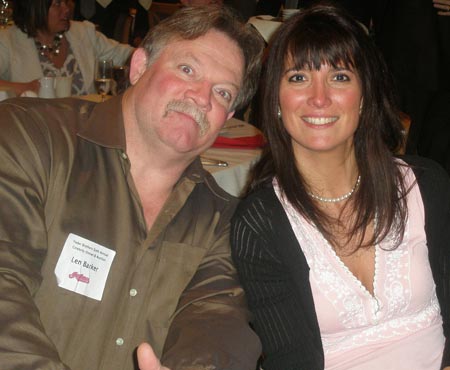 Cleveland Indian Len 'Perfect Game' Barker with wife Eva


---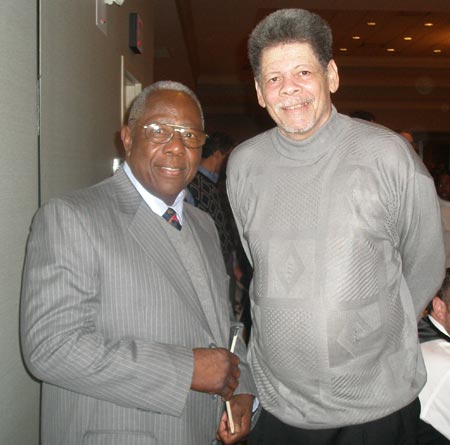 Hank Aaron and Cleveland Cav Bobby 'Bingo' Smith


---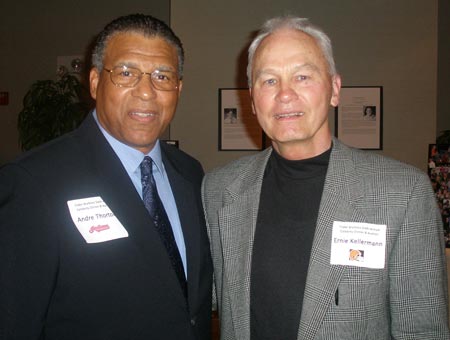 Cleveland Indian Andre Thornton and
Cleveland Browns Ernie Kellerman


---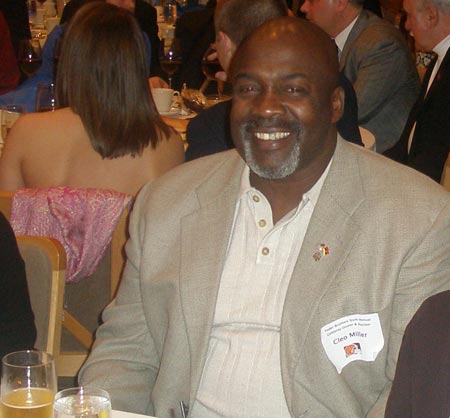 Cleveland Browns Cleo Miller


---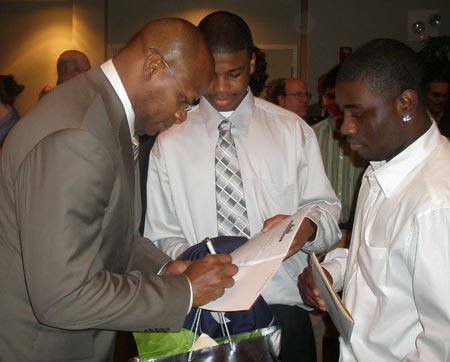 Cleveland Browns Kevin Mack signing autographs


---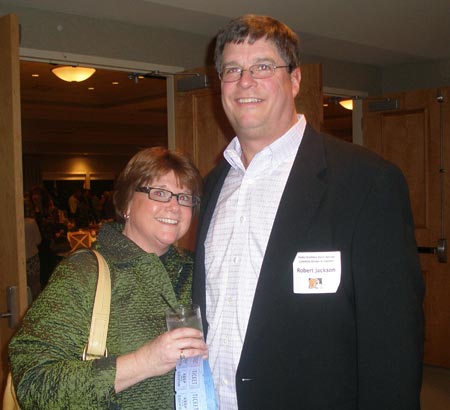 Cleveland Browns Robert Jackson with wife Linda


---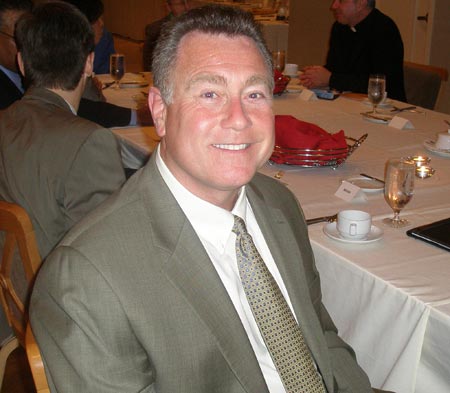 Cleveland Indians broadcaster Tom Hamilton


---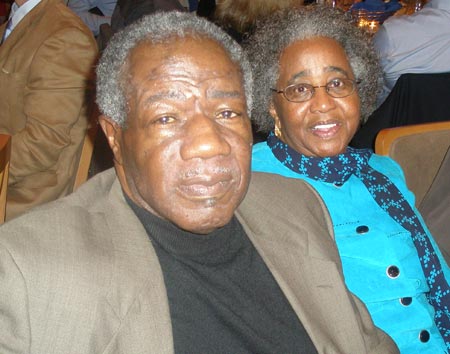 Wally and Jamie Caleb


---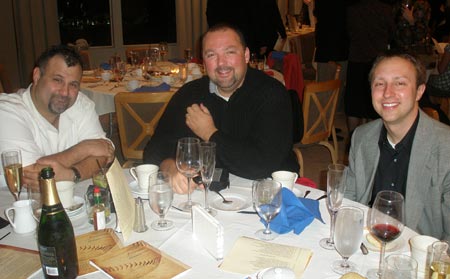 Massimo, Alan Fee and Nate Janoso from
the Cleveland Indians office


---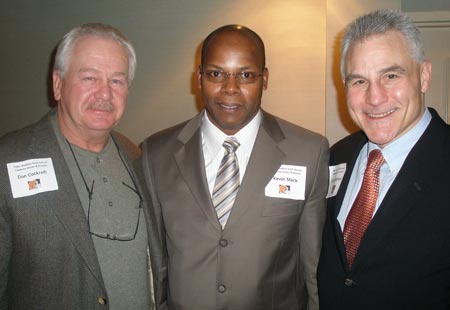 Cleveland Browns Don Cockroft, Kevin Mack and Dick Ambrose


---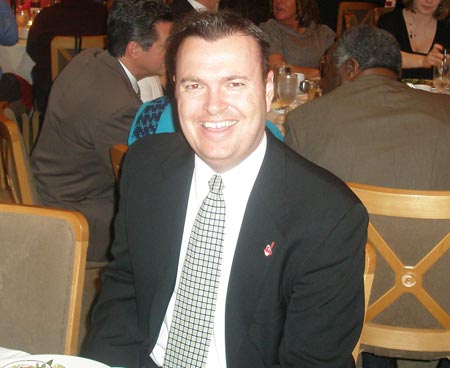 Curtis Danburg from the Cleveland Indians office


---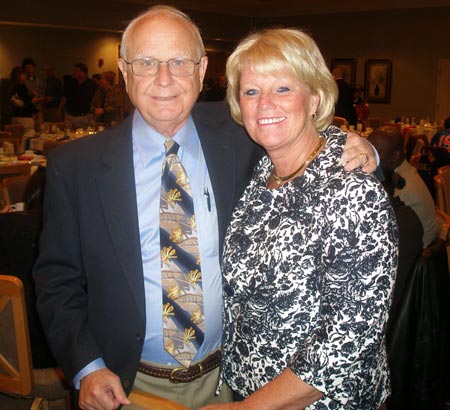 David and Kathy Pollen came up from Florida for the event


---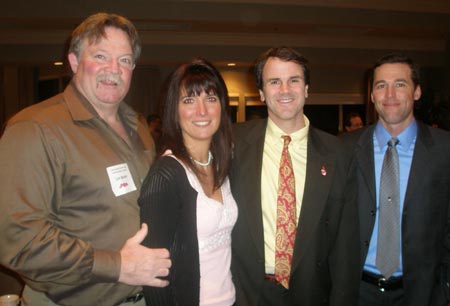 Len Barker, Eva Barker, Sheff Webb and Ross Phillips


---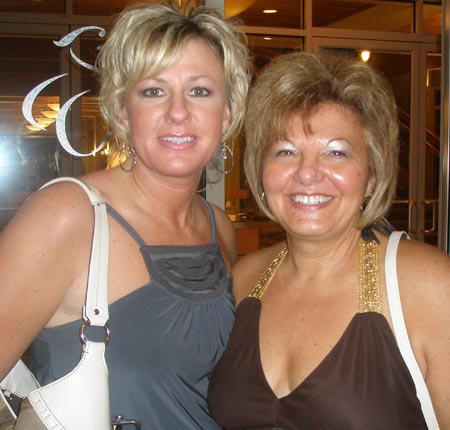 On right, Cara Yoder (mother of Joshua and Tyler)
and her sister Ann


---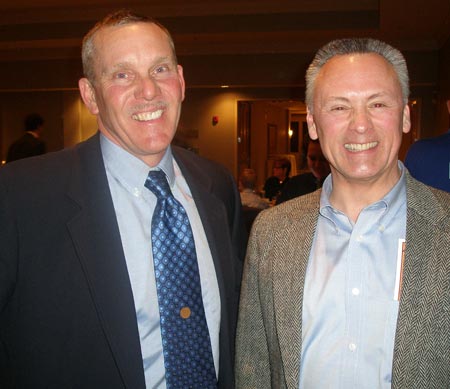 Bob Ford and Ray Puzder


---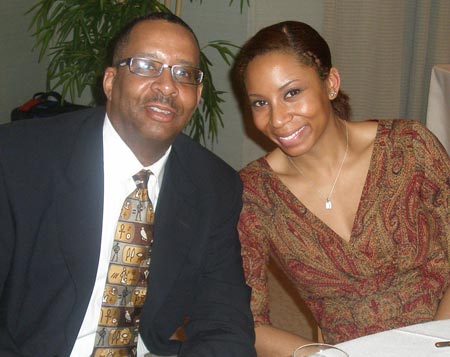 Daniel Cherry and daughter Danielle Cherry


---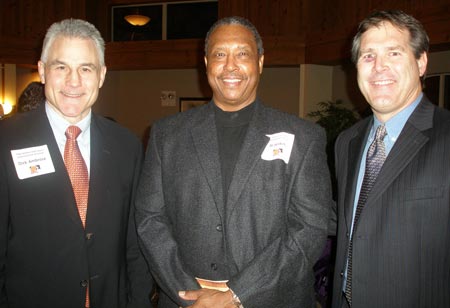 Dick Ambrose, Al Jenkins and Mile Pagel


---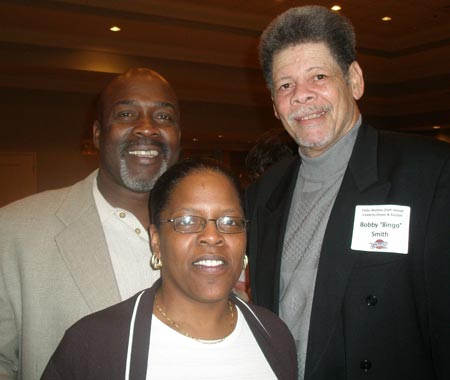 Cleo and Stacy Miller with Bingo Smith


---
More information about the Yoder Brothers Foundation
Top of Page
Back to Events for Cleveland Seniors
Back to Cleveland Sports