Scouts retire US Flags on Flag Day 2009
The Glacier Ridge District of the Greater Cleveland Council, Boy Scouts of America, conducted the 18th annual flag retirement ceremony at Lake View Cemetery on Flag Day, June 14, 2009.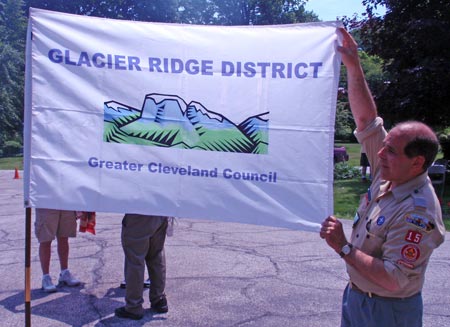 Scouts and adult leaders from Cleveland, Cleveland Heights, University Heights, South Euclid, Mayfield, Euclid, Richmond Heights and other communities comprising the Glacier Ridge District participated.
A section of the Boy Scout handbook discusses the rules of the US Flag Code for properly disposing of the American Flag. The code states that "The flag represents a living country, and is itself considered a living thing."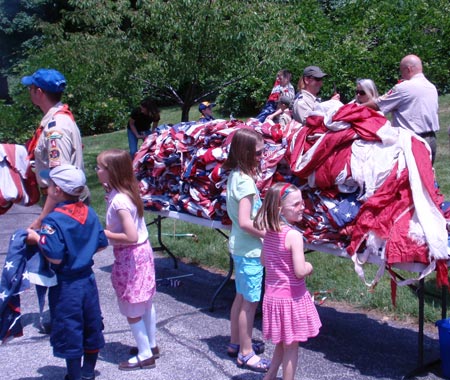 Table of US flags collected to be respectfully retired on Flag Day



A large pile of flags was collected from malls, schools, businesses and homes. Max Doss began the ceremony by saluting the Scouts and announcing "begin the Retirement Ceremony." Doss supervised the respectful retirement of the flags.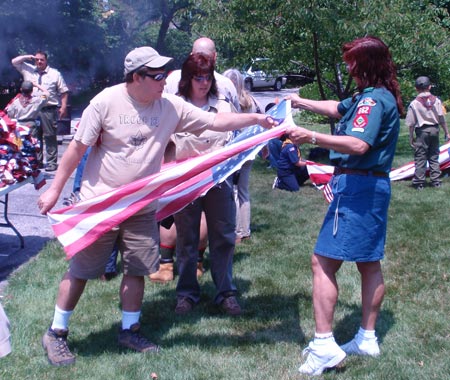 The Scouts cut the flag into two pieces along the edge of the blue field of stars. Then the blue filed was cut put from the upper stripes. At that point, it is no longer officially a flag.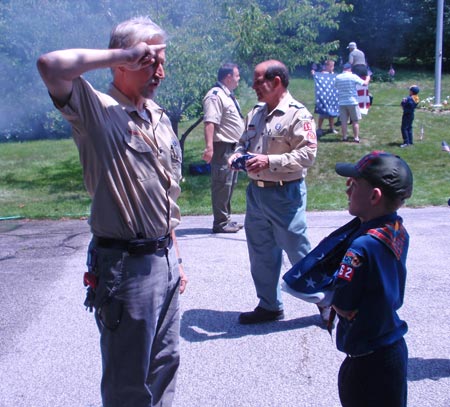 The pieces were folded and delivered to Max Doss or one of the other adults with a salute and tribute such as "I request permission to retire this flag." The salute was returned and the leader said "Permission granted" before placing the cloth in one of the fires.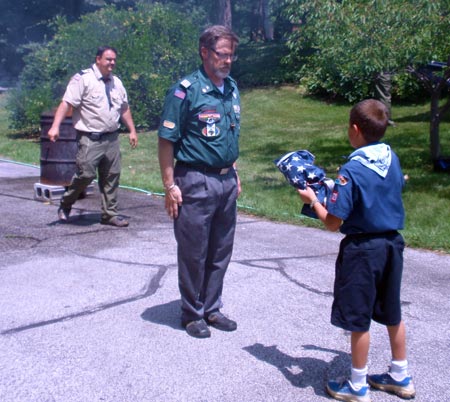 The following day the cooled ashes will be placed in a grave vault at Lake View Cemetery.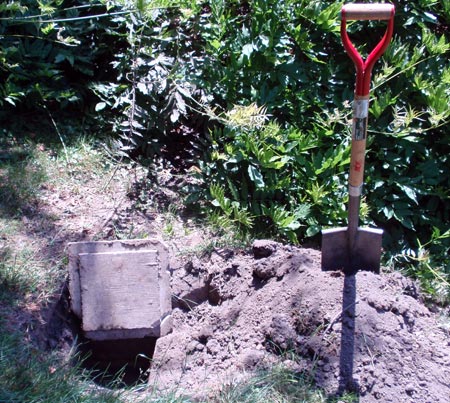 Vault at Lake View Cemetery in Cleveland Ohio where the flag ashes are placed



The ceremony is free and open to the public and a wonderful way to spend part of Flag Day each year. It is heartening to see the respect that the Scouts show for the flag.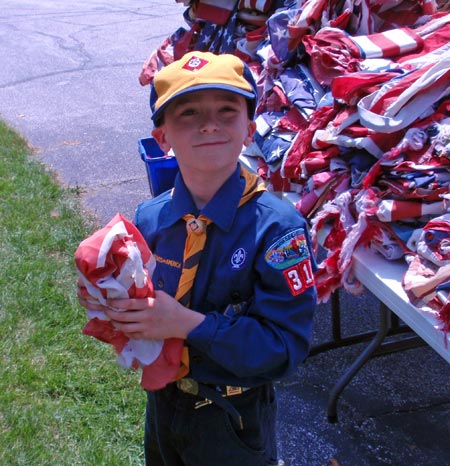 If your flag is becoming frayed and needs to be replaced, get the old flag to a Scout or save it and drop it off at next year's ceremony.
---


Watch this short video to see more of the 2009 Flag Day retirement ceremony by the Glacier Ridge Scouts
at Lake View Cemetery
---

More photos from Flag Day 2009


---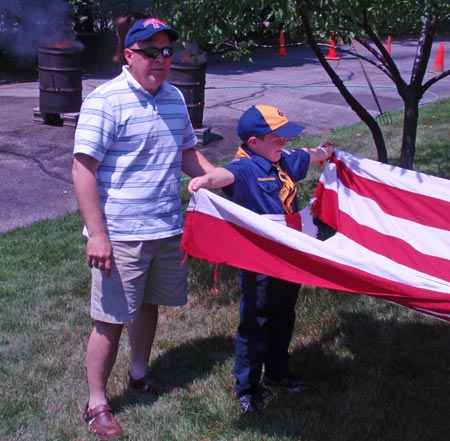 ---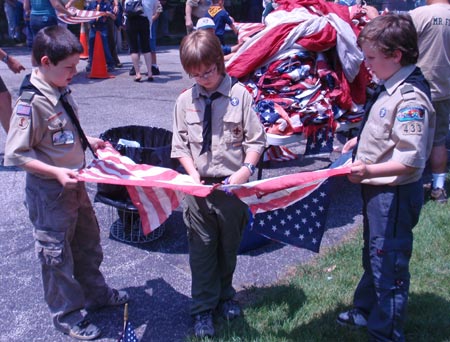 ---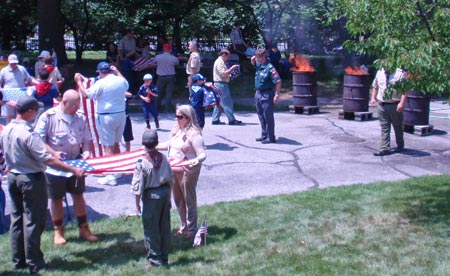 ---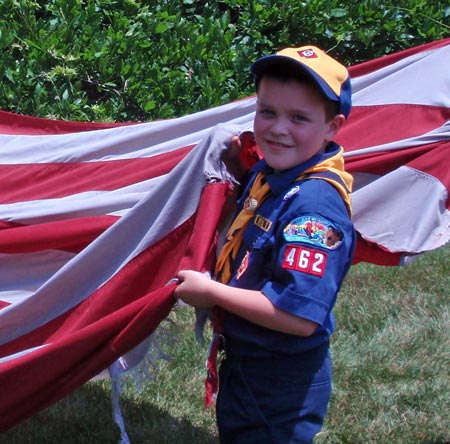 ---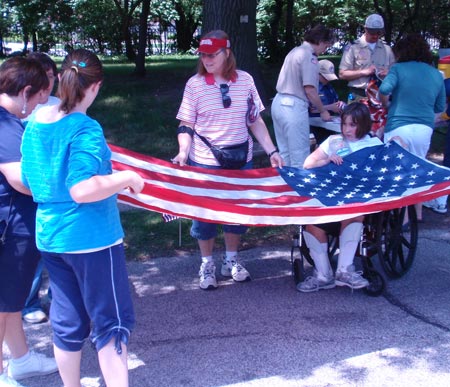 ---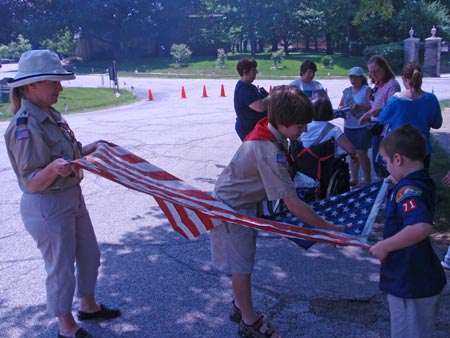 ---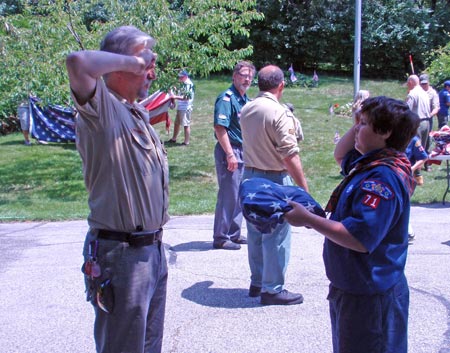 ---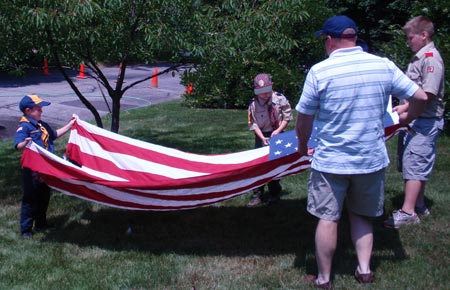 ---
---
Top of Page
Back to Memories for Cleveland Seniors