D-Day - June 6, 1944
65th Anniversary of Normandy Landing
Saturday June 6, 2009 is the 65th anniversary of the Allied landings at Normandy.
On June 6, 1944, 160,000 Allied troops landed along a 50-mile stretch of heavily-fortified French coastline to fight Nazi Germany on the beaches of Normandy, France.
General Dwight D. Eisenhower called the operation a crusade in which "we will accept nothing less than full victory." More than 5,000 Ships and 13,000 aircraft supported the D-Day invasion, and by day's end on June 6, the Allies gained a foot- hold in Normandy.
The D-Day cost was high - more than 9,000 Allied Soldiers were killed or wounded -- but more than 100,000 Soldiers began the march across Europe to defeat Hitler.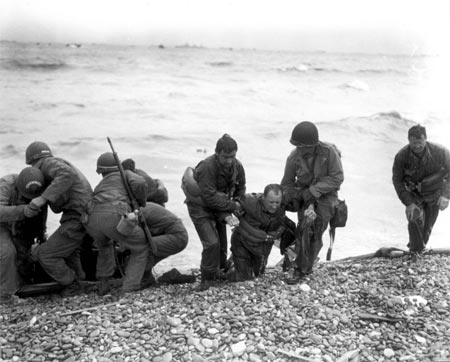 Members of an American landing party lend helping hands to others whose landing craft was sunk by enemy action off the coast of France. These survivors reached Omaha Beach by using a life raft.



General Dwight D. Eisenhower sent the following message just prior to the invasion.

Soldiers, Sailors and Airmen of the Allied Expeditionary Force! You are about to embark upon a great crusade, toward which we have striven these many months. The eyes of the world are upon you. The hopes and prayers of liberty loving people everywhere march with you. In company with our brave Allies and brothers in arms on other fronts, you will bring about the destruction of the German war machine, the elimination of Nazi tyranny over the oppressed peoples of Europe, and security for ourselves in a free world.

Your task will not be an easy one. Your enemy is well trained, well equipped and battle hardened, he will fight savagely.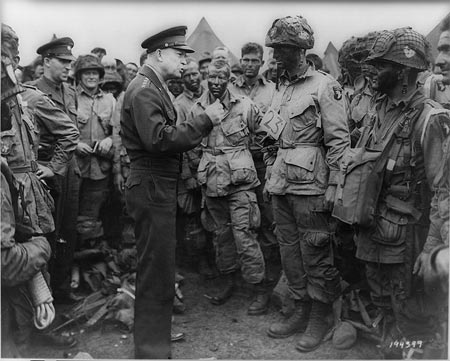 Gen. Dwight D. Eisenhower gives the order of the Day. 'Full victory-nothing else' to paratroopers in England, just before they board their airplanes to participate in the first assault in the invasion of the continent of Europe. Eisenhower is meeting with US Co. E, 502nd Parachute Infantry Regiment (Strike), photo taken at Greenham Common Airfield in England about 8:30 p.m. on June 5, 1944.



But this is the year 1944! Much has happened since the Nazi triumphs of 1940-41. The United Nations have inflicted upon the Germans great defeats, in open battle, man to man. Our air offensive has seriously reduced their strength in the air and their capacity to wage war on the ground. Our home fronts have given us an overwhelming superiority in weapons and munitions of war, and placed at our disposal great reserves of trained fighting men. The tide has turned! The free men of the world are marching together to victory!

I have full confidence in your courage, devotion to duty and skill in battle. We will accept nothing less than full victory!

Good Luck! And let us all beseech the blessings of Almighty God upon this great and noble undertaking.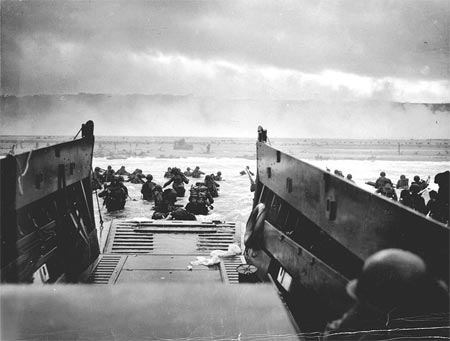 A LCVP (Landing Craft, Vehicle, Personnel) from the U.S. Coast Guard-manned USS Samuel Chase disembarks troops of the U.S. Army's First Division on the morning of June 6, 1944 (D-Day) at Omaha Beach



We must make sure that current and future generations always remember the brave and selfless actions taken by these heroes.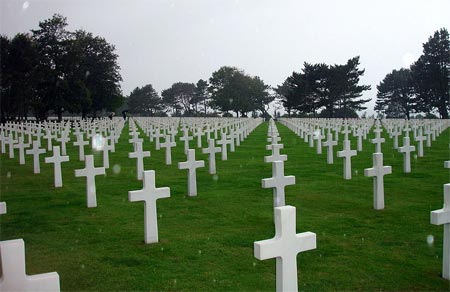 American Cemetery and Memorial
Colleville-sur-Mer, Normandy, France



See photos, watch videos and listen to General Eisnehower's words at http://www.army.mil/d-day/

See local heroes from the 82nd Airborne All American Division
---
---
Top of Page
Back to Memories for Cleveland Seniors