Amy Kenneley
A native Clevelander, Amy Kenneley writes about life in the city during her growing-up years. "I enjoy working with memories and creating an essay that, hopefully, will bring a smile or even a tear."
She also comments on current topics. "As the parade of life goes by, I imagine myself standing on the sidewalk making comments to someone next to me. Hopefully, the person next to me is you."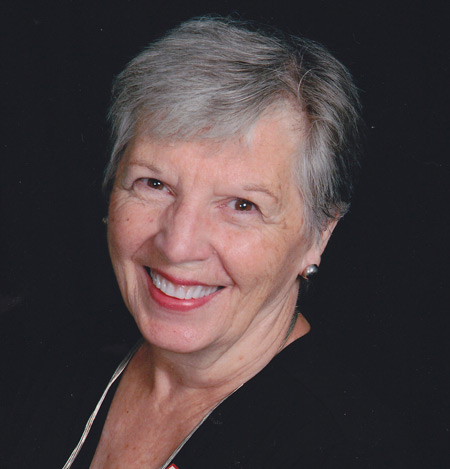 She treasures: a loving husband, terrific children (and of course their superior choices in spouses) and wonderful grandsons to love. "Hugs to go around, friends to cherish, a healthy mixture of life's offerings-what blessings!"

Our condolences to Amy Kenneley and her family on the passing of her husband E. Michael Kenneley on January 5, 2012. "His booming laugh, good humor, and the solace of his presence among us" will be missed.
---
Anonymous Me
Amy was unbranded till this bumper sticker arrived

Doing the Roomba Rhumba
Amy gets a new gadget

Putting on my Christmas Face
Though the scrapbook shows her kids aging, Amy doesn't see that

Presentable
Amy gets feedback from Great Gram on her wedding day

Who's in Charge?
Amy knows Everyone wants to be in charge sometime

Oh! Say, Can YOU See?
Amy and the un-singable tune

Mom is One for the Road
Amy remembers Mother's Day

Thinking Spring
Amy says 'Spring can be a grab bag. You never know what you'll get.'

It's magic!
Amy remembers when old technology was new

I wanna be Wonder Woman!
Amy weighs in on Wonder Woman and the UN

Uber Good!
Amy takes her first Uber ride

What's in YOUR wallet?
Amy looks in her husband's wallet after 5 years

The House I Lived In
Amy remembers her house growing up in Hough

My Bus Tour
Amy identifies the different people on her 1,000 mile trip

SHINE
Amy's grandson's senior recital

My Mailbox is Empty
Amy can tell the primaries are over

Here Let Us Live
Amy (Nana) visits the Grandkids

Men with Black Bags
and My New Year Resolution

A Tale of Four Christmas Trees
Amy stays Ever Green

A squirrelly Thanksgiving
Amy gets ready for Thanksgiving

Is There a Curse on Cursive?
Amy wonders why kids don't learn cursive

Tin Roofs and Rock 'n Roll
Amy remembers her own Happy Days

Feeling 'Up' about Downsizing
Amy cleans the house of years of stuff

It's For You
Amy remembers the old phones - before her Smarter-Than-I-Am-Phone

Mom's Iron Eyes
Amy remembers The Look

Give Me Wings
Amy's Flying Adventure

The Lowly Spud
Amy's tribute to the potato

What am I here for?
Amy asks the quintessential existential question

The Day Before
Amy remembers Nov. 22, 1963

Shapely to Shapeless in 5 easy decades
My Favorite Things

Oh, the pain! Lament from the Gym
Sung to the tune of "Sunrise, Sunset

Who will be our grandchildren's heroes?
Amy hopes they make wise choices

The Pony Picture Man
Amy remembers the Tony the Pony photograph

Salute - wearing a special cap to the parade
Amy say it IS a special occasion

Searching the Skies-The Ground Observer Corps & Me
Amy remembers Operation Skywatch

A City Is a Verb-and so am I
Amy remembers Rockefeller Park in 1943 and reflects on the changes

Robert Burns Dinner
Amy toasts the bard of Scottish poetry - and the Haggis

Five Golden Rings
The loss of a grandson changed Christmas caroling forever for Amy

Gathered At The Table
Amy remembers Thanksgivings past

Let's Roll - or Not
Amy wants the Flight 93 memorial to be completed

Packing for College - Then and Now
Amy looks back as her grandson leaves for college

Elderly? I Scoff!
Amy looks for a better word to describe Seniors

A Balance Sheet
Amy reflects on the loss of the love of her life

Where the Action is
Amy reflects on Words and Action on Memorial Day

'BEE' my Valentine
Amy remembers a special grade school Valentine

The Sandbank Piano and My Thwarted Musical Career
Amy wonders about abandoned pianos

She's Making a List
Amy learns a holiday lesson from Himself

Where's my babushka? by Amy Kenneley
Not a designer-labeled, expensive scarf

Fortunate Child by Amy Kenneley
Amy welcomes a new treasured grandchild

Following Stars by Amy Kenneley
Who were those shepherds anyway?

Mittens on a String by Amy Kenneley
Remember losing your mittens?

Ollie Ollie In Free! by Amy Kenneley
Remembering Hide and Go Seek

Cut your hair! by Amy Kenneley
Why won't that young man cut his hair?!

Library of My Dreams by Amy Kenneley
Save our Libraries!

Drivers License Lies
Amy says it goes both ways

I'm opposed to my thumb
Amy's poem about a wayward digit

The First Snow of the Season
Amy remembers the sights, sounds and even taste

Things My Daughter Taught Me
Amy "reverses" Mother's Day

Remembering the Prom
Especially the Prom Dress

Where's that skate key?
Spring is here and Amy recalls gliding down the streets

I've Got My Love (Letters) To Keep Me Warm
Amy finds some warm memories on a cold winter night

Girl Scout Cookie Capers
Amy says selling Girl Scout Cookies is a family affair

That Heavenly Choir
Amy and her choir create Christmas magic

Thanksgiving For The Birds
Listen to these Bluebirds of Happiness

Through Thick and Thin
Celebrating 50 years of marriage

Getting a Leg up on Fashion
During War Rationing

Waiting for Dad
Growing, Growing, Gone

Little Ben Versus Atomic Clock
Amy watches Time (Pieces) Go By

Amy and her Easter Bonnet
Casual Clothes for Easter?

Dog Tags
School Days in 1951

Walking Tall at the Mall
Amy's ode to Mall Walking

The 1948 Railroad Calendar
Starting a New Year

Amy gets a code, er, cold
She needs Mom and some Vicks Vaporub

Laddie Pencils, Parker Pens & Campus Pads
Amy Kenneley remembers 4th grade

Not Esther Williams but still in the Swim
Learning to swim & shopping for suits

Standing on Hallowed Ground
We have to be there

Follow the Bouncing Ball
Newsreels, cartoons, free plates, Bingo and oh yeah, a movie

All a BOARD
For the new standing airplane "seats"

My Story is On
As the World Turns

Your Hit Parade
Amy recalls that before Hi-Fi's, MTV or iPods there was Your Hit Parade

Riding the Streetcars
Amy and her Mom's shopping trip downtown the first winter after the War ended

Come to the Manger
by Amy Kenneley

First lipstick - remember Tangee?
by Amy Kenneley

Did you have Character Books?
by Amy Kenneley

The Cleveland Directory of 1953
A virtual neighborhood tour

Plastic Curtains
A future sealed in plastic - by Amy Kenneley

Hanging Out Memories
Washing & Drying the clothes - by Amy Kenneley

Oh, Oh, Oleo!
by Amy Kenneley

The Tax Stamp Cometh
by Amy Kenneley

The Garden in the City
A first visit to the Home & Flower show

The Fine Art of Snow Angels
by Amy Kenneley

Secrets of Decorating Revealed
by Amy Kenneley

Remembering Election Days
by Amy Kenneley

The Last Wave
by Amy Kenneley

The Hands of a Man
by Amy Kenneley

Mom the Invincible
Amy Kenneley remembers her Mother

The Woman from Achille Isle
An old rocker brings back memories
by Amy Kenneley

Operation Cupid - Part 3
Monkey Shines - The conclusion of the story
by Amy Kenneley

Operation Cupid - Part 2
Parents searching for their children's match
by Amy Kenneley

Operation Cupid - Part 1
Parents searching for their children's match
by Amy Kenneley

The Tree That Was
A Christmas Parable For The Child In Us
by Amy Kenneley

10 Reasons Why I Hate December
by Amy Kenneley

A Mother waits for her son's homecoming
by Amy Kenneley

Labor Day Thoughts
by Amy Kenneley

A Special Time, A Special Place
Growing up in Hough - by Amy Kenneley

...And the Pursuit of Happiness
Reflections on the 4th of July by Amy Kenneley

Aunt Edna's Bank
As told by Amy Kenneley

The Wee Shawl - Part 3 (conclusion)
Punishment and Penance
by Amy Kenneley

The Wee Shawl - Part 2
Mary Margaret Saves The Day
by Amy Kenneley

The Wee Shawl
a Short Melodrama about The Depression, Trickery and Triumph
by Amy Kenneley

Almost Home - a Tribute to the Columbia Crew
A poem by Amy Kenneley

The Grocery Store of the 1940's
As remembered by Amy Kenneley

Bucksnort to Bethlehem
A Christmas Journey by Amy Kenneley

The best Thanksgiving ever
A memory of 1950 from Amy Kenneley

Deja Boo!
Halloween memories from Amy Kenneley

Amy Kenneley receives Chapman Award
Congratulations to our outstanding author

Let's Roll
Amy Kenneley's look back at 9-11-01

Living the life of Riley
A reflection on the loss of a 6 year old grandson

The Perfect 10 Church
Are you a Member? by Amy Kenneley

Duffy's Passing
A True Irish Wake by Amy Kenneley

Little Twinkle Toes
The Corner Shoe Store by Amy Kenneley

Mom and the Marine
A poignant and timely essay by Amy Kenneley

The Great Eagle Stamp Expedition
Did you save them? by Amy Kenneley



---
Top of Page
Back to Memories