Fabulous Food Show recipes
by Chef Tim Monsman
Chef Tim promised the large audiences at his demonstrations at the Fabulous Food Show that he would share these special recipes with them.
Here they are - enjoy!
Duchess Sweet Potatoes with Spiced Pecans

Ingredients:


˝ cups sweet potatoes, peeled and cubed
2 TBS butter
2 TBS cream
1 egg
1 TBS cinnamon
˝ tsp. nutmeg
Kosher salt and black pepper
˝ cup mini marshmallows
Spiced pecans
Instructions:
Heat oven to 375 degrees
Boil sweet potatoes until soft (about 10 minutes) and drain
Place potatoes in bowl and mash,
Add the remaining ingredients (except marshmallows) and adjust seasoning as needed)
Fill pastry bag with potato mixture and pipe rosettes onto lightly greased sheet tray
Top each one with a few of the spiced pecans and 3-4 marshmallows and place into oven.
Bake for 7-8 minutes ot until marshmallows begin to turn a light brown color.
Remove from oven and serve immediately.
---
Pear and Blue Cheese Soup with Raisin Walnut Croutons

Ingredients:


2 TBS butter
˝ cup celery, diced
˝ cup onion, diced
1 ˝ cups pears, diced
3 cups chicken stock
˝ cup cream
4 ounces blue cheese, crumbled
˝ tsp garlic powder
Kosher salt and black pepper
Raisin Walnut Croutons
Instructions:
Heat pot over medium heat and add the butter
Once butter has melted add celery and onions and sauté a few minutes, until softened
Add the pears and sauté a few minutes more
Pour in stock and simmer until the pears are soft and cooked throughout
Pour into blender and puree until smooth
Return to the pot and bring to a simmer
Add in the cream and blue cheese
Allow to melt and add the garlic powder
Adjust seasoning with salt and pepper as needed
Ladle soup into bowls and garnish with croutons and serve
---
Enjoy!
Chef Tim, Giant Eagle Legacy Village
See photos of Paula Deen, Michael Symon, Guy Fieri
and Cleveland Women at the Fabulous Food Show 2008


---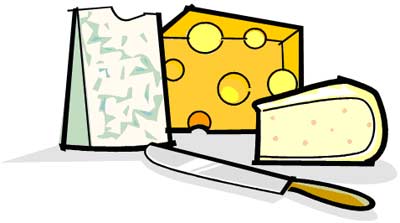 ---
Have a question for our Expert Chefs?
Send it to:

expert@ClevelandSeniors.Com


---
Top of Page
Back to Recipes