Sanctuary for Senior Dogs
Summer Scoop 2009
Join us at the Brookside Reservation within the Cleveland Metroparks August 8 from 3 - 7 PM for an afternoon of fun and games for old dogs and the people who love them.
Bring your friendly older dog and all your friends and neighbors and don't miss the fun. The activities of the day will feature the Old Dog Olympics, photo opportunities, games, and contests.
Bobbi, a senior search and rescue dog, will offer a tracking demonstration. Come on out and see senior dogs in action.
Plenty of refreshments will be on hand, including pizza, chips, beverages, and desserts. And, of course, treats for our four-legged friends.
It's the Old Dog party of the year!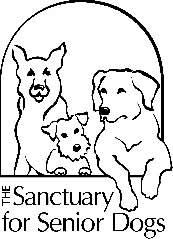 THE SANCTUARY FOR SENIOR DOGS is a nonprofit organization dedicated to the rescue, adoption, and lifelong care of senior dogs abandoned in shelters and pounds.
All of our dogs live in Sanctuary-approved foster homes until a permanent home can be found. Senior dogs too ill to be safely adopted stay in a Sanctuary hospice foster home for life. All senior dogs are spayed or neutered prior to placement.
---

---
Top of Page
Back to Pet Resources