Dalmatians
By Jenny Brock, GotSpots.Org
The Breed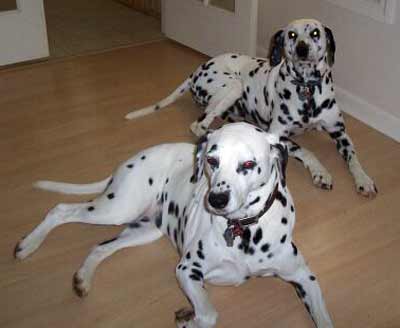 Dalmatians Kinsey and Cleo
Dalmatians typically weigh between 40 to 60 pounds

Dalmatians are loyal and loving companions

Dalmatians shed twice a year - 6 months in the spring and 6 months in the fall!
Dalmatians are very people/family oriented and do not adapt to being outside dogs or kennel dogs due to the lack of human interaction
Dalmatians are genetically predisposed to having a problem processing purine forming proteins which may cause Kidney stones.
Dalmatians should be fed a non-beef based diet and one that is low in purines
Dalmatians can be deaf, most are not (only 12% of all Dalmatians are born deaf in both ears)
Dalmatians are very clever and intelligent
Dalmatians can be rather active but do mellow, as they get older. Dalmatians require regular exercise but older Dals tend to be couch potatoes!
Due to a Dalmatians size and activity level, they do better in a household with older children.
Dalmatians live an average of 10-12 years - be prepared to make a lifetime commitment before adopting a Dalmatian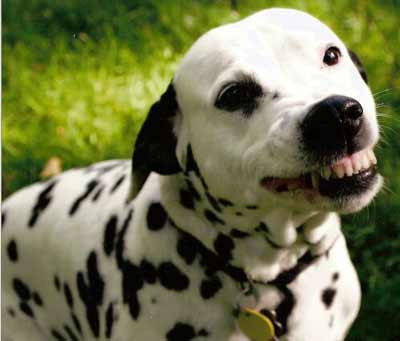 Cassie with a classic Dalmatian smile





The Need for Dalmatian Rescue

Dalmatians have a sad history of being abandoned or surrendered to shelters in large numbers after the release of each Dalmatian movie.

With each surge in popularity, backyard breeders and puppy-mills produce more and more Dals. To make matters worse, owners who got a Dalmatian on impulse realized that they are a high-energy breed requiring time and training.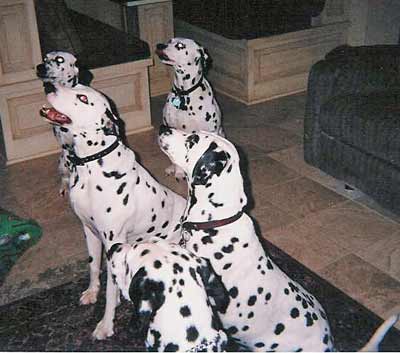 Not quite 101 Dalmatians
- waiting for a treat - french fries!



Rescue Organizations across the US are still trying to save the lives of dals now that the fad of the last movie has worn off. In Southern California alone, over 10,000 Dalmatians were put to sleep in 1999.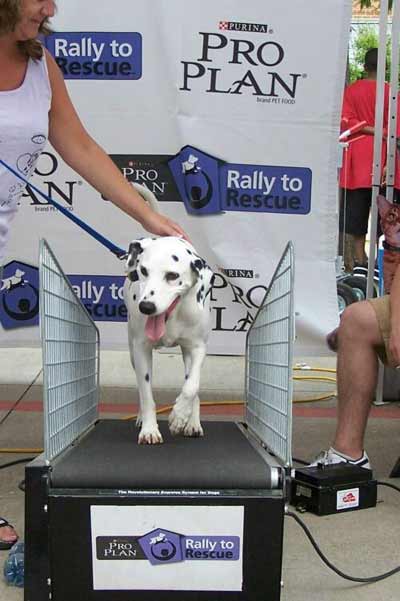 Dalmatian Lewis on a treadmill



Please visit GotSpots.org for more information on Dalmatians and Dalmatian Rescue.

Reputable organizations such as GotSpots.org have strict codes of conduct such as: "We screen potential adopters very carefully in order to find the best possible match for both you and our foster dogs. No Dalmatians will be placed into homes known to have intact companion animals, let their pets roam free, or have exhibited irresponsible care of current or previous pets.

All adoptions are expected to be lifetime commitments so please give this a lot of thought before completing an application. We will disclose all known behaviors, health or emotional issues to interested applicants prior to adoption."
---
Top of Page
Back to Dog and other Pet Resources