Jim Walsh
Father of the Year 2007

Jim Walsh was born in Manhattan, New York July 27, 1929. He is the son of Irish immigrants who came to this country from County Cork. He has two brothers Anthony (dcd) and Pat and two sisters Margie (dcd) and Mary.
He has been married to Jean since June 28, 1952 - 55 years!
Jim and Jean have five children and eight grandchildren. His children are: Linda, mother of Tim and Kelly Molinski; Kathy Kintz, Mother of Michael; Jimmy, married to Debbie, father of Jackie, Jeannie, Brittany, Emily; Danny married to Gina and; Mary Beth Foss, mother of Allison.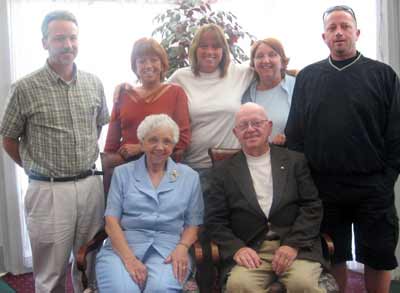 Jim and Jean Walsh Family



Jim spent over 40 years working on the railroad. He is active in the Irish American Club, East side and the VFW as a result of his time in the United States Navy.

Jim's philosophy is simple - Faith and Family come first, before anything else.

His daughter, Linda, says she never recalls her father missing a day of work. "He taught us the importance of being a hard worker and the need for a strong work ethic," she says.

Kathy too remembers his work ethic and also his strong faith. "He passed down his faith to us and gave us a real appreciation for what was important."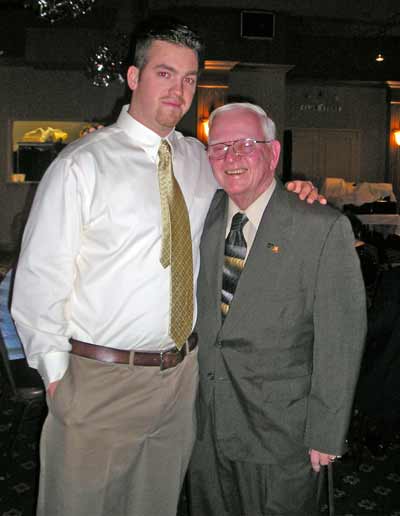 Tim Molinski with grandpa Jim Walsh


Jim raised his children to be good, caring people. When they were younger, he was always active in their sports activities and even coached their softball team with his brother Pat one year because he knew the team would not be able to play otherwise. Linda remembers how they begged him to help - and of course, he did.

Jim's handyman skills are legendary. Marybeth once bought a television and they asked if she wanted the maintenance agreement. She told them no - she had her dad to fix anything that needed fixing. She used to tell all the neighborhood kids to bring broken bikes and toys over to her house. "Don't worry," she would tell them "my dad can fix anything!"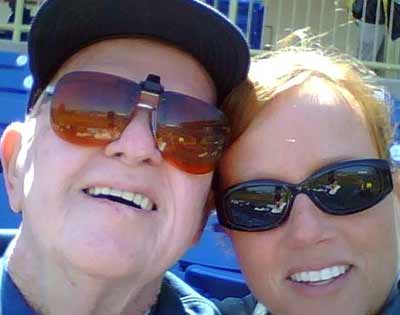 Jim Walsh and daughter Mary Beth Foss


He used those skills to help the kids with their school projects and later to help the construction crew at the Irish American Club and the VFW.

"He was a hands-on kinda dad," says Kathy. "There was never a time I didn't think he was there for us." Marybeth agrees, "He never, ever discouraged us. He taught is all the importance of being who we are. Even when we screwed up - (and we all did) and even if he had warned us - he never said I told you so or never made us feel bad about it. He was always there to help us through anything."

Jim also taught his family to love and support their country. "He has always passed on the wisdom of his years" says Kathy "yet he was never preachy."

It is summertime now, so you may find Jim in his annual vegetable garden or out at the trailer he and Jean "escape" to for long weekends. But more likely than not you will find him close to one of his children or grandchildren because that is when he is happiest.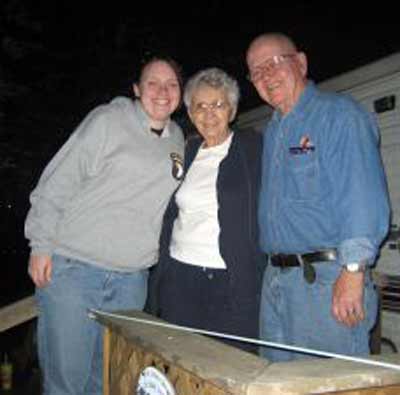 Jean and Jim Walsh with granddaughter Allison


Jim is experiencing some health issues now and he is even making that an opportunity to bring a close family closer.

It is a rare man indeed who can be married for 55 years, have five children and eight grandchildren and have each one love and respect him more than the next. His ability to keep a family like this close is very special.

The children think he is the best dad in the world and the grandchildren think he is the best grandpa in the world.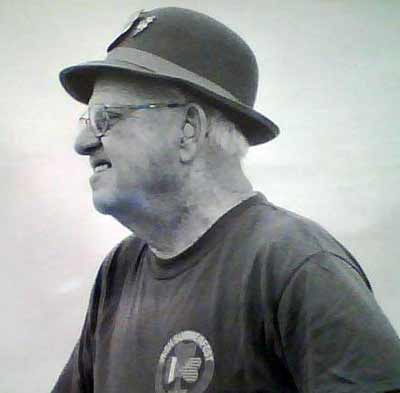 Jim Walsh - Father of the Year 2007


That in itself is enough to make this kind, caring, very special man, the 2007 Father of the Year.
---
Top of Page
Back to Father's Day