Rick Porrello
author of Kill the Irishman
The Danny Greene story
Rick Porrello is the author of three books:
The Rise and Fall of the Cleveland Mafia: Corn Sugar and Blood,

Superthief: A Master Burglar, the Mafia, and the Biggest Bank Heist in U.S. History

To Kill the Irishman: The War that Crippled the Mafia
Kill The Irishman is all the rage because it has been made into a star-studded movie. With the likes of Christopher Walken, Ray Stevenson, Val Kilmer and Vincent D'Onofrio it is no surprise people everywhere are rushing to the box office to see this movie.
Porrello's first book came about as a result of him looking into the death of his grandfather and three of his uncles who were murdered in 1932. "Growing up I knew my grandfather had been killed by a bomb, but my father didn't really talk about it. He was only 6 when his father was killed."
Rick looked at some books on organized crime and discovered his surname, Porrello, in the index. "That planted the seed" He was only about twelve at this time, but the idea haunted him and he knew he wanted to learn more.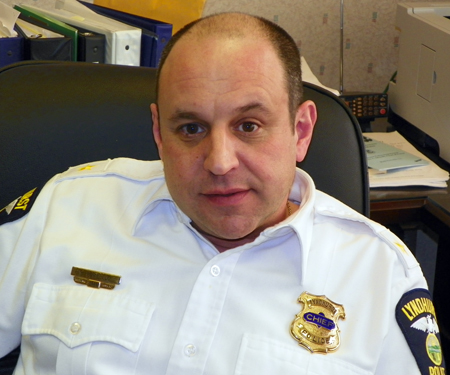 Rick Porrello



Rick wanted to be a cop from early on. His career took a detour at age 18 when he followed his dad's footsteps and became a drummer. He also took over his dad's role as the drummer on tour with Sammy Davis Jr. After two years on tour he realized being a cop meant everything to him and that was the career he wanted to pursue.

He came back to Northeast Ohio and took classes at Lakeland Community College to get a degree in Criminal Justice. He paid his way through school with his drumming, working gigs whenever he could. "I got my 2 year degree in 5 years!" 18 applications later, he was accepted by Mayfield Village as a patrolman. In 1988 transferred to Lyndhurst where he has been ever since. He climbed the ranks step by step until he reached his present position as chief in January, 2009.

When Rick left the tour he started looking into his microfiche and old stories about his grandfather and his death. He was amazed at the information he found, and even more amazed that no one had ever put this into a book before. "I couldn't believe no one wrote this book about the Sugar Wars and the Porrellos and Lonardos." His research brought him to the very beginnings of the mafia in Cleveland.

He found the research to be the most fun; finding pictures, discovering articles, talking to people. "I still don't know why nobody wrote the story, but I'm glad that they didn't. I'm glad I got to be the one. It was a labor of love and a family history."

It took 9 years to get his first book out. The last 3 years were just trying to find a publisher.

After the 9 years he promised his wife, Lee, he would never, ever write another book. After it was published and he received the author's copies, however, he remembers toasting with a bottle of champagne with his wife and telling her, "I gotta do this again."

The logical sequel was the Danny Greene story, because that's where Sugar Wars actually ended.

"It's like Sugar Wars was the beginning of the Cleveland Mafia and Danny Greene, I don't want to say there's been an end to the Mafia, but Danny Greene was pretty much the end as far as major mob battles and so forth."

In his opinion organized crime today is much different than it was in Greene's Day. Today he thinks it is centered on gambling and such. He also believes organized crime is ready and willing to come back into the forefront but is waiting for the right time. There is also some fear because of the great job the federal government has done with prosecution and sentencing.

Why Danny Greene? What makes everybody want to claim they knew him or met him? Why did he become a folk hero of sorts, when, in fact, he was a thug and a murderer? Porrello has multiple answers.

First he believes people are fascinated with extremes. On one side there are the celebrities, the politicians, the big names. On the other side are the bad guys. Danny Greene fell into both categories. He was certainly a bad guy, but he was also a local celebrity and a very charming man.

Add to that the mystique of a "secret" organization ("it was supposed to be secret anyway") full of Italian mobsters and an Irishman comes along and question why the Italians should hold such a high place in criminal hierarchy.

Greene, the self-named "Celtic Warrior" was every bit as proud of his Irish heritage as the Italians were of theirs and he was out to make a name for the Irish community. He was well-read, charismatic and proud. "He was very generous, although I think in most cases he was very generous with other people's money… People in his community that were hard up or needy would come to him for help… It was Robin-Hoodish. Of course, on the other hand, the Italians hated him."

There was even a ballad written about Greene - not something many gangsters can claim.

Greene died in 1977. Five years later it is reported that one of the attorneys involved in a Mob case said "Danny Greene died five years ago and he's still f*#@ing with us." Porrello says that is the power of Greene. Long after his death there were repercussions. "He greatly contributed to bringing down the mob."

That same month his manager called and told him they were making a movie out of his book. "So it was really a good month for me". He has credit in the movie as "Executive Producer" but says he didn't want too much involvement with the production itself because his first

"I am elated with the cast… I nearly fell out of my chair when I heard who was going to be in it."

Porrello says most of the movie is factual, with the exception of a few scenes where "literary license" was taken. For example, Porrello did not have access to the young girlfriend so a lot of the relationship scenes were not based on fact. In the movie John Nardi dies in Danny Greene's arms, which did not happen in real life.

Superthief is also in development for a movie "If that's meant to be, I hope it's not another 13 years."

Book number four will probably be the Shondor Birns story, but that is taking a little longer to research and write, now that he's Chief of Police.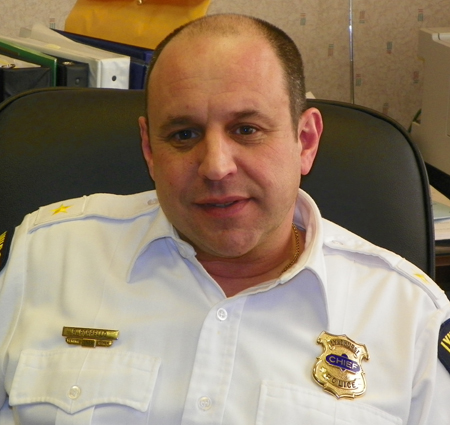 Lyndhurst Police Chief Rick Porrello



Porrello is very sensitive to the fact that the movie is the story of men who have children alive now, knowing that it may be traumatic for them or bring up painful memories. "I think it needs to be treated with respect."

As much as he loves writing and the movie experience, given the opportunity to do that full time and give up his police work, Porrello says he would not. "I love being a policeman. That's what I want to do."
---
Top of Page
Back to Books for Cleveland Seniors
Back to Movies for Cleveland Seniors
Back to Cleveland Seniors Personalities