It's going to be a busy day
by Maury Feren
So, I said to myself, "Maury, you have been laying around too long. Why don't you get out and do something different?" "Yeah," I answered, "who is going to take you?" " Beverly is always interested in doing things. Why don't you call her?" That sort of settled things and we got to moving.
First things first, let's get something to eat. How about that new Diner on Lee Road? I've heard good things about it! Doug Katz just fixed it up and put it in good shape. You should know that four entrepreneurs have opened there including Mr. Presser who first opened it. It just never took. Even Clyde and his daughter couldn't put it together and they were old time restaurateurs.
Doug started Fire on Shaker Square just a few years ago. He has done such a fantastic job. It has since become one of the most respected eating spots in town. His regular menus are fresh and exciting, quite innovative, great service, lovely ambience, and always as much local food as possible. You'll see him at every benefit event too. He supports everything in the community.
If you really want to do yourself a favor, make it a point to hit the Sunday morning brunch. I am not sure if he does it on Saturday. You'll have to check on that. If you have a celebration, guests you want to impress, be sure to take this one seriously. You'll get top-notch service, a variety of foods to satisfy anyone, and drama in food. Yes, it will come out that way. I've made it there a few times. It's one of my favorite stops.
In fact, Katz's Diner is truly a Diner. It's only been open a short while and it looks and feels like a winner. A great hamburger, good tasting chili, a nice fresh salad with his own dressing, all kinds of coffee, some interesting desserts, and a simple menu that lets everyone enjoy the food he offers. Prices are moderate, the atmosphere is catchy, homey, and you'll like being there among friends.
Interestingly, the Cleveland Heights people have taken Doug into their hearts and they are backing him to the hilt. You'llll see why if you stop in there. The waiters and everyone working there are just waiting to serve you. That's a rarity!
Well, that wasn't the only thing on the agenda. The next day, Ron and Joanne Humphrey, publisher of my last two books and owner of Windjammer Adventure Publishing Company, invited Beverly and me to lunch at Pine Lake Trout Club in Bainbridge, Ohio.
This, you gotta see! Yes, a trout farm where you fly fish and you can have your catch served to you, if you so desire. Beverly went wild. She said, "What a gorgeous setting!" You are looking at a beautiful lake; guys sitting along the banks throwing their lines into the lake. What a sight! Beautiful greenery and a gorgeous path to the different hills. A cabin at the lower end and another up the hill.
These are the dining and entertaining centers, but the setting is so natural you feel as if you are away from the world surrounded by lovely bushes and trees that reach out to heaven, so to speak. You are overcome with just the natural beauty that surrounds you.
Talk about the food; it's a winner in every way! You are seated in a lovely dining room, no white tablecloths, but the room has that earthy look, but in a charming way. A fireplace and other amenities give it a natural feel. Not formal dining, but one that will combine good food with a great ambience that you won't find even if you look far and wide.
"Joanne", I said, "What are you going to order?" "Ron and I come here at least once a week, so I have had the trout before. I'mmgoing to order a Caesar Salad Steak Lunch."
Well, that dish did come out looking like a dream. The steak was cut into neat strips, looking as tender as could be, and served over a bed of Romaine lettuce. My trout was served grilled with a side of coleslaw that couldn't be better. I informed Ron, telling him how wonderful the Trout tasted.
"Maury," he replied, "Mine is just as good. I have it most of the time whenever we eat here. I still haven't had a fish dinner from a trout that I've caught, but I will do it one of these days." Ron told me that he had been a Fly Fish aficionado since his youth when he fished at his grandfather's cabin in California as a boy every summer vacation.
It was a good visit. The lunch was top-notch. Beverly couldn't go wrong because she loves hamburger so much. So she stuck to her routine, hamburger and fries. She wasn't disappointed.
Got to tell you about Beverly. She is one of my caretakers. I call her Maury's Personal Assistant. I learned that from her because that is what she does and besides that I'm not as agile as I once was. Don't ask me my age. I'm m always ashamed to say it. Google me and you won't have to think about where I came from.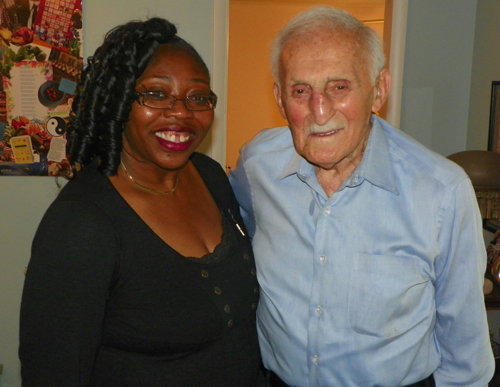 Maury with his 'Personal Assistant' Beverly



You'll find out soon enough from the stuff I write about in this column. I'm about a month or so away from introducing my new book (number three), titled Maury Feren: My Life So Far. More about that when it happens.

The day wasn't done yet, so I say, "Joanne, how about running over to Howard's Farm in Bainbridge? It's not too far away. I'd love to get some homegrown strawberries."

This is a short season which ends in about 3 weeks. There are many "pick it your own" farms around but not like this one. We drove over to the Farm Stand. The pickings are slim because the short season is just beginning.

Lo and behold, they had a table display of their first pick of the day covering the whole table. Red Ripe, that old juicy strawberry variety that I used to know like a book. You guys don't know anything about strawberries you have been eating all through the last 11 months. They are just imitations of what berries should taste like.

I must add the price was right, $4.00 a quart and this farmer piles 'em up high. No cheating on packaging. Give him a star for that one. You'll always find some homemade canning products offered and Howard's had a good selection. All kinds of vegetable mixes and canned peaches, pickles, and other varieties. I picked up some hot pickle relish, so look for me to jump up and down when I try it.

Yes, it's been a busy day, but I love it! Every day is a new beginning. Something is going to happen. If it doesn't, I'm going to make it happen.

Just for an addendum, Strawberry season in this area only lasts 2-3 weeks from today. Remember that!
---
1. Howard's Farm Market, 9575-9699 Bainbridge Road, Chagrin Falls, OH 44023.

2. Katz's Diner, 1975 Lee Rd., Cleveland Heights, OH 216.932.3333. On Facebook at: https://www.facebook.com/TheKatzClubDiner.

3. Pine Lake Trout Club, 17021 Chillicothe Road, Bainbridge Township, Ohio, 44023. Phone 440.543.1331. http://www.pinelaketroutclub.com/contactus.html
---
Top of Page
Cleveland Seniors columns