Keeping Up With Maury
An Artist At Work
by Maury Feren
The Jewish Community Confederation at 25701 Science Park in Beachwood celebrates Israeli artist from time to time. They have a special room where they can show these works that have meaning to the general community with no fee.
The newest artist who I met this past Sunday is someone worth seeing. There are 43 paintings he is showing that I am sure will interest people who love art. His work is exciting. There is a message in every piece of his work. All of these artist show in the Roe Green Gallery. There are special viewing hours so you have to check to see when they are.
The artist for this month is Shai Azoula. He has an interesting title for this showing. It is called "One Hour A Day".
This mean that we should stop for one hour a day to see where we are and where we are going. Shai has exhibited all over the world and is still traveling showing his work. He has won a number of prizes including recognition Of The Extra Ordinary Artistic Artist award from the Bezalel Academy of Art and Design Tel Aviv.
The artist was here in Cleveland for his opening to expose this audience to his work. I chose to write about it because his work was so impressive. There is a great deal of Holocaust work that comes out of Israel. But this is different. Most of these paintings didn't deal directly with the Holocaust. You will find them more or less on the dark side. Shai doesn't deal with that subject.
His work is abstract and it has a message. His colors are magnificent and that is vital to his work. It is hard to explain how bright and colorful they are but if you see the picture in this article you will get some idea of what I mean.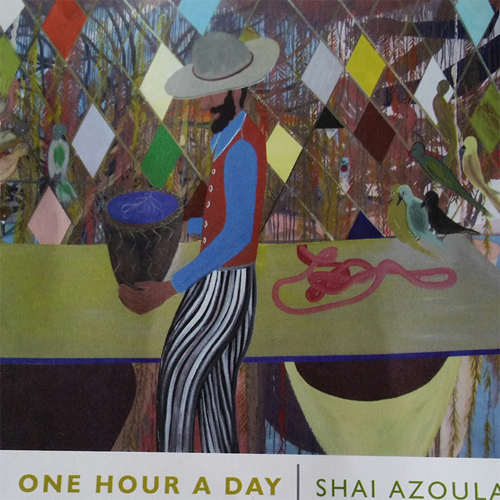 Painting by Shai Azoula



I find it interesting to find out that Shai doesn't work from images. When he spoke and explaining his methods of painting he said quote "I do not make preliminary drawings. I prefer to paint spontaneously to get the images in my mind on the canvas. Color is very important to me and I use it to bring out the best of my thoughts."

Oddly he said his is not a religions man, but you will find some ritual and mysticism in his work. I also found that he uses birds in many of his canvas. He said "Birds are the conduit between men and God. It is symbolic and delivers the message". The painting you see on the page represents the art of its color. The color jumps out of the page but buried in the center you'll see the humming bird he has chosen for this piece.

It is so difficult to find meaning in any artistic work I believe this pertain to Shai's compositions as well. But you must be impressed with the colors and visions of what you are seeing. Even if you don't have an art background the colors awaken you.

I was fortunate to hear the artist talk about each of his paintings. In many cases he opened my eyes to his message. There were a number of paintings that had two figures centered that seem to be chasing each other. It is a reoccurring theme in some of his work. It gave me a feeling that he himself is still chasing.

Rhombus is 74.5 by 83.5 and could represent the best of his work. Iit is also my favorite. You'll see a figure of a man facial features hidden except for a black beard very visible. There is a background of varies triangles, diamond shape and a wall of many designs. The figure is wearing stripped pants and holding a container which is indistinguishable of what it represents.

If you look closely you will find two birds on one part of the painting and two others on the opposite side. They seem to pop up and are sort of illusory. There is a green background and a maroon design rope that add some allegorical meaning to the work. There are innumerable colors that seem to melt together just naturally.

I hope you'll get the opportunity to see his work. I believe he is an artist that is on the road to a big future. I am confident that you will be just as impressed as I was with the power of his work.

This is Curated work organized by Trudy Weisenburg who has been an instructor at the Cleveland Museum of Art. She has also received the Cleveland's Art Prize Martha Joseph Award. This is an exhibit that desires your One Hour A Day.
---
---
Top of Page
Cleveland Seniors columns