"My Life, My Letters, and My Loves"
a Book authored by Alida Struze
Report by Attorney Joseph Patrick Meissner
On Thursday evening, September 29, 2016, Author Alida Struze spoke about her book, "My Life, My Letters and My Loves" at the Lakewood Public Library. This was part of the Library's famed Author Series to highlight local writers as well as promote their books to the general public.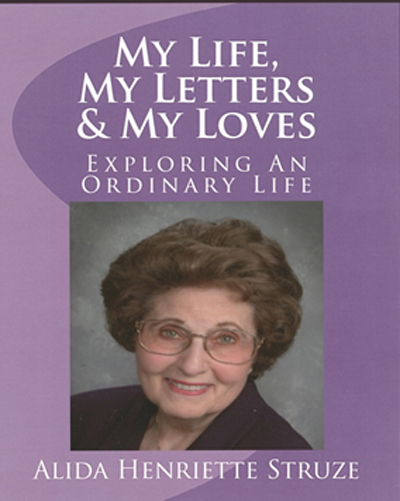 Attorney Joseph Patrick Meissner was selected to introduce Ms. Struze. Here are his welcoming comments.

"Let me begin by saying, 'Hello to the Clone,'" as I gestured toward Alida who was seated on a wooden stool in the middle of the stage to the left of the podium where I was standing. Alida looked up at me and began to laugh. "I have been telling Alida," I explained to the startled audience, "that she is a clone and the 'real Alida' passed away ten years ago. This current Alida has to be a clone because no human being at 96 years old could look this beautiful as well as brilliant and dynamic as she appears in front of us tonight. "I have five themes for my short introduction of Alida," I launched into my short introduction.

"First, I begin with my Mother who came from Ireland. She told us children how much she liked to read as a child and would even hide in a nook behind the barn on the family farm where she would read and nobody was able to find her. My mother loved books and that love she conveyed to all of us children. So I begin with how much we should appreciate and love this book that Alida has authored and is now sharing with us.

"Second, if we love books, we have to love their authors. So tonight we are here to sing the praises of this author Alida Struze for finally publishing her book. I had always urged her to write a book and base it on her wonderful Holiday letters that she gave each of us every year as a special Christmas present.

Third, that brings me to Alida's achievements. She has enjoyed at least three very different but productive callings. After perfecting her social work skills, she combined these with the legal efforts of Legal Aid lawyers. It was her view and the view of our great Executive-Director C. Lyonel Jones that our clients needed more than just formal legal representation. They required often a whole range of social services which would insure that their legal victories meant more than mere paper successes. So the Legal Aid attorney would team up with Alida. For example, a housing court victory preserving the client from eviction might then need supportive services for her children in her home. Alida was there to see these were secured and the family home could persist.

Alida's second career was as the referral specialist. You know, unfortunately there are various kinds of cases as well as some low income clients that the Legal Aid Society is precluded from helping. We cannot represent undocumented aliens. We cannot help somebody sue for monetary damages. But we do not just abandon this needy client. Alida was tasked with finding private pro bono attorneys to help. She would use all of her skills and persuasion to locate a volunteer attorney in private practice who could represent this client when Legal Aid could not.

"How can I refuse Alida," one attorney said to me, "when she calls and asks me to help some client?" Every year Alida at our annual dinner would report on her achievements in finding volunteers. She also would list the honor roll of these volunteers and how many cases each took that year.

Thirdly, Alida has found a new career as an immigration activist. She has worked through her church which has welcomed dozens of families from places like war-torn Myanmar (formerly Burma) and tries to help people resettle successfully in America. These refugees come to know Alida as a second mother always available for advice, help, and referrals if they are needed.

So her letters every year would tell about her experiences in these three careers and the people she had encountered. They would also tell about many people she met in the community. Most of all she would impart some wisdom for our troubled souls.

My fourth theme: Alida has often thanked me for encouraging her to write her book. I believe that everyone has a book inside them waiting to be born. Thus I encourage each of you to follow Alida and write your book. My adviser, Ms. Gia Hoa Ryan, says I push too hard on this theme. But I know how hard it is to get the book done

Fifth and finally, Alida's books are here. They are waiting for somebody to adopt them. Where are Alida's orphans? (People wave books at the book table in the rear of the room.) The book is only twenty dollars. Buy two and use one as a gift at the holiday season.. You can't give a better gift than a book. "So, Alida, step up and let us hear your golden voice."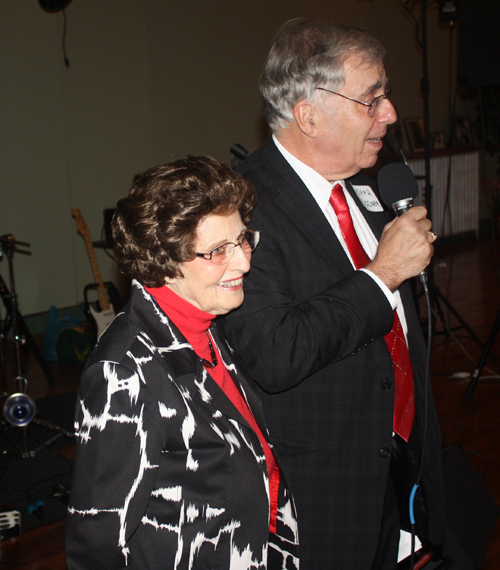 Alida Struze and Joe Meissner

She steps sprightly to the podium where she entrances her audience for the next hour. Alida begins (The following are the notes for her speech. I have left this in her own outline format which I think conveys so much of her style and focus.)

A. Thank you for coming.

I see Tom Mlakar my old friend from Legal Aid sitting in back. There is also Anita Myerson who just retired from Legal Aid. There is also Carrie and her husband whom I thank for coming. Then I see all my good friends here from my Church group who have done such a marvelous job as we have welcomed and assisted all the refugee families from Myanmar. [She looks around at her audience and her face lights up with a great big smile. Of course, I myself wonder why more did not come especially from those with whom she labored for so many years. But I think, that is the way people are. They could, at least, have sent congratulations. However, there are so many here and they more than make up for the deplorables who did not come.]

B. Life is full of surprises

1. I never thought I'd be speaking with you as an author. This is a great honor for me to share this evening with everyone.

2. I have had a Rough year health-wise, but I am still kicking. [Here is where I kid Alida. 'How can a clone have health issues?'] She tells us, "I have been getting slower and slower. But I do have wonderful people who come in almost every day to help me with everything that I need. I am grateful for this."

C. Let me make a few Disclaimers about my book.

1. I have changed some names in the book to protect the Privacy of some of the people I wrote about as well myself. [Somewhere I read that the first virtue and goal that an author should have is to do charity, even more than to serve the truth.]

2. I contacted people whom I had helped to get permission to Use some of their stories and they were honored to be Part of the book. I thank them for aiding me and supporting this writing effort.

3. My editor, Michael Petro, was of great help in making certain that we did not violate any copyrighted material. He carefully went through every page and sentence to insure we disobeyed no laws.

4. All the photographs I have taken and collected over the years could not be printed with good quality in my book. So I have put them on this poster here on the right side of this stage. I will be here to answer any questions about them. So you can ask me then about the pictures or book afterwards.

D. Let me tell you how my Book Came to Be Written

1. It is based, as Attorney Meissner stated earlier, on the many Christmas Letters I have authored every year throughout my life.

a. These annual letters actually have a life of their own.

b. I started writing these and sending them out in 1950. At that time I would send them to about fifty of my friends. That list has now grown and I mail each year to about 400. That was the number I sent out in 2016.

c. I never took anyone off my list. Some people probably have passed away but I keep sending them a letter because I love them all.

d. I receive various Comments from people about the letters I send.

i. The wife of a friend of mine, named Dan, once said to me, "Now, it's Christmas again. When is my letter coming?" When the letter came, she called me immediately to say, "Thank you."

ii. Another friend used my letter at her Christmas Book Club. There she would read each year's letter to the other members.

iii. I have been asked, "Never stop writing these letters." People look forward to them.

E. When I reached 90 years old, people were asking me what my childhood was like.

They wanted to read that in my letters. So I began to include all these old memories and what I gained from these long-ago experiences.

F. Also Friends of mine kept encouraging me to write a complete book using all the letters.

1. After retiring from Legal Aid at age 88, I started this project. In fact, twice I began that effort. But I only got as far as the Depression and I stopped.

2, Then Joseph Meissner made his threat. He said, "I am going to lock you away in a room and you can never escape until the book is finished."

3. I then realized that I was going to need help to accomplish this goal.

G. The help and inspiration finally came.

Several years ago I attended a Christmas gathering at Gia Hoa Ryan's Sai Gon Plaza. She's right here also tonight to celebrate with us. This was an Author's Night at her Sai Gon Plaza and all the local authors were displaying their books.

1. It was also at Gia Hoa's place, that I met Michael Petro. He had helped Meissner in his publishing attempts and Michael had just published a Book for Lori Roche. I gave him my latest holiday letter and he gave me his business card.

2. I did not look at the card until several months later when I was done planning our 75th Lakewood High School Class Reunion in June.

3. After the reunion, I read the card. This was just what I needed. "Write, Edit, Publish" proclaimed the card.

4. I called Michael and we began to work on the book.

a. It took us two months to go through the letters and remove the copyrighted material.

b. We then spent the next 16 months weekly working on the book together.

c. Finally the ordeal was over and the book was published last year.

H. Responses to my book have been good thus far.

1. If people have not liked it, they have been kind and not said anything to me.

2. A friend took a book to his sister in a nursing home. She thought every nursing home should have a copy. They loved the memories it brought back for them.

I. Look at the Table of Contents

1. I will go through the table of contents and give you some highlights and updates on some of the stories that were Written. I may point out some of the pictures as we move along.

2. Afterwards, we will have time for questions and answers.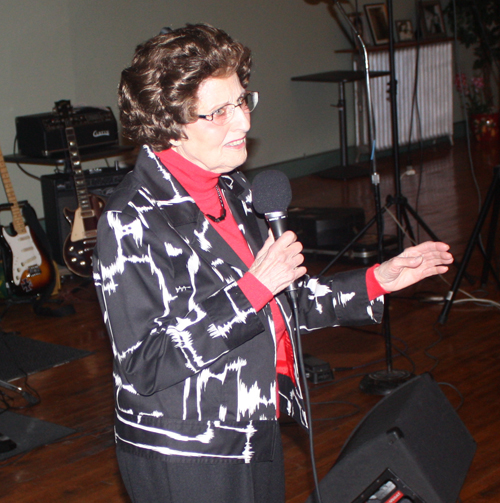 Alida Struze



So Alida takes us on a great journey through a number of her stories and letters. I am not going to do that because you should buy her book first and then we can discuss it. Just like with the movies, this article and Alida's speech is meant as a preview and you must buy the entire ticket.

When the audience had asked all their questions, Alida concluded, "I have been up here an hour and a half and I am still alive. I didn't think I could do that." [I will make no more references to study clones!] "Books are available in the back," she waves her hand to salute her grateful audience and departs the stage.

[Here is the house take. Alida sold some twenty-five books that evening, which is very good for such author performances. But I must confess to Alida and to you readers of this essay, I have not done so well promoting her book. First, there are a group of retired Legal Aid attorneys who meet monthly for lunch. There are some twenty of them and I have only convinced one to "cough up" the princely sum of Twenty Dollars for a copy.

Second, where Alida devoted over sixty-two years of her life at the Legal Aid Society of Cleveland, there are about seventy legal personnel. I had advised that the Society should buy copies of Alida's book and distribute one to each employee as a holiday gift for inspiration. That recommendation went nowhere. Sorry, Alida, but I am a very poor salesman.

On the other hand, you are a grand and eloquent lady and I am so proud to consider you a dear friend---even if you are secretly a clone.

May God love you and cherish your book.]

You can order Alida Struze's book by emailing me, meissnerjoseph@yahoo.com. SEND ME YOUR NAME AND ADDRESS. The price is $22, which includes mailing cost. I will send you the book with the bill.
---
Top of Page
More about Lt. Colonel Joseph Patrick Meissner
Cleveland Seniors columns