I lost My Mom in the St. Pat's Parade
by Attorney Joseph Patrick Kevin Meissner
This is March 17. "What day is this?" "Why, of course, t'is St. Patrick's day!"
It is time for the huge great parade painted a thousand ways in bright Irish green-sweaters, and coats, hats, and bouquets pinned to blouses, cars and exhibits, and signs everywhere recalling the green jewels of emerald and jade. Even some beautiful young ladies have dyed their long locks with a very luminescent green shade.
We have been in the parade since 1978 when a Cleveland Irish-American leader Clem Bennett first enrolled us and made certain we would be placed in the line- up. Our March exhibit in different forms has been celebrating all human life for decades and asking all parade attendees to love the unborn children and their pregnant mothers. We are certain St. Patrick approves this life message.
So once again we gather in the middle rank of the exhibits and await the call to join the march. All the bands are playing and shouts of joy echo everywhere off the tall downtown buildings. We are behind the Cleveland Indians display and in front of various Irish community groups. For my Irish background, my Mom Nora Attracta Cusack came from Ireland in 1938. She and my Dad Joseph Charles gave me the name of Joseph "Patrick." "Kevin," another great Irish saint, was added by my Mother at my Confirmation.
Let us return to this year's parade. I also must warn you that I have THREE STRONG RECOMMENDATIONS for improving the Cleveland marching event. I will give these later. As we wait by East 18th on Superior Avenue, many children in their warm jackets with green colored stocking caps line the street and sit on blankets at the curb's edges. Some family groups take up their curb space with children in front and Mom and Dad sitting on lawn chairs behind them. Today the weather is chilly, but no rain. Many families are bundled up under warm wooly blankets.
So what is this day we celebrate? What is the occasion concerning St, Patrick? Some might think this day is his birthday. But, no! It is actually the day he died. So how can we have so much joy and laughter and drinking and feasting and revelry? Shouldn't this be a somber occasion with black overruling the green?
All need to understand the Irish culture. Let me tell a joke which best illustrates the Irish attitude toward death.
Poor Paddie. He was upstairs confined to his bed and the doctor said he had little time left. His wife Bridget was down in the kitchen, cooking away. "Ohh," said Paddie, "Bridget, me darling. Is that your corn beef dinner you are cooking with all the trimmings of boiled potatoes, cabbage, and carrots?"

"Ah yes," she shouted up the stairs as she oversaw the boiling pots. "Tis, the corn beef dinner," she consoled Paddie.

"Oh, dear Bridget," Paddie responded. "I can smell its goodness. It would be wonderful if I could have some." "Oh, no Paddie," she said. "I cannot do that?"

"Why not," questioned Paddie. "That would be such a treat for this dying man."

"I cannot give you any," she was adamant.

"And why not?" he asked.

"That's for y'er wake."
Do you understand now why it is so appropriate that St. Patrick's Day--March 17-is based on a wake for this great Irish Saint? You also now should understand why it is quite appropriate that people who are pro-life should celebrate this day. St. Patrick was not just a holy man, but he also was a "human rights" advocate. He had been a slave for part of his life. He had been seized and compelled to watch the sheep on British hillsides. Eventually he escaped from that but this experience left him all his life with stern attitudes opposing slavery and speaking out against this practice. By the way this evil infected virtually every ancient society and culture and even many societies in medieval Europe.

I think of St. Patrick as a forerunner of our great American Civil Rights movement, especially the sector inspired by Dr. Martin Luther King.

To come back to Cleveland's parade, one of the largest in the world, we have play a part in it continuously since 1978. We have made use of all categories of exhibits including a horse drawn carriage (powered by gasoline); bright green antique cars; and lately huge bill boards on trailers displaying compelling pro-life messages. Here is a photo of this year's exhibit.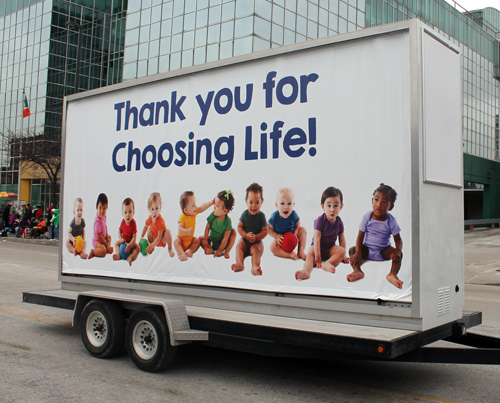 My Mother rode annually in this parade from 1978 until well into the 1980's. Then Parkinson's slowly captured her tiny body (she was a very tall 4 foot, 10 and a half inches). Try as she wanted to, she could no longer march or even ride in our carriages and antique cars. When in prior years she did join the pageant, she would sit by the side window and wave and smile to everyone. Of course, they waved back and smiled in return, which smiles often escalated into laughter and shouts of recognition.

I can still see my Mom with her head thrust out the open no matter how cold the day and her hand and arm waving to all, who would quickly wave their response.

Now as I march this day I think of Mom. If as the years advanced, her walk slowed down and her steps faltered, so have my strides deteriorated. I fear that Parkinson's is stalking me. Every year at the parade my compassionate colleagues push me to ride in the vehicle. I know what they are truthfully saying, "Joseph, you are too ancient and tottering. You hold us back. No wonder we shall never win the award for the best exhibit in the parade."

I can recollect one year as we marched down Superior Avenue. I was falling behind our parade exhibit despite my valiant attempts to sprint and keep up. "Hurry up, Meissner," I hear a harsh commanding voice from one of the march Captains stationed at the corner. He is waving a megaphone. I look over and see this is Ohio Supreme Court Justice Terry O'Donnell reprimanding me for delaying the march. Oh my Lord, I am really embarassed. Such a high judicial officer must rebuke me.

So this afternoon in 2017, again my co-marchers gently scold me: "Joseph, dear , why don't you ride in the car?"

Even Molly Smith, defender of the elderly, is counseling me to take the easy way out. "Darling, nobody will mind. Ride in our car." I am being abandoned and I feel like I am being lowered into the ground.

But I am stubborn. Others are holding our large parade-front life banner. I grab hold of the banner top-bar with them.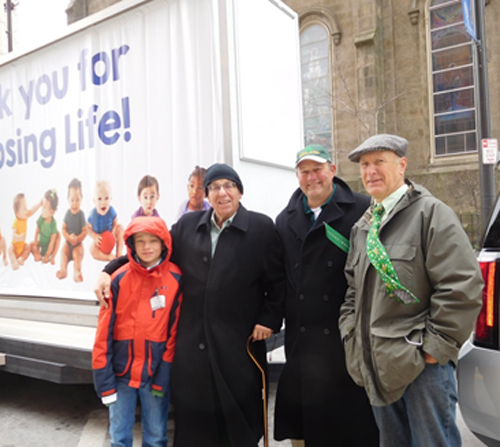 Attorney Joseph Meissner stands with three staunch advocates for the right to life of every human being.



We start off and all is going well. We are shouting, "Happy St. Pat's! Happy St. Pat's!" We wave at the crowds along the sidewalks. Despite the slight chill in the air, on-lookers pull their hands out from under the blankets and smile and wave back as we pass. We also have a green-suited leprachan complete with stove-pipe hat who skates and twirls alongside our bill-board exhibit.

So this March begins and it is great. The crowds are happy. The children are screaming in delight. Dan Hanson is taking photographs of all of us. I am waving my green, white and orange Irish flag while talking to the people. Then up ahead of me, I spot the back of the head. She is sporting attractive black hair and her short figure swings forward in time with one of the many bands. "Is that my Mom?" I wonder aloud.

But it cannot be. She cannot be alive and present in this parade. I want to run ahead and catch up with her and see if actually it is her.

But then I spot a green haired young lady watching the parade from the sidelines. "You know the regulation about green haired ladies?" I ask the marcher beside me.

"No, what is that?" "Watch," I advise my friend. I run over to the young lady and inform her. "You know the rule. "

"What rule is that?" she innocently inquires. "Well, if a gentleman over the age of seventy three is marching in the parade, then any green haired young lady must offer him a kiss." (I, of course, am over seventy-three.)

"I never heard of that rule," she retorts in astonishment. "How old are you?' I ask. "I am twenty four," she counters.

"See?" I rejoin, "I am three times older than you, and thus have had more time to absorb all these ancient Hibernian customs.

"Oh all right," she resigns herself, as she puckers up. "You look pretty tame, even toothless."

She gives me a nice kiss on the side of my forehead. I return to the parade line, aglow and even aflame with passion. Again I gaze forward. Way in front of me, because of my amorous pause at the side line, I perceive the dark haired petite woman from the back. "It has got to be my Mom," I am thinking. Again I struggle to catch up. I even imagine that Justice O'Donnell is dashing after me with a mandamus to pick up the pace.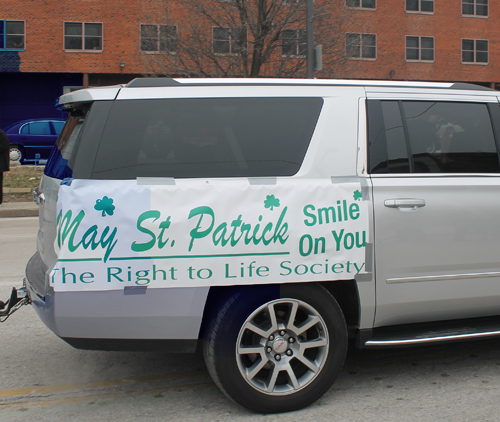 I make up some steps, but the whole show--now passing East 9th--- has suddenly escalated the pace, not just a few more steps per minute, but almost twice the former speed. Exhibits and floats are nearing the speed of light in their flight down the avenue. "This is not a march anymore," I complain to all. "This is now a marathon race. We are being forced to run as fast as we can just to stay even."

Even worse, I spy another young lady with the most gorgeous green hair draped down over her shoulders. It could be a wig. No, I can see the hair roots, even with my "twenty-seventy" eyesight. I know. You will say, "This is just a green dye." But even so, the green is so bright and cheerful. I shall again exercise my right as a mature seventy-two year old marcher. I gallop (stumble?) over, and ask for my kiss.

"Of course," she responds, not even challenging my presumptive behavior.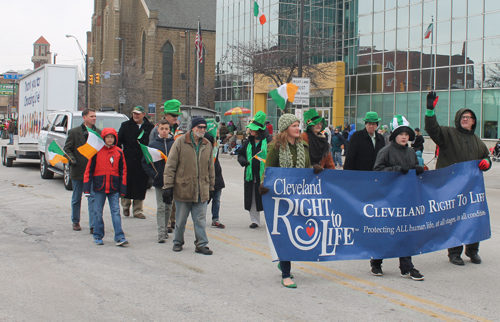 But now when I return to the march formation, I have really fallen to the rear, in fact into the midst of the exhibit trailing our right to life one. "This is not supposed to be a marathon race," I apologize to the new group I have invaded.

I think hard and conclude with my FIRST RECOMMENDATION for next year's parade. This is my First Rule for next year. We shall not be moved, or at least not tyrannized and broken. We demand a march, not the hundred yard dash. A pleasant pace shall be established and all will enjoy their St. Pat's March. So that is my FIRST RECOMMENDATION, and even First Demand.

As for the petite lady up in front, she has almost disappeared from my sight. She turns briefly back toward me. I can see the dark brown eyes and the smile on her lips. even hear her laugh and the brogue in her greetings of "Happy St Patrick's Day."

"It is my Mother," I exclaim.

"Mom, Mom," I yell. "Wait! Wait!" I cannot lose her. I must catch up. But then we are entering the new Public Square. The reviewing stand is at the corner on our right.

"Here is where we are judged," says our leader, Michael Gordon. "Shape up," he orders us. "Dress right, dress," he barks.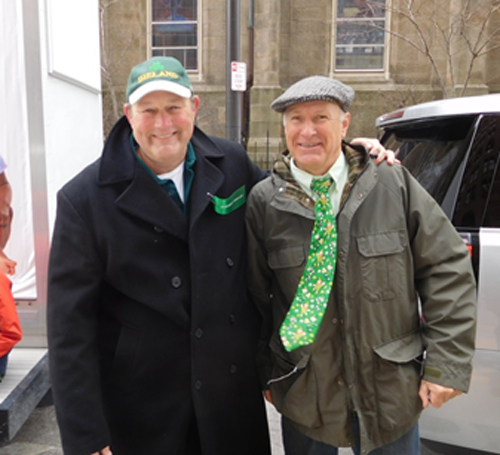 Our leader Michael Gordon and his lieutenant for the parade



So I straighten up and the lines of our contingent straighten out. We raise an earsplitting Irish cheer worthy of sons and daughters of Dublin. The Master of Ceremony, behind the stand's microphone, intones, "And here is the Right to Life Society and their marching group, celebrating this year's March." So we all get in step and even somebody in our group declares, "'up, two, three four, 'up two three four."

"We will win this year as the best group in marching in the parade," Michael encourages us. "We must win. Thirty nine years of effort and we have no award of any kind to show. We should at least get an honorable mention." Unfortunately, I understand there is only one award and no honorable mentions.

So that is my SECOND RECOMMENDATION for next year's event. There must be a dozen prizes including Honorable Mentions. Maybe that way, we will finally get an award. Maybe other exhibiters will also relish this recognition.

We are now past the reviewing stand. I search the horizon and the ending line of marchers. "Where is my Mom? " I cannot see the short lady anymore. "No, Mom," I lament. "I have lost my Mom in the St. Pat's parade. What do all the young ladies with their bright green hair count for, when compared to my Mother?"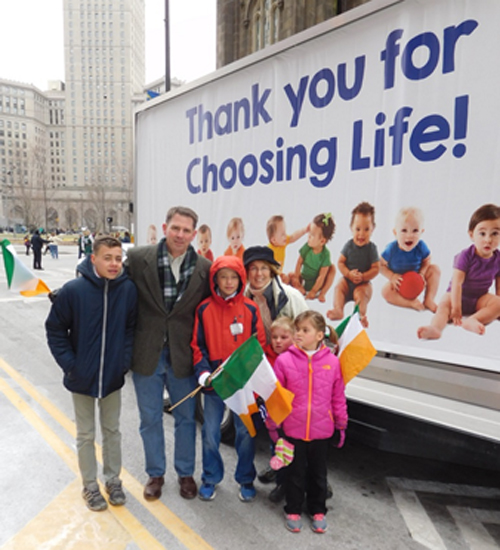 This family of marchers proudly thank all who have chosen life for all the unborn babies.



We now are in the middle of the new square. But the right to life group and our pro-life billboard is already one and a half exhibits ahead of me. The people in the exhibit which I have fallen in with greet and welcome me. I am a refugee, an outcast, but they are forgiving. "Where are you from?" they inquire.

"I was in the group ahead of you." "Oh, well you had better hasten and catch them"

I turn a sharp corner and stagger over the sidewalk as a short-cut to finish the parade with my prolife group. As the march ends, the marshals hurry everyone along to Ontario where it meets the north end of Public Square and where we all disperse. There is nothing here, no exultation, no hearty Irish greetings but only people, heads hanging down, racing madly for the busses to take them away. Dejected, I walk along the wide sidewalk and eventually a friend offers to drive me to the parade starting line two miles away. My car is parked even beyond that point and it is a far walk for somebody like this seventy-two-year old veteran.

As we drive along, I can see that there are Irish groups who have not even started the March. They are at the back end of it and will have to march alone. It is now about 2:30, still early in the afternoon. Our group is finished and even headed home. But here are marchers who still have to see the starting line.

There is something wrong with all of this. We have finished and we end in a great nothingness, no shouts of victory at the finish line, no swarms of people to salute us, nothing. St. Patrick cannot be happy with this. Even his own wake must have been more rousing than this.

I can see behind me the vast vacant and barren expanse of Cleveland's downtown Public Square. I have a thought. This is my THIRD RECOMMENDATION for next year. We should sponsor some kind of ceremony and welcoming event for all the exhibits and marchers as they complete their trek. Why not a mammoth fair for all the people and marchers, a colossal selection of stands selling Irish foods, Limerick souvenirs, and huge bowls of green fruity drink? It would be the Mardi Gras only larger. We would have a great ceremony for presenting all kinds of awards for the floats and exhibits. What a wake that would be for St. Patrick. It reminds me of the old joke:

"What is the difference between an Irish wake and an Irish wedding? No guesses? I will tell you. The Irish wake has one less drunk."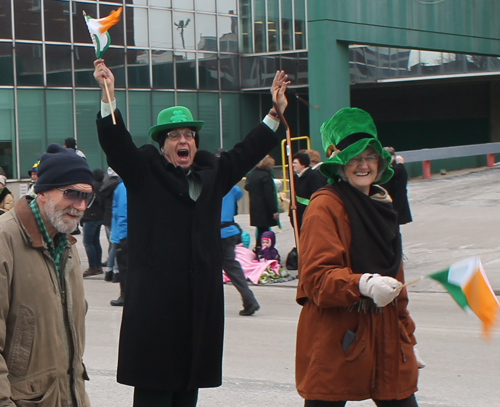 So next year let us have a grand and holy carnival with music, and dancing and jigs on Public Square to end and celebrate the march. Let us laugh and sing Irish ballads. Let us pass out Irish blessings. Here are a few.

A hundred thousand welcomes to you! Céad míle fáilte romhat! ("Gaelic" for you heathen!)

The grace of God be with you (Rath Dé ort)

Goodbye and blessings with you (Slán agus beannacht leat)

Enjoy the weekend (Bain taithneamh as an deireadh seachtaine

Peace be with you. ( Síochán leat)

Music and fun. ( ceol 's craic)

The blessing of God on you. (Bail ó Dhia or)

Let us enjoy St. Pat's wake of March 17 as a cause of enjoyment and greetings to all. We urge a giant carnival and a presentation of certificates and awards, which would include a certificate for everyone who survived the march and made it through "on their feet" to the very end.

This is next year's plan. I will pass this on to the Irish groups and neighborhoods in greater Cleveland., And my Mom? Next year she will stop on the square and I shall lovingly hug her as I did so many years ago.
---
Top of Page
More about Lt. Colonel Joseph Patrick Meissner
Cleveland Seniors columns
Back to Cleveland Irish