The Pilgrimage
by Joseph Patrick Meissner
I drive my Black car down East 79th and search for a street that goes to St Casimir Church whose high twin front spires I can see from here. I drive east on Kosciusko Avenue and then north to the Church fenced-in parking lot. There are 2 or 3 cars there, one filled with people.
I park and go to the occupied car. The woman rolls down the window. "Is this where the march is coming?" I ask.
"Yes, "she replies. "They are now by Euclid."
I say, "Gratias," and plod toward the Church. But I then turn back and approach the car again, and introduce myself
"Com esta?" I say in my best Spanish. "Yo la Abogada," and give her my Business card. She says, "Gratias."
Then it is over to the Church where a few have gathered as part of the welcome crowd. Inside St Casimir's it is so warm and beautiful with the large green Christmas tree still there. They must have a ready and cheap supply of gas somewhere to keep the entire Church warm and cozy like this.
I go outside, and we are awaiting the marchers. So I have my cell phone. I decide to make some calls, having nothing else to while away the time. I call the Catholic Diocese on East 9th.
"Is the Bishop coming to welcome the immigration marchers, or perhaps a representative?" I request respectfully.
"Let me check," says the Bishop's Secretary. A minute goes by. "No, no one is available. We did not get any invitation. Let me check with Sister Rita who works with the immigrants.
"I can come by and pick her up," I volunteer. "The people are not yet arrived and they will be here for a few hours when they do get there." I explain.
Another minute goes by. I picture people huddled hurriedly and debating how to handle this crisis. Then, "No, Sister has two other meetings," she reports. "Sorry.
I next decide to call the Mayor's office. I introduce myself and get the Mayor's secretary. She refers me to the Public Relations and Media Section.
I begin again by introducing myself. "My name is Joseph Meissner; I am an attorney who works on immigration matters. I have been in Cleveland almost fifty years. [That should impress them.] You have heard about today's March and pilgrimage with some two hundred people participating in marching twenty miles from Painesville to our City of Cleveland. I was wondering if anybody from the Mayor's Office or City Hall would attend to welcome them."
Several seconds of silence. Have I lost the connection? Then. "We don't know about this."
"Does anybody at City Hall read the newspaper or watch the media?" Am I too sarcastic? That is not very nice of me. After all, so many events are happening in Cleveland. The story of this one poor Ramos family and the upcoming deportation of their father this Thursday is just one story. That sad one-family story can easily get overlooked.
So I go thank her and hang up. (Do you hang up a cell phone?)
Oh look, here come two people now, a young man and a woman. She is hobbling, bent over, holding her legs. He looks like he is ready for another 20 miles. We suddenly realize who they are and begin clapping in welcome. Here are the first two to reach the goal.
We continue clapping to welcome and congratulate them. Then more arrive, including one mother and her two small children. They are in a small van, but they all have participated and walked much of the march.
We can see the rest of the marchers down the road on East 82nd, rallying and the straightening up the march line.
Here they come. The Plain D photographer is clicking away. Hopefully the Cleveland Plain Dealer will carry a good story tomorrow
Dan Hanson is here, Mr. Cleveland History and Photographer. He has his camera weapon.
Now the people have crossed the street and are approaching the Church. There are about twenty of us standing by the Church Doors. We welcome and clap as loud as we can.
"The approaching crowd began to sing, beautiful songs in Spanish. It all seems to fit into this St Casimir's with its strong Eastern European roots.
One of the Lay Leaders is talking to one of the March leaders. They are discussing what will happen in the Church. "We could have a Mass but we understand the people are very tired and need to get home to their families. So we will have a benediction and hymns."
"Will there be any speeches?" I interject.
"No, no," he says, "This is about one family and one man. We will keep it to this story of faith and hope."
I talk to more of the people still outside waiting to get inside. One beautiful lady explains to me, "We are here out of faith and hope. We must have faith in God's will. We know He will listen and help this family. It cannot just happen that this family will be divided up and they will be deprived of their father."
Such strong faith and cynically think in my head about the law and legal processes. I am like a fallen away Catholic, only this is a fallen away attorney. I should believe more in the power of law. Too many cases where people were defeated and we only tidied up the battlefield.
The Church service has begun. There are more hymns and then a benediction service and the Holy Body of Christ is raised high over all of us. After the brief service Father invites everyone to the Church cafeteria hall and to enjoy some food. Most of the people leave by the front church door. I doubt if many will stick around for beverages and Polish food.
I talk some more to people and take more photos. There is one woman who is carrying a large crucifix. "Did you march all the way with the crucifix?" I ask.
"Yes, she says.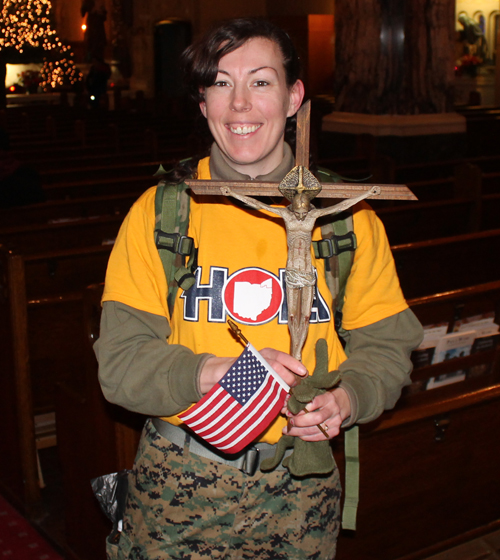 Elizabeth Wood Perez,a U.S. Marine for 10 years and combat veteran.
Her husband was deported in 2010, breaking up her family
Where did you get it?
Well, I called the Diocese and asked for something that we each could carry." Says Elisabeth,
"They said they had nothing, like a banner or a cross. I then called another Church and they said I could carry this Cross."
"Yes, I tell her. The lady at the Diocese mentioned that an Elizabeth had called last Friday. But she said to me that they could not help with anything."
I wonder about that. I am so naïve. I think that the diocesan leadership could help. That respect for their offices of authority. Do you think that church leaders like a Bishop or Pope Francis can go around, ministering individual to the poor?
I decide I will go to the Church cafeteria, talk to whatever remnants of the pilgrimage are there, and then depart for home. So I walk through the door, and down a short corridor, and thru a door off the hallway.
Oh my God, the place is packed. Everybody has stayed and they are all sitting at round tables, waiting. The children have hot chocolate with marshmallows. For adults there is hot coffee.
The one of the local Church leaders addresses everyone. He tells them how wonderful it is to welcome all of them. He relates briefly how this Church was closed and then reopened again.
(Later I learn that ClevelandPeople.com and the Hansons had all the films and photographs about how the Church used to be. These were all used to relocate everything and restore the Church altar and interior. I am sure God will call upon the Hansons and their photographs when He decides to redo heaven.
Later I will talk with the parish priest. He explains that the Church is doing well, some roof problems, but we will survive. He also has views that parallel mine about how the appealing churches should have been kept open and intact. But that is another story.
I meet Veronica, one of the main leaders. I have met her before and it is so good to see her again especially after this wonderful pilgrimage. "Isn't this great," she says?
"Yes, I respond and so many young people. See? We do not have to worry after we depart. There are so many others to take our place.
"And they will, "she says.
Out in the hall, Dan Hanson is interviewing someone and filming away.
It is the young man who arrived first and this is attorney David Leopold. How fortunate for me to meet him. I have heard so much about his lawyer skills and now here he is in person for us to meet.
I introduce myself. "What are next steps before Thursday?"
I will think of filing for a stay with the immigration people. I will file pro bono.
"Is there a fee for that?'
"Yes, $150.00."
"Maybe we can get some help for that. I will talk to some people I know."
"Thanks that would be appreciated."
So now it is time for all other people to leave for their homes. The Church has provided a wonderful meal of pierogis and drinks.
See photos and videos from the event


---
Top of Page
More about Lt. Colonel Joseph Patrick Meissner
Cleveland Seniors columns