Exercise Safety tips that will last a lifetime
by Chris King
Purchase and wear comfortable and well-fitting shoes that are made for exercising. It is important to invest in shoes that work for your type of exercise.

And, even when they still look like new, if your legs and feet start bothering you in any way, you probably should look into getting a new pair.

Always warm up and stretch before you work out, followed by a cool down and stretch when you complete your work out.

A lot of people who are in a hurry will skip both. Don't! We owe our bodies and hearts the benefits of taking the time. We lose 10% of our flexibility automatically every 10 years.

Avoid outdoor activities in the extreme cold or hot weather.
Drink plenty of fluids to stay well-hydrated. We don't even feel thirsty until we become dehydrated.
If you feel pain and/or fatigue, slow down or take a break. You can even check with your trainer or instructor to find out ways to modify what you are doing. Remember, it is better to pull back a bit than to push yourself to an injury that will keep you from returning.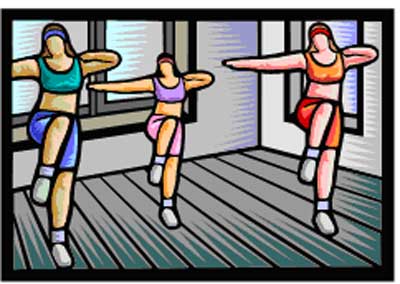 ---
Coming Next from Chris King:

Some common exercise misconceptions


---
Chris King of Creative Keys is a Group Exercise Instructor, Certified by the American Council on Exercise (A.C.E.). She holds what she calls a Portfolio Career (many different careers at the same time). To find out more about her, visit http://www.creativekeys.net.
---
Top of Page
Back to Exercise