Rediscovering the Rosary
Q&A with Antony Outhwaite, author of Rediscovering the Rosary
Why did you write this book?
When I first heard that Pope John Paul II had added five new mysteries to the rosary, I was intrigued enough to seek out the actual apostolic letter, "On the Most Holy Rosary", that he had written.
The first thing that struck me was how much more the letter contained than just a list of new mysteries, which I would never have known just from the news stories. The Pope's letter really made the rosary come alive, as he shared his own experiences with this vibrant, inspiring prayer.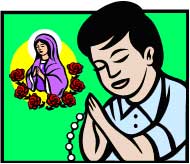 I wanted to share what I had found with others. I decided that the best way to do this was to write a book of rosary mediations based on the Pope's letter, and draw the meditations as much as possible from the rich insights that the Pope brought out in his letter. That effort resulted in this book.
Who is this book for?
The Holy Father's stated hope and intention was to reinvigorate a devotion to the rosary in all of the faithful. Sometimes the rosary has been seen as a prayer only for old ladies, or for those who want to roll back Vatican II, but, as the Pope showed in his letter, nothing could be further from the truth. The rosary is such a rich devotion that it has something to offer to everybody.
So, your book is an introduction to the rosary for those who have never prayed it?
It's more of a reintroduction, for those who think they have tried the rosary, and found it useless or boring. But, also, the book has a lot to offer to those who are already devoted to the rosary, and would like a set of rosary meditations that help them to incorporate the Pope's insights on the rosary into their prayer.
Like the rosary itself, the book is intended to be at the same time simple and substantial, so it is ideal for beginners as well as for those who have been praying a daily rosary for years.
In the foreword to your book, Monsignor John Esseff describes the book as "a powerful little fire", and "necessary for our day". How did Monsignor become involved in this project?
Monsignor Esseff was very supportive of my wife and me during the writing of this book; and he was kind enough to agree to write a foreword for us. We wanted to be sure at every stage of the project that we were thinking with the Church. We wanted to be very sure that everything that is in the book is true to Catholic doctrine and beliefs.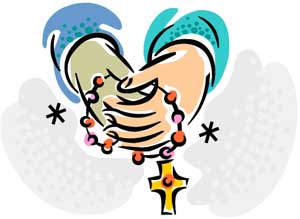 Taking a fresh look at these mysteries does not require adopting any new-fangled ideas. The ancient faith of the church is continually fresh and new. So we sought out Monsignor's advice, and we were sure to obtain a nihil obstat and imprimatur from the bishop before we went ahead and published the book.

The book includes a thank you to your wife. How did she help you?

I could never have written this book without her love and support. The thoughts and ideas expressed in the book derive from the Pope and the Church, but they are also the result of endless discussions between my wife and me about faith and family and love and truth. I am who I am because of her, and this book draws on all of those conversations and shared prayers.

Is there anything you would like to add?

Just that I hope that this book will be an inspiration to others, and inspire them to start praying the rosary regularly. It's a wonderful prayer to pray together as a group, or with family.

It's a wonderfully simple way to introduce children to the basic building blocks of the Gospel story, from the annunciation, right through Jesus' life, death, and resurrection. But also, it is so much more than just a children's prayer, because these are endless riches to be found in contemplating these mysteries.

My book examines the twenty mysteries of the rosary using seven different themes that were brought out by the Holy Father in his letter. Each time you pray you can find something new and different - a new way to look at and think about the same mysteries.

Sometimes, these stories become so familiar, that we need help to see them again with new eyes as the exciting, world-shaking events that they were, and still are.

Visit the author's website for a discount on the book or click on the link below to buy from Amazon.
---
Back to Top
Back to Catholics in Cleveland