Greater Ohio Boxer Rescue
Learn more about Boxers
---
Probably the best way to describe what Boxer Rescue is all about is by reading their Mission Statement:
"Rescue Boxers in need of a new "forever family" and home"

"Assess the health and temperament of each rescue."

"Provide medical care, as needed, including spaying/neutering, for each Rescue"

"Work on manners training of each Rescue"

"Accept and process applications to adopt from hones wanting a Rescue Boxer."

"Help match the right Rescue Boxer with the right approved applicant home."

"Provide educational material and assistance to the general public on Boxers, training, behavioral issues, health and other aspects of responsible pet ownership."
That tells you the facts of GOBR, but what follows next will tell you about their heart.

Meet Dempsey and Marci.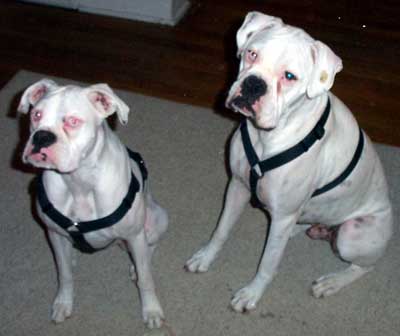 Dempsey is 5 years old, and Marci is about a year. Their owner, Tina Rodrigue has had Dempsey since he was a puppy and got Mari through GOBR.

Marci was found by the dog warden, wandering the streets nearly starving to death. GOBR entered the picture and Tina became Marci's "new mom".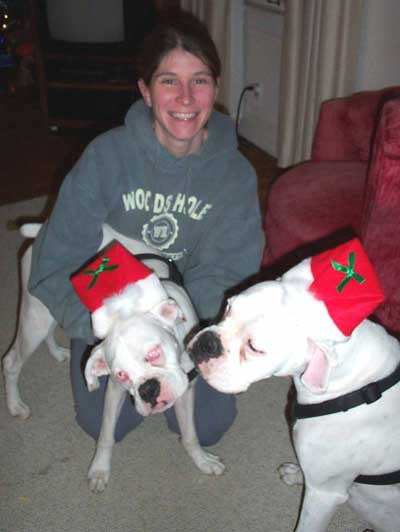 Marci and Dempsey are not related, yet they are both white boxers (not AKC acceptable) and they are both deaf from birth. It is estimated that between 10 and 25% of white boxers are born deaf.
This high occurrence of deafness is part of the reason the AKC does not want white boxers bred, although a white boxer can be born from two non-white parents.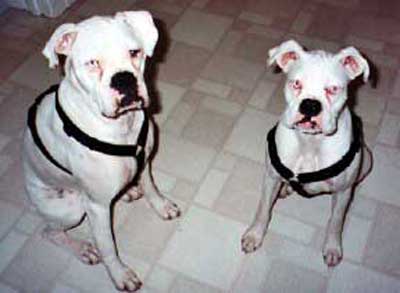 Dempsey is the proud recipient of a "Canine Good Citizen" obedience title.
Dempsey and Marci are not up for adoption. Although Marci was originally a "foster dog" she has bonded so well with Dempsey and Tina that she's found a home for life.
Now meet Chickie
Chickie is available for adoption.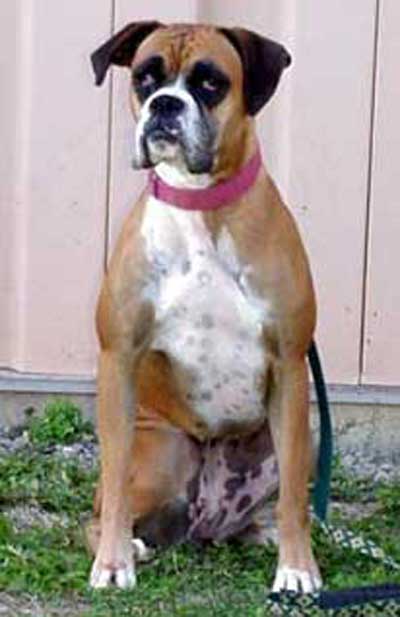 Chickie is a good boxer girl between 4 and 6 years old. She dearly loves toys and getting attention. She gets along well with other dogs, but does not like cats.
She is house trained, and crate trained, but considers herself much too dignified for crating. She is house trained and obeys the baby gates.
She enjoys snoozing on the sofa, but can be completely happy on the rug. Dry dog food is not to her liking, so she is pampered with a scoop of canned food or broth mixed in.
She has had obedience training, but still may pull on leash. She is petite and muscular. Fawn, with white markings, natural ears and a graying muzzle.
As with all GOBR dogs, Chickie is up to date with routine shots. She has been altered.
The Facts
Adopting a dog through GOBR will cost $175.00, an attempt to defray vet costs and to help insure the sincerity of the adoptive family.
Not everybody who wants to adopt a Boxer is approved - it must be right for both pet and owner.
GOBR is in desperate need of volunteers. If your situation allows, you could become a foster parent.
Even if you cannot take in a Boxer, there are so many things you can do to help. The group puts on a number of events throughout the year that always require workers.
There are mailings and home assessments that need to be done So many things need doing in varying degrees of difficulty and commitment. There is truly something everyone can do.
Additional information
If you are interested in adopting a Boxer or helping in any way, contact the Greater Ohio Boxer Rescue through their website www.goboxerrescue.com
---

Learn more about Boxers

An adoption success story
A Senior Boxer for a Senior Lady

---
Top of Page
Back to Pet Rescue Information