Cleveland Italian Film Festival
(Festival del Cinema Italiano)
The third annual Cleveland Italian Film Festival (Festival del Cinema Italiano) showcasing Italian Oscar award winning films opens in Cleveland, September 18 -October 2, 2008 at the Cedar Lee Theater in Cleveland Heights, Ohio.
"The third annual Cleveland Italian Film Festival is a wonderful example of Cleveland's rich, cultural heritage. I am pleased that proceeds from this event are earmarked for the restoration of the Italian Cultural Garden in historic Rockefeller Park. I would like to welcome participants to this film festival that is uniquely and artistically Cleveland," said Cleveland Mayor Frank G. Jackson.
The Cleveland Italian Film Festival has grown since its initial debut three years ago attracting film lovers from Cleveland, Akron, Canton, Youngstown and Pennsylvania.
Italian films were formerly shown on a sporadic basis in Cleveland, and the Cleveland Italian Film Festival became the first independent film festival to fill this void by bringing Italian films to Cleveland on a yearly basis shown in a professional theater setting.
Serving her second year on the Cleveland Italian Film Festival committee, Vice Consul of Italy in Cleveland, Dr. Serena Scaiola, heralds the film festival as a welcome addition for Cleveland and the Italian community.
"The success of the independent Cleveland Italian Film Festival now in its third year is very impressive. I believe that it is a cultural endeavor worthy of an even larger support from our community precisely because it brings the Italian culture and language to the general public."
The Cleveland Italian Film Festival opens September 18th with one of Italy's Oscar winning films L'Ultimo Bacio, (The Last Kiss) starring well known actress, Stefania Sandrelli in a comedy/drama that garnered thirteen wins and ten nominations including Italy's Oscar for Best Director, Best Supporting Actress and nominated for Best Actor, Best Actress and Best Film.
Filmed in Florence and Tuscany, Italy, the film has intricately woven stories centering on Northern Italian upper middle class society and a group of friends approaching their 30's and thinking of settling into a more serious phase of their life. The marvelous casting of well known Italian actress Stefania Sandrelli who is caught in a loveless marriage of many years is a must see performance.
On September 25th, another Italian Oscar winning film will present a touching story of a Sicilian family on their way to America through Ellis Island where they've heard of " rivers running in milk and coins falling off the trees." It mirrors many before them who made the long passage to Ellis Island and their dreams and hopes in this new land.
A winner of ten wins and six nominations, it won Italy's Oscar for Best Production, Costume and Visual Effects and was nominated for Best Film, Best Director, Best Screenplay. It won the Venice Film Festival's Silver Lion for Best Film.
On October 2nd, a beautifully filmed Incantato, (The Heart is Everywhere) filled with lush European settings, tells the story of Nello, a 35 year old teacher of Greek and Latin who is the son of the Pope's tailor played by the famous Italian actor, Giancarlo Giannini.
His father, anxious to find him a mate, invites him to Bologna and who he falls in love with elicits some of the funniest comedy with a bittersweet Italian love tale. Famous Italian Director, Pupi Avati won Italy's Oscar for Best Director and the film was nominated for Best Actor, Best Music and Best Costume.
Chairman of the festival, Basil M. Russo, whose two sons, Joe and Anthony are Executive Producers, writers and directors in Hollywood has been an enthusiastic supporter of the film festival since its inception.
"Celebrating our third year, we are proud to offer Cleveland this worthy cultural event and the opportunity to experience award-winning Italian films appreciated the world over," said Russo.
An Opening Night Party will be held on the September 18th premier of the film festival.
For ticket information please call 440-473-1253 or 440-461-2806.
By Joyce Mariani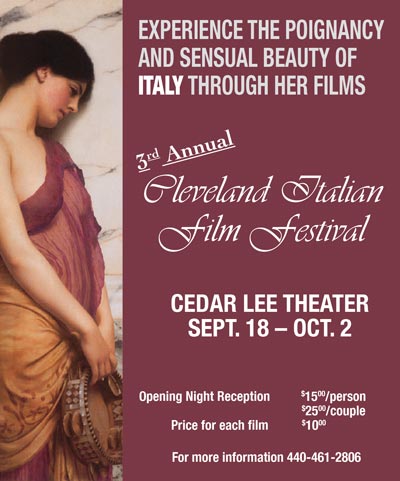 ---
Back to Top
Please e-mail us if you want to be involved with ClevelandItalians.com
Back to Italians in Cleveland