Sin City. "The Strip". Las Vegas Blvd. "Wedding capital of the world" Four simple phrases, but phrases that conjure up images of bright lights, 99 cent shrimp cocktails, and plenty of money floating around.
I was lucky enough to relocate to Las Vegas from Euclid in June, and Deb Hanson asked that I write a column concerning visiting Las Vegas, from a "locals" perspective. I am more than happy to oblige.
The city can be a tad bit daunting at first, especially for someone visiting for the first time, and I hope that for those of you planning a trip, my information will be of assistance to you.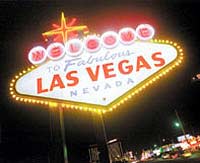 The Strip
"The Strip" as it is commonly referred to as, is actually Las Vegas Blvd, and is a longer stretch of road than most people realize. It starts about 35 miles south of the city, at the state border with California. Most visitors (myself included when I visited here prior to my arrival) are only familiar with the portion right around the mega resorts frequented by people visiting.
The four-mile stretch (from the intersection of Tropicana/Strip to just north of The Stratosphere) is home to well over 10,000 hotel rooms. The largest, MGM Grand, has just over 3500 rooms. MGM has the distinction of being not only the largest hotel in the city, but also in the United States.
Of course, the number of rooms is always increasing due to construction. Caesars Palace, at the intersection of The Strip and Flamingo, is building a new tower, and Wynn Las Vegas (at the Intersection of The Strip and Sands) is set to open sometime mid 2005.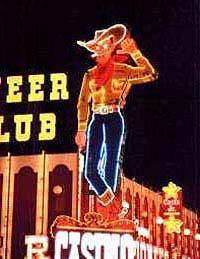 Most people think of New York when they hear the phrase "the city that never sleeps." I humbly disagree. Las Vegas NEVER shuts down. It is not uncommon to have a bumper to bumper traffic jam on the strip at 3 AM, and seeing just as many people walking between the casinos at 3 AM as it is at 3 PM.

For those of us who are lucky enough to be of Celtic descent, you'll be happy to know that there is no such thing as "last call." The bars/casino's are able to serve 24/7, and Vegas has very liberal Liquor laws. It's not out of the ordinary to see people walking between the casinos drinking the beverage of their choice.

The local police (Las Vegas Metro Police Department, or Metro as it is commonly referred to) have the philosophy that as long as you are not creating a disturbance, or operating a motor vehicle, you're free to drink. But heaven help you if you're arrested for a DWI…. Our laws on that here are brutal.

But I don't gamble!!!

You never have to sit down at a table or slot machine to enjoy a trip to Vegas. There are so many other things to do to occupy your time. "The valley", as Vegas is called by many locals, is surrounded by beautiful mountains that offer a multitude of outdoor activities.

Mt. Charleston, which is in the Northwest section of the city, has about 40 miles of hiking trails, as well as two lodges that have rooms as well as restaurants.

The Grand Canyon is about a 4 hour drive from just about anywhere in the city, and there are several tour companies that offer both bus tours as well as helicopter rides over the canyon.

Hoover Dam is about a 30 minute drive, and is a popular destination for visitors and residents alike. Sadly, due to the events of 9/11, many of the "behind the scenes" tours that people enjoyed have been eliminated due to safety reasons. Hoover Dam (also referred to as Boulder Dam, even though it was renamed to honor President Herbert Hoover) provides us with both our water and our electricity.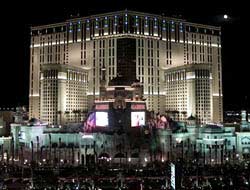 The Alalddin Hotel



There are also a multitude of things to do and see in the casinos, and I don't mean the slots. Many of the casinos have placed attractions in the casino or on the property, in hopes of getting people to gamble.

You can see such things as a pirate battle (Treasure Island), an erupting volcano (The Mirage), dancing fountains set to music (Bellagio), a medieval knight fight (Excalibur), wildlife (Flamingo, MGM, Mirage), and even ride a roller coaster (New York New York, Sahara, and The Stratosphere).

The best part is, most of the attractions are FREE. (Good thing to keep in mind just in case you do gamble, and go broke!!)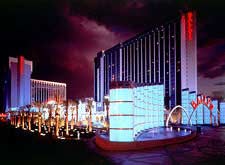 Ballys


Gambling
There are games to appeal to everyone in town. Some of the Casino's have even gotten into the Bingo scene (look out Catholic Church!!!). I've seen slot machines ranging from penny (yes, penny) to $100 (and they take as many as 3 credits per pull, or 300 bucks/pull; and I've seen table games ranging from $3 blackjack to $1000/hand poker. One can find a multitude of card games, including a childhood favorite of mine-War!!!
In an attempt to separate their patrons from as much of their hard earned money as possible, all casinos "comp" beverages. Simply put, as long as you are actively playing (Slots or table games), you drink for "free" You name it, you get it. Just don't forget to tip your cocktail waitress. Or your drinks will end faster than your winning streak!!
Speaking of tipping… most everything here runs on tips (I've even seen tip jars at McDonalds. Give me a break!). It's common practice to tip your dealer if you're playing a table game… this is called a "toke". I usually ask my dealer if they prefer their tokes "straight up" (meaning an outright toke), or if they prefer it made as a side bet. Different dealers have different feelings.
A side bet works like this.. you place the "toke" in a designated spot (most dealers will show you where) and if you win the hand, the dealer also wins, in essence doubling their toke. Of course, there have been times I haven't toked. When I'm gambling, I'm looking to have a good time. If I get a dealer who doesn't say a word, or who seems to enjoy beating the table, I don't feel compelled to reward them.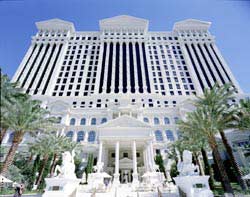 Caesars Palace



Players can also earn further comps by having their play tracked. All casinos have what's called a "players card." When you sit down at a slot, there will be a designated "slot" to put your card in. This tracks your play. If table games are more your style, you simply place your card down in front of you, or on top of your money. The dealer will alert the pit boss, who will take down your card number, and monitor play. (Different casinos have different levels of bets at table games before they will "rate" your play).

By having your gambling tracked, you can earn things like free food, clothing, or rooms. The highest level of comp is referred to as "RFB", meaning room, food, and beverage. In essence, your entire stay is paid for by the casino. You have to be a "whale" to earn this. A "whale" is a coveted guest in any casino, and may also be called a "high roller" Unless I hit the coveted mega bucks slot jackpot, I doubt I will ever be referred to as a whale! It's not uncommon for a whale to gamble $100,000 in the course of a night.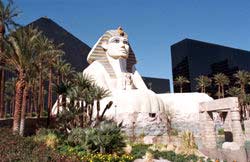 Luxor



I should note that when the casinos track your play via your players card, they really don't care if you win or lose. All they want to see is you taking the chance on the turn of the cards, or a pull of the slot. Having your play rated is also a good way to get offers in the mail for a return trip. Casinos will often mail out discounts on hotel rooms or a few comped meals in order to get you to come back.

Lodging

As I mentioned previously, Vegas has a mind staggering amount of rooms for you to stay in while visiting. I've seen rooms advertised for as little as $20/night (off strip) to over $1000/night. Of course, those rates rise considerably during a convention (which we host a lot of). I will give some insight on securing lower priced lodging later on in this column.

Vegas is not only home to the previously mentioned MGM Grand, but we are also home to the worlds largest Super 8 Motel!!! It is actually a nice property, and has a very nice "locals" casino and brewpub right next door. The brewpub offers 20 ounce pours of any of their 5 brews for a Dollar, so it makes it easy to stumble back to your room!!!

Dining Out

Sadly, the days of the $1.99 buffet have gone the way of the Edsel. It is, however, still relatively easy to find "cheap" eats in this town. Several of the casinos still offer 99 cent shrimp cocktails, and most of the dinner buffets range in the $10-$20 range.

It's not hard to find coupons (most hotels have racks of them in their lobby) or, when signing up for a players card, to be given a "fun book", for money off your meal.

There is no limit to your dining options in our fine city. You can choose to eat anything from Denny's/McDonalds to a $58 dollar Sunday Brunch (Yes, $58/person, at the buffet at Bally's Las Vegas) Also, every ethnicity is represented here… from Greek to Celtic, European to Cajun. One has no reason to go hungry in this town, or to spend a lot fueling up for a day on the town.

When to Visit

I am often asked "When is the best time to visit". Typically, the week before Christmas is the slowest, as are the summer months. The summer months are slow, except for a couple conventions, due to the heat. The weather here in June, July, and August can be brutal.

The first weekend I lived here, it reached 110 degrees. However, we don't get the humidity that Ohio gets during the summer months, which makes the triple digit temps more bearable, at least in my opinion. Most of my friends don't believe my statement of "But it's a DRY heat".

My first suggestion to you if you are planning a trip is to contact the Convention Bureau here and find out if there are any conventions planned. If there are, I would suggest finding an alternate date for your visit. If you choose the week before Christmas as the time to visit, be warned that many shows go "dark" so the performers can spend time with their loved ones.

Getting Around

The next most popular question I am asked is "Do I need a car to get around?" I have mixed feelings on this subject. Unless you are used to driving in a major metropolitan area (such as New York City or Washington D.C.) I would recommend AGAINST driving in this city. The standing joke here amongst the locals is the speed limit signs are mere suggestions, and a red light means nothing. Sad to say, it's not funny to see some of the carnage left behind by a careless drivers. Also, traffic on the strip is often at a stand still, especially on the weekends.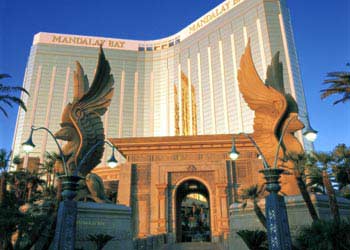 Mandalay Bay



If you have a desire to see some of the outlying areas around town, I would suggest you get a car for the day. There are a multitude of taxicabs in town, which make getting to different casinos very easy. One word of warning, and I'm speaking from personal experience here. Looking at any one of a number of maps of the strip that are out there, one gets the impression that the casinos on the strip are close together. What the map doesn't, and can't, show is that some of the casinos are 3 or 4 blocks wide. So, even though 2 casinos look close together, in reality they're not.

Viva Las Vegas

Some Vegas related facts…. The city was founded in 1905 (Our centennial anniversary is being celebrated beginning New Years Eve this year) and is the county seat for Clark County. Our population is 1.7M (county wide) but we welcome roughly 3.5 million tourists per month! Despite the growth of the city, The Catholic Diocese of Las Vegas was not formed until 1996. Prior to that, The Diocese of Reno served our city.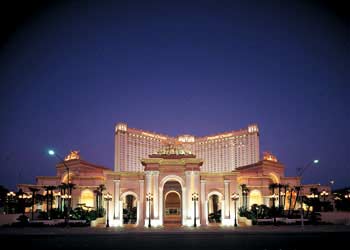 Monte Carlo



Our growth continues at a rate of roughly 6000/month, necessitating the opening of 9 new schools for the school year 2004-2005. Nevada also has no state or local income taxes, due to tourism. We also have what most cities no longer have… a morning paper (Las Vegas Review Journal) as well as an evening paper (The Sun) The popular "Welcome to Las Vegas" sign is located on Las Vegas Blvd, just south of Mandalay Bay.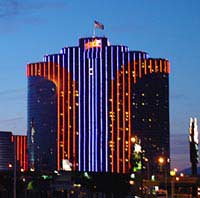 Rio



I hope that some of the information I have included will help you plan your first visit, or give you some ideas for a return visit. I am including some Vegas related websites as a further aid.

Feel free to email me if you have any further questions. On behalf of the 1.7 million residents of greater Las Vegas, I say "Welcome to Las Vegas" To quote one popular hotel chain, We'll leave the lights on for you.

Patrick S. Cater

Some Las Vegas web sites for more information:

www.a2zlasvegas.com
www.cheapovegas.com
www.ilovevegas.com/
www.insiders.com/lasvegas
www.lasvegas.com
www.vegaswatch.com
www.vegas4visitors.com
---
Top of Page
Back to Travel